17 Stylish Tops And Shirts To Wear With Leggings
Leggings are simple and versatile attire that can be paired with anything for any occasion.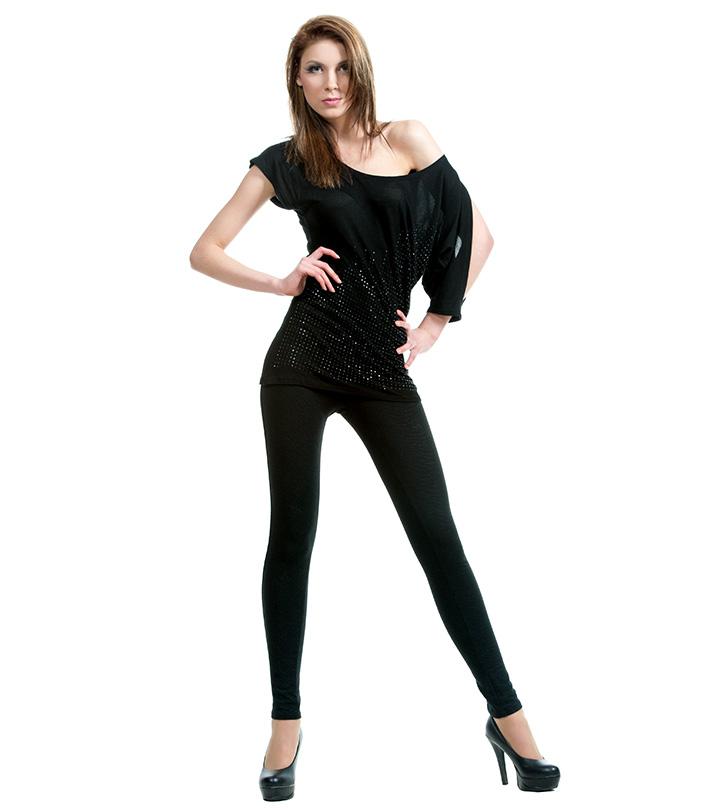 Leggings are a girl's best friend. Even Marilyn Monroe cannot convince me otherwise. Leggings have been a wardrobe essential for decades that are gaining more popularity day by day. It's no wonder why: comfortable, flattering, and easy to style. These are undergoing a major style shift, one in which they adapt depending if you dress up or down. I guess it's because we live such a hybrid lifestyle following the lockdown, but it's good to have fashion meet comfort. Today, I am here to talk about different shirts to wear with leggings.
From animal prints to solid colors – there is no design that I have not tried by now. My obsession with leggings has enabled me to experiment with different styles. So, I can confidently say that leggings paired with shirts are a mind-blowing combination.
Putting together these versatile and minimal clothing items can offer you a chic look. Pair them with the right accessories, and voila! Your fashion game will be up by several notches. So, scroll down to check out the cool ideas I have put together.
Ace The Look
Top Length: Wear longer tops and tunics with sheer leggings to cover probable camel toes.
Legging Length: Go for legging that hit right above the ankle for an illusion of longer legs. Avoid leggings that bunch up at the ankles.
Patterns: Avoid pairing patterned tops and leggings. Ensure only one of them is patterned to avoid a jarring look.
Washing Frequency: Wash your leggings after 1-2 wears as they stretch out, wrinkling unflatteringly at the knees. Frequent washing will prevent the stretch.
17 Shirts That Go Well With Your Leggings
Gone are the days when leggings were only worn with baggy T-shirts. And, gone are the days when leggings were just black and long. Leather, printed, lace, fleece, capris…the list goes on. The part is you can wear them with shirts, crop tops, leather jackets, hoodies, sweaters, and so much more! To help style your outfit, we have put together a list of tops that look incredibly cute over leggings. Take a look!
1. Long Georgette Top With Black Leggings
If your natural pick for this top is black skinny jeans, hold on and try it with a pair of leggings. Since they don't bunch around your waist the way denim does, they keep the fit of the top intact and create a flattering silhouette. Add a thick waist belt, pumps, and a cross body bag to get party-ready!
2. High-Rise Colored Leggings With A Hoodie
We have learned a thing or two from Kendal Jenner and Gigi Hadid, haven't we? They practically live in leggings and hoodies, and you can too. Choose colors that pop instead of the usual neutrals.
3. Monochromatic Look With Leggings
Try the effortless but chic monochrome look with black leggings. Break the narrow silhouette with tan combat boots and get ready for people stealing glances at you.
4. Silk Blouse With Leather Leggings
Leggings are probably not the first thing you reach for when you walk around your closet with a silk blouse in hand. But a flattering top like this deserves nothing less than these ultra-hot leather leggings. Wear ankle length booties and a black side body bag, put on a pair of hoops, and style your hair in beachy waves.
5. Crop Top And Leggings
I think we can all agree that the only acceptable bottoms in summer are leggings. I'm talking about the soft and breathable kind that come with a thick waistband, don't ride up, and can be paired with racer back or tank tops.


Quick Tip
You can also wear a cropped cami top and throw over a linen shrug for a more put-together look in summers while driving around town or heading for a pool party. Try bold and fun colors for your topwear such as yellow, orange, pink, and electric blue.
6. Bomber Jacket And Fleece Leggings
Tame the puffiness of a bomber jacket with the svelte silhouette of leggings. Add ankle-length boots to this equation to balance out the contrasting pieces perfectly.
7. Denim Jacket And Black Leggings
You can deal with a denim jacket in two ways. One is, of course, by throwing it on over a tank top and black leggings. It looks great. The second way is to create layers and raise the oomph with a crop top. Trust me, it makes quite a difference. A white crop top, a cropped denim jacket (sleeveless or otherwise), and white sneakers are the way to go.
8. Checkered Jersey Leggings And Leather Jacket
Checks have made their way into leggings too. This androgynous pattern is an interesting choice to look stylish with almost no effort. Put the jeggings on the scaffold and throw on either a black T-shirt, a tube, or even a bralette. Finish it off with a leather jacket to create an edgy look. Ankle boots will look great with this outfit.
9. Abstract Leggings And Tie Top
Abstract print leggings are a level above your usual floral printed ones. They are usually pretty mellow and not too over the top. So, stick to the print and keep the top simple. Try a plain black top that ties in the front to amp it up a bit.


Quick Tip
You can also pick a dark hue from the abstract print on your legging and wear a top in that color to create a harmonic yet interesting look. However, if the abstract prints on your leggings are in dark shades, opt for a lighter top to maintain good contrast.
10. Sculpted High-Waisted Leggings And Sweater
Sculpted high-waisted leggings let you show off your calves, butt, curves, and everything else you have worked on, even in winter. Pair them with oversized, embellished, or high low sweaters. Boots of all lengths go well with this outfit.
11. Animal Print Leggings And Crew Neck Top
Channel your inner fashionista with these animal print leggings and crew neck top. A sleeveless or halter top will also look great with these leggings. Wear sneakers, put your hair up in a bun, throw on a pair of hoops, and put on some brown lipstick to complete this look.
12. Flannel Shirt And Leggings
Flannel or plaid shirts with leggings are a big trend. It started in the '90s, and we have not looked back ever since. You can tie the flannel at your waist or wear it as a layer. It can be worn by itself over leggings as well.
13. Printed Leggings And Graphic T-Shirt
We have seen abstract prints, animal prints, and some bold colors. These leggings bring them all together. Wear them with a graphic T-shirt, tuck it in, and put on a pair of kitten heels and angular glasses to channel your inner badass.
14. High-Low Top And Leather Leggings
The fashion police are paranoid about visible panty lines and resist the idea of wearing short tops with leggings. A high-low top is a perfect way to beat that. Also, you don't have to worry about panty lines with leather, jersey, and fleece leggings. Be wary of the camel toe, though!
15. Long sleeve Shirt And Leggings
Loosely tuck a long-sleeved linen or cotton shirt into your leggings, put on a pair of ankle-strap sandals, and strut around like you own the world. If you carry this look off confidently, you probably do!
16. Maternity Leggings And Flowy Top
Hello there, baby mama! We know that, at this point, leggings are all that you live in. Ditch your usual oversized shirts, sweaters, hoodies, and boyfriend T-shirts for flowy tops like these. Flaunt that bump!
17. All-Black Party Wear Leggings And Shirt
Who said you can't go to a party in leggings? Take a good look at this outfit to see how wrong they are. This tie-up top and leggings look is especially great for clubbing.
Infographic: 7 Trendy Ways To Style Tops With Leggings
Leggings are a go-to option for many women who are constantly on the move. They are comfortable, cost-effective, and easy to put on and take off. Unfortunately, many women find themselves having to choose between comfort and style quite often. However, we have seen some really amazing ways in which certain tops can be paired with leggings for an effortlessly stylish look. We have presented seven styles that bridge the gap between comfort and style in the infographic below. Take a look!

Following the tips on this post about shirts to wear with leggings can help you style up the shirts and tops you have got lying around in your wardrobe. Leggings are the ultimate loungewear, but if you thought that they only pair well with baggy tops, this is your chance to reconsider your fashion ideas. Like shirts are not only meant for trousers, leggings are not only for crop tops or extra-large tees. You can pair shirts and leggings to create stylish outfits and accentuate the look with the right accessories.
Frequently Asked Questions
Should you wear long shirts with leggings?
Yes. You can pair a long shirt, like a tunic, with your leggings. You try edgier, unique-designed leggings or wear ankle-length boots to accentuate your outfit.
Is it weird to wear shorts over leggings?
No. While wearing shorts over leggings leans more towards a conservative look, you can make it trendy by pairing denim shorts over black leggings.
How to dress classy with leggings?
You can pair faux leather leggings with a long tunic, chic blazer, and high heels to create an elegant and classy look for work or a night out with your friends.
Do girls wear underwear with leggings?
This depends on an individual's personal preferences and fashion.
What type of neckline is best for shirts to wear with leggings?
You can wear round or v-neck shirts and pair them with a beautiful necklace and makeup to complete the look. Remember to keep your body type and personal style in mind when choosing a shirt.
Can I wear a turtleneck with leggings?
Yes, you can pair an oversized turtleneck with a pair of leggings, jacket, and boots or loafers to create a quick, stylish, and quirky look.
Key Takeaways
You can wear a pair of leggings with a shirt for a chic yet comfortable look.
This versatile and mind-blowing combination can be worn out to work or to a casual outing.
You can wear colored leggings with a hood, black leggings with a denim jacket, or high-waisted leggings with a sweater to up your style quotient.
Get creative and make your outfit stand out with these easy tips. Check out this video to learn how to style leggings in 7 different ways!
The following two tabs change content below.