Best Shoes For Skinny Jeans To Help You Pull Off A Stylish Look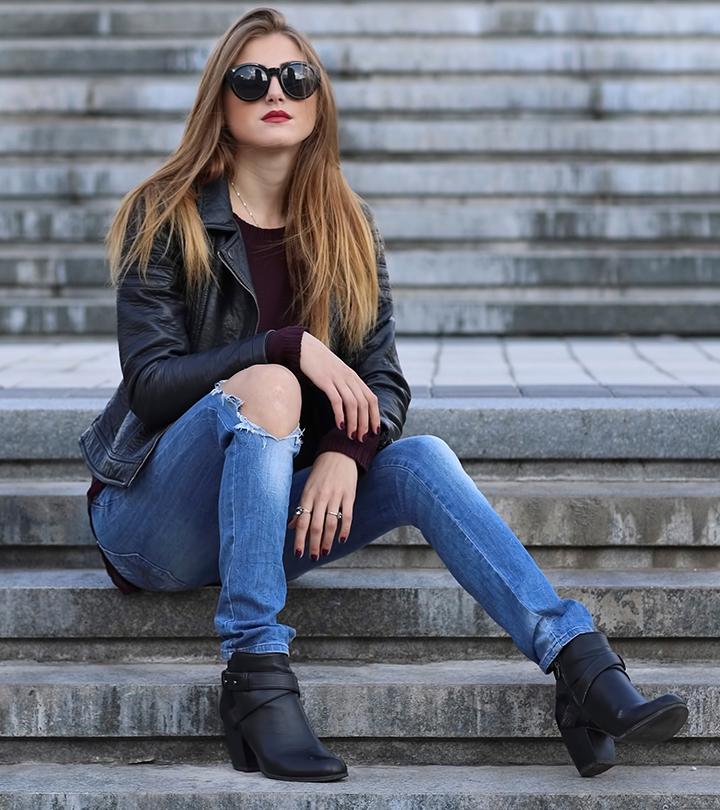 Are you a fan of wearing slim-fit jeans? If yes, you probably must have faced the situation where you are confused about what shoes to wear with your favorite tightest pair of denim. Depending on the occasion, heels might feel a little too dressy, flat sandals might not look good, and sneakers might not always be the right choice. Hence, you need the right shoes to wear with skinny jeans. Have you struggled to find the right pair of shoes for your skinny jeans? If so, this post is for you. This article has listed some of the best shoes to help you pull off a stylish look with your favorite pair of skinny jeans. Keep reading!
The Perfect Shoes To Wear With Skinny Jeans
1. Classic Combat Boots
If you didn't hear about it yet, know this – bulky sandals or footwear just do not go with skinny jeans. However, if it's your thing, choose them wisely – like a pair of combat boots, which are not only classic but also versatile, and go with almost anything. These look especially great with ankle length jeans with frayed edges, and add definition to your outfit.
[ Read: How To Wear Combat Boots – 19 Outfit Ideas ]
2. Strappy Heels And Skinny Jeans
When you have had enough of the pumps and are in a mood for a change, pick up those strappy sandals and slay it in style. These look incredible with any version of the skinny jeans.
3. Flats And Skinny Jeans
Any amount of convincing cannot make some of us wear stilettos, because, we just don't like them! Parking the debate for another day, yes, there are alternatives, and flats, which I'm assuming is your go-to, go just as well with skinny jeans.
4. Knee High Boots And Skinnies
Knee high boots and skinny jeans are a match made in heaven, and complement each other like nothing else ever does. They are sleek and the jeans slide right into them, causing no inconvenience or hindrance. You should make this look your signature during winters.
5. Sandals
If you are someone who detests heels, here's good news. Sandals go well with your skin-hugging jeans. Gladiator flats and heels are other interesting choices you can opt for.
6. Stilettos And Skinny Jeans
Skinny jeans follow your body shape, and thus needs something that complements your figure. So, what better shoes than stilettos to go with your skinny jeans? Transparent pumps are one pair of shoes all women have been reaching out for, and the 'why' is obvious.
7. Nude Mule Sandals With Skinny Jeans
Mule sandals have been a slow hit, one because we didn't at first know how to handle them, and two, we just didn't know how to style them. These look better with your skinny jeans as opposed to wedges because they take the shape of your feet, and make them look well defined even while giving you good coverage. Nude, black, and red are big hits when it comes to mules, so suit yourself.
8. Skinny Jeans And Flip Flops
We do not need excuses, reasons or validations to wear flip-flops, we will wear them to the moon if that's possible. While regular flip-flops are very common, try the slip-on flats that everyone is raving about. Wear these with ankle length skinnies to look carefully careless.
9. Ankle Strap Platforms
You know how we discussed that anything bulky should be avoided with your skinny jeans? But, you are a fan of platform heels, and cannot do without them? No problem, we have a solution for that too. Choose platform heels like these that neutralize the bulky part of the heel with a sleek and defined design. And, ankle strap platforms marry all these elements beautifully.
10. Loafers And Skinnies
Loafers are unisexual and oh-so-comfortable – that is probably the one thing men and women unanimously agree upon, and we don't agree on too many things, do we? Ballerinas, loafers, slip-ons, or half shoes go perfectly well with your skinny jeans and are a great choice for everyday casual looks.
11. Sneakers And Skinny Jeans
Sneakers, trainers, running or tennis shoes, whatever you call these, are arguably a favorite among women. Because, these are comfortable, stylish, and mostly versatile. Again, go with sneakers that are slightly sleek as opposed to the huge ones. Tuck a graphic T-shirt in, throw on a side body bag, and go for a pair of sneakers for an everyday sporty look.
12. Oxford Shoes With Skinny Jeans
Another classic that is making a comeback is the Oxford shoes. These have been a hot favorite among women for centuries now, because they are comfortable, stylish, and sleek, and go with most outfits.
13. Embellished Boots And Skinny Jeans
In a mood to take over the world, and want to dress for it? You know what to do! Throw on a pair of embellished calf or ankle length booties. Remember that they cannot be too pointy or sharp, so wear something that looks sleek and smart.
14. White Converse Shoes Or Slip Ons
Every girl needs converse (white) shoes in her shoe closet, because these are everywhere. Women who are tired of wearing pumps or stilettos are drastically switching to converse shoes because they are super comfortable, and look incredibly stylish. And, they go very well with your skinnies.
15. Ankle Boots And Skinny Jeans
Ankle length boots tend to seem like a natural extension of your skinny jeans, and that seems to be just the perfect thing to happen to your skinnies. Choose ankle boots that either come with heels or slightly small platforms. For a grunge look, go with an all-black look with ankle booties. Or kitten heels, if you are in the mood for being the good-girl-next-door.
If you are a fan of slim-fit jeans, then you might have faced the dilemma about what shoes to wear with a pair of skinny jeans. The shoes that are mentioned above will not only look classy but also add definition to your outfit! You can choose one or all from boots, sandals, strappy heels, stilettos, and flip-flops – whatever fits the occasion and the outfit! They are made of different materials but are sturdy, durable, and comfortable to wear. ANd most importantly, they keep your fashin game on point!
[ Read: How To Wear Ankle Boots With Different Outfits ]
Why Trust StyleCraze?
The author, Pratima Ati, is a fashion enthusiast. In this article, she suggests the best shoes for skinny jeans so you avoid any fashion faux pas. As versatile and flattering, skinny jeans are, they definitely need to be paired with the right footwear to get the perfect look. She checked the brand websites and user reviews on various online forums to curate this list.
Recommended Articles:
The following two tabs change content below.