42 Trendy Short Hairstyles For Fine Hair To Try This Season
Creative-genius hairstyle ideas that can transform the overall vibe of your locks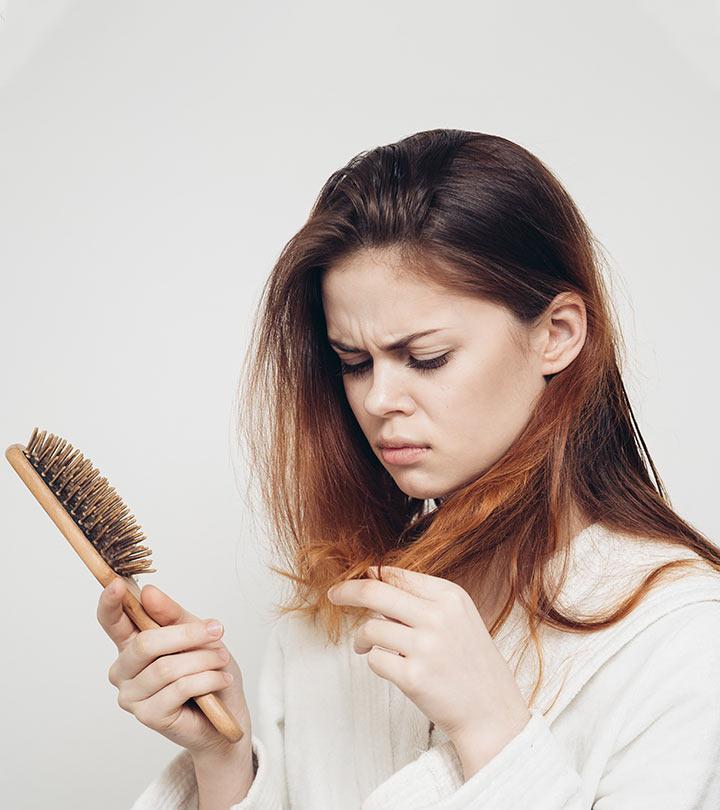 Sometimes you may say you have thin hair, while other times, you say fine. But did you know that thin and fine are not interchangeable terms when it comes to hair?
Thin hair is a hair issue many women face whereas fine hair is a hair type that many women are born with. Certified cosmetologist Danielle Wilkinson Brucklacher says, "Thin hair refers to the actual amount of hair strands you have on your head. In the fine hair type, a single hair strand is less voluminous and less coarse compared to normal hair." The right hairstyles can make your fine hair look voluminous, bouncy, and full. Keep reading to know what sets fine hair apart from thin hair and how you should be styling your fine locks. Scroll down for more information.

Before You Get Started
Short hairstyles are especially great for fine hair. The hair does not get weighed down and remains airy.
Layered styles can add a lot of volume to short, fine hair. They work perfectly for wider face shapes as well.
Non-layered short hairstyles that are slicked back suit narrow faces better.
Keep heat styling to a minimum as fine hair is prone to breakage. Avoid other harsh tools and accessories as well.
What Is Fine Hair?
Fine hair refers to an individual strand's thickness. Is your strand thinner than a thread? Then, you have fine hair.
What Is Thin Hair?
Thin hair refers to the overall thickness of your locks. It means that fewer hair follicles are packed together on your scalp. This can be due to heat damage or hair loss.
Lucky for you, there are hair products out there specifically designed for fine hair to boost its thickness. Here's what you need to keep in mind.
Products For Fine Hair
When you have fine hair, you need to be careful with the products you apply to it. Too many chemicals can damage your fine locks. Another thing to consider is that you might want to use volumizing products that make your hair look thicker. Check out the best products for fine hair that you can get your hands on here.
If you thought styling fine hair is difficult, here's a list that will change your mind. Check out these 42 short hairstyles that look stunning on fine hair.
42 Short Hairstyles For Fine Hair
1. Bowl Cut
This edgy hairstyle with the wispy fringe accentuates your cheekbones and jawline. The traditional haircut looks gorgeous with dark hair, but adding a few light blonde highlights dramatically brightens the entire look.
2. Pinned Back Bob
This understated and elegant bob is suitable for oval, square, and heart-shaped faces. The hairstyle draws attention to the jawline and creates a strong and alluring appearance. All you have to do is grab some strands from the front, twist them, and pin them in the back to complete this chic look.
3. The Tomboy Pixie
Soft layers give this tomboy pixie oodles of style. The ends are feathered to draw attention to the jawline. Thin out your bangs to even out this look. The short layers will make you look younger as well.
4. Pointed Pixie
Edge and style come together to bring you this stunning pixie cut. The layers and bangs are cut with pointed, flicked-out ends. This accentuates your face shape. I wouldn't suggest this pixie if you have wide cheeks or a harsh jawline.
5. The Deep Side-Sweep Tuck
Oval faces, while being long and wide, are also very symmetrical. This is especially true for women with fine hair. This means that you can pull off the 'tuck behind the ear' look pretty well. Comb your hair down with some lightweight foam and part it deeply on one side.
6. Moussed Back Pixie
The best way to style a pixie is with mousse. This way, your hair does not look too gelled down. It will look smooth and glossy. Simply apply some mousse to your comb and comb down your tresses.
7. Classic Highlighted Bob
If your short hair is growing out, trim it to a slick bob cut. Then, add some highlights and let it shine. The best part about growing out your hair is being able to add layers to your cuts. Don't forget those long side-swept bangs!
8. Shadow Root Bob
A chin-length bob is a great way to show off your fine locks without them appearing scanty. But to be honest, not all face shapes can pull off this look. Wide cheeks can look wider with this cut, but an oval face will be accentuated. Feather out the ends to draw attention to your jawline.
9. Flicked-Out Ends
The shag cut was a very big trend in the '90s. Here's a new version of the short shag. This flicked-out pixie is the modernized version of it. The layers are soft and flowy while the ends are cut finely.
10. Classic Curly Bob
The tousled curly bob is a versatile hairstyle. It is a bonus that it looks very cute as well! Instead of opting for the classic curly bob with bangs look, try lifting your hair at the front. This will add height to your locks and make your fine hair look thicker.
11. Slick Side Pixie
This pixie is all style! I love the 'wet-hair' look of this pixie. If your bangs have grown out, don't chop them off. Overgrown bangs can elevate this look and make your fine hair look thicker.
12. Side Parted Pixie
If you are growing out your pixie cut, part your hair on one side and let your hair be. This hairstyle will flaunt your locks' thickness while adding some style to the overgrown pixie cut.
13. Neat Pixie
Sometimes, a comb can be a girl's best friend. If your pixie had feathered layers and it's now grown out, you can neatly comb it down. To keep it in place, spritz on some hairspray all over your locks.
14. Brown Disconnected Gradual Bob
Note how the bob suddenly, instead of gradually, gets longer in the front. I like that the top layer at the back looks lighter, and it gets darker as you reach the final layer. It adds dimension to the bob.
15. The Cute Pixie
I really like this pixie, sideburns and all. It is the perfect blend of messy style and youthfulness. It's not often that sideburns are used to accentuate a hairstyle, but it looks good on Katie Holmes!
16. Long Bangs Pixie
If you had bangs with your pixie cut, they've probably grown out faster than the rest of your locks and are getting greasy faster. Try this look to handle greasy bangs instead of shampooing your locks every day. Part your hair on one side, from the front till your crown, with a rat-tailed comb. Make sure the parting is opposite to your natural parting. This will add height to your locks.
17. The Wedge Cut
Okay, as much as we say that fashion is edgier now than ever before, uber stylish cuts like the wedge were around way back in the '20s. An A-line angle with a deep hairline cut can take your hair to a perfect ten!


Trivia
The "wedge" hairstyle was popularized by American figure skater and Olympian Dorothy Hamill in 1976.
18. Messy Pixie
Messy hair is the trendiest look you can sport right now. Comb your locks to the front to make your bangs appear thicker. Then, just play around with your pixie to make it look messy and cool.
19. Long Pixie
If your pixie has grown out, cut it into a choppy lob. A pixie has pointed ends, and once it grows out, these pointed ends can add a nice touch to a lob with defined layers.
20. Upswept Bangs
Scarlett Johansson is the queen of pixie cuts! She knows how to rock a new pixie with style. Upturn your bangs with a round brush, some mousse, and a blow dryer to mimic this flawless look.
21. Blunt Bob
Not all face shapes can rock this bob. The issue with a blunt bob is that since your entire hair is cut at one level, it can make your face shape over accentuated. But if you have fine hair, a blunt cut will make it look thicker.
22. Highlighted Pixie
One of the best ways to style an overgrown pixie is with highlights. It can help frame your face well and add depth and dimension to your hair, too. Keep your undertone in mind when picking the color for your highlights.
23. Big Kinky Curls
If you have curly but fine hair, your curls can look strangly. Opt for this stunning curly lob. It draws attention to your jawline and cheekbones. Use velcro rollers overnight to get this perfect look.
24. Uneven Pixie
You need edge to pull off an uneven pixie. If you have fine hair, an uneven pixie cut will create the illusion of thicker locks. Also, it draws attention away from any asymmetrical features on your face.
25. Classic Long Pixie
Ideally, a pixie is cut short and pointy. So, when your hair grows out, it grows first at the bangs. Embrace the long bangs 'cause they can really make your pixie look great.
26. Wavy Pixie
A grown out pixie does not look bad, but it can look unkempt and messy. Adding waves to your hair can accentuate the messy look without making it look bad. In fact, it can give your hair a beachy vibe.
27. Layered Lob
Get your hair cut in a layered lob to draw attention to your facial features. The layers draw your eyes sideways, which brings out your eyes, lips, and cheekbones. They also make your hair look super thick!
28. Feathered Long Pixie
Feather out the ends of your pixie to accentuate your hair. This will add dimension to your locks and draw attention to your textured hair. It will also accentuate your face shape.
29. Deep-Swept Bangs
The combed-down hair look is really big these days. But apart from being incredibly stylish, it can also make your fine hair look super chic. It is a great way to style your pixie without worrying about it looking scanty.
30. Curly Ended Lob
This hairstyle is very cute, especially with the messy parting. The best part about curls is that they automatically make your hair look more voluminous. They also add texture and depth to your hair without trying too hard.
31. Long Bangs
The best way to flaunt your grown out bangs is by applying mousse to your hair and leaving out the bangs. Comb your bangs in a front side parting, leaving the rest of your hair combed down. This gives your bangs a wind-swept look.
32. Tapered Pixie
Brush down the front and top of your layered pixie to make your bangs look thicker. The different layers will add a tapered look to your bangs. This rock-chic look is sported by the edgy Miley Cyrus!
33. Classic '20s Bob
A deep side parting and curled ends are all you need to style your fine locks. The '20s were a great time for short hair. It paved the way for incredible hairstyles like this one. This hairstyle also adds a nice contrast in hair textures, which adds depth to your tresses.
34. Wind-Swept Pixie
Embrace the wind to let your hair shine. Simply comb your hair and let it fall freely. The best part about having short hair is your hair doesn't really get messed up and tangled very easily.
35. Pointed Bangs
If you want to add edge to your locks, get your hair cut in bangs. Instead of feathering out the ends, make them jagged and pointed. You now have a very cool pixie cut!
36. Combed Pixie
If you have thick hair, you can pull off short hairstyles without having to worry about volume. Show off your grown out hair with this stunning comber pixie. It accentuates your hair's thickness by not letting it fall flat.
37. Full Bangs Pixie
Overgrown bangs cover a large forehead and help in framing your face. Anne Hathaway sported this look with panache and so can you!
38. Grown Out Pixie
There are some women who don't really mind their short hair growing out. The issue is styling it on a daily basis for work without looking messy. I suggest a deep side parting with the bangs covering half your forehead. Spritz on some hairspray or apply some lightweight mousse to keep it in place.
39. Choppy Pixie
If you like sharp-cut layers, this hairstyle is for you. The messy, choppy, and heavy layers of this pixie cut can be flaunted very well on an oval face. It draws attention to your jawline and cheekbones.
40. Asymmetrical Bob
Looking for a hairstyle that shows off your face shape and your hair texture? A steep asymmetrical bob is your answer. No matter how steep the cut, this bob will look great.


Quick Tip
Heavy, straight-across bangs look great with this look. Additionally, changing the color is a brilliant idea. Go for blonde or perhaps something adventurous like pastel hair.
41. Dark Rooted Pixie
This blonde and brunette pixie shows us that we can get the best of both worlds. Keep your roots dark as it helps frame your face beautifully. Choose a contrasting shade that matches your skin tone and undertone.
42. Contrast Layers
Contrasting layers look gorgeous. They showcase your hair while adding depth to it as well. Keep your roots dark and opt for a similar undertoned blonde shade. Style your hair in waves to add texture.
Infographic: The Perks Of Having Short Hair
Gone are the days when people worried about not being able to style their short hair in more unique and feminine ways. As you have already seen in the article above, short hair can be styled to complement edgy, soft, or feminine looks.
If you are still unsure, here is a fun infographic that shows you why having short hair is not only stylish but also convenient. Check it out!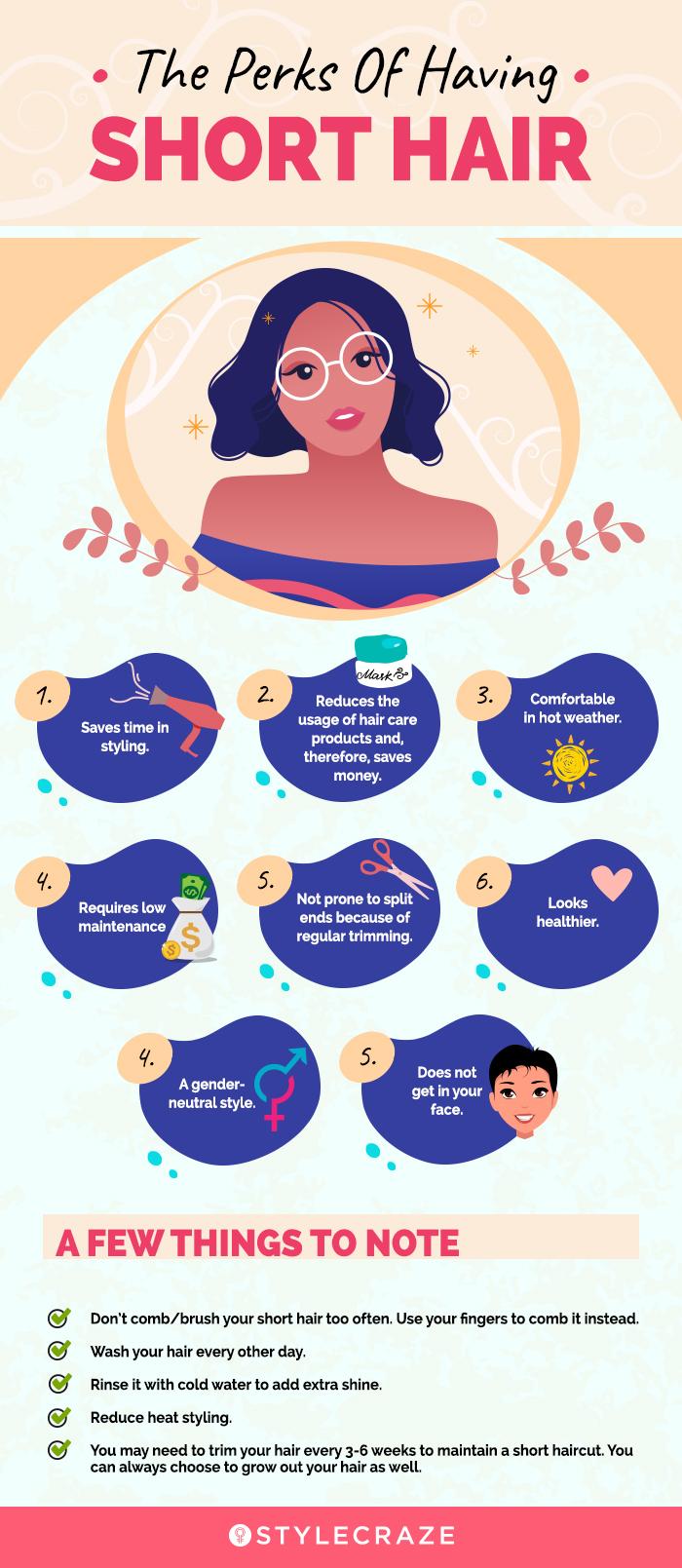 Fine hair is different from thin hair. Fine hair refers to each thickness of individual strands. The best way to check if you have fine hair or not is to perform a thread test where you compare the thickness of a thread with the thickness of your hair strand. If the strand is thinner than the thread, you have fine hair. FIne hair is prone to several hair issues like limpness, lack of volume, damage, and breakage. These issues can be managed if you use the right products, maintenance, and styling tips. You can make your fine hair look thinner by choosing hairstyles that add volume, depth, and dimension to your tresses. Keeping your fine hair short focuses more on your hairstyle and face shape than your hair's fineness. Try the short hairstyles mentioned above for fine hair as inspiration for your next hairstyle, and see the difference it makes.
Frequently Asked Questions
Is shorter hair better for fine hair?
Shorter hair tends to be stronger than long strands and gives the appearance of thicker locks. Therefore, shorter hair is better for fine hair.
Should short fine hair be layered?
Yes, layering short fine hair will help increase the volume and texture of the hair. Heavily layered short haircuts will look good on fine hair.
How do you volumize fine hair?
You can add volume to your fine hair with products like volumizing spray, hair mousse, root-lifting spray, and dry shampoo.
Does fine hair get thicker?
No, fine hair is a hair type people are born with. However, one can easily create an illusion of thicker hair with the help of the right products and hairstyles.
Is fine hair good or bad?
No hair type is good or bad. Every hair type has its pros and cons. While fine hair looks thin and gets damaged, it is easy to style and manage.
Should fine hair be cut in one length?
Short-length fine hair can be cut in one length and suits people with narrow faces. However, adding layers can significantly add volume and movement to the hair.
Is it OK to wash fine hair every day?
It is never ok to wash fine hair every day unless you have a very oily scalp and your hair gets oily within a day.
Discover the best short hairstyles for prom! From pixie cuts to bobs, learn how to style your hair for a fuller and more voluminous look from top hairstyle experts.
The following two tabs change content below.