50 Stunning Short Hairstyles For Round Faces To Try In 2023
You will love how trendy and classy your short locks look in these stunning hairstyles!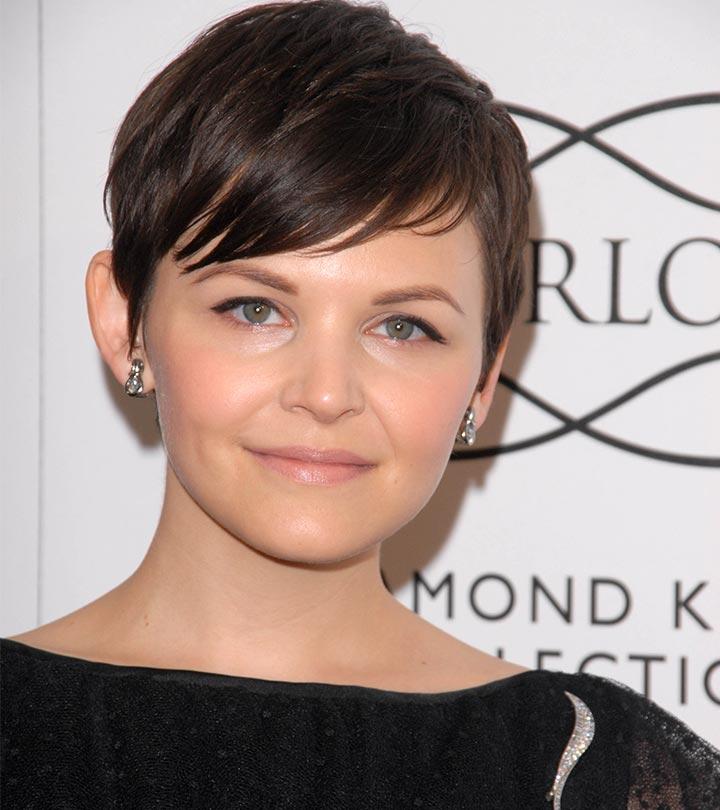 If you have a round face, the chances are that people always advise you to keep your hair long to prevent your face from looking too round. But the tides are turning, and short hairstyles for round faces have become the latest fad for women. Scroll down to check out some surreal and flattering short hairstyles that go well with this face shape.
But, if you are not sure of your face shape, scroll down first to determine if you have a round face or not. Then, keep reading to discover which hairstyles can help you flaunt your face shape and features to perfection! Scroll down to know more.
How To Determine That You Have A Round Face
So, listen up. There's a little more to claiming that you have a round face than just having full cheeks. You need to determine the exact dimensions of your face before being sure that you have a round face shape. Just bust out that measuring tape and follow the simple steps given below to do exactly that!
Measure your face across the top of your cheekbones, a little under your eyes.
Measure across the widest points of your jawline.
Measure the length of your face from the centerpoint of your forehead to the tip of your chin.
If the width of your cheekbones, jawline, and the length of your face (the difference of a few millimeters here and there does not matter) are roughly the same, then you have a round face.
Now that you know for sure that you know for sure you have a round face, here are a few tips and tricks that you need to keep in mind when you're styling your hair!
Tips And Tricks For Short Hairstyles For Round Faces
Getting your hair cut can be a pretty overwhelming experience, especially when you don't know what cut and style will complement your face shape. But if you have a round face, here are a few things you can keep in mind the next time you go in for your hair appointment.
Updo hairstyles like top knots and buns go well with round face shape as they add length to your face.
If bangs are what you want, then go for layered bangs instead of ones that are straight or blunt cut.
When going for a short curly hairstyle for your round face, make sure to concentrate the curls near your crown instead of your cheeks.
If you want to keep your hair long, go for shaggy layers to elongate your neck and offset the roundness of your face.
The best way to style your hair is in soft waves. Just wrap large sections of your hair around a large curling iron to achieve this look.
Now you know all the tricks you need to style short hair for round faces. So, without further ado, let's dive into what you're really here for – the best short hairstyles to rock with your round face!
50 Best Short Hairstyles for Round Faces
1. Choppy Textured Pixie
You can always rely on Kaley Cuoco to come up with the best looks for a round face. This lady loves experimenting with her hair, and everything she tries is simply jaw-dropping! Her choppy pixie hair adds flattering length to her round face. The use of lowlights adds depth and texture to the overall look. You cannot get enough of how beautifully this style livens up her face.
2. Clipped Pixie
The clipped pixie look complements a round face well. This hairstyle is for those who want to sport an extremely short haircut on a round face. The back and sides of this style are clipped close to the scalp, while the crown has slightly longer layers to add some height at the top of your head. This is a fresh and soft look that you are surely going to love!
3. Tousled Choppy Bob
Millie Alcock looks like a complete diva in this look! A bob with choppy layers is a blessing for a round face. The volume and texture do a brilliant job of distracting from the plain face shape. And tousled styling is simply the cherry on top! Pair this style with dark makeup for a sexy evening look.
4. Jet Black Messy Lob
Olivia Munn in this hairdo is a vision, making everyone go weak in their knees! She looks like an absolute seductress with the messy hair texture combined with the red lips. The jet black hair also compliments her glowing skin tone. This blend of hair and makeup has worked together to slim down her face and enhance the best features of her face.
5. Flicked Side-Swept Bangs
You can never underestimate the power side bangs hold in making your face look slimmer. But what if these side bangs got a dramatic element of their own? Malin Ackerman flicked out the ends of her side-swept bangs to make them look layered. These bangs, combined with all kinds of short hairdos, exude an enviable and youthful charm.
6. Glam Finger Waves Bob
Demi Lovato set the red carpet on fire with this retro goth look. The finger waves that partially cover her face work in favor of its round shape. Additionally, all that dark makeup are key points in bringing attention to her captivating eyes and lips.
7. Curtain Bangs
This type of bangs can alter the width of a face and give it an impressive length. The bangs are swept on both sides, reducing considerable width at the temples and narrowing down the forehead. You can tell how this pretty face-framing hairstyle can be a head-turner!
8. Shadow Roots Pixie
Shadow roots are a fab technique that not only adds depth to a style but also makes you look younger by a few years. Charlize Theron looks stunning with the long layers of her pixie parting to reveal the dramatic dark roots. This look has elongated her face and given an edge to her style.
9. Faux-hawk
Want to try a mohawk but feel like it is too bold of a look to commit to? Fret not! You can try a faux-hawk first to warm up to the idea. It mimics a mohawk, except the sides are not completely shaved and the center strip of hair can be creatively customized to your preference. Since Miley is now a pro at androgynous styles, the short blonde spiked 'hawk was a genius decision in complementing the round contours of her face.
10. Side-Parted Blunt Bob
Jenna Dewan looks divine no matter what hairstyle she sports! Her technique to make a blunt bob work for a round face is one to take inspiration from. A deep side parting ensures that the bigger side of hair falls subtly over the forehead in a flattering way to narrow down her face. The parting also adds an impressive angle to a plain round face.
11. Center-Parted Blunt Bob
Here's another way to part your hair in order to sport a blunt bob with a round face. A center parting creates the illusion of length. The front layers of hair fall softly in front of the face, camouflaging the wide cheekbones.
12. Wispy Fringe Bob
If you have stubborn straight hair that does not hold waves, curls, or even minimal flicks, then a wispy fringe can save the day for you! It is especially great for the summers when you do not really want a heavy side-swept look. A wispy fringe does not have a sharp face-slimming effect, but it adds a fresh youthfulness to your look. Use a texturizing product to keep your hair looking bouncy throughout the day.
13. Shaggy Short Bob
Here is an everyday college student look that is effortlessly stylish. The short bob comprises shaggy layers that have a mind of their own. And that's the point! It is meant to be slightly messy. However, you do not want to look unkempt either. So, when your hair is tousled to your preference, spritz some holding spray to keep it in place.
14. Half Up-Half Down Hair
This hairstyle works in two ways to compliment a round face. The half top knot elongates the face, while the half-down hair frames the face for a slimming effect. You may use a curling wand to add waves to the half-down hair for a dynamic result.
15. Pixie With Side-Swept Bangs
Miley Cyrus looks stunning in this pixie look that smartly retains the length of the bangs. While the hair is cropped short at the back, the long bangs in the front can be swept to the side to slim down the face. It also adds much-needed angles for an edgy touch to your overall appearance.
16. Pink Feathered Pixie
If you are looking for a bright summer look, this feathered pixie is a great option! If you have light skin with cool undertones or dark skin with warm undertones, this hair color will look dazzling on you. Also, the feathered layers are always a plus for round faces. Have them frame your face in a tousled manner for striking results.
17. Caramel Frohawk
This is one of the coolest short hair looks for natural hair. It is a faux-hawk done with tight curls bunched up at the crown. The sides have an even smattering of soft, buzzed hair. And the caramel shade makes for a refreshing, warm look! All of it works beautifully to enhance warm-toned dark skin.
18. Edgy Temple Undercut
Here's an edgy style that will make a lasting impression on anyone that comes across you. The temple undercut sports cool razor-cut patterns that not only give you an intense vibe but also become the entire focal point of your look. You may opt for a vibrant hair color like electric blue to go with the cut.
19. Natural 'Fro
If you have a natural 'fro, rest assured that a wash-and-go look is not only healthy but a masterpiece all by itself. Just keep your curls clean and well-conditioned to ensure they look bouncy. An afro does wonders in making your face look smaller. You may wear a silk headband at the hairline to create the illusion of a longer face.
20. Bangs With Long Sides And Peekaboo Highlights
Peekaboo highlights have been trending in the world of hair color fads, but most people are yet to catch up with them. A vibrant tuft of hair peeking out from surprising angles beneath your original hair shade is sure to distract from a circular face. Try face-framing bangs like this eye-brow grazing fringe with long sides for a look that syncs with the highlights perfectly.
21. The Betty Boop Front Curl
How adorable does Alexa Demie look rocking this Betty Boop-inspired hairdo! It is a vintage look that can be tweaked to work for a round face. There can be a few more gel-styled curls on the forehead and at the crown as well for a face-enhancing style.
22. Wolf Cut
Miley Cyrus probably started the wolf cut trend, and it has since been adopted by other celebs like Billie Eilish and Doja Cat. It's a choppy, wild, and voluminous bob at the top with more choppy layers for a mullet. This style looks exceptionally good on blonde, bronde, and black hair with streaks.
23. Neatly-Parted Boy Cut
You would think a sleek, neatly parted look is not for round faces. But if you notice Charlize Theron's look here, her hair is slightly bumped up to add height at the crown. And don't overlook the side parting doing its job immaculately. These minute details are a stroke of genius!
24. Triple Knot Half-Up
Demi Lovato looks absolutely gorgeous with these three top knots that give her a futuristic look. The half-down hair has a wet and wavy look to it, harmonizing effortlessly with the top knots. The charm of a half top knot is unmatched. These could also be styled as double space buns and look just as captivating!
25. Bronde Blunt Lob
If you haven't tried a bronde look yet, this photo is a sign that you must! It is a simple lob paired with wide, thick-framed glasses, and yet it's anything but plain. The soft bronde waves ending in blunt edges hint at a bold personality that is mere minutes away from bursting forth!
26. Ravishing Red Bob
You cannot make a list of suitable hair colors to compliment a round face without throwing red in the mix! There might not be another color that is as eye-catching as this. The haircut itself is a simple jaw-framing bob, but it is the hair color that hogs all the attention.
27. Pastel Soft Bob
Pastels are another way to stay on trend while you figure out what works best for you. You can try a solid shade, get an ombre, do a sharp two-tone look, or just go crazy with multiple streaks. The softness of pastel colors and the subtle layers at the bottom of this bob work remarkably well in concealing a wide face shape.
28. Platinum Long Pixie
Platinum hair color is such a breath of fresh air, not because the color itself is unique but because it challenges stereotypes. More younger people are now embracing a platinum look owing to all the anime influence. A pixie with long front layers in this gorgeous shade is surely going to be a lovely break from the mundane.
29. Faux-hawk With A Mullet
Kelly Osbourne does it again! Her hairstyles are so creative, bold, and iconic that they burn an impression in your memory. This faux-hawk look works with multiple textures. The hair at the back is a growing mullet, the sides are shaved, and the 'hawk is swept in all directions to offer attractive textures. This is definitely a must-try for all the adventurous souls out there!
30. Straight Lob With Subtle Highlights
This highlight look is one of the tamer color options on our list. Jenna Dewan sports a straight lob with choppy and softly flicked-out ends. Her dark brown highlight probably won't be visible in dimly lit settings. But, under warm lighting, the highlights at the jaw add some definition to the lower half of her face. It certainly makes for an enviable look.
31. Balayage Long Bob
Queen of Twitter Chrissy Teigen is a fashion and style icon, to say the least. So, of course, you need to take hair inspiration from her! This long bob that sits just at her shoulders and is parted on one side makes her look like the diva that she is. The cool toned blonde balayage just takes the look to a whole new level.
32. Dented Curls Short Bob
A little modern and a little chic – this is one of the best short haircuts for women with round faces. Mila Kunis looks oh-so-gorgeous in this short haircut styled in dented curls that flatter her round face shape. The subtle brown highlights at the bottom add a hint of dimension to this look.
33. Simple Short Bob
Vanessa Hudgens seems to be bringing back some of the old world charm back to Hollywood with this cute hair look. This simple haircut is one of the best short bob haircuts for round faces out there. It is styled in a blowdried do and parted deeply on one side is reminiscent of the elegant coiffures of the 50s. The jet black coloring of this style also adds a mysterious vibe to the whole look.
There are a few things you need to keep in mind when going for a bob. Celebrity hairstylist Julien Farel suggests, "For a round face, you want to create diagonal lines and layers. Any horizontal layers in your haircut shouldn't be shorter than your chin."


Did You Know?
A-line bob, Inverted bob, and Shingle bob are some simple short bob variations that you can try if you have a round face.
34. Parisian Short Bob
If there's one lady out there who has revolutionized short hairstyles for women with round faces, it has got to be Ginnifer Goodwin. She pulls off this totally Parisian inspired short bob with aplomb and looks like a total angel while doing it. The slightly feathered edges and pinned up side part work well to flatter her round face perfectly.
35. Edgy Side Dutch Braided Bob
Sarah Hyland is bringing the sexy back into her look with this edgy side braided do. A Dutch accent braid done on one side of her caramel locks works in a stunning way to accentuate the angles of her face and adding a dramatic parting on one side.
36. Voluminous Bob With Blunt Bangs
Now, normally, women with round faces are told to avoid thick, blunt cut bangs. But when you're Kerry Washington, the rules don't apply to you. This long bob style of hers resembles a glorious lion's mane due to the amazing volume that has been added to it. And the straight cut bangs give her otherwise round face an angular structure.
37. Swished Out Bob
If you describe your sense of style as quirky and fun, then here's the short hairstyle you need for your round face! Actress Bai Ling, for instance, has gone for this totally offbeat straight bob with swished out ends that make her look oh-so-funky. The super straight cut bangs and chunky caramel highlights make her stand out even more.
38. Platinum Blonde Bob
Is there anyone out there who dare not follow Selena Gomez's style? Methinks not! Selena has what could be called the quintessential round face and she kills it with her hair looks every single time. This platinum bob, for instance, has been parted on one side and slightly tousled to make her look effortlessly chic.


Quick Tip
Spray a little bit of dry shampoo on your scalp before trying the Platinum Blonde Bob look to make your mane appear fresh and voluminous.
39. The Flapper Bob
The flapper girls of the 1920s were pioneers of short hairstyles for women. So, it's no wonder that a style sported by them has featured on this list. The flapper bob cut is an extremely short and rounded bob that is styled poker straight. Christina Ricci has made this cut work for round face by adding some wispy bangs to it.
40. Textured Bob
Jennifer Lawrence looks like she's all set to hit the beach in this hair look. This summery hairstyle consists of a blonde bob styled in beach waves and has oodles of sea salt spray spritzed all over it to make it look chic and sexy. Again, finish this look off by parting your hair on one side and you're good to go!
41. Side Parted 'Fro
Trust the very gorgeous Yara Shahidi to bring some afro realness to her red carpet look. All you need to do to get this style is fluff out your natural curls to create the afro, part it on one side, and smoothen your edges on your hairline. And voila! You're ready! This works great for a round face as it detracts the eye to the hair around it.
42. Bumped Up Bob
Now here's the ultimate way to add length to your face. And Candace Bure does not shy away from it. This bumped up style achieved with the help of backcombing and lots of hairspray looks super glamorous, to say the least. And the oodles of volume on top of her head works brilliantly to balance out the roundness of her face and make her look sensuous.
43. Shaggy Side Parted Bob
If there's one hairstyle on this list that has taken inspiration from the early 2000s, it has to be this one. This is one of the best short layered haircuts for round faces as it adds tons of volume. This super texturized and shaggily cut layered bob follows the basic rule of having side swept bangs to flatter this face shape.
44. Dramatic Pixie
Whoa there, Miley! We see you! And we love what we see. If you're anything like Miley Cyrus, have a round face, and love going all out with your hair looks, then you need to take a page out of her lookbook. This dramatically swooped up pixie with shaved off sides is edgy, sexy, and bound to make you look like the badass person that you've always dreamed of being.
Julien Farel, who has styled Greta Gerwig, Kate Moss, and Salma Hayek, advises, "Pixies for round faces should have height and lots of texture. You never want to add volume to the width of your hair or cut blunt straight across bangs."
45. Wet Styled Bob
Be prepared to shine bright like a diamond wherever you go with this stunning short hair look sported by Rihanna. Though Rihanna doesn't have a round face herself, this short bob parted down the middle and styled in a wet hair look with the help of hair gel is perfect for anyone wanting to tone down the roundness of their face.
46. Undercut Pixie
Well, well, well. It comes as no surprise that Lupita Nyong'o would be slaying it with her short hairstyle game. This bold pixie cut with shaved undercuts on either side works brilliantly with her naturally kinky hair. The pixie itself has been given some height with hair gel that would work amazingly well on a round face.
47. Asymmetrical Bob With Lavender Ombre
Punk rock hairstyles are making a huge comeback, and here's how you can jump onto the bandwagon. Start off with an asymmetrical bob and bleach it platinum blonde. Then, go for some lavender ombre on the longer side of the bob to finish off this totally badass hair look.
48. Barrel Curls Bob
The key to styling short curly hairstyles for round faces is that the curls have to be concentrated on the lower half of your hair instead of being tightly curled from the roots to the tips. This blonde bob has been styled in barrel curls on the lower half and parted on one side to create a flirty and feminine hair look.
49. Dramatic Edgy Pixie
You know, you don't have to actually be a bike racing chick to look like one (though if you really are one, OMG I love you!). This super bold and edgy pixie with a dramatic swoop on one side is exactly what you need to add some sharp angles to your otherwise round face.
50. Ultra Red Asymmetrical Bob
Add a new lease of life to your same old boring hair by going for a total hair makeover. This super fun asymmetrical bob has been given an even funkier twist with the help of a bright popping red hair color. Just straighten it out to flatter your round face!
And that's how you do it, ladies! That's how you style your short haircut perfectly to flatter your round face! While you may think you have it all figured out now, just take a moment to check out what you need to avoid when styling your hair.
Hairstyles That Women With Round Faces Should Avoid
Don't style uniform, chin-length fine hair in a sleek look. This type of style will simply curve around the face and draw attention to its roundness.
Avoid thick, straight cut bangs as they will be counterproductive and reduce the length of your face.
Don't tie your hair in a tight ponytail with all your hair pushed back as it will bring the roundness of your face into sharp focus instead of flattering it. 
Infographic: Accessories For Round Faces
Since the roundness of your face makes it appear soft from every angle, making smart hairstyle choices can add some well-defined edges to it. Similarly, you can use angular shapes in accessories to make up for the lack of angles on your face. Click on the infographic below for some accessorizing tips to amp up your look!



If you have a round face, you know it is not an easy decision to cut your hair short. There is a risk of choosing the wrong hairstyle and making your round face look even rounder. But with some help, you can cut your hair short so it perfectly enhances your face shape. Layered bangs, soft waves, shaggy layers, and curls near your crown can make your face look longer and leaner instead of rounder. From a lob to an asymmetrical bob, there are many short haircuts for round faces that you can experiment with. You can also talk to a hairstylist to figure out a hairstyle if you are still unsure.
Frequently Asked Questions
Are round faces better with short or long hair?
Long hair is generally preferred for round faces. Long hair balances the broader look of round faces.
Is the pixie cut good for a round face?
Yes, the pixie cut is a suitable haircut for a round face. It helps create the illusion of a narrower facial shape.
Is short hair better for chubby faces?
Short hair can emphasize and balance the features of a chubby face.
Does short hair suit short faces?
Short hair may suit short faces, but one should consider hair texture and face shape too.
What short hairstyles look good on women with round faces over 50?
Women with round faces over 50 can opt for a layered cut or pixie cut.
Should I consider my hair type when choosing a short hairstyle for a round face?
Yes, you should consider your hair type when choosing a short hairstyle for a round face to ensure it's easy to style and maintain.
Is short hair better for chubby faces?
To make short hair look good on chubby faces, add texture and volume to visually balance the round facial structure. Go with haircuts that end below your chin.
Does short hair suit short faces?
Depending on what type of short hairstyle you are picking, short hair looks good on all face shapes. For example, round faces can be structured to asymmetrical hair, and square faces look stunning with side-swept bangs.
What short hairstyles look good on women with round faces over 50?
Feathered pixie cut, bob cut, shag cut, side-swept bangs, and asymmetrical angled cut: are some of the hairstyles that will look good on women with round faces over 50.
What is the best short haircut for those with naturally curly hair and a round face?
A pixie cut, shaggy cut, messy bob, asymmetrical bob, undercut, feathered cut, and layered bob look highly flattering on a round face with curly hair.
Should I consider my hair type when choosing a short hairstyle for a round face?
Layers carried with front or side bangs go well with short and straight hair on a round face. Thick wavy and curly hair cut in an asymmetrical shape with a side part can draw attention away from a very round face. Avoid getting a mid-part as it will make your forehead and face even more round. How you style your hair makes a greater difference than just the haircut.
Learn easy and stylish hairstyles that are perfect for round or full-face shapes, from the video below. Elevate your look with these effortless hairdos.
The following two tabs change content below.