Is It Better To Cut Hair Dry Or Wet? A Complete Guide
Learn the key differences between the two to make the right choice for your tresses!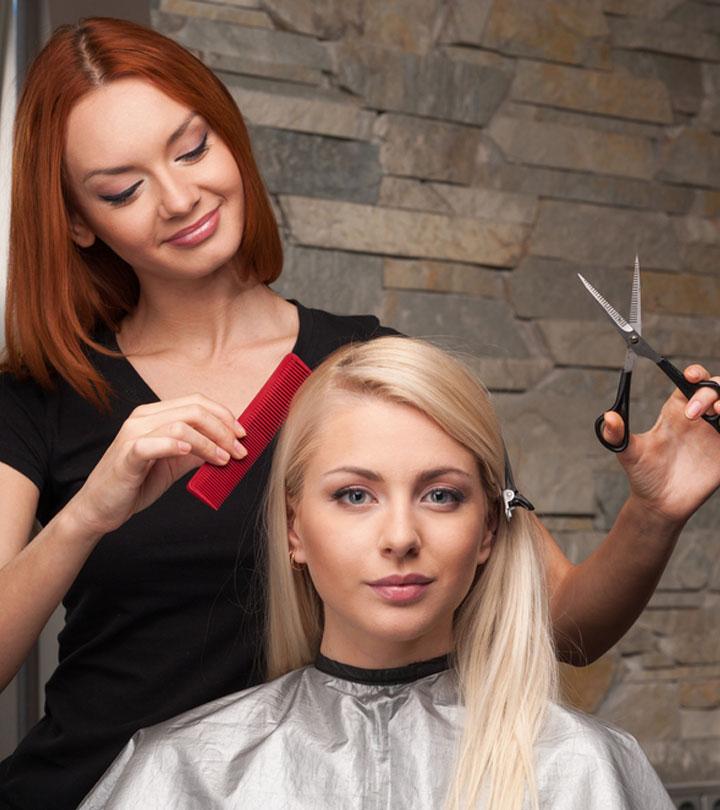 If you are wondering whether to cut your hair wet or dry, you are not alone. The usual practice is to shampoo hair before you start with a haircut. However, dry cuts have certain benefits, if you go by the latest trends. So, which technique should you ask for to get better results? Well, a lot depends on your hair type, density, and the style you are aiming for. However, both these techniques have their share of benefits and downsides. In this article, we will look at the differences between wet cuts and dry cuts and which one to choose for your hair. Keep reading.
Wet Hair Cutting
Cutting wet hair provides a great deal of control in sectioning and shows the actual length of your hair. It allows the stylist to trim your hair accurately and give a precise shape to your style. It is also helpful while doing foundational haircuts. The moisture in the wet hair acts as a lubricant that helps in detangling the hair, making it easy to part while cutting.
Wet hair also has more elasticity, and it can stretch up to 50% of the length of your hair. This is especially true if you have curly hair. Your stylist must consider the actual length of your hair and adjust for any shrinkage when it dries. This will also result in strong shapes that can retain for longer periods.
Furthermore, straight and thin hair with blunt edges can be trimmed easily when the hair is wet. Wet hair cutting is also great for coarse and high-density hair, which is unmanageable to cut dry.
Quick Tip
Long hair without layers and an A-line bob are some hairstyles suitable for wet hair cutting.
One downside of wet hair cutting is that it takes more effort and time.
Dry Hair Cutting
If you like your natural curls or waves and want to flaunt them, go for a dry cut. It gives your hair a fresh feel. This type of cut is excellent for creating movement in the hair. Cutting dry hair allows your stylist to pay attention to your curls and cut them in a way that enhances them.
Some professionals cut hair dry because they want to see the shape of the haircut while cutting. Also, people with issues like thicker hair on one side and thinner hair on the other should go with dry hair cutting. It allows the stylist to see exactly how your hair falls to troubleshoot the problem.
Fine and low hair density requires less control and also benefits from this technique as it minimizes the amount of hair taken off. With a dry hair cut, what you see is what you get. It helps the stylist create softer shapes more efficiently, which is very difficult with wet hair. It is also ideal for refinement.
Quick Tip
Since it is easier to identify split ends when the hair is dry, hairstylists prefer dry cutting to remove them effortlessly.
Dry hair cutting also has its downsides – holding and parting dry hair is not easy, and it is more difficult to cut precisely.
So, which is better – cutting your hair wet or dry? Find out in the next section.
Which Is Better: Wet Hair Cut Or Dry Hair Cut?
Wet cuts and dry cuts both have their pros and cons. When choosing between the two, you need to consider points like your hair type and the look you want to achieve.
The Haircut You Want To Achieve
If you are looking for a clean and precise haircut that is all in one length, a wet cut is the best option. It is easier to achieve that straight-across cut. However, if you want an uneven haircut, like an asymmetrical bob or a shaggy cut, a dry cut is your best option. This type of cutting helps your stylist determine how to distribute your locks' length to create the perfect look.
The Hairstyle You Want To Flaunt
The way you plan to style your locks plays a major role in choosing your hair cutting technique. If you like sporting straight hair, choose wet hair cutting as it will give you the precise and clean look that you are looking for. However, if you want to flaunt your hair naturally wavy or curly, dry cutting will give it that stylish look. Deciding your hairstyle before getting your hair cut will help you in setting your hair goals.
Key Takeaways
Wet hair cutting makes it easier to section the hair and offers better control.
Your natural curls or waves can be seen clearly in dry hair cutting.
Dry cutting is more suitable for uneven hair cuts like a shaggy cut or an asymmetrical bob, but wet cutting is preferable if you want your hair cut in one length.
There are benefits and disadvantages to cutting your hair wet or dry. Cutting your hair wet gives you an accurate length and style. Damp hair also does not get tangled easily. However, wet hair tends to stretch up to 70%. This means the stylist (or you, if you are cutting your own hair) should keep shrinkage in mind when choosing a hair length for your new cut. Dry hair cutting is perfect for naturally wavy or curly hair. It creates movement and enhances your curls. If you have a combination of thick and thin hair, this style is perfect for you. But, sectioning dry hair while cutting can be problematic. Keep these things in mind when deciding to cut your hair wet or dry!
Frequently Asked Questions
Does cutting dry hair cause split ends?
No. Cutting or trimming hair regularly improves hair health and appearance.
Can I cut my hair at night?
Yes. However, ensure you have a lot of light for proper visibility to avoid hair mishaps.
Does cutting hair make it healthier?
Yes. Cutting or trimming your hair once every one or two months prevents split ends and keeps it growing.