Shower Mistakes That Damage Curly Hair
Avoid simple errors like using the wrong products and drying your hair too vigorously.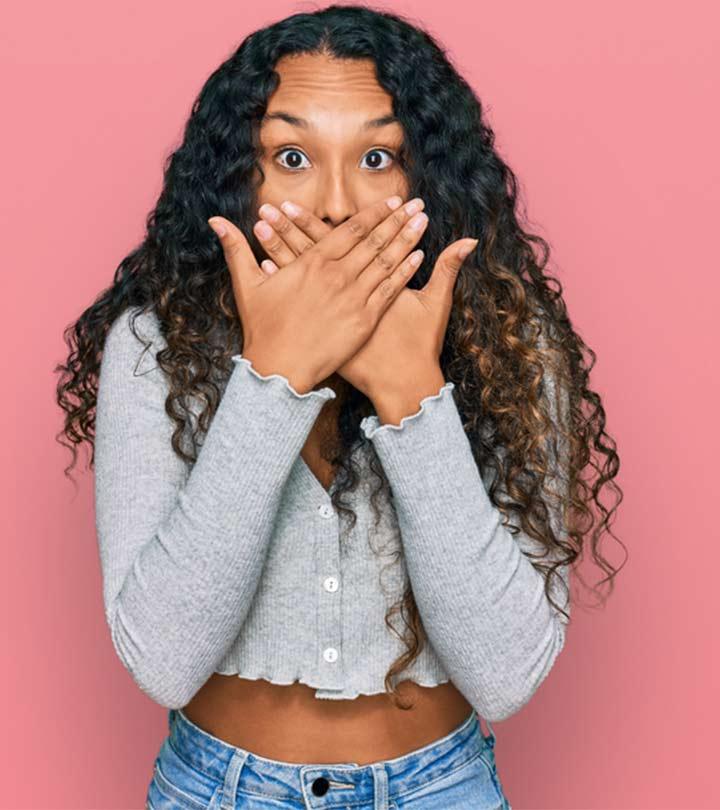 Curly hair is beautiful, but washing it can be tricky. When you are in the shower, you may be making some mistakes that damage curly hair. While everyone's hair wash routines are as unique as their curls, there are some mistakes that you can avoid in the shower to prevent frizz, damage, and breakage and achieve bouncy locks. Check out this article to learn about the 8 major mistakes that you may be making in the shower that are damaging your curls.
8 Shower Mistakes To Avoid For Curly Hair
1. Not Using The Right Shampoo
Shampoos are not just cleansers. They affect your hair health and help maintain the shine and shape of your curls. Therefore, use shampoos that can reduce static and control frizziness. Regular use of anti-dandruff shampoo is not advisable as it might strip the natural oils of the hair. Avoid shampoos with sulfates and parabens. Instead, opt for mild, natural cleansers free of harsh chemicals.
2. Washing The Hair Vigorously
Rubbing your curly hair vigorously might cause friction and breakage and spoil the definition of your curls. Wash and dry your hair gently from the lengths and work your way up towards the roots.
You can use soft microfiber towels that have minimal loops. It will absorb the moisture from the hair without any impact on your kinky coils. Alternatively, use a cotton T-shirt to dry your hair quickly. Wrap it around your hair for a few minutes to remove the extra water.
3. Washing Your Hair More Than Required
Curly hair is more prone to breakage than other hair types. Shampooing your hair frequently can strip its essential natural oils and increase the risk of damage. Use a sulfate-free, moisturizing shampoo once or twice a week. You can opt for a dry shampoo instead of washing your hair daily.
4. Skipping On Conditioners
Conditioners help replenish the lost hydration and nourishment while washing out buildup, grease, and dirt from the hair. Hence, never skip on conditioners while shampooing your hair.
Make sure to remove excess water from your hair before applying a conditioner. This will enable easy penetration of the product and achieve better results. Let the conditioner sit on your hair for a few minutes before rinsing it off.
Do not brush your curls to distribute the conditioner. It may lead to breakage or develop knots as the hair is weakest when it is wet. Use your fingers to spread the conditioner evenly and detangle your hair.
5. Not Co-Washing
The best way to ensure that your hair remains healthy is by co-washing it every alternate day. Co-washing is washing your hair with a conditioner. It is for the days when you feel like cleansing your hair without exposing it to shampoos.
This method gently removes dirt and buildup from your hair while providing it some much-needed moisture. Co-washes are meant to be used between regular shampoo routines so that you can delay your next wash by a couple of more days.
6. Not Using The Right Comb To Detangle
Combing your hair with any regular hair brush can pull the strands and lead to static and tension. Use a wide-toothed comb to detangle curly hair and reduce damage. Take small sections from the bottom and make your way up towards the roots. It is advisable to use your fingers to remove any tangles before using a comb.
7. Not Applying Styling Products Correctly
Curly hair requires styling products to add definition to the coils. However, these products should be used in the correct way to achieve the best results.
Ensure that you apply styling products to wet hair – this can help lock the hair's natural moisture. If your hair is too wet or dry, these products will only end up giving frizz.
Do not run your fingers through the hair while applying such products. It will disturb your curls' natural shape and cause hair loss and damage. Instead, apply the products on the hair gently and scrunch it to give the desired shape.
8. Not Blow Drying Your Hair Correctly
Ensure that you always use a blow dryer with a diffuser. It will limit the heat reaching your hair and thus, reduce frizz and friction.
Blot excess water and place your curls on the diffuser claw. Keep the diffuser close to your scalp and lift your hair from the roots to add volume. Finish by gently scrunching your hair to create your desired style. Blow-dry only 80% of your hair and let the rest 20% air dry naturally. This will minimize frizz and dryness and prevent thermal damage.
Curly hair can get frizzy and uncontrollable easily. But, with the right products and methods, you can manage your tresses effortlessly. However, you should be aware of the mistakes that can damage curly hair. Curly hair needs extra care and attention. Avoid the shower mistakes discussed above in the article to prevent your hair from turning dry, frizzy, and tangled. Knowing your hair type and needs will help you maintain well-defined and lustrous curls. Also, not all products may suit your hair type. So, you may have to do some experiments, observe the result, and decide which products suit you.
Frequently Asked Questions
How long does it take to repair damaged curly hair?
It could take up to 2-3 years for damaged curly hair to transition into healthy hair.
How do I know if my curly hair is damaged?
The way your curls look and feel can tell you a lot about their condition. Dullness, dryness, frizziness, rough and brittle texture, split ends, etc., are signs of damaged curly hair.
How do you sleep with curly hair?
Using a bit of hair care products, braiding or tying your hair up, putting them in wraps, and using silk or satin pillowcases while you sleep can ensure your curls are protected.
Why is my hair losing its curl?
A dramatic change in your curl pattern could be traced to big hormonal changes in your body, including menopause, pregnancy, and puberty. The follicle shape may change with fluctuating hormones, which may affect your hair pattern.
Key Takeaways
How you wash your hair in the shower can affect how gorgeous your curls look.
You need to use shampoos that are free of sulfates and parabens and dry your hair gently with a microfiber towel.
Not using the right hair brush for your hair type and applying your hair products incorrectly are some other mistakes you need to avoid.