Side Pony with Multiple Twists – Detailed Step By Step Tutorial With Images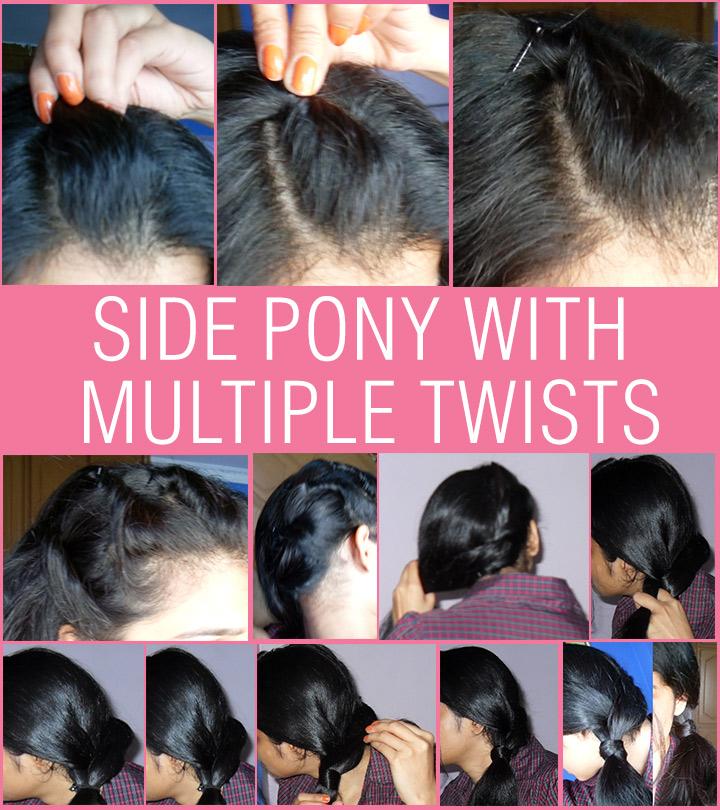 Simple and stunning.
Is that your aim? Time to add some jazz to your hairstyle. What is the point of wearing lovely clothes when all people notice is you shabby hair?
Today we explore a new way spicing up that ponytail of yours. In my opinion, ponytails are the easiest way of carrying your hair around without messing or damaging it much. Side pony tail with multiple twists is one such style.
Step-by-step Method For Side Pony Hairstyle With Multiple Twists
Step 1:
Always start by center-parting your hair clearly.
Once you've parted your hair neatly, grab a small section of hair adjacent to the partition as shown in the picture below.
Step 2:
Now slightly twist the section as shown in the picture below.
The twist should be tight.
You may use a little hair spray to hold the twist in position for long.
Step 3:
After you've twisted the section of hair, secure that section of twist using a bobby pin.
Use two pins if required. These twists render the different look to your pony. So make sure you do them right and tight.
Step 4:
After securing the first twisted section, repeat the same procedure till you reach your ear.
Make multiple twists on just one side.
Step 5:
Once you're done with multiple twists, hold all your hair together and roll them into a twist once.
Step 6:
Now pull all the hair to the other side (the one without the twists).
Step 7:
Now start braiding your ends loosely and stop after just one cycle of the braid.
Step 8:
Using an elastic band, secure your pony.
Step 9:
Now grab a section of hair from behind and start wrapping it around the elastic band. This should be done to hide the elastic band.
Step 10:
Use a bobby pin to secure the wrap.
And there! Your new hairdo is ready for you to flaunt. You will get a loose pony on one side with tight twists on the other! The picture below will help you understand what this hairstyle of side pony with multiple twists would look like.
Here are some more pictures from different angles to help you understand the look better.
Add some more fun to your look by using colourful clips on each twist, covering the pins to add a pop of colour.
Note:
One thing to take utmost care about in this hairstyle is the twist. The only difficulty with this hair styles is to get tight twists. The entire look of your side pony with multiple twists depends on how well you do the twists. You can easily master this art with just 2 to 3 times of practice. If required, you can spray some holding spray before twisting the hair, to hold your twists tighter and better.
The best part about this hairstyle is that it can be worn by girls of any age. But it is especially a hit these days amongst teenagers. This hair doesn't call for using any styling product per se. This exact reason makes it a favourite amongst the teenage groups. After all, during your teens, the more natural you stay the better.
Has any one of you tried this hairstyle before? Please tell us more about how you liked it? And if you're planning to try this look for the first time, please do share your feedback and post your pictures.
Watch a Video from StylecrazeTV :
How To Do A Twisted Side HairStyle – Tutorial & Tips
The following two tabs change content below.