28 Simple And Easy Mehndi Designs For All Occasions – 2023
Rock those henna-stained hands without the struggle of sitting for hours to get it done.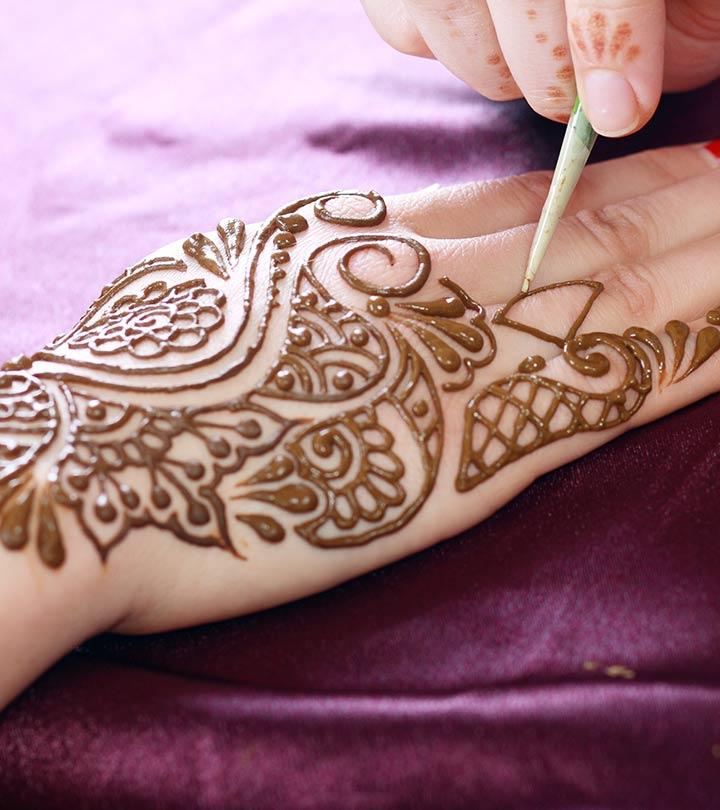 Mehndi is one thing that all Indian women adore – not just because it is an important part of our culture but also because of how beautiful the mehndi design looks when we are adorned with it. So, before going through some of the best simple mehndi designs listed below, let us learn more about this dye.
Mehndi is a kind of natural dye made from the leaves and stem of the Henna tree. It is being used now as a natural dyeing agent, and the art of mehndi has now spread worldwide. In Western countries, mehndi is also used as a temporary tattoo, or to dye hair, nails, and fabrics.
We are usually quite accustomed to seeing lavish and intricate mehndi designs during weddings. But there are also some very simple designs that look chic and beautiful and can be done for any kind of occasion. These simple mehndi designs for hands actually require very less time and are simple and sweet; they add a hint of color to the hands but do not give an over-decked look.

Keep In Mind
Skin Prep: Ensure the skin is clean and dry. Avoid using moisturizers or hand creams before application as they prevent the color from properly penetrating into the skin.
Leave-On Time: At least 8 hours or overnight to achieve a rich color.
Clothing: Wear loose clothes that allow comfortable movement and will not ruin your design.
Prior Arrangements: Get your mani-pedi done beforehand so that the mehndi does not wear off in the process later. Sit at a comfortable place and tie your hair back.
Recommended Videos from StylecrazeTV
The special mehndi designs are just one click away! Beautiful and easy, these designs will make your celebrations even more special and mesmerizing. Check them out.

Fun Fact
There is a belief that the darker the mehndi stain, the deeper the love between the couple.
1. Here is a very beautiful yet very simple mehndi design for the hands. The design is mainly done on the thumb and the index finger. It is quite simple but still can be easily done for any occasion to draw attention to your hands. Great if you are attending an engagement ceremony or the sangeet of a friend's friend!
2. Here is an example of an ">easy mehndi design for hands where you can apply the mehendi on any one finger. On occasions where the attention will be on your hands or fingers – like an engagement or on your wedding day, you may use this type of design for your finger. This is especially applicable for women who don't like heavy mehendi designs. It will look very really pretty if you do this on the ring finger.
3. We just loved this design as well as the matching nail art on the feet. The design is very simple, yet looks lovely. The use of the red mehndi gives a distinct bridal feel to the look and can be donned by anyone. It will suit most brides and the added accessories like toe rings will add to the beauty.
4. Love mehndi but do not want to apply lavish designs on your feet? Try this very simple and small design which is very easy to do. This will not interfere with your style and will blend in quite easily. This is for those who love small and hassle-free designs.
5. If you love floral patterns and also love using mehndi on your feet, try this style. This sweet and simple mehendi design can be done by anyone for any occasion. The use of mehndi makes the feet more prominent and this will also look great for office goers who love small designs on their feet.
6. Do you love applying henna? Try this simple pattern which is very easy to do. And this will look great on everybody's hands; be it your daughter's or your own. You can make additions to this design and make it into a full-fledged design one as well.
7. If you are new to mehndi application, then you may like to settle for one of the simplest mehndi designs initially. Behold! We have the perfect design for you! This design will flatter anyone, irrespective of their age. It will also look good on brides and on the occasion of their engagement too. The designs are not cluttered and are simple enough to be tried at home.
8. Recently there has been a new trend in mehendi, and it is the increased use of glitter and stones as decoration. Using glitter and stones looks good as sometimes mehndi can become boring with the same old colors and variations. Glitters and stones give you ample choice and you can easily settle for any color of your choice! Glitter is applied over mehndi and the beads & stones are placed according to the design. The colors used can be changed or manipulated according to your outfit. This especially looks very attractive on the contemporary bride.
In this design we see white stones and blue stones being used, which make this simple mehndi design look absolutely gorgeous.
9. This design is quite different from the usual mehndi styles we are accustomed to seeing. The design is predominantly simple, yet it is unique. Perfect for a modern woman, who likes to mix trendy with traditional.
10. This is another one of the simple mehendi designs which is suitable for beginners. The design is great for any occasion. The unusual patterns on the fingers make this design quite unique. It has the predominant use of geometric shapes and dots, which is quite easy to do – even for beginners.
11. We love this simple yet pretty mehendi design. The design slightly leans towards the traditional Arabic design. The shades and the motifs used for the mehndi are basically very simple. This will be apt for any occasion and will make your hands look full without actually filling it up entirely.
12. If you need a simple design with very less motifs and which is basically restricted to just the back of your hand, try this super chic design. The design in the middle of both hands is quite easy to do and looks simple enough for any occasion. It will suit women of any age. You can also display this mehndi design  on your palms.
13. The back of the hand is beautifully decorated using this design that has very few, yet pretty motifs. The design covers most of the space on the hands yet does not look cluttered and the design on the ring finger is what makes this design specially appropriate for an engagement.
14. Here's a very simple design for the feet. It has a floral and leaves pattern. The design is very simple. The most attractive feature of this mehendi art is the way the design is giving an impression of an anklet being worn.
15. We know you love mehndi clad feet so how about donning this pretty and unique style? The spiral designs look very unique and beautiful and this design will suit any occasion. Even brides may do this design on their feet. There are small details in the design which make it look very simple yet elegant. The predominant spiral design can be customized to give a fuller look.
16. This unique mehndi design for the feet just stole our hearts. The complete sole of the feet is decorated using lavish designs. The look is very bridal but at the same time can be used on any occasion. Though it is rare for one to apply mehndi on the sole of their feet, this can be a super cool way to adorn your feet. You can use any type of mehendi. This will look especially good on a bride as during the wedding there is a great deal of attention on the bride's feet and it is often photographed.
17. Want a mehndi tattoo design for the feet which can be done quickly? A simple design for the feet like this one will look just perfect with any outfit. Wear it with some nice ballerinas and you will have the world under your feet! The shaded flower on the design is very unique as we hardly see a whole design shaded in traditional mehndi motifs. The shading has also been done using mehndi .
18. If you want a nice design for the engagement ceremony, you may want to consider this one. The design in the middle is quite intricate yet does not look cluttered – and highlights the ring finger. This design will suit any kind of occasion.
19. If elaborate designs are not your forte and you like simpler designs better, then this simple mehndi design is for you. It is extremely simple with no intricate or small patterns or motifs. The design looks very pretty and clutter-free.
20. This design is apt for the bride if she loves simple designs. The fingers are nicely highlighted and the back of the hands are also decorated with patterns.
21. Love glitter and stones? Then try this modern mehndi design which looks great on brides – and the bridesmaids as well. The use of stones and beads makes the design look unique as well as gives one the freedom to manipulate it according to one's outfit. The crystal bindis add a whole new level of charm and bling to the design.
22. Here's another example how you may add glitter to the mehendi design on your hands. This design has been given a unique touch with the use of tube glitter. This makes it ideal for any party or festival. The patterns, though traditional, have a unique contemporary look as a result of the introduction of glitter.
23. Floral motifs and mehndi come together to create this simple yet pretty design. The design is very simple – making it wearable for just anyone! It can be used for occasions like engagement parties as well.


Quick Tip
You can get creative by adding leafy vines, drops, and paisley motifs to make your mehndi design more unique.
24. Here's a simple mehndi design for the feet. The design features anklet-like patterns on the feet. The connection from the middle toe to the main design along with the inclusion of small heart shaped patterns make this a very cute and apt design for the bride. Those looking for a simple yet very unique design for their feet can easily settle for this one.
25. If you are a mehndi girl, then this design is perfect for you. This design includes small motifs for those who love minimal clutter designs. The design starts from the area near the elbows and ends at the fingers. Though there are no elaborate patterns and designs, this can easily be worn by a bride as their bridal mehendi. There is no shading and the motifs are fairly traditional.
26. This design is very good for children as it is very simple and fills their hands easily, making it less time consuming. It is especially good for children as they tend to be incapable of sitting still for long. You may even tell them to do the patterns themselves as this one is really easy to do and requires less perfection to look good.
27. This mehndi design is for those who are new to mehndi and want simple designs which they can do themselves. There is very less design in this style and will require very less skill – making it apt for the beginners.
28. Want a chic mehndi design for the palm? Then you will love this design. With just the thumb decorated with patterns, this makes a great design for beginners as well as for those who like simple designs on their hands. The pattern starts from the wrists and ends at the thumb. The predominant floral pattern makes it apt for any occasion.


Trivia
Mehndi is not just for brides. In Assam, unmarried women adorn their palms with intricate mehndi patterns during Bohag Bihu, the Assamese New Year.
Infographic: Tips For Darker Shades Of Mehndi
The darker the shade of a mehndi design, the prettier it looks. Many people swear by a few tips to ensure that your mehndi gets a gorgeous dark shade. Check out the infographic to learn what these hacks are.



Mehendi, also known as henna, is an inseparable part of many Asian and Middle Eastern cultures. While they are commonly applied before major celebrations like weddings or religious ceremonies, you can adorn these temporary motifs whenever you want. These simple Mehendi designs are great for beginners. They can be remade or modified to suit your tastes. So, arrange your DIY Mehendi session for you and your close ones. Don't be concerned if your hands are shaky or if you make mistakes. You can simply wipe away the erroneous areas without the worry of smudging or ruining your desired motif.
Frequently Asked Questions
What is used to make mehndi designs?
You can use doilies, cones, rods, toothpicks, and syringes to make mehndi designs.
How can I practice mehndi at home?
You can practice on family and friends, or use a paper or canvas to practice your mehndi designs. Start with the basic designs like flowers, lines, dots, and circles. As you get better, you can build on your designs and try the harder ones.
What to apply to mehendi to make it dark?
Let the henna sit for a few hours or overnight to make mehendi darker. Once the mehendi dries, apply a blend of lemon juice and sugar to it with the help of a cotton ball. You can also apply a mix of eucalyptus and coconut oils to your hands before applying mehndi to let the color soak into your skin, making it darker.
How long does it take to learn mehendi?
It depends on how much you practice. With daily practice, it should take a month or two to be pretty good at mehndi designs.
Images: Google, Flickr
The following two tabs change content below.