52 Simple Bridal Hairstyles For Curly Hair
Now create elegant looks that add more grace to your naturally gorgeous curly hair.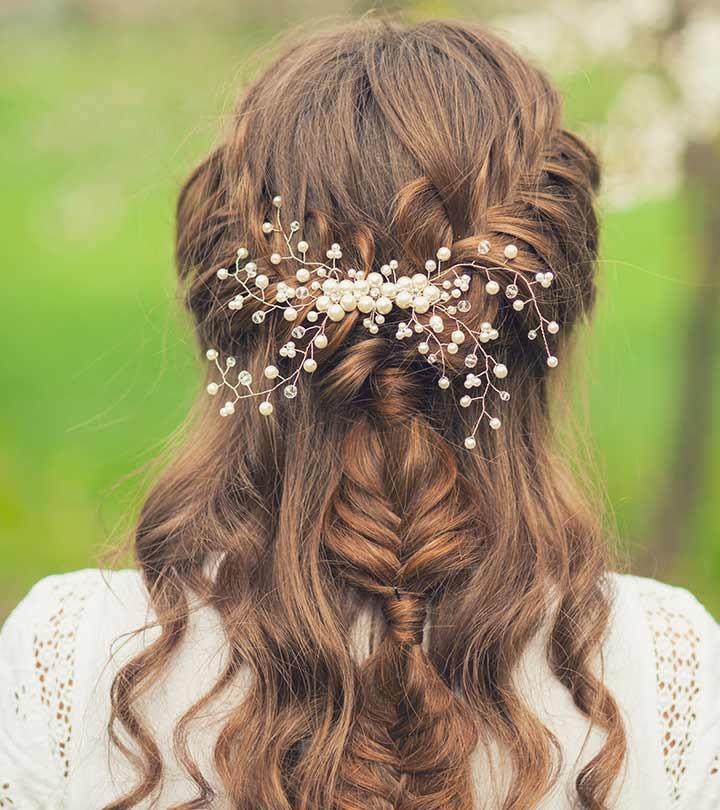 If you want to look drop-dead gorgeous on your special day, trust these bridal hairstyles for curly hair. They will help get rid of your curly hair woes and make you look grand and flawless.
The best part is the effort is less, which gives your hairstylist more room to accessorize and make it look absolutely beautiful. Scroll down to take some inspo below!

Before You Get Started
An updo with curls adds lots of volume and texture to your hair. Add some extra flair with a special bridal accessory such as a jeweled pin.
On your special day, you should definitely show off your stunning curly locks. To add more length and volume to your hairstyle and flaunt your curls, use hair extensions in the same color as your natural hair.
Work with a stylist and do a trial run before the actual day to avoid stressing out about your hairdo. This is especially important if you intend to accessorize your hair or add extensions.
Some curly haired people like their hair best on the day after a wash. Try your wedding hairdo at home to determine when it is best to wash and style your hair beforehand.
You can also use bun makers, like the chignon maker or donut maker, for thin curly hair. This adds more height and volume to your hair.
Do not use any products or try a new routine before the wedding day as it could potentially damage your hair and curly hair requires a regimen that it is accustomed to.
1. Low Bun With Laid Edges
Curly hair is unquestionably the perfect choice for this vintage-inspired low bun hairdo. Laid edges at the front and a braided bun at the nape of the neck are all that is required to achieve this classic style.
2. Embellished Bun
The embellished bun is the most popular and preferred bridal hairstyle. This hairstyle can be perfected by tying a messy bun at the back and accessorizing it with a lovely piece of hair jewelry.
Curly Hair Expert, Casey Simmons says, "Your embellished bun can become even more special by letting a few strands fall around your face. Twist and sett them with your favorite curl cream."
3. Short Tight Curls
Pull back your curls and tie it up with accessories. Use a headband or flowers. If you have straight hair, you can temporarily curl your hair to get this look.
Casey Simmons adds, "A thin hair crown made of small braids on either side of your face, connecting in the back, will give these short curls a whimsical look."
4. Side Clasp With Loose Curls
This hairstyle will definitely make you look fresh. Curl your hair in beach waves. Part the hair on one side and use a big accessory to hold the hair. You can also apply  hairspray to help hold the style longer.
Casey Simmons offers a pro tip saying, "If you're not gifted with naturally curly hair, use heatless curlers overnight to create sweeping, large, curls.Use them on 70% dry hair as sleeping with wet hair may cause fungal infections on your scalp."
5. Curly Updo Bun
Curl the hair, tie it up. Put the remaining hair into a bun. Let a few strands hang loose to soften your face. Decorate it with interesting jewels.
6. Beaded Fulani Braids
Curl the hair and part it from a side. Take hair from the middle section and pull it back in half up style. Put this at the back of your and secure it with pins. Keep it simple or give it a fluffy look. Wear a pretty tiara or a simple headband to add shimmer.
7. Braided Bun
Curl your hair from ear level; braid the front section to give a headband effect. Gather the remaining hair and pull it up into a bun. Use jewellery, flowers or keep it simple.
8. Chignon Bun
You can never go wrong with a Chignon bun. Put your hair on the side, pull it into a loop and secure it with pins.


Trivia
Actress Sophie Turner sported a tight middle-parted chignon bun on her wedding day.
9. Voluminous Bun
Here comes one of the simplest bridal updos for curly hair. Make a deep side parting, and pull the hair to the side to make a chignon bun. The deep side parting gives volume and yes a sultry glamorous look.
10. Reverse Braids
This style is rather tactful. You would need a helping hand to weave the strands and get the messy yet detailing effect which would be set with a flower or beads as accessories.
11. Highly Tousled Low Bun
Make a low bun with strong tousled hair to attain a highly refined look. The style appears understated but is very refined. Accessorize the style with flowers!
12. Uptown Chignon
A different yet stylish and an easiest bridal hairstyle for curly hair to sport! Use a net to keep everything in place. A knotted pony turned into a bun is what you should aim for.
13. Sleek Fine Bangs
A straight hairdo with a deep center part that would make you look classy and elegant. The style has fine blunt bangs. Keep the hair smooth and flawless by applying a good hair serum.
14. Braided Chignon
Gather your plaits and make a chignon. The sleek chignon adds a very classy and chic touch to your look.
15. Flyaway Knot
Unconventional brides can go for a messy knot for the d' day. A simple knot or a bun would make you fun and simple at the same time.
16. A-Tisket, A-Tasket
Try a bohemian braid this time. Weave it with five strands or more. Ideal for a romantic barn or vineyard wedding! A few small flowers would complete the style.
17. M.M Inspired Hairstyle
Get inspired by the yesteryears of Hollywood; style your thick short hair in Marylyn Monroe's signature style for your wedding day.
18. Fade to Braid
This is one of the best bridal hairstyles for long curly hair! The bohemians inspire this style. This hairstyle boasts a deep part and a low ponytail. Opt for a lace wedding gown with this hairstyle. Incorporate a braid anywhere to complete the bohemian effect.
19. Ballerina Bun
Dress up like a ballerina, yet keep it simple with this style. This is often described as a cool girl bun, simple yet different.
20. Braid Waves
Braid your wet hair loosely, dry it with a diffuser and undo the braids. The braid effect gives a striking detail to your hair. Wear a veil and you are set to go.
21. Low Braid Chignon
Get innovative by combining braids with a chignon. Tie a scarf around your neck or wear a veil, and you are ready to walk down the aisle.
22. Natural Wonder
This hairstyle is feminine and sexy. Gives a very fresh and sexy look; perfect for a lavish wedding gown. You can breeze down the aisle in this modern style.


Trivia
The star of the popular TV series Pretty Little Liars, actress Troian Bellisario, married Patrick J. Adams with her gorgeous hair loose and enhanced with an elegant flower crown.
23. Pony Up
Make a polished bouncy and frizz free low pony. Apply a styling product for that wet look.
24. Mod Style
This style would go very well with a short white dress. It would be a sixty's inspired look but still very fresh and modern.
25. Headband with Spiral Edgy Curls
Make any updo a knot or a bun and pair it with a headband. You are good to go!
26. Subtly Tousled with Fine Layered Waves
Brush out your hair and create soft waves which you can wear with an A-line wedding gown.
27. Subtle Bouffant with Finely Layered Edges
A light, airy hairstyle that is simple and easy to achieve. It's sleek yet breezy. Use a styling product to keep the hair in place. Team up with organza gowns.
28. Sleek Half-Up In Medium Length
Try the half up half down style with the updated version of cool placement of the clip in a way to keep the hair away from the place.
29. Vintage Waves
Another style inspired by old Hollywood glamor. Opt for a birdcage veil for a subtle look. Tie up the waves in an updo or let it fall on the shoulders.
30. Side Swept With A Twisted Updo
Try this one shoulder cascade swept to one side and decorated with a big flower or a hair accessory.
31. Fishtail Braids
Weave this tacky 'do and set it up with small flowers or beads and you are ready.
32. Miniature Braids
For a natural setting, have a more casual hairdo. Weave mini braids and put them into a small bun to resemble a knot and let the rest of the hair fall.
33. Highlighted Waves
Natural waves coupled with highlights would complement the facial details.
34. Retro Glam
Add some sheen from the retro decade with curls and twists combined with side or center partings.
35. Knotted Ponytails
Knot your pony and make it wavy or curl it. You are sure to bring in the element of freshness when you walk down the aisle on your big day.
36. Pixie Cut
Short hair is not an understatement. A pixie cut redefines beauty when it comes to weddings. Go for it in your white gown.
37. Twisted Up-Dos
A twist and a turn always looks trendy and interesting. Make it your fashion definition on your wedding day.
38. Braided Ponytails
Braided ponytail gives a messy yet tender definition.
39. Tuck Hair Ponytail
This unique pony hairstyle exudes elegance and class. With the hair tucked in below the ponytail, this style requires skill and efficiency.
40. Bun Bangs
Bangs and buns go effortlessly together. A crown braid runs across the head behind the slight mid-part and fuses with the chignon. The style is slightly complicated but worth the effort.
41. Tousled Bun
This bun exudes a tousled and wavy effervescence. The twirled bang in the front adds to the messiness in the style. The coiled bang gives a stylish twist to the bun.
42. Tousled Updo
The hairdo exudes a classic vibe. The waves and curls intertwined neatly making the style graceful. The updo makes the bride feel ready for the crown.
43. Waved Strands In Half Updo
For a soft alluring coiffure, pull back the wavy tresses into a half up do that is done in a neat way and does not look messy.
44. Waved Chignon
Wavy hair, very fair! Roll it up into a side or a low chignon which is easy to make. Decorate it with fresh white flowers.
45. Sophisticated Twist
The multi braided bun exudes high sophistication and skill. The style in itself is very intricate, so no decoration is required, though you choose what you want.
46. Free Flowing Ponytails
Tie up the curls into a ponytail that does not look too sleek or polished. But still complements you evenly. Hot red lips go very well with the uneven waves behind them.
47. Middle Parted Curly Chignon
Try the curly version with or without the parting. The bangs fall delicately over the face. Accentuate the style with big earrings.
48. Askew Chignon
Another variation of the chignon, the side parting, slightly puffed up crown contributes to the sexiness it exudes.
49. High Knotted Bun
Gather your hair and make a high knot bun. Sleek and classy, the simpler you keep it, the more sultry it is. You can further spice up with bangs.
50. Wavy Bun Hairdo
The waves tied up behind loosely make you soft and tender in the wedding gown. Smaller accessories would add to the sheen. Make sure you keep it simple. Let the soft curls in the front do the trick.
51. Curled up Bun
Here is one of the easiest bridal hairstyles for naturally curly hair. Add the curls and waves, gather the rest of the hair behind, and you have a raunchy bride ready.
52. Slick Back Bun
Infographic: Top 5 Stunning Bridal Hairstyles For Curly Hair
Long, flowing curls are beautiful and can always be left open on your wedding day. However, if you prefer updos and buns over loose curls, we have the perfect bridal hairstyles for you. The following infographic features the most stunning hairstyles for curly-haired brides to adorn on their big day. Check it out!


It is absolutely important to look your best on the most special day of your life. If you are worried about your curls giving you trouble on your wedding day, don't be. You can ask your hairstylist to try these bridal hairstyles for curly hair to look your absolute gorgeous best. You can go for a chignon bun, fishtail braids, tousled updo, or a low braid chignon to accentuate your lovely features. Don't forget to add the right accessories and flowers to finish your bridal look.
Frequently Asked Questions
What hair color looks best with curly hair?
The charm of curly hair lies in its texture, volume, and health. The hair color you pick will only add a vibe to your curls. Like darker shades give a seductive tinge. Blonde curls have a young, wild, and free aesthetic. Shades of pink and purples give off a playful and lively vibe.
Should hair be done before makeup for weddings?
It is ideal and convenient to get the hair done first, then the makeup. This way, you can avoid getting hair styling sprays on the face post-makeup.
How do you keep your curls all day for a wedding?
Curls can be maintained all day long by following these simple tips:
Maintain a perfect texture by adding a mousse.

Curl without heat by using a T-shirt, braiding, or by using a pen or pencil for long lasting curls. 

Use a good quality hairspray to hold them in place. If needed, use it even twice or thrice.
How can I make my curly hair look fancy?
You can make your curly hair look fancier by trying various hairstyles like buns,or braids. You can also try accessorizing curly hair with headbands, and clips. Use a volumizing spray to add good volume for a fancier look, and always use products specially formulated for curly hair for a healthy look.
How can I ensure that my curly bridal hairstyle compliments my face shape?
Determining your face shape before choosing a bridal hairstyle is a must. Tie your hair into a tight ponytail and stand in front of the mirror. Take a kajal or lipstick and draw on the reflection to determine your face shape. It is always a good idea to conduct at least 3 to 4 trails with your chosen curly bridal hairstyle so that you can be sure it won't be a catastrophe on your big day.

Learn how to achieve a glamorous and elegant look with these beautiful hairstyles for curly hair in the following video and get ready to dazzle on your special day.

The following two tabs change content below.