Simple Gold Eye Makeup Tutorial
Become the talk of the town with just the right amount of golden bling on your eyes.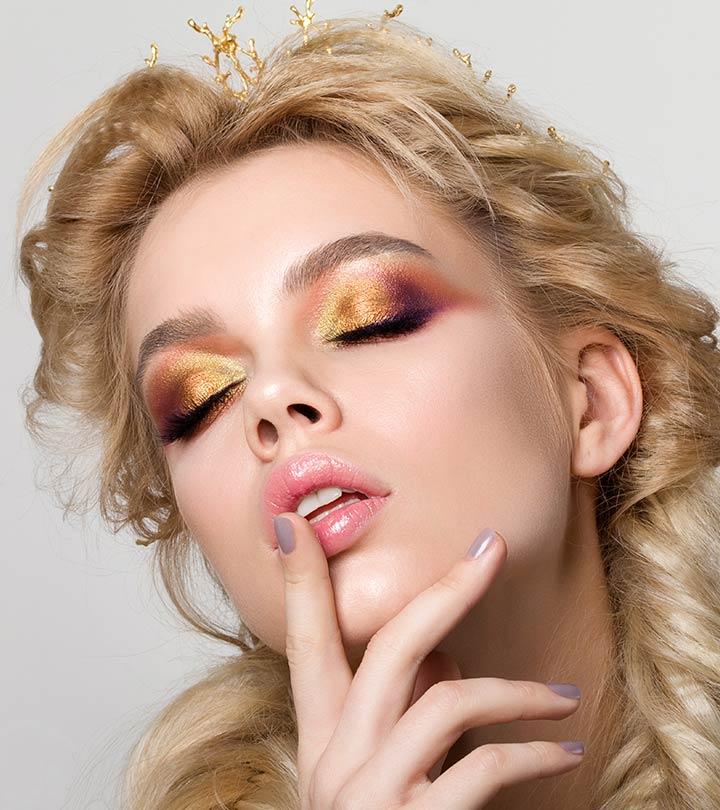 Gold is the color of royalty, wealth, and luxury. Therefore, many of us love this highly sought-after and precious metal. Similarly, there is nothing quite like wearing a gold eye makeup look when getting dolled up for a party or big event.
Eye makeup trends keep coming and going, but this all-time classic look never runs out of style. From radiant golden tones to metallic bronze eyeshadow looks, gold eye makeup covers quite the range. A hint of gold makes your eyes pop instantly, and it can be your go-to look if you want to stand out from the crowd.
In this post, we discuss some easy gold eye makeup tutorials that will transform your look. Keep scrolling!

Keep in Mind
Cateye: Cateye Use a dark liquid eyeliner to create a winged line past the corner of the eyes to add depth to the gold eye makeup.
Skin Tone: Cateye Rose gold and mustard gold eye makeup add warmth to fair skin. Golden hued skin tones like medium tan or olive should opt for antique or white gold eye makeup. Pure and dull gold hues will add to the rich look of deep skin tones.
Match Face Makeup: Cateye Bronzer on the cheekbones will help match the rest of the face with the golden lids.
Subtle Lips: Cateye Pair the look with a matte lipstick to tone down the gleam of gold. Classic red, earthy shades, or nudes will add to the regal look.
Simple Gold Eye Makeup Tutorial
Required Products
Primer
Base shade
Gold eyeshadow
Dark brown eyeshadow
Kohl/Kajal
Concealer
Mascara
How To Apply Gold Eye Makeup Perfectly?
Step 1: Prime Your Eyelids
Prime your eyelids so that they are smooth. This step is extremely vital, as it helps the makeup to last for a long time and prevents it from creasing.
Step 2: Apply Base Shade
Apply the base shade all over the lid, and a little above the eyelids as well. This works as a transition shade so that there are no harsh lines between the gold and the skin.
Note: The base shade should match your skin tone or be slightly lighter. Make sure the primer has not creased and use this shadow to set it in place.
Step 3: Pack On The Eyeshadow
This is where the main star of the show comes in – gold eyeshadow! Pack on the eyeshadow on the inside and center of the eyelid and blend it out near the crease.


Quick Tip
You should choose a gold shade that is suitable to your skin tone. For a dark skin tone, you can go for warm gold. Those with fair skin can try champagne gold, while people with medium skin tones can experiment with yellow gold.
Tip:
A great way to apply a shimmer shadow to make it pop is with your fingers or a wet flat brush.
Step 4: Add Dark Brown Shade
Add a dark brown shade to the outer corner and blend it away into the crease. This will highlight the gold and add depth to the bottom.
Pack more of the gold eyeshadow on the center of the eyelid if you feel that there isn't enough color. Apply some of the gold eyeshadow on the bottom lashline as well.
Step 5: Conceal the Heavy Fallout Areas
At this point, you probably have a lot of fallout from the eyeshadow. Fear not, this problem can easily be rectified with the help of a little bit of concealer. Conceal the areas where you think there is heavy fallout and blend it out. Better alternatives to this would be:
Doing your eyeshadow before your face makeup and then wiping it away with a makeup remover.
Baking with loose powder to catch the fallout and then sweeping it away when you are done.
Make sure there is no excess product on your eyeshadow brushes to avoid fallout altogether. Good eyeshadows, when used correctly, should not produce too much fallout.
Here's what it should look like:
Step 6: Create Winged Eyeliner
Use a black liquid or gel liner to create a winged line. You can extend the wing or keep it simple. It depends on whether you are going for a more dramatic look or a sober one.
Step 7: Create An Intense Look With Kajal
Apply kohl or kajal on your upper and lower water lines to create an intense look. Smudge out the bottom lashline a little bit to soften the look.
Step 8: Add Mascara To Eyelashes
Finish off the look by adding mascara and curling lashes to your eyelashes.
This is what it should look like after the application:
Step 9: Gold Eye Makeup – Final Look
Step 10: Brighten Your Eyes With Shimmer (Optional)
This is optional, but I always like adding a little shimmer to the inner corner of my eyes in order to brighten them up and create a luminous, gilded look.


Quick Tip
You can also apply bronzer to your cheekbones to give a golden hue and match your golden eye makeup.
Infographic: Steps To Get That Perfect Gold Eye Makeup
Gold eye makeup is for all skin tones and all occasions. Though it is best suited for warm skin tones, you can find deep golden hues that better suit cool-toned skin. We all agree that achieving the perfect eye makeup is quite a task, but the end result will be worth it all! In the infographic below, we have listed steps to help you get the perfect gold eyeshadow look. Sneak a peek!

Gold never goes wrong. The color effortlessly makes for a luxurious and opulent look. When you have invested all that effort into picking the right dress and working up an elegant hairdo, it is only right to add some gold glitter to your eye makeup. Getting the perfect gold eye makeup could be a task, but it is worth it. Why? Because it gives the perfect glow and transforms your eyes into something quite glamorous and chic, which is not always possible with other colors. To intensify the glow even more, be generous with the kajal and mascara, and you will achieve the pop and glow which is synonymous with gold.
Frequently Asked Questions
Who can wear gold eye makeup?
As long as you know your skin tone, you can find a shade of gold that can look absolutely regal on you. While fair-skinned girls can opt for rose gold or mustard gold, medium-skin tones would love antique gold or white gold on their eyes. As for darker skin beauties, pure gold or dull gold eyeshadows would work the best.
What lip color looks good with gold-eye makeup?
Bold red lips, warm nudes, or bright orange lips can pair well with sparkling gold-eye makeup.
Does gold-eye makeup go with blue eyes?
Yes, warmer tones like yellow, gold, and pale orange are a dynamic combination that can enhance your blue eyes.
Key Takeaways
Always begin your eye makeup with a good primer. This prevents your makeup from creasing.
Apply a base shadow before layering your gold eye shadow for a seamless blend.
You can use the baking technique to make your gold eye shadow last longer.
Create a winged eyeliner look for a dramatic effect.

Glam up your look with this stunning gold eye makeup beginner-friendly tutorial! Watch this video and get ready to sparkle and shine!

The following two tabs change content below.