10 Amazing Hairstyles For Kids With Short Hair
Braids, ponytails, and buns galore – make your princess look adorable with some simple tutorials!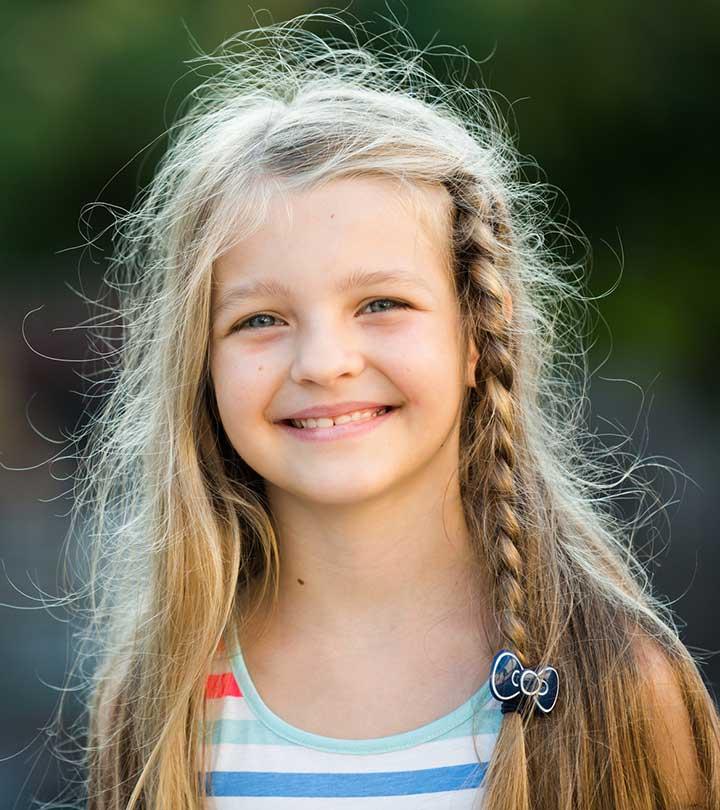 If you love your little nieces, sisters or your kid enough to go to any length for them, you will love experimenting with these hairstyles for kids with short hair.
There are so many cute braids, accessories, waves, and styles that you can try to make your favorite angel look stunning. Fun pictures guaranteed to flaunt your cool hairstyles creation! Scroll down.

Before You Get Started
Use combs and accessories with soft bristles. Hard plastic and wooden combs and brushes may damage their delicate scalp and hair.
Short haircuts are fuss-free and easy to style. Accessorize them with flowers, crowns, beads, and ribbons for an elegant and colorful look.
Avoid using styling products like gels and curl calmers. If using any, check the ingredients and pick products formulated for kids.
1. Box Braids With Beads
Colorful beads are one of the most popular hair accessories for kids. They are easy and a great way of being creative with short hairstyles for kids! 
Brush her hair to remove existing tangles. 

Divide the hair evenly into multiple 1.3 cm box-shaped sections with a wide tooth and a rat-tail comb.

Secure the sections with hair clips.

Next, weave thin braids till you reach the end of the hair strands.

Wet the twisted ends with a spray bottle to make it easy to put on beads.

Slide the bead through the wet braids and secure the ends with hair elastics. 

Repeat the steps to finish the rest of the sections.
2. Messy Braided Bun
Even a messy braided bun can make your little one look beautiful. It is an easy updo hairstyle that keeps the hair from falling into their eyes and allows them to play freely while looking very cute! 
Brush your kid's hair to remove the knots. 

Use a precision comb to divide the hair into multiple equal sections all over the head.

Divide one section into three parts to weave the narrow braid. 

Use hair clips to keep the other sections in place. 

Next, weave a three-strand braid and apply a hair paste after reaching the end of the real hair. 

Once the braiding is done, you have a section left of her natural hair. 

Divide that section into three sections again and continue braiding all the way down. 

Seal the ends of these multiple braids with hot water to keep them as it is.

Collect all the braided sections together and tie a bun at the back of her head with a silk scrunchie to finish the look. 
3. High Ponytail
If your kid loves ponytails, this is 'the one' for her. A high ponytail is cute and easy for any parent to make at any time of the day! This clean hairstyle keeps the hair out of your little one's face during playtime. 
Brush your kid's hair to remove knots. 

Flip her head forward to collect all the hair strands on top of the crown.

Create a smooth little ponytail by securing it with a colorful hair tie or a scrunchie.

Brush the ponytail again to create a voluminous effect around the hair tie. 

Complete the look by combing the rest of the head for a tidy look. 
4. Braided Pigtail 
Pigtails look amazing and neat. But what if you add braids to the pigtails for your little one? She will love it, for sure! It perfectly merges the sporty and girly vibes to create this look. 
Brush your little one's hair to detangle the knots. 

Use a precision comb and apply texturizing spray on her hair. 

Part the hair down the middle and divide the hair into two sections vertically. 

Tie two ponytails on the back of her head on both sides with black hair elastic.

Simply braid the ponytails till the end and secure them with hair elastics.
5. Bob With One Colored Braid
Braids always look perfect on a kid's hair, but what if we take it to the next level? Adding one colored braid to her hair can make her stand out among her friends! 
Brush your little one's hair to detangle the existing knots. 

Create a neat side parting. 

Take a thin section of her hair on one side.

Tie the section with the hair elastic near the scalp.

Pick 3-4 colored woolen strands and start knotting the threads.

Weave narrow knots on the natural hair and tie the end with a hair elastic.

Place them side by side on that section at the top without any space between the woolen strands.

Wrap the section of the braided hair with the woolen strands and place a hair tie at the end to finish the look. 
6. Double French Braids
If your little girl is into sports or any other game, this hairstyle is perfect for her! This will hold her short locks in place during her fun activities. 
Brush her hair to remove existing knots. 

Spray some texturizing spray to hold the hair together. 

Part her hair down the middle 

Take a 3-inch section of hair from the front and divide it into three further sections.

Weave a French braid with these 3 sections till the nape. 

Secure the braid with a hair elastic. 

Repeat the steps for the other side to finish off the look.
7. Bunched Up Knot:
Adorable isn't it? The adorable bangs and the knot on the little girl's hair are absolutely cute! Licensed cosmetologist Dawna Jarvis says, "This is a super easy style and kids LOVE accessories, they can't have enough."
The idea here is to keep the front bangs short and let the hair part at the side.
The other side should have bangs that are longer and reach till the chin.
Part the front part of the hair.
Let the remaining hair go at the back.
Hold all of it up in your hands and bunch up at the top towards one side.
Now knot this up and secure it with a hair elastic. And voila, it's done!

Quick Tip
Ensure to use a silk or satin scrunchie as hair ties for your kid. It avoids the friction between hair ties and hair to prevent the hair from split-ends and frizz.
8. Princess Braid:
A befitting look for any little princess. I absolutely adore the way the hair is braided up and then merges into the entire look. "This works great for dance recitals and pageants too," says licensed cosmetologist Dawna Jarvis.
First comb out the little one's hair completely to remove any knots and tangles
Works best if there is a front bang – not too long, till about the middle of the forehead will do
Using a fine comb, part hair in various sections, keeping enough width to be able to braid each section
You can either braid each section into regular or French braids, or even do a twist braid
As you finish braiding each section, secure it at the top back of the head with an elastic
Once all the sections are done, bunch them up together at the top and tie in a short ponytail
If your little one's hair is longer, tie it into a bun.
Add a cute ribbon bow to highlight
9. Twisted Ponytails:
This is preferably one of the easiest short hairstyles for kids that won't take too long and can be really decked up with cute hair accessories, even ribbons!
For this look, the little one's hair needs to be nicely combed out till its soft and tangle-free
Part hair on the side
If your girl has front bangs, you can leave them free as it will be difficult to pin it in
Using a fine-toothed comb, divide hair in multiple sections
Start with the one at the front
Take the section and begin twisting it inwards
You should ideally let the twists come over till they are aligned to the eyes
Now take a hair elastic and tie it up
Repeat this with all the other parts
Do this for hair till the crown area and leave the ones that fall behind at the back of the head
Use cute accessories and tiny clips to highlight the hair
10. Criss Cross Pigtails:
This is one super interesting and different hairstyle that would go well with short as well as medium length hair.
Once the hair is combed out to remove all tangles, part at the middle
From the side front, take a strand of hair and tie in a tight ponytail
Now bring this back in a criss cross fashion towards the middle back of the head and tie with an elastic again tightly
Repeat the same for the other side in the front
Taking the loose end of the ponytail, bring it in slant pattern towards the back of the head at the nape and tie tightly with an elastic
Repeat with the other pony

Quick Tip
Alternatively, you can also style the criss-cross pigtail on your kid with asymmetrical sectionings and soft curls.
Infographic: Cute Hairstyles For Kids With Short Hair
If you thought styling your little one's short hair would be difficult, you are wrong. Contrary to popular opinion, short hair is not only easy to maintain but also has various styling options. We have compiled a list of hairstyles that are not only attractive and adorable but also practical for active children. Check out the infographic below to know more.

Spending time with your daughter, sister, or niece and styling their hair is a great bonding experience. With every new hairstyle you try, the happier the kid gets! And with so many fashionable hairstyles to try, every hair styling session is different and new. But, these hairstyles for kids with short hair are easy to achieve and look very stylish. From adding simple braids to the sides to an elegant top bun, these trendy hairstyles give you the start you need to make hairstyling fun for your kid. So, scroll up and pick out a hairstyle to try and get to bonding with your child!
Frequently Asked Questions
What is the most popular hairstyle for kids?
Braids, ponytails, crew cuts, and bobs are some of the most popular hairstyles for kids.
Is short hair popular now?
Yes. From shags, wolf cuts, and pixie to bobs, short hair is in vogue right now.
Why is short hair better?
Short hair is low maintenance and comfortable for all weather conditions, making them a preferred choice for most.
Check out this video for easy hairstyles for short hair! Learn how to style your hair in minutes with simple, easy-to-follow techniques.
The following two tabs change content below.