30 Amazing And Simple Rangoli Designs For All Festivals
Get your happy abode festive-ready with these easy-to-create and delightful patterns.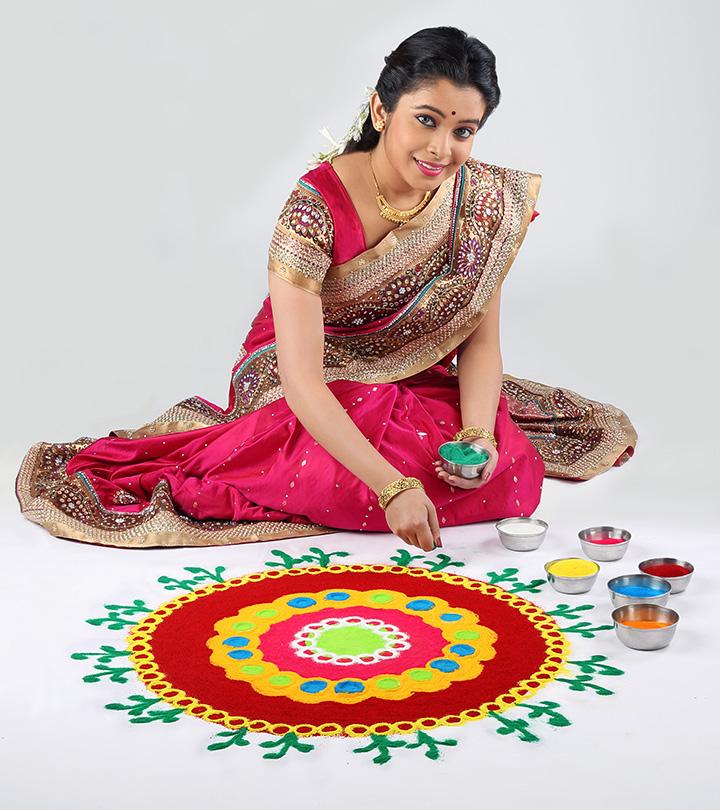 We love Rangolis on any occasion. Whether simple rangoli designs or complex and intricate patterns, they have been a constant part of our tradition. Today Rangoli is done not only as a part of the tradition, but also as a form of art. There are many variations of Rangoli and it is done using various ingredients and objects, the most common being colors and flower petals.
Doing a Rangoli design right takes a bit of practice, but with a steady hand and a bit of patience it can be done by anyone. We love the fact that these Rangolis can make any boring place vibrant and there are a zillion designs from which you can choose a perfect one. But we also know many are not a pro at doing difficult designs of Rangoli. So we have assembled some simple yet attractive designs for all of you to try. We know some may look a bit difficult, but they can be manipulated into what you feel are comfortable enough to be done. Use any of these designs or just use these as your inspiration and create a new design to decorate your home.
Simple Rangoli Designs
1. This simple rangoli design looks very vibrant with its beautiful colours. The red and the contrasting blue make it a colourful rangoli. The design too is quite simple. The contrasting colours of blue and red make this one a great choice for anyone. This one is apt for Diwali and will suit most occasions, for it is mostly flower patterned.
2. A multi-colored design in the 'Star' shape. This one of the simple rangoli designs for beginners can be done anywhere, like at the front gate, in the entrance to a room or any place. The words 'Welcome' done in different colors warmly greet the guests to your home.
3. A beautiful rose design for you to do. The basic colors used are dark and light pink variations and the green in two different variations for the petals. The color red is used to do the small rose patterns and the border is done with white. This is a perfect way to give your house a beautiful makeover for Valentine's Day or anniversary.
4. This one is a beautiful multicolored flower rangoli. We love how there are a lot of different colors used in this design. We also love how minute details are done with expertise. The contrasting colors like purple and pale yellow make the design more attractive.
5. This design is very apt for any religious function or to do at the time of festive occasions. We love the unique pattern used and also the simple flowers used for making this rangoli. The petals of marigold are used in this design with the lotus bud in the middle being the center of attraction.
6. A design with peacock and lotus design. The design stands out with its use of vibrant shades like bright pink and blues. The peacock is done with expert hands and the surrounding design with white color is also done with care. The middle section is decorated with bright yellow and orange colors and small diyas have been placed there.
7. A brilliant way to invite Lord Ganesha to your home- this Ganpati design sure makes heads turn. The vibrant colors used in this design will surely attract everyone's attention. We love the purple and pink shades used for the surrounding design and the bright vermillion shade used in the middle. The design of the Ganpati has been done using white color.
8. Bright purple shade is used to do the hexagon in the middle of this Rangoli design. We love the contrasting colors like orange and pink used for the surrounding design. We also love the unusual designs and patterns used in this Rangoli. In the center a bright yellow color is used to do the rangoli. The surrounding designs also are unusual and add to the beauty of it.
9. This flower rangoli looks very simple yet will cover a lot of space. So if you need a big Rangoli to cover space in your home use this design. It's quite flexible and you can manipulate it as per your needs. The flower petals are very common and can be found easily making it ideal at any time of the year. The lotus flower in the center is the USP of this design.
10. This beautiful design is depicting the beautiful scenery of the beach. We love how unusual the design is. Also the use of colors is different from the usual flower Rangoli. We see the use of violet, yellow, orange etc. The bright colored border designs make this quite attractive.
11. In this design we see a Kathakali dancer's face depicted in the center. This flower rangoli looks quite unique and the flower petals used here are basically from marigold and other common flowers which are available throughout the year. The rose petals and the diyas used in the design give it a special touch.
12. Another design depicting the beautiful and colorful Kathakali dancer's headgear. The Kathakali dancer wears a very large and flamboyant headgear which has today become an icon for the dancing style Kathakali. The simple and neat design shows just the exact design of an actual dancer and the use of simple flowers and colors make it very easy.
13. A unique design with a woman is seen in this Rangoli. We love the uniqueness of the design. The woman is holding flowers in her hand. The colors used here are purple, yellow, orange, green, pink and white. The design is kept very simple and will be quite easy for someone with medium expertise.
14. This is also a rangoli design with the beautiful scenery of a beach. There are two boats designed in the Rangoli and also the sun and the clouds as well as the palm tree are done using flower petals. We love the unique design. This design is good for your home, as well as for a competition.
15. This one is a beautiful flower rangoli with common colored petals. The design is as unique as the mixture of normal colored Rangoli design with a flower design. This design is apt for any special occasion and will surely get you a lot of compliments. We love the bird design in the middle.
16. This design looks very pretty and fresh with the smiles done into it. The bright emoticons done with yellow over multicolor abstract designs make it quite unique. This design can be done for competitions.
17. This is another version of the design no 15. A beautiful and quite unique design with bright vibrant colors used. We love the orange, yellow, saffron, and red petals used. The design in the middle depicting a leaf and a flute looks quite suitable for Janmastami.
18. This unique Rangoli design uses a lot of details which is done using flower petals. We love how the design looks quite different from what we are used to see. The design uses colors like yellow, orange, green, purple and more. We love the white and pink lotus flowers used to do the border. This design can be done for any occasion.
19. Another variation of design no 15, this Rangoli looks just like its mirror reflection. The outer part of the design has the effect of a Ground Charki used in Diwali. We love the simple colored petals used for this Rangoli, making it easy to do at any time of the year.
20. Beautiful scenery done using flowers, this Rangoli is very apt for competitions and we love how the whole design is done neatly and the added diyas make it even prettier. We love such creative designs.
21. This design looks very neat clean and sober. We love the use of sober colors to keep it less bright but the design is so unique that we cannot underestimate it. We feel such designs do need a lot of practice and we believe this one is fit for competitions too. We also love the design in the center.
22. A pink and white Rangoli. We girls love anything pink so how about this beautiful pink white Rangoli with yellow, red and green colors added?  We love the lotus bud in the middle and we love the diyas on the outer portion of the Rangoli. This design looks classy and can be done on any religious or special occasions.
23. This design is very colorful and bright. We love the unique fish pattern shown in this design. The main colors used here are yellow, green, blue and red. The design is unique and can be used for any occasion. We love the freshness of the design.
24. This design is dedicated to the festival of Diwali. The Goddess Laxmi standing upon a lotus flower and holding a diya looks so beautiful. There are diyas done on each side of the design. We love the contrast created with a maroon background and the design of  Goddess Laxmi is done with blue color. The details are then done with white color.
25. This beautiful design shows two peacocks facing each other. This design too is very colorful. The whole design is done over a background; there are a lot of colors used like green, blue, violet, pink, yellow, red and more. The design is quite unique and would be great for any occasion or competition.
26. A simple design for kolam. The design shown here is quite simple and anyone can do it. There are a lot of colors used but the design is not very intricate or difficult- making it easy for beginners. We love the way colors are paired in multiple ways in the design.  There is pink with green, pink with yellow and such combinations make it fabulous.
27. This beautiful and colorful Rangoli is very apt for Holi as it consists of so many vibrant colors. The use of bright colors like blue, green, pink, orange and yellow make it very stunning and it truly justifies the occasion of Holi- the festival of colors. We love the intricate details done using white color and the whirling effect done using the color – it all looks very unique.
28. A beautiful design dedicated to Ganpati . The design of Ganpati has been done in the middle using violet color over a pink-purple background. The central design is surrounded by different colored designs. The colors used are green, yellow, orange and purple. We love the small candles and diyas placed over the Rangoli as well as the 'Om' designs done in the Rangoli itself.
29. A neat and clean Flower Rangoli. We love how perfect it looks and the design surely will get you a lot of compliments. The design is fresh and the neatly done, this Rangoli looks great for any occasion. There are a lot of colored petals used for this design. Many variations of yellow, orange and other colors are used. The border is done with black color.
30. A bright and beautiful Rangoli design with many unique designs and colors. There is a lot of shading and various sizes and shapes of designs. This design uses bright colors like green, yellow, orange, red, blue and purple. Similar colors are used for the shading and the design is highlighted with white borders.
Rangolis are an amazing way to bring in the festive season. While it is part of our tradition, today rangolis are considered an art form. Rangolis can lighten up your mood and add a splash of color to your home. While all of us may not be pros at designing rangolis, you can check out these simple rangoli designs listed in this article to liven your home in a matter of minutes. Next time you need a rangoli design, take a look at this article again to get those creative juices flowing!
The following two tabs change content below.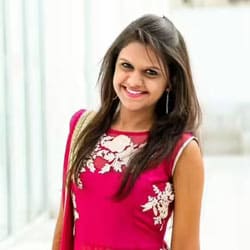 Nisha is a contributor to StyleCraze. She is a makeup aficionado and combines her love for makeup and writing to...
more