How To Apply A Hair Mask In 4 Simple Steps
A hair care routine is never complete without a weekly hair mask treatment. No, it doesn't matter whether your hair is healthy, conditioned or completely untreated and virgin. Hair masks are not meant just for people with hair problems – these versatile and magical hair treatments not only help repair, nourish, and hydrate hair, but they also help maintain it.
There are tons of different hair masks to choose from depending on what your hair needs are. And, let me let you in on a little secret here – you don't really have to go to the salon to treat your hair. You can get the same or better results right in your own home. But, before I tell you how, let's look at the different types of masks you can put in your hair.
Types Of Hair Masks
1. Protein Hair Masks
If your hair feels stringy, stretchy, and weak, it is likely that it is in dire need of protein. Your hair is basically just protein and the lack of this nutrient can cause it to wear down over time. Treating your hair with protein masks every once in a while will give it just the right boost of the nutrient to keep it healthy. However, if your hair is in good condition, not going overboard with the protein treatments is a good idea. Too much protein can make your hair really stiff and crisp.
2. Hydrating Hair Masks
Determining whether your hair needs moisture is one of the easiest things to do. Does it feel dry? Use a moisturizing hair mask. Too many split-ends or way too much frizz? Time for some moisture. Is it breaking easily? Moisture. Does it tangle and knot? Seriously, hit it with some moisture already. Even if your hair is perfectly healthy, you can never go wrong with a hydrating hair mask.
3. Oil-Based Hair Masks
These work best when used in alternation with hydrating hair masks. The oil-based hair masks work to seal in moisture, keeping your hair hydrated for longer periods of time. The oils used in these masks also help nourish your hair. Some common oils used in oil-based hair masks are coconut, olive, almond, and argan.
4. Bond Building Hair Masks
These are specially formulated for colored and treated hair. If you go to a good enough salon, you will see the stylists treating hair with bond-building products. This mid-process treatment can really help cut down on the amount of damage that your hair is being put through. If you've recently treated your hair with chemicals, it would be a good idea to invest in a bond builder as they seriously help reverse damage by repairing and restoring the protein bonds in your hair shafts.
With that out of the way, let's talk about how you should be applying your hair mask. While it might seem like slapping the mask on is all there is to it, there are certain steps you can take to make the whole process way more effective. Here's what they are:
How To Apply A Hair Mask – 4 Simple Steps
Step 1 – Clean Your Hair
A lot of people don't realize how important it is to clean your hair before you apply a hair mask. This is because dirt and product residue that builds up in your hair creates a barrier around the hair shaft, keeping it from absorbing nutrients and moisture. To avoid this, wash your hair with lukewarm water and shampoo. Do not condition your hair at this point. Squeeze the excess moisture out of your hair with a towel and let it air dry.
Step 2 – Apply The Mask
Once your hair is dry, untangle it using a wide toothed wooden comb. Get rid of all the tangles, and then, section your hair. Start applying the hair mask from the roots to the tips of your hair. Focus on the tips as these are probably the most damaged parts. Run the comb through your hair again once it is completely covered in the mask. This will help ensure that all of your hair strands have been coated.
Step 3 – Let It Process
Now it is time to let your hair process. The effectiveness of the hair mask can be boosted by creating a warm environment for your hair. You can do this by wrapping your hair with a hot towel and then keeping it on for as long as your hair treatment requires you to. The processing time depends on the hair mask and can range from 10 minutes to overnight. You can heat up a towel by dipping it in hot water and wringing the excess water out.
Step 4 – Wash It Out
This one's pretty self-explanatory. Wash the hair mask out using shampoo and cool water. Finish with conditioner. The cool water helps seal your cuticles, keeping your hair feeling moisturized and nourished for longer. Squeeze the excess water out of your hair using a towel and proceed to let your hair air dry.
Things To Remember
Using a hair mask once a week is a sure shot way of ensuring hair health.
Do not rub your hair dry with a towel. Vigorous rubbing will cause cuticle damage, leading to breakage and frizzy hair.
Always use cold water to wash your hair as this will help seal your hair cuticle, minimize frizz, and keep your hair moisturized. You can use warm water to wash your hair before you apply the hair mask as open cuticles at this point will make your hair more receiving of moisture and nourishment.
Always use a wide toothed wooden comb to untangle your hair. This will prevent tangling and static.
It is important that you treat your hair with the right hair masks. Using a protein mask when your hair is already loaded with protein might make it too stiff.
You do not have to buy expensive hair masks. Instead, you can make your own at home with simple ingredients like eggs, coconut oil, olive oil, bananas, and avocados.
Now that you know how to apply a hair mask, there's nothing keeping you from making it a permanent part of your hair care routine. Follow these four simple steps and tell us about your experience in the comments section below.
Recommended Articles
The following two tabs change content below.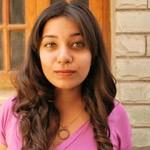 Latest posts by Meenal Rajapet (see all)