7 Simple Steps To Give Yourself A Facial Massage At Home
Rejuvenate your skin with simple steps and marvel at the amazing results.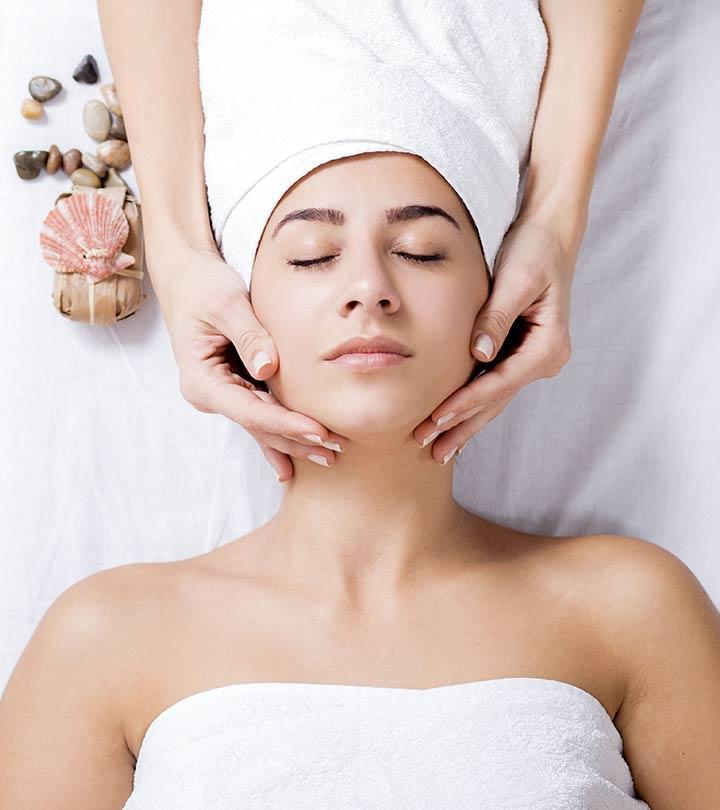 Facial massages are extremely rejuvenating. You can easily give yourself a facial massage at home if you know the right techniques. Don't worry. Here, we have a step-by-step guide to help you out!
A facial massage stimulates the different pressure points to work out the facial muscles. It helps promote lymphatic drainagei  XThe movement of lymph fluids throughout the body in the lymphatic system that aids in the waste removal from body tissues. , reduce puffiness, minimize signs of aging, and keep the skin firm. You may use lotions, oils to provide the required slip and use facial rollers, gua sha tools, or just your fingers to follow the movements across your face. So, without further ado, scroll down and check out the steps.

Quick Tip
Massage can help soften the scar tissues and minimize their appearance to a great extent (
1
).
How To Do A Facial Massage At Home – Step By Step Guide
Before you start, do the following:
Clean your face with a mild cleanser. Your skin should be clean before you start massaging.
Choose a good facial oil, including soothing oils that cater to specific skin types. For dry skin, pick almond, marula, or argan oil. For oily skin, pick jojoba or grapeseed oil. For acne-prone skin, pick rosehip seed oil. For sensitive skin, pick aloe vera or moringa oil.
If you do not want to use oil, you may go for a good quality moisturizer/cream for face massage.
Make sure to wash your hands properly.
If you do not wish to use your fingers, you can also use a face roller (or jade roller) for massaging your face.


Quick Tip
Avoid squeezing acne and breakouts before a facial massage. This irritates the skin and may make the massage experience painful.
Once you have applied the facial oil or cream, follow these steps.
Step 1: Massage Your Forehead
Place your knuckles on your forehead, right between your eyebrows.
Gently move them up, towards the hairline, and then sideways towards your temples. Do this in a scraping motion.
Repeat this movement five times.
Step 2: Massage The Eye Area
Place the tips of your middle and index fingers on your temples.
Glide the fingers under your eye area, towards the nose bridge.
Continue gliding it over the eyebrows and then come back again under the eye area, following an oval path.
Repeat this five times.
Step 3: Massage The Cheeks
Place your knuckles on your cheeks, near the nose bridge.
Swipe it gently across your cheeks, towards the ears.
Repeat the movement five times.
Step 4: Massage The Mouth Area
Make a "V" sign with your index and middle fingers (both hands).
Place the fingers on your mouth area in a way that the index finger is above the upper lip and the middle finger is below the lower lip.
Gently press and pull the fingers towards your ears.
Repeat five times.
Step 5: Massage The Chin Area
Place your knuckles on your chin in a way that the jawline rests between the knuckles.
Gently pull the knuckles upward, along the jawline, toward your ears.
Repeat this five times.
Step 6: Massage The Neck
Place the knuckles right under the chin.
Pull them downwards gently towards the collarbone.
Keep repeating the movements by moving the knuckles along the jawline and pulling them down to the collarbone..
Do this five times.
Step 7: Massage The Entire Outline Of Your Face
Place the knuckles between your eyebrows.
Move it upward, along the hairline, towards the temples.
Bring it down the side of your face, including your jawline.
Once you are done with these steps, place your palms on your face and gently press while taking a deep breath. This will help you relax.
This is a very basic yet effective facial massage technique. These steps are easy to follow. Facial massage has numerous other benefits as well.
Benefits Of Facial Massage
1. Helps Reduce Stress
A study found that massaging your face for 45 minutes could reduce psychological stress and promote relaxation by activating the sympathetic nervous system (a part of the autonomic nervous system that directs the "fight or flight" response of your body). The massage technique helps reduce anxiety and elevates your mood (2).
2. Helps Improve Blood Flow
Research found that massaging the face for just 5 minutes with facial massage rollers improved blood circulation, resulting in improved oxygenation. It found that massaging regularly for 5 weeks could dilate blood vessels and increase blood flow (3).
3. May Have Anti-Aging Benefits
Studies found that massaging regularly could induce changes in skin structure (4), (5). It was shown to alter the facial expression of muscles and intra-facial tissues, which could aid in muscle release (5). The researchers found evidence for the efficacy of facial massage. The improvement in skin structure may help keep the skin smooth and also minimize the appearance of fine lines (4).
To learn more benefits of massages and facials, click here.
Facial massages are extremely comforting. Here are some additional tips that can help you make it further relaxing for yourself.
Facial Massages – Tips To Follow
Use A Massaging Tool: It is the best way to enhance your experience. You may use Gua Sha tools or a jade roller to give yourself a calming massage. The technique remains the same. The only difference is you will be using a tool instead of your fingers or knuckles.
Never Ignore The Neck: The skin on your neck needs equal care and attention. Whenever you are massaging your face, extend the motions to your neck and chest area as well.
Use Anti-Aging Creams: Adding anti-aging creams to your facial care routine will help enhance your skin health, reduce fine lines, and delay other signs of aging.
Exfoliate Before Massaging: This helps your skin absorb the oils or moisturizers better.
Massage In The Evenings: This will help your skin absorb the products overnight.

Quick Tip
Do not apply heavy makeup products on your face after a facial massage as that may clog the pores and cause breakouts.
Infographic: How To Do A Facial Massage At Home?
Do you want to know the secret behind enviable, glowing skin? No, it's not the high-end skin care products, but the humble facial massage. It gives you a youthful appearance and improves lymphatic drainage to promote better absorption of products. So, thinking of heading to the salon? Well, why step out when you can get it done in the comfort of your home? Check out the infographic below and find a step-by-step guide to help yourself get a spa-worthy facial massage.



If you know the right technique, you can easily do a facial massage at home. Facial massage offers an array of benefits: it reduces puffiness, minimizes the signs of aging, and promotes lymphatic drainage. In addition, it reduces stress and improves blood flow. Following tips like using a massage tool, using anti-aging creams, exfoliating before massaging, and massaging in the evenings for effective absorption of skin care products helps increase the effectiveness of a facial massage. Try doing a facial massage at home by following the procedure mentioned above.
Frequently Asked Questions
Does face massage cause sagging?
Dr. Cameron Rokhsar, MD, FAAD, FAACS, says, "There is no evidence to suggest that facial massage causes sagging of the skin." There is research suggesting that facial massage can improve the appearance of wrinkles, sagging, and texture."
Can massage change face shape?
According to Dr. Rokhsar, "Massage cannot change the shape of your face. While some anecdotal reports suggest that face yoga and massage may be effective for improving facial appearance, these claims are not supported by scientific evidence. Facial massages can strengthen your face muscles and temporarily lift the skin, but they won't lead to a drastic change in your face shape."
Does massage tighten skin?
Massage can potentially help tighten skin, but the results may vary depending on the type of massage and the individual's skin type and condition. Dr. Rokhsar adds, "Facial massage can increase blood flow and improve circulation, which can help remove waste products and stimulate collagen production, ultimately resulting in tighter skin. However, excessive massage can cause skin inflammation or irritation, which can have negative effects on sensitive skin types."
Does massaging face reduce wrinkles?
Facial massage has been shown to have several benefits for the skin, including reducing the appearance of wrinkles. Dr. Rokhsar says, "It can help stimulate blood flow and oxygen to the skin, which can improve skin texture and tone. Additionally, massaging the skin can help release muscle tension and temporarily lift the skin. By reducing muscle tension, facial massage can also help prevent the formation of new wrinkles."
Is coconut oil good for face massage?
According to Dr. Rokhsar, "Coconut oil can be beneficial for a face massage, but it is important to keep in mind that it may not be suitable for everyone." Coconut oil is known for its moisturizing properties and can help nourish and hydrate the skin. It also contains antioxidants that can help protect the skin from damage caused by free radicals. However, he cautions, "It is important to note that coconut oil is highly comedogenic, meaning that it can clog pores and lead to breakouts, especially for those with acne-prone or oily skin. In addition, some people may be allergic to coconut oil, which can cause irritation or an allergic reaction."
When should you do a facial massage?
Do facial massages at night. This will help your skin absorb the nutrients from the products and heal it over the course of the night.
How often should you do a facial massage?
You can massage your face every day. You can follow it with a regular skincare routine at night. This takes not more than 5-10 minutes. However, you may indulge in elaborate facial massage sessions once a week.
Can I use olive oil for a facial massage?
Yes, you can use it. Olive oil is suitable for all skin types.
Does facial massage have side effects?
In some cases, a facial massage may lead to short-term side effects such as edema (swelling) and erythema (redness). Possible long-term and delayed side effects of facial massage include dermatitisi  XA general term for skin inflammation characterized by itching, redness, rashes, flaking, and discoloration. and acneiform eruptioni  XA general term for a group of conditions distinguished by acne-like breakouts and inflammation. (6).
Should I wash my face after a facial massage?
It largely depends on what you are using for your facial massage and which step in your skincare routine you are doing it at. If you are only using a facial oil suited for your skin type, you do not need to wash your face. However, if you are using a face pack, then you may need to wash it off.
What is the difference between a face massage and a facial?
A facial is an entire set of steps that usually includes a face massage with nourishing products. On the other hand, a face massage involves the stimulation of pressure points on the face and neck and usually does not include other steps in the skincare routine.
Can face massage change face shape?
No, a facial massage cannot change the shape or structure of the face. It can only help tone the muscles mildly.
Key Takeaways
Facial massages are beneficial in promoting tight skin and reducing unwanted puffiness.
Before starting the facial massage, use a mild cleanser and choose a suitable facial oil like jojoba or aloe vera.
Commence the massage from the forehead, moving to the eyes, cheeks, mouth, chin, and finally, neck.
Choosing a massage tool like a jade roller or gua sha can help enhance the effectiveness and offer a relaxing massage.

Learn a simple facial massage routine to make your skin healthier. Watch the video below to get some helpful tips to keep your skin looking and feeling its best.

Sources
Articles on StyleCraze are backed by verified information from peer-reviewed and academic research papers, reputed organizations, research institutions, and medical associations to ensure accuracy and relevance. Check out our
editorial policy
for further details.
The following two tabs change content below.