3 Simple Ways To Scrunch Your Hair
Tips and tricks to add that volume and texture to your naturally curly locks.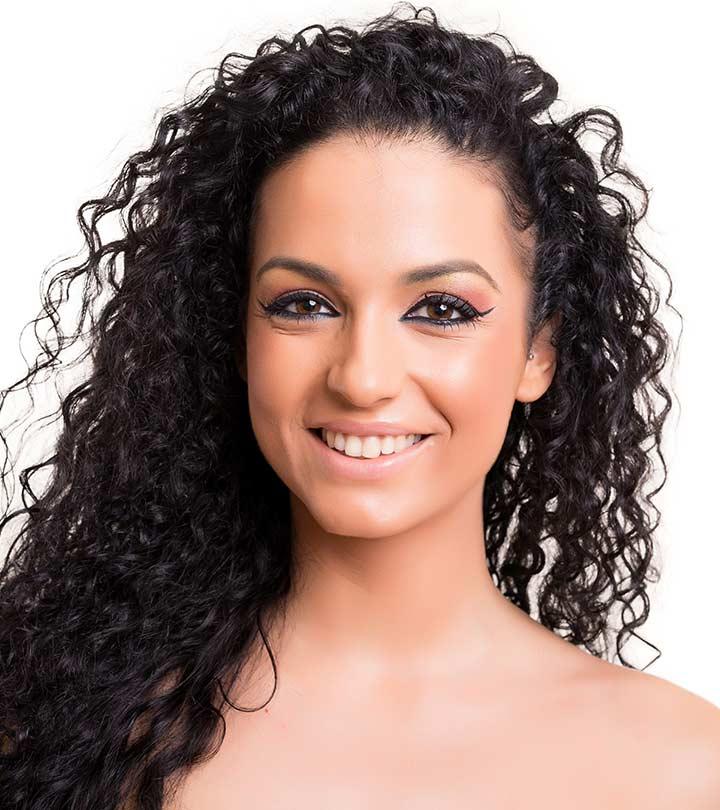 If you are looking for the steps to scrunch your hair, you have come to the right place! Let me tell you something: styling wavy hair can be a real hassle. Wavy hair is difficult to manage because it is neither curly nor straight. Let's not even talk about the amount of frizz you have to struggle with.
Women with wavy hair are generally concerned with two issues: 1) loss of definition and 2) frizz. Unfortunately, these are two issues that curly-haired women face as well. Fortunately for you, we have scoured the web for the best technique to address these issues and have discovered the right remedy – hair scrunching.
Hair scrunching is a quick technique for adding volume and definition to your curls after you get out of the bathtub. It is particularly good for adding bounce and reducing frizz in curly and wavy hair. And, if you believe this technique is not for you since you have straight hair, think again. Scrunching straight hair adds structure and creates beautiful beachy waves.
Hair scrunching is the easiest way to style your curly hair without messing around with a curling iron or struggling with a blowdryer. It is the one technique you need to do after stepping out of the shower without worrying about damaging your hair with heat. In this article, let's have a look at three different ways to scrunch your hair. Keep scrolling!
1. Hair Scrunching With A Towel
This is for all the ladies who need quick results and can't be bothered with using too many products and tools to style their hair. This classic hair scrunching technique makes use of your towel and just a bit of mousse to give you bouncy beachy waves. But here's one thing you need to keep in mind – though you can use your regular terry cloth towel for scrunching your hair, it's best to replace it with a microfiber towel or a t-shirt to minimize frizz and breakage.
Lou, a hair blogger, discusses her curly hair routine that leaves her with well-defined locks. She shampoos and conditions her hair, then conditions her hair with a leave-in conditioner, followed by scrunching her locks. She writes, "Once I've done all that and have scrunched my hair so most of the water is out I then I use a microfiber towel to squeeze out more water. A microfiber towel soaks up loads of water and it's smooth so it doesn't frizz your hair like a normal towel would (i)."
Works Best On: Wavy hair
What You Need
Volumizing shampoo
Conditioner
Wide toothed comb
Volumizing mousse
T-shirt/Microfiber towel
Smoothing serum
What To Do
Wash and condition your hair: Wash your hair with a volumizing shampoo to prevent it from looking limp and dull. Then, apply some conditioner and leave it on for a few minutes.
Detangle your hair: Brushing or combing your hair after you've stepped out of the shower can result in tons of hair fall and breakage. So, it's best to remove all knots and tangles while you still have conditioner in your hair with a wide toothed comb.
Applying volumizing mousse: Squeeze out all the excess water from your hair with the help of your towel and then apply a generous amount of volumizing mousse all over it.
Start scrunching with the towel: Since your hair is still sopping wet, it's best to start scrunching it with a towel first to soak as much of the water as possible. So, start by bending your head forward until all your hair is falling in front of your face. Then, working with small sections of hair at a time, grab your hair from the ends and scrunch it up towards your scalp. Continue scrunching all your hair at 10-minute intervals until your hair is about 80% dry.

Quick Tip
Scrunching your hair when it is dry may leave your hair frizzy and dull.
Scrunch with your hands: Now that your hair is relatively drier, ditch the towel and continue scrunching it with your hands. When working on the front sections of your hair, make sure you pick up smaller sections and scrunch them up in an accordion pattern so that you get more precise and defined waves that frame your face.
Apply smoothing serum: Once your hair is dry to the touch, rub a quarter-sized amount of serum between your palms and apply it to your hair using the same scrunching motion.
2. Hair Scrunching With Clips
While the super casual beachy waves look may suit some people, others might want to go for a more precise curl pattern to appear more pulled-together and professional. This scrunching technique that makes use of clips is perfect to do the night before to wake up looking perfectly coiffed and ready to take on the world.
Works Best On: Straight hair
What You Need
Microfiber towel
Wide toothed comb
Sectioning clips
Light hold hairspray
Smoothing serum
What To Do
Towel dry your hair: Start off by drying your hair with a microfiber towel. Keep doing so in a gentle squeezing motion until your hair is about halfway dry and feels damp, as opposed to wet.
Detangle your hair: Remove all the knots and tangles from your hair with the help of a wide toothed comb.
Section your hair and tie it up in buns: Pick up small sections of hair and roll them up in buns and pin them to your head with the help of sectioning clips. Keep doing so until you run out of hair and your head is completely covered in buns. You can vary the size of the buns depending on what kind of waves you want. Bigger buns will give you looser waves while smaller buns will give you tighter curls.
Spritz on hairspray: Once your buns are in place, spritz on some light hold hairspray to set your wave pattern in place and give them more definition. Now, leave the buns on until your hair is completely dry.
Undo the buns: Remove all the clips and gently unfurl your hair to reveal the waves. Once all the clips are out, flip your head forward and gently scrunch it with your hands a few times to give it more texture and bounce.
Apply smoothing serum: Rub some serum between your palms and run them through your hair to tame down flyaways and remove any frizz.
3. Hair Scrunching With A Blow Dryer And Diffuser
Now, I'm sure not everyone has the time or the inclination to spend an hour or so on styling their hair, even if it means using no-heat methods to get those gorgeous waves or curls. If you're one of those people, then here's the easiest solution I can offer you. Scrunch your hair with a hairdryer and a diffuser to get those perfectly defined, super bouncy curls in just 10-15 minutes.
Works Best On: Curly hair
What You Need
Volumizing mousse
Paddle brush
Blow dryer with a diffuser attachment
Light hold hairspray
What To Do
Apply volumizing mousse: Spray a dollop of volumizing mousse onto your paddle brush and run it through your hair to distribute it evenly. This also does the job of removing all the knots and tangles from your hair quite effectively.
Set up the diffuser: Attach the diffuser to your blow dryer and switch it on at a low heat setting. This will prevent your hair from frizzing up and also minimize the heat damage to your hair.
Blow dry your hair while scrunching it: Flip your head forward until your hair is falling in front of you and place the diffuser at the ends of a section of your hair. Now, push your hair up towards your scalp with the blow dryer, followed by immediately scrunching it up with your hands. Keep doing so until your hair is 90% dry.
Spritz on some hairspray: Switch off the blow dryer and spritz on some light hold hairspray to set your curls in place.

Quick Tip
You can tie your hair into a topknot or braids and sleep on a silk pillowcase to avoid losing the shape of your scrunched hair.
Discover how to scrunch hair with naturally pin-straight locks in this game-changing video. Add texture and volume to your hair effortlessly. Watch now and master the art of beachy waves.
Infographic: Hair Scrunching Methods For Different Hair Types
Scrunched hair looks and feels awesome. Luckily, there are quite a few methods of getting beautifully scrunched hair. However, some methods of scrunching are more suited for certain hair types than others.
Check out the information below to know which method you should use for your hair type.



It may be difficult to maintain wavy or curly hair, with its toxic relationship to frizz, dryness and damage. But you cannot deny that when it is scrunched right, these hair types look phenomenal. The steps to get scrunch hair mentioned above are super easy to follow. At first, it might seem a bit time-consuming, but remember –" practice makes you perfect". And the more you practice, the easier it becomes to scrunch your hair. Once you get the hang of it, you can scrunch your hair for any occasion like a pro, from a beach party to a formal wedding or a business meeting.
Frequently Asked Questions
Is it bad to scrunch your hair daily?
No, scrunching your hair daily isn't bad as long as you take care of it. However, it is best not to wash your hair every day as it strips your hair of its natural oils and damages it.
Should I scrunch my hair before bed?
You may scrunch your hair before bed if you want to wake up with curly hair and save time in the morning. Use hair ties to keep your hair scrunched in a bun overnight.
Can you scrunch dry hair?
It is not recommended to scrunch dry hair as it can damage your hair, make it frizzy, and cause tangles.
Key Takeaways
Hair scrunching helps create beautifully detangled, loose tousles that make it easy to manage wavy and curly hair.
Wash, condition, and add texture with sea salt or mousse before scrunching.
Start scrunching with a microfiber to soak the water. Start from the hair ends, working your way upwards.
To dry the hair, let it air dry or scrunch it with a diffuser attachment.
Use hair spray and serum for the finishing touches.
Personal Experience: Source
i. Curly hair stories
https://neellovescurls.blogspot.com/2012/09/hello.html
The following two tabs change content below.