How To Wear Skater Skirts – 25 Style Ideas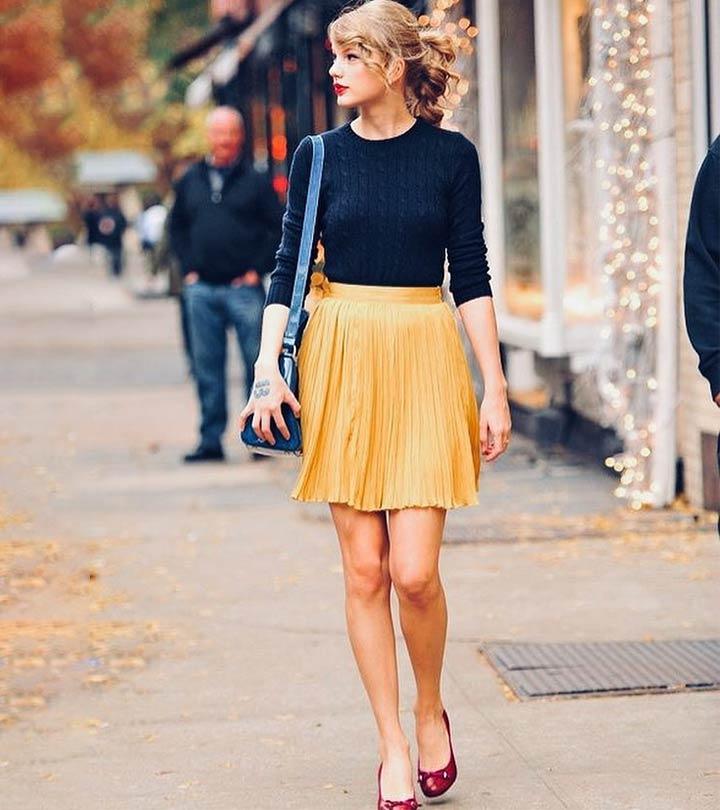 Skater skirts remind me of high school kids; I say remind, and that just proves I'm not a millennial (*insert sad emoji). But guess what? These skirts have become more than just that. From runway models to thirty-something moms, women are losing their minds over these skater skirts. I have gotten my hands on these and suddenly realized that I'm a little late to this party, but you know what they say, better late than never, so I'm glad. If you have been meaning to join the band but are in two minds, this post will change your mind. Petite, big, small, tall, or any other body type – these look good on everyone because of the stitching pattern. Anyway, let's look at some styles and how we can revamp them to match our tastes. Let's go.
25 Cute Skater Skirt Outfits Ideas
1. Blue Floral Skater Skirt
The safest way to style an electric blue floral skirt would be to go with a plain white T-shirt and pumps heels. But, let's ditch that and the obvious for a second. Pair it with a graphic T-shirt and get grooving.
2. Burgundy Skater Skirt
When you are in a mood to match your outfit with your hair, or even the other way around, go with a burgundy skirt. Finish the look with a leather jacket, combat boots, and winged liner.
3. Hot Pink Polka Dot Skirt
Headed for a casual brunch with friends on a hot summer morning? Keep it casual yet chic with this airy and soft hot pink skirt and nude top. You could either wear elevated flip flops or ankle strap heels depending on where you are going. Throw on a body bag too.
4. Navy Blue Skater Skirt
One concern most plus size women have is that skater skirts are too short and that they don't suit all body types. But, it's just the opposite – and who says they always have to be short? Look at this gorgeous navy blue skirt that is stunning, elegant, and provides a great silhouette. Also, pair it with bold and unusual colors like coral, yellow, gold, etc. to take it all a notch higher. Wear flaming hot red pumps, pearls, and deep red lipstick to show people how it's done.
5. White High-Waisted Skater Skirt
A white skirt is a staple. It is one of the most common colors while getting into the groove; one, because it's easy to style, and two, because you can style it with most tops in your closet.
6. Leather Skater Skirt
Leather pants, leather shorts, shoes, and bags – there's something about leather that makes it irresistible and sexy. Next time you shop for party wear, keep your eyes open for this.
7. Velvet Skater Skirt
Now, this is some next level fashion stuff, isn't it? If you cannot get enough of velvet already, here's one more thing to add to your(our) velvet obsession.
8. Long Black Skater Skirt
Black is an obvious choice in any piece of garment we choose. Here's a more extended variant in skater skirts that can make your workwear interesting. Tuck in a checkered silk shirt, wear a thick collar necklace with black pumps, and carry a leather bag. Perfect for work.
9. Mini Skater Skirt
Want to show off those calves that you have been working hard on? Next time around, do it with a floral mini skirt that looks chic and royal. Pair it with a crop top if you have a party to go to, or a simple tank or V-neck T-shirt will do too.
[ Read: How To Wear A Maxi Skirt – 20 Best Outfits ]
10. Pink Skater Skirt
Are you the girly type or in a mood to look all cute and delicate today? Do it with a pink skater skirt and look like a cupcake. While a plain pink skirt seems more like a teenage statement, printed or self-design ones suit mature women perfectly.
11. Green Skater Skirt
Make way for one of my favorite looks. Skaters and plaid shirts. You can put this together in no time and look effortlessly stylish. Carry a clutch, and wear some gold pumps and jewelry – stunning, I say.
12. Black Skater Skirt
Black from head to toe – well, almost. Black is one of the most common colors for someone just testing the waters, and the veterans too. You can pair it with checkered, plain or silk tops, or go with a monochromatic look. If you want to break the silhouette a little, add red lipstick, red stockings, or red pumps – or any other color that excites you.
13. Grey Skater Skirt
If you have had enough of regular pencil skirts for work, try this formal skater skirt and pair it with black stockings if you think it's too short. Wear flowing silk, cotton or linen shirt, and look dapper.
14. Pleated Skater Skirt
Add some extra definition to your outfit with this softly pleated skater skirt. Go with an off-shoulder or crop top to keep up the drama.
15. Checkered Skater Skirt
How can we not talk about checkered skirts? They look flattering, and when they are paired with pastel tops instead of the regular black or whites, nothing can be better.
16. Knee Length Skater Skirt
For all of you who are still, still, still not even convinced by the idea of skater skirts – here's a knee-length polka skirt for you that looks neat, glam, and elegant. Go with colored V-neck plain tops and ankle strap heels.
17. White Skater Skirt
Pair your white skater skirt with a tank top, and throw on a leather jacket, especially ones with brown undertones. Killer!
18. Midi Skater Skirt And Crop Top
Be it a wedding, a pre-wedding party, cocktail dinner, or a night out with your girl gang, this midi style, knee-length skater skirt swings anyway you want. Go with fabrics like silk or something more formal so that you can use it for work too.
[ Read: Cute Denim Skirt Outfit Ideas – 18 Different Ways To Style It ]
19. Jute Skater Skirts For Winter
If you are bored of just covering yourself up in winters, try this look. Wear a skater skirt in fabrics like wool or jute that keep you warm; wear fleece leggings and ankle length boots – they make your leg look elongated too. Wear a turtleneck sweater and throw on a choker – because, we are bored of those bland winter looks, remember?
20. Black Skater Skirt And Turtleneck Tops
An easy-peasy everyday look to make your weekdays a little more exciting and fun. Feel free to swap colors to match your mood – all of them look equally good.
21. Skater Skirts And Converse
Pairing skater skirts with converse skirts are the easiest way to look chic. Add a graphic T-shirt, big glasses, converse shoes, and a side body bag. Love it!
22. Denim Skater Skirt
Denim skirts are just meant to be straight cuts or minis – but skater skirts are totally in too. Dump your old style and try this look.
23. Tulle Skater Skirt
We all love tulle fabrics, don't we? They are light, breezy, and fashionable. If you want to feel like a fashionista, throw on a blazer and wear six-inch pumps – or even boots. There's no stopping you.
24. Ruffle Skater Skirt
A ruffle skater skirt that fits and flares out perfectly is a must in your wardrobe. The asymmetry and the ruffles are for anyone trying to ace the skater game.
25. Animal Print Skater Skirt
And, when do you feel that you have tried them all and mastered the art? When you have it in animal prints, period! You HAVE to try this look!
You saw that list, and I hope I have weeded out your mind blocks one look at a time. I could sit here all day collating a bigger list because I'm getting obsessed with these. Which look do you like the most? What is your go-to skater look? Let us know by dropping in a text in the comments section below.
Banner Image Credits: Instagram
Recommended Articles:
The following two tabs change content below.