How To Wear Skater Skirts – 25 Style Ideas
It's time to get inspired and show some love to the skirts hiding at the back of your closet.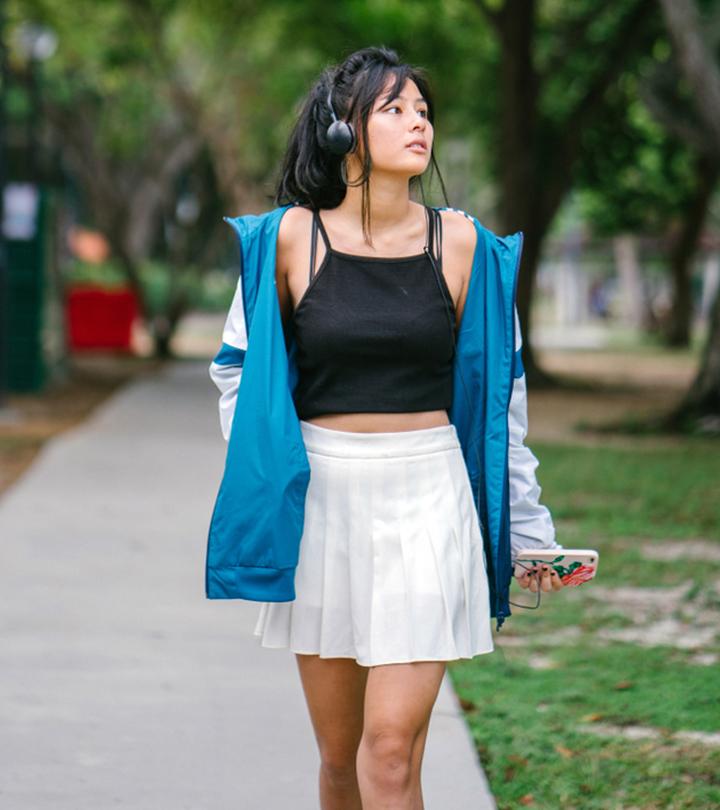 Skater skirts are one of those pieces of clothing you can never get wrong. No matter what your body type is, skater skirts are a wonderful way to flaunt what you got. If you want to show off those calf muscles, try on a wonderful mini or green skater skirt with a crop top to chic up your look. For all those who want to go the more traditional way, a white or black skater skirt with silk or cotton tops can make you look fun and quirky. Read this article to get some skater outfit ideas!


Ace The Look
Length: Consider your height while choosing skater skirts. If you are tall, choose a longer skirt, while petite people can choose a shorter-length skirt.
Color: For a casual daytime look, cotton or denim skirts are ideal; for an evening event, leather or structured fabrics can liven up the style game.
Maintenance: To reduce the chances of shrinking or color fading, wash the fabric in cold water and avoid harsh scrubbing or twisting.
Storage: To maintain the shape of your skater skirt, hang it on a padded hanger in your closet, and absolutely avoid hanging it on pointed hooks.
25 Cute Skater Skirt Outfits Ideas
1. Blue Floral Skater Skirt
The safest way to style an electric blue floral skirt would be to go with a plain white T-shirt and pumps heels. But, let's ditch that and the obvious for a second. Pair it with a graphic T-shirt and get grooving.


Fun Fact
The A-line silhouette of the skirts resemble the costumes of skaters, which is why they got the name skater skirts.
2. Burgundy Skater Skirt
When you are in a mood to match your outfit with your hair, or even the other way around, go with a burgundy skirt. Finish the look with a leather jacket, combat boots, and winged liner.
3. Hot Pink Polka Dot Skirt
Headed for a casual brunch with friends on a hot summer morning? Keep it casual yet chic with this airy and soft hot pink skirt and nude top. You could either wear elevated flip flops, flats, sandals, or ankle strap heels depending on where you are going. Throw on a body bag and a hat too.
4. Navy Blue Skater Skirt
One concern most plus size women have is that skater skirts are too short and that they don't suit all body types. But, it's just the opposite – and who says they always have to be short? Look at this gorgeous navy blue skirt that is stunning, elegant, and provides a great silhouette. Also, pair it with bold and unusual colors like coral, yellow, gold, etc. to take it all a notch higher. Wear flaming hot red pumps, pearls, and deep red lipstick to show people how it's done.
5. White High-Waisted Skater Skirt
A white skirt is a staple. It is one of the most common colors while getting into the groove; one, because it's easy to style, and two, because you can style it with most tops in your closet.
6. Leather Skater Skirt
Leather pants, leather shorts, leather shoes, and leather bags – there is something about leather that makes it irresistible, chic, and edgy at the same time. Next time you shop for party wear, keep your eyes open for this.
7. Velvet Skater Skirt
Now, this is some next level fashion stuff, isn't it? If you cannot get enough of velvet already, here's one more thing to add to your(our) velvet obsession.
8. Long Black Skater Skirt
Black is an obvious choice in any piece of garment we choose. Here's a more extended variant in skater skirts that can make your workwear interesting. Tuck in a checkered silk shirt, wear a thick collar necklace with black pumps, and carry a leather bag. You can wear it also with a leather boxy jacket. Perfect for work.
9. Mini Skater Skirt
Want to show off those calves that you have been working hard on? Next time around, do it with a patterned floral mini-skirt that looks chic, youthful, and royal. Pair it with a sporty crop top if you have a party to go to, or a simple tank or V-neck T-shirt will do too. Complete the look with accessories like chunky earrings, a statement necklace, a stylish bracelet, or a watch.
10. Pink Skater Skirt
Are you the girly type or in a mood to look all cute and delicate today? Do it with a pink skater skirt and look like a cupcake. While a plain pink skirt seems more like a teenage statement, printed or self-design ones suit mature women perfectly. Complete the look with a pair of sunglasses, black tights, white sneakers, a complementary purse, and a solid color coat.


Trivia
The origins of skater skirts date back to 1950s fashion aesthetics. Whereas the modern version of these skirts was in style in the 1980s.
11. Green Skater Skirt
Make way for one of my favorite looks – skaters and plaid shirts. This clothing combination is both trendy and classic, making it a versatile option for any occasion. The skater skirt adds a feminine touch, while the plaid shirt brings a sophisticated and timeless element to the look. Carry a clutch and wear some gold pumps and jewelry – stunning, I say.
12. Black Skater Skirt
Black from head to toe – well, almost. Black is one of the most common colors for someone just testing the waters, and the veterans too. You can pair it with checkered, plain or silk tops, or go with a monochromatic look. If you want to break the silhouette a little, add red lipstick, red stockings, or red pumps – or any other color that excites you. Paola Farina, Personal Stylist, says, "You can wear miniskirts also with cuissardes (high-knee boots). Stand out from the crowd using bold colors, such as turquoise, green, camel, or burgundy.
13. Grey Skater Skirt
If you have had enough of regular pencil skirts for work, try this formal skater skirt and pair it with black stockings if you think it's too short. Wear flowing silk, cotton blouses, or linen shirts and look dapper.
14. Pleated Skater Skirt
Add some extra definition to your outfit with this softly pleated skater skirt. Go with an off-shoulder or crop top to keep up the drama.
15. Checkered Skater Skirt
How can we not talk about checkered skirts? They look flattering, and when they are paired with pastel tops instead of the regular black or whites, nothing can be better.
16. Knee Length Skater Skirt
For all of you who are still, still, still not even convinced by the idea of skater skirts – here's a knee-length polka skirt for you that looks neat, glam, playful, and elegant. Go with bright-colored V-neck plain tops and ankle strap heels.
17. White Skater Skirt
Pair your white skater skirt with a tank top for a breezy spring look, or transition it to a fall look by throwing on a leather jacket, especially one with brown undertones. Denim also works well. Killer!
18. Midi Skater Skirt And Crop Top
Be it a wedding, a pre-wedding party, cocktail dinner, or a night out with your girl gang, this midi style, knee-length skater skirt swings anyway you want. Go with fabrics like silk or something more formal so that you can use it for work too.
19. Jute Skater Skirts For Winter
If you are bored of just covering yourself up in winters, try this look. Wear a skater skirt in fabrics like wool or jute that keep you warm; wear fleece leggings and ankle length boots – they make your legs look elongated too. Wear a turtleneck sweater and throw on a choker – because we are bored of those bland winter looks, remember? You can also go retro and mix and match different colors and textures by throwing in a scarf and gloves for a unique, vintage look.
20. Black Skater Skirt And Turtleneck Tops
An easy-peasy everyday look to make your weekdays a little more exciting and fun. Feel free to swap colors to match your mood – all of them look equally good.
21. Skater Skirts And Converse
Pairing skater skirts with converse skirts are the easiest way to look chic and preppy. Add a graphic T-shirt, big glasses, converse shoes, and a side body bag. Love it!
22. Denim Skater Skirt
Denim skirts are just meant to be straight cuts or minis – but skater skirts are totally in too. Dump your old style and try this look.
23. Tulle Skater Skirt
We all love tulle fabrics, don't we? They are light, breezy, and fashionable. If you want to feel like a fashionista, throw on a pastel or neutral colored blazer, and wear six-inch pumps or boots. There's no stopping you or this romantic look. Paola Farina opines that you can also wear a fluffy maxi cardigan with a belt.
24. Ruffle Skater Skirt
A ruffle skater skirt that fits and flares out perfectly is a must in your wardrobe. The asymmetry and the ruffles are for anyone trying to ace the skater game.
25. Animal Print Skater Skirt
And, when do you feel that you have tried them all and mastered the art? When you have it in animal prints, period! You HAVE to try this look!
Infographic: 5 Fashionable Ways To Style Your Skater Skirts
Skater skirts are versatile and fun to wear. Whether paired with heels and a blouse for a sophisticated look or with a casual tee and sneakers for a relaxed vibe, skater skirts add a touch of elegance and whimsy to any outfit, making them a staple in every fashion-forward wardrobe. You may mix and match different tops, shoes, and accessories to create your unique style and confidently showcase your outfit. The infographic below lists five ways to style your skater skirts for any occasion. Scroll down and take a look.


Skater skirts are almost everybody's favorite because of their stitching patterns. No matter what body type you have, you will never go wrong when you wear them. So if you are looking for ideas for skater skirt outfits, you should be happy to know that you are just on the right page. This article will help you discover all the amazing ways to style your skater dress. Whether you prefer a monochrome look or colorful accents on your outfit in bohemian style or a hoodie for a laid-back look, skater skirts are a great way to show off your fashion sense. Regardless of your age, you are going to look like a showstopper when you ace the styles that we have provided below in the article. The whole world is going gaga over these skirts. So go ahead, join the band yourself and scroll down to try out our ideas too. Come on now! It is time for you to steal the show!
Frequently Asked Questions
Why are skater skirts called skater skirts?
Skater skirts got their name from their resemblance to the dresses worn by figure skaters. Their hemline sits just above the knees, and they are usually high-waisted.
Is a skater skirt an A-line skirt?
A skater skirt is a flared variant of an A-line skirt that is shorter and ends above the knees.
Do skater skirts suit hourglass?
Yes, skater skirts suit hourglass body shapes. However, avoid high necklines or shiny outfits that can make your upper body look bigger.
How can one accessorize a skater skirt outfit to complete the look?
One can accessorize a skater skirt by adding some metal necklaces, long earrings, and studded bracelets to complete the look.
How can one style a skater skirt outfit for a night out or a special event?
One style a skater skirt outfit for a night out or a special event by pairing it with a blazer and a pair of boots for a classy look.
Can skater skirts be worn by people of all ages, or are they better suited for
certain age groups?
Yes, skater skirts can be worn by people of all ages. It looks chic and well-fitted irrespective of age and body type.
Key Takeaways
Skater skirts make for a nice, chic look. These skirts in different prints are a must-have in your wardrobe.
You can pair your dark color skater skirt with a white or light color top and matching plump heels.
You can even ditch your plain top for an off-shoulder or crop top to add more drama to your look.
Leather or denim jackets go well with light-colored skater skirts.
Banner Image Credits: Instagram

Learn how to wear skater skirts in the following video! Get 20 styling tips and ideas to ace this look!
The following two tabs change content below.