9 Best Skin Care Products For Patients Undergoing Cancer Treatment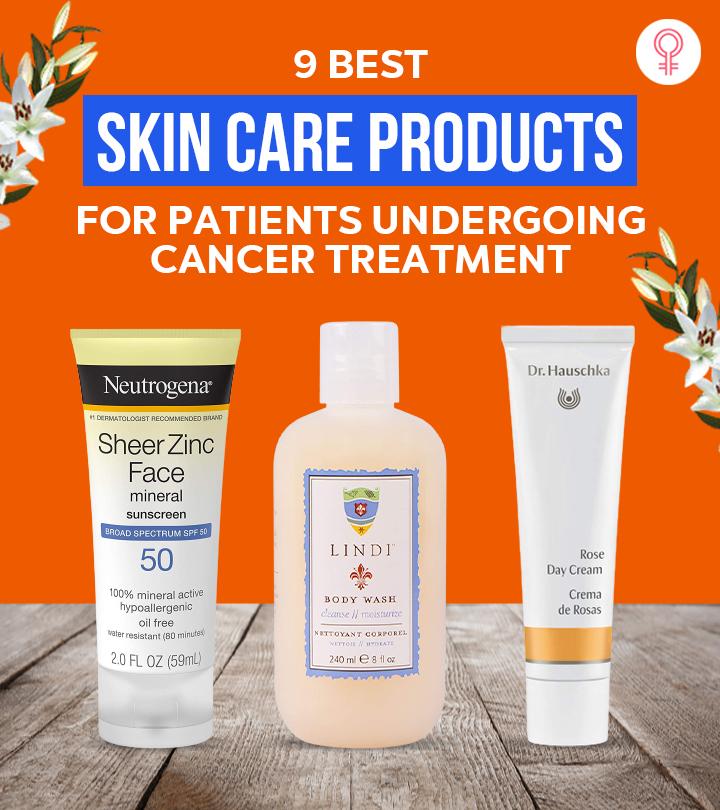 Cancer treatment often takes a toll on your skin. The harsh drugs used to fight cancer cells damage healthy skin cells, making them sensitive and irritated. Fortunately, several skin care brands offer specially formulated products to address these issues. These products soothe inflammation and dryness and strengthen the skin's protective barrier. In this article, we have compiled a list of the 9 best skin care products for cancer patients that can help you in every step of the way to keep your skin healthy and revitalized. Scroll down to check them out!
9 Best And Safe Skin Care Products For Cancer Patients
The luxurious body washes from Lindi has a gentle, non-foaming formula that manages dry and flaky skin resulting from cancer treatments. This body wash is formulated with glycerin that forms a protective moisture skin barrier and keeps it hydrated and protected against radiation burns and chemo rashes. The clinically proven formula helps reduce redness and itchiness over time. This body wash has a mild citrus fragrance that leaves the skin refreshed and clean.
Key Ingredients: Glycerin 
Pros
Non-irritating
Dermatologist-tested
Allergy-tested
Clinically tested
FDA compliant
Paraben-free
Cruelty-free
Cons
No products found.
The hypoallergenic Dove beauty bar helps build the skin's natural barrier while gently washing away bacteria and dirt. It is formulated with mild Dove cleansers and ¼ moisturizing cream to keep dry and irritated skin nourished and hydrated. This multipurpose soap is ideal for cancer patients undergoing treatment since it does not strip the skin of moisture.
Key Ingredients: ¼ moisturizing cream 
Pros
Gentle
Hypoallergenic
Sulfate-free
Fragrance-free
Cruelty-free
Cons
None
The organic coconut oil from Renpure is packed with the goodness of unrefined coconut extracts. It can be used as a full-body moisturizer to keep your skin hydrated during chemotherapy and other cancer treatments. This oil penetrates deep into dry, flaky skin to soothe itching and irritation while revitalizing and rejuvenating it. You can massage your hair and scalp with this 100% organic oil to repair and strengthen damaged follicles and promote new hair growth.
Key Ingredients: 100% organic coconut oil
Pros
Multipurpose
Synthetic fragrance-free
Dye-free
Sulfate-free
Silicone- free
Paraben-free
PEG-free
Phthalate-free
Non-GMO
Gluten-free
Vegan
Cruelty-free
Cons
Takes time to absorb.
May trigger acne.
The exotically scented rich day cream from Dr. Hauschka harnesses the goodness of rose petals, rosehip oil, and shea butter to deeply moisturize dry and sensitive skin. It is enriched with avocado oil to boost collagen production and protect the skin from harmful sun rays. The marshmallow and St. John's wort extracts soothe skin irritation and inflammation caused due to cancer treatments. This all-natural day cream balances oil production and imparts a radiant glow to the skin.
Key Ingredients: Avocado oil, Rosehip oil, Rose petals, Shea butter, and Marshmallow extracts
Pros
Smells good
Easy to spread
Natural ingredients
Cruelty-free
Synthetic preservative-free
Synthetic fragrance-free
Synthetic dye-free
Cons
The Cancer Care Pack from Emu Joy consists of oil and a lip balm crafted from emu oil that can be used before and after the radiation therapy to prevent burns and calm redness and irritation. Additionally, the oil boost hair growth by nourishing dormant follicles and decreases joint pain. The unflavored lip balm minimizes dry, chapped lips by forming a protective barrier that prevents moisture loss.
Key Ingredients:  100% AEA Certified Pure Emu Oil
Pros
Quick absorption
Unscented
Unflavored
AEA certified
Paraben-free
Phthalate-free
Synthetic preservative-free
Hypoallergenic
Cons
The Lindi Lavender Face Serum is packed with cell replenishing antioxidants and nutrients that instantly restore skin health. It contains natural anti-inflammatory ingredients, like turmeric, that help comfort irritated and inflamed skin. Other ingredients like avocado and soybean oil moisturize the skin to alleviate itching and dryness. The non-greasy serum is infused with lavender to soothe and calm the skin while keeping it refreshed.
Key Ingredients: Lavender, Avocado oil, Turmeric extracts, and Soybean oil
Pros
Non-greasy
Non-irritating
Fast-absorbing
Hypoallergenic
Clinically proven
Dermatologist-tested
Allergy-tested
Cons
The oncologist-formulated Camwell Hand To Heal Cream from Unitech Medical is a healing skin care product. It soothes hand-foot syndrome and chemo neuropathy while protecting the skin against infections. The herbal ingredients hydrate dry, cracked patches on the palms and feet and calm irritated and inflamed skin.
Key Ingredients: Tree peony bark, Dictamnus root bark, and Sophora root
Pros
Non-greasy
Non-GMO
Oncologist-formulated
Non-toxic
Paraben-free
Sulfate-free
Vegan
Cons
Strong fragrance
Expensive
The Neutrogena Sheet Zinc Mineral Sunscreen with broad-spectrum SPF 50 offers optimum protection against harmful UVA and UVB rays that cause sunburn and aging. It contains naturally sourced zinc that is gentle and safe for sensitive and compromised skin. The antioxidant-rich formula nourishes the skin and protects it from free radicals and environmental stressors. This sunscreen is powered by Dry Touch technology, has a quick-drying, non-greasy finish, and can be applied under makeup.
Key Ingredients: Zinc oxide
Pros
Sweat-resistant
Water-resistant
Non-greasy
Lightweight
Non-comedogenic
Oil-free
Hypoallergenic
Dermatologist-tested
Cons
The Coolibar Sun Gloves are made from fine micro mesh stretch fabric designed to keep the skin dry and cool. The UPF 50+ innovative polyester-spandex blend material blocks 98% of UVA and UVB radiation to protect the skin from sun damage. The silicone print on the palms and fingers provides a comfortable grip and extra maneuverability to the hands. The pull on closures promotes easy wearability. These form-fitting gloves are hygienic and easy to maintain as they are machine-washable and can be tumble dried.
Pros
Lightweight
Breathable
Non-slip silicone palm
Machine-washable
Pull-on closure
Cons
That was our round-up of the best skin care products for cancer patients. Choose the appropriate products that give you relief and help you heal quicker during your chemotherapy and cancer treatments.
Recommended Articles