Skin Fissures: Causes, Treatments, And Prevention
From natural remedies to certain hygiene practices, there is a lot you can do to deal with this issue.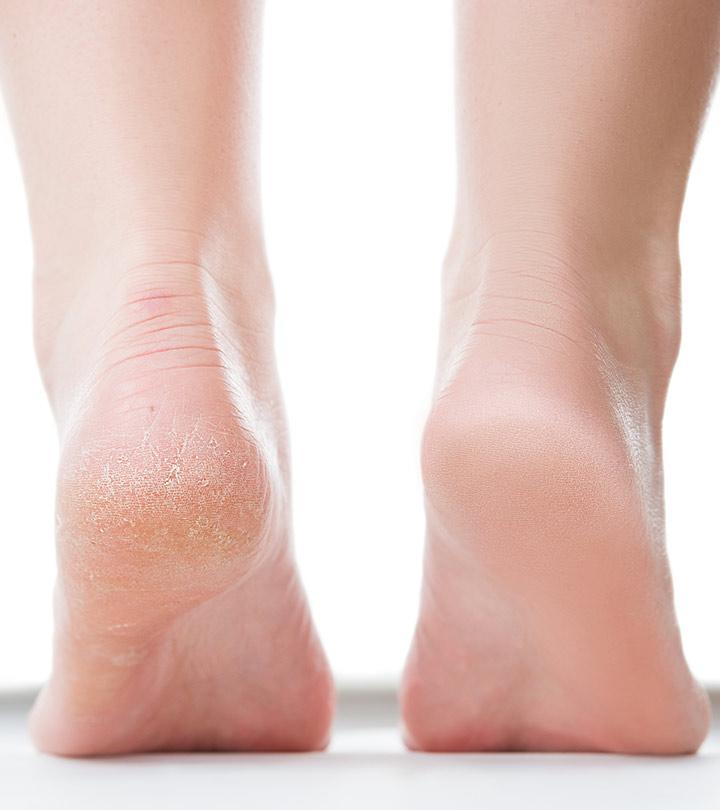 Fissuring is a problem many of us face, especially during the dry winter months. It can cause a lot of pain and hinder our daily activities. However, home remedies and over-the-top treatment medicines can help treat or even prevent fissures. In this article, we will talk about skin fissures, their causes, and treatment and prevention methods. Continue reading.
What Are Skin Fissures?
The cracks or splits that occur due to the breaking down of skin are called skin fissures. They occur when the outer layer of the epidermis (stratum corneum) is damaged. They separate from the dermal layers below and usually are found in heels, palms, in between the toes, and on fingertips.
According to Dr. Madathupalayam Madhankumar, "Skin fissures are small skin wounds that appear as an area of thickened, dried, and cracked skin and are often followed by callus formation."
Not all cracks or splits on the skin are fissures. Skin fissures usually show a few symptoms. Let us know more in the next section.
Signs And Symptoms Of Skin Fissures
Dry skin
Hard skin
Calluses
Lines and cracks
Occasional bleeding if the fissures are deep
Flaking
Peeling
Redness
Itching
Scaling
Waxy/rough texture
Tightness
Discoloration of skin
What causes fissures? Read the following section to know some of their more prevalent causes.
What Are The Causes Of Skin Fissures?
Skin fissures can affect anyone. The most common causes include:
Cold and dry climate
Dry skin
Frequent hand washing
Fungal infection
Inactive sweat glands
Obesity
Health conditions like psoriasis or diabetes
Nutritional deficiencies.

Angiopathy

i

  X

A condition characterized by a slow flow of blood or blood clots in the blood vessels, resulting in complications.

Exposure to irritating chemicals
Constantly walking barefoot
Wearing sandals or open-backed shoes that may expose your heels
Trauma to the feet from high heels, ill-fitting shoes, and poor foot-care routines
Board-certified plastic surgeon Dr. Michael K. Newman says, "During the cold winter months, dry air may lead to dry skin, leading to cracked skin. Certain medical conditions, such as nerve damage, decreased sweating, or dehydration, may increase the symptoms of dry, cracked skin and other skin problems."
Dr. Anna Chacon, MD, a board-certified dermatologist, adds, "Possibly other conditions of the skin such as eczema, atopic dermatitisi  XA common chronic condition also known as eczema that causes irritation and inflammation of the skin. , and contact dermatitisi  XA rash or inflammation of the skin caused by contact with any potential allergen that can lead to dry, flaky skin and itching. or even trauma can lead to skin fissures."
Can skin fissures may also be dealt with at home. Check out the following home remedies.
Home Remedies
1. Glycerine
Glycerine may seal the moisture in your skin and help retain it. It also may help speed up the healing process (1).
What You Need
Lukewarm water
Soap
Pumice stone
Glycerine
Method
Dip your feet in lukewarm soapy water to cleanse and remove all the dirt from your feet.
Remove the dead skin using a pumice stone.
After patting the feet dry, apply glycerine to retain moisture.

Trivia
Glycerol, the chief component of glycerine, is a trihydroxy alcohol that has been shown to play an important role in skin hydration, elasticity, and skin barrier repair (
1
) .
2. Petroleum Jelly
Petroleum jelly repairs fissures by sealing your skin. It may retain moisture and heal broken skin (2).
What You Need
Lukewarm water
Soap
Pumice stone
Petroleum jelly
Socks
Method
Soak your feet for up to 15 to 20 minutes in lukewarm, soapy water.
Use a pumice stone to remove hard, thick skin.
Make sure your feet are dry.
Apply petroleum jelly to the affected area.
Put on socks.
Repeat three times a day, as well as right after you've had a bath.
3. Olive Oil
Unrefined olive oil is high in anti-inflammatory properties and antioxidants. It helps heal skin damage and soothes dry skin. Olive oil may relieve dry, itchy, and cracked skin. In addition, it rebuilds the skin's moisture barrier to prevent further moisture loss (3).
What You Need
Lukewarm water
Soap
Pumice stone
Olive oil
Socks
Method
Soak your feet for up to 15 to 20 minutes in lukewarm, soapy water.
Use a pumice stone to remove hard, thick skin.
Take a small amount of olive oil with a cotton ball and massage your feet in a circular motion for 10 to 15 minutes while the skin is still moist.
Wear cotton socks to keep this moisturizing treatment in place and let it get absorbed into your skin while you sleep.

Trivia
While many plant oils contain fatty acids and other beneficial components for the skin, olive oil is widely used and recommended for skin healing as it easily penetrates the skin. Research shows that olive oil permeates better than coconut oil, grape seed oil, and avocado oil (
3
).
4. Coconut Oil
Extra virgin coconut oil is a good remedy for dry skin. It hydrates the skin and increases the effectiveness of the skin barrier to fight bacteria and other skin issues (4), (5).
What You Need
Lukewarm water
Coconut oil
Socks
Method
Wash your feet with lukewarm water and gently pat them dry.
Take a small amount of coconut oil and rub it over the affected region.
Alternatively, you can cover your entire feet in a thick layer of melted coconut oil.
Put on a pair of cotton socks to ensure the oil is intact while you sleep.
5. Lanolin
Lanolin works as a lubricant. It fills the gaps between skin cells and increases skin moisture and smoothness (6), (7), (8).
What You Need
Lukewarm water
Soap
Lanolin
Method
Wash the affected areas with soap and water and pat them dry.
Apply lanolin to the affected skin areas as indicated on the label or by your doctor.
Depending on the product and your skin condition, you may need to apply the medication more frequently.
Note: Avoid lanolin if you're allergic to wool.
6. Honey
Honey is a natural antiseptic that may help restore cracked heels. It keeps the skin moisturized and prevents it from drying out. In addition, honey has calming effects that help rejuvenate the skin (9).
What You Need
Lukewarm water
One cup of honey
Method
Mix one cup of honey into a tub of warm water.
Cleanse your feet and soak them in this mixture for 15 to 20 minutes. Massage your feet gently.
Apply moisturizer to your feet after drying them.
Do this regularly before going to bed.
7. Aloe Vera
Aloe vera may repair cracked skin. It provides hydration to the skin. The antioxidants in aloe vera also may help with collagen production (10).
What You Need
Warm water
Aloe vera gel
Socks
Method
Use warm water to soak your feet for 15 to 20 minutes and pat them dry.
Apply the aloe vera gel to the skin.
Put on the socks and leave the gel on overnight.
The best solution to fissures depends on their severity and root cause. In most cases, treating the root cause should suffice. But you must seek medical treatment if your fissures bleed or show raw skin. Consult a dermatologist as they can run diagnostic tests to figure out the root cause of the fissures and prescribe the best treatment options.
Dr. Madathupalayam Madhankumar mentions, "Use moisturizers 2 to 3 times a day. If the skin fissure is infected, antifungal cream and antibiotics will be prescribed. Skin softeners and debriding agents will also be prescribed if the fissure is deep. Skin glues are used to stick together the fissured ends."
Prevention is better than cure. Taking a few simple skin care steps can help prevent fissures. Here is what you can do.
How To Prevent Skin Fissures?
Practice good hygiene.
Keep your skin moisturized.
Wear clean socks.
Wear the right shoes.
Gently exfoliate areas of callused skin (such as heels).
Avoid walking barefoot.
Avoid walking or standing for long hours.
Protect the skin from factors that exacerbate dryness, like unnecessary water exposure, heat, friction, or irritants.
Avoid high-heeled shoes.
Avoid overwashing the affected areas.
Use gel or spray bandage to protect the affected areas.
Manage underlying conditions, such as diabetes, with medications or lifestyle changes.
How Long Do Skin Fissures Take To Heal?
According to Dr. Madathupalayam Madhankumar, "The skin fissures begin to fade, and cracks start to close, indicating healing. Usually, they heal within a week or two. If your skin fissure is mild, it will go away with the elimination of the cause (such as using slippers while walking, avoiding frequent hand washing, etc.)."
Some people could be at a greater risk of developing skin fissures. Learn more in the next section.
Risk Factors
The older you get, the less oil is produced in the skin pores. This may result in dry skin and fissures.
Low humidity may dry your skin out and cause fissures.
If anyone in your family has eczema, you are more likely to have skin fissures.
Continuous contact with water.
Frequent swimming in chlorinated pools
You can also be at risk due to medical conditions like diabetes, eczema, or

psoriasis

i

  X

A common autoimmune condition where the skin cells multiply much more than usual, causing dry, itchy, thick patches.

.
Do you need to seek medical attention for skin fissures? If yes, when should you consult a doctor?
When To See A Doctor
Consult your dermatologist if:
The home remedies aren't effective.
The fissures are impairing your quality of life.
You have an infection.
You experience bleeding.
You have pain.
You have redness.
You have a fever.
You have swelling.
You have pus in the affected area.
Skin fissures are cracks in the skin that develop due to dryness and are accompanied by peeling, callusesi  XThick, round patches of skin that are caused due to repeated friction and can appear on any part of the body. , tightness, or itching. Factors such as weather changes, nutritional deficiencies, injury, and health conditions can lead to the development of skin fissures. You can try using glycerin, petroleum jelly, aloe vera, or honey to keep your skin moisturized and prevent dryness. Additionally, practicing good hygiene, staying hydrated by drinking plenty of water, and wearing the right shoes can prevent you from developing fissures in the long run. If the fissures become infected and start bleeding with the home remedies not providing any relief, consult your dermatologist for further treatment.
Frequently Asked Questions
How painful are skin fissures?
Fissures in the skin can be excruciatingly painful, especially if they deepen and cause skin bleeding. Also, irritants may enter the fissure and aggravate the pain. In addition to physical discomfort, fissures can lead to skin ulcers. Therefore, treating skin fissures as soon as they appear is crucial to prevent further damage.
Key Takeaways
Skin fissures are cracks in the skin that thicken over time. They develop due to cold and dry climates, fungal infections, and dry skin.
You can treat skin fissures with effective home remedies like glycerine, petroleum jelly, honey, and olive oil.
Practicing good hygiene, avoiding overwashing, and keeping your skin moisturized may help prevent the formation of skin fissures.
Sources
Articles on StyleCraze are backed by verified information from peer-reviewed and academic research papers, reputed organizations, research institutions, and medical associations to ensure accuracy and relevance. Read our editorial policy to learn more.