10 Best Skin Whitening Soaps Available in India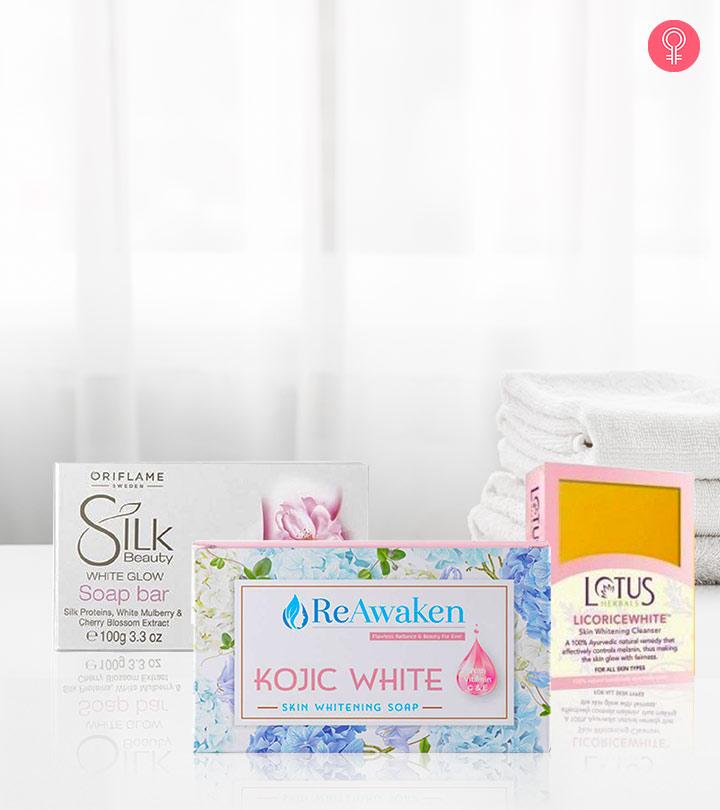 We all know what color correctors, concealers, and a bit of foundation can do. Hyperpigmentation, signs of dullness, dark circles and spots, redness, and blemishes – they can cancel out your problem areas and make them much brighter.
But what if you can get naturally radiant and luminous skin instead of brightening your face with makeup? Enter skin lightening soaps. These can diminish dark spots and even out your skin tone to give you the luminous glow you always wanted. Scroll down to find out what the top skin whitening soaps are.
Best Skin Lightening Soaps To Try

Product Claims
This skin lightening soap can be used on the face and the body. It contains kojic acid and claims to help you get rid of the effects of sunburn, tanning, spots, and blemishes. It evens out your skin and gives it a healthy appearance.
Pros
Contains coconut oil
Moisturizing
Affordable
Cons
Takes time to show results
Product Claims
This soap contains kojic acid and can be used on the face and the body. It claims to reduce dark spots, acne spots, blemishes, and discoloration. It also repairs and improves the condition of sun damaged skin. It has antibacterial properties that prevent skin irritation and inflammation.
Pros
Keeps skin hydrated
Suitable for normal to oily skin types
Affordable
Cons
Product Claims
Constant sun exposure and tan can make your skin dark and dull. The special formula of this soap helps in tan removal. It contains milk proteins, honey, and shea butter extracts that brighten your skin and also keep it soft and smooth.
Pros
Moisturizing
Suitable for normal to oily skin
Doesn't make skin dry
Cons
Product Claims
The main ingredient of the soap is licorice, which is often used in Ayurvedic medicine for skin brightening and fading blemishes and marks. This soap also claims to reduce excess melanin synthesis to brighten your skin. It has detoxification properties that ensure the overall health of your skin.
Pros
Contains Vitamin C extracts
No chemicals
Contains herbal ingredients
Pleasant fragrance
Cons
Product Claims
This unique soap is loaded with amino acids, and it brightens your skin and keeps it nourished. It is incredibly gentle on your skin, removes tan, and claims to make your skin softer and brighter.
Pros
Contains herbal extracts
Immediate results
Cons
Product Claims
Kozicare Skin Lightening Soap is formulated to remove dead skin, keep your skin hydrated, and make you look younger. Kojic acid and arbutin infused in the formula effectively cleanses, reduces age spots and blemishes to brighten up your skin tone. It also has vitamin E that nourishes the skin, provides sun protection, while glutathione improves skin elasticity and helps reduce wrinkles. For visible results, use the soap twice daily.
Pros
Ideal for daily use
Sun protection
Reduces wrinkles
Travel-friendly
Long-lasting fragrance
Cons
Oily skin people may experience breakouts
Product Claims
Saffron is known for its skin brightening properties. This soap contains saffron extracts and goat milk – both of which are known to fade away dark spots, hyperpigmentation, and blemishes. It brightens your skin and keeps it soft and supple.
Pros
Suitable for all skin types
Contains Vitamin E
Contains herbal extracts
Cons

Product Claims
The soap contains walnut shell extracts and has antiseptic properties. It promotes skin healing, reduces blemishes and spots, and keeps the skin soft. It doesn't dry out the skin and thoroughly cleanses it.
Pros
Moisturizes the skin
Pleasant floral fragrance
Cons
9. Oriflame Silk Beauty White Glow Soap Bar
Product Claims
This soap contains skin softening silk protein and orchid flower extracts that gently cleanse your skin, brighten it, and make it soft to touch. It claims to remove tan and bring an instant glow to your skin.
Pros
Affordable
Gentle on skin
Visible results
Cons
Product Claims
This soap is rich in papaya extracts and contains vitamin E as well. It makes your skin soft and youthful. It brightens your skin and reduces spots, blemishes, and tanning to promote a youthful glow.
Pros
Suitable for all skin types
Contains herbal extracts
Cons
Takes time to show results.
[ Also Try – Clearmin Fairness Soap ]
These are some of the best skin whitening soaps you can go for. However, it is essential to keep a few crucial things in mind before buying. The following guide will help you find the most appropriate skin whitening soap.
What To Consider Before Buying Skin Whitening Soaps
Skin whitening soaps are usually acceptable for any skin type. But you must be careful if you have sensitive skin. Avoid soaps that contain harmful acids and chemicals like mercury, steroids, and hydroquinone as they can strip off the natural skin oils. Invest in soaps made of natural ingredients such as aloe vera, saffron, milk proteins, and turmeric – these naturally help with skin whitening.
A skin whitening soap should have ingredients that lighten the skin. Look for turmeric, saffron, coconut oil, sunflower oil, grapeseed oil, sodium lactate, kojic acid, and glycerin. These ingredients stay mild on the skin and provide gradual whitening effects.
Also, look for vitamin C that is known to brighten skin and leave a dewy glow to it.
The best and most convenient way to know about a product's performance is checking user reviews. Ensure you do your homework before opting for a skin whitening soap.
Skin whitening has nothing to do with your complexion. Most of the times, the dark spots and hyperpigmentation or acne spots you see on your face make your skin look shades darker. Skin whitening soaps fade these marks away, making your skin look brighter. But you cannot expect immediate results. You need to be consistent and patient.
Have you ever tried any skin whitening and brightening soaps? What are your thoughts about them? Did they work on your skin? Share your views in the comments section below.

Recommended Articles
The following two tabs change content below.