12 Best Serums For Oily Skin To Look Out For In 2023
Breakouts are a thing of the past with these nourishing serums designed just for you!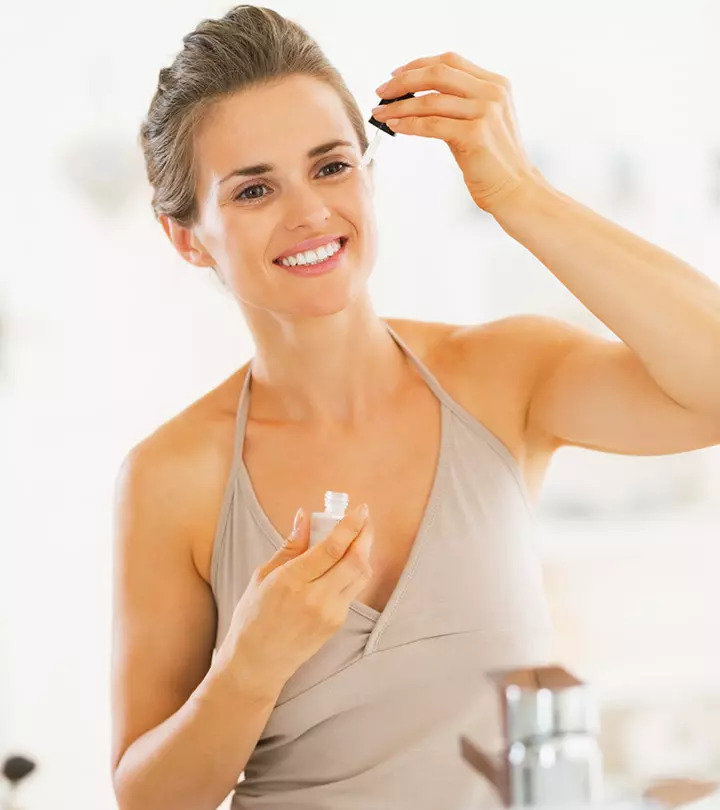 Serums hydrate your skin and keep your skin nourished. Moreover, these lightweight formulas work wonders to treat specific skin conditions. For example, the best serums for oily skin penetrate your skin and balance the excessive sebum keeping your face conditioned. As a result, they transform your dull-looking skin glowing and radiant. And, for oily skin, a light, water-based serum works well. Oily skin needs serums that regulate the production of skin's natural oil, and ingredients like glycerin and hyaluronic acid work well.
Dr. Enrizza Factor, a Diplomate of the Philippine Dermatological Society and Fellow of the Philippine Academy of Dermatologic Surgery Foundation Inc., says, "A serum that is full of antioxidants helps improve the appearance of skin. Vitamin C is an antioxidant that prevents oily skin, skin discoloration, and signs of aging. Serums are a great product recommendation for those who want to even out the skin tone. The addition of hyaluronic acid can also help moisturize and plump up oily skin. The serum is a highly recommended product for people who have oily skin and want to reduce the appearance of blemishes. The serum also works to smoothen and soften the skin for an overall glowy appearance."
You need to pick the right serum for your skin to get the maximum benefits. In this article, we have compiled a list of the ideal serums that work for your oily skin. We have also rounded up a few tips that can help pick the right serum to match your skin essentials. Keep scrolling to check it out!
How To Find The Right Serum For Oily Skin
Sometimes, the right product is all it takes to transform troublesome skin issues. You don't need to keep holding out for a magical potion, especially if your oily skin is triggered by underlying issues in diet, lifestyle, or makeup.
While those problems cannot be tackled overnight, serums with intensive formulas that can reach deep within your skin can go a long way to helping you achieve a clearer complexion. But how do you know which serum will work best for you? Look at the pointers below, which will help you when you go shopping for a new serum.
Active Ingredients: Check the list of active ingredients in the serum. A good serum for oily skin should contain ingredients like vitamin C for skin brightening, hyaluronic acid for moisture retention, salicylic acid to kill acne-causing bacteria, glycerin for added moisture, niacinamide for overall skin health, and lactic acid for mild exfoliation. Also, avoid ingredients like artificial preservatives and fragrances that may cause an allergic reaction.
Skin Concerns: Choose a serum as per the skin concern you are trying to address. If you are looking for a serum for dark spots, hyperpigmentation, or acne spots, go for a vitamin C serum. If you are looking for anti-aging benefits, pick one that contains retinol. If your skin has become dull and rough, choose one that has AHA and BHA.
Features: Ensure that the serum that you are buying has certain tags like hypoallergenic, non-comedogenic, dermatologically approved, or clinically tested. This is particularly important if you have sensitive skin. Additional features like a vegan formula or a cruelty-free product are also important for ethical reasons.
Price: Keep your budget in mind and remember that you can find quality products at any price point. A higher price does not automatically guarantee better quality.
Note: Oily skin and acne cannot be dealt with products alone. Consulting a dermatologist will help you tackle the root cause of the problem. They can identify unique factors that may be contributing to your skin troubles.
Now that you know what to watch out for when shopping for a serum for oily skin, let's get on with the 12 best serums we have rounded up. These are excellent for treating and nourishing oily skin. Check them out below!
Top 12 Serums For Oily Skin
Pros
Clinically tested
Sulfate-free
Paraben-free
Phthalate-free
Mineral oil-free
Cruelty-free
100% vegan
Gluten-free
Recyclable packaging
Cons
None

Price at the time of publication: $85.0
Pros
Helps tighten pores
Controls sebum production
Hydrating formula
No artificial colors
Fragrance-free
Alcohol-free
Cruelty-free
Affordable
Cons
None

Price at the time of publication: $17
Pros
Lightweight
Gets absorbed quickly
Contains plant extracts
Contains tocopherol
No synthetic fragrances
Vegan formula
Cruelty-free
Cons
Price at the time of publication: $49.99
Pros
Controls oiliness
Reduces large pores
Silicone-free
Alcohol-free
Gluten-free
Oil-free
Cruelty-free
Cons
May cause breakouts while the skin is adjusting to the product.
Pros
Fast-absorbing formula
Vegan
Cruelty-free
100% natural
GMO-free
Gluten-free
Dermatologist-tested
Pleasant fragrance
Cons
Not enough quantity for the price
Price at the time of publication: $35.99
Pros
Lightweight formula
Gets absorbed easily
Helps prime the skin before makeup
Evens out the skin tone
Made using fair price ingredients
Vegan
Cruelty-free
Cons
Price at the time of publication: $29.99
Pros
Lightweight formula
98% natural
Visibly tightens pores
Reduces blemishes and blackheads
Paraben-free
Sulfate-free
Cruelty-free
Cons
Price at the time of publication: $49
Pros
Reduces fine lines and wrinkles
No synthetic fragrances
Paraben-free
Water-based formula
Affordable
Cruelty-free
Cons
May cause slight irritation.
Price at the time of publication: $18.24
The Mizon Original Skin Energy Hyaluronic Acid is a blend of hyaluronic acid and botanical extracts. It has a deeply moisturizing formula and is ideal for oily skin. Hyaluronic acid helps train oily skin to produce the proper amount of oil for hydration. The serum contains peptides and five vitamins that work to improve the skin's elasticity and texture. It provides an oil-free finish and reduces the appearance of your skin pores.
Active Ingredient: Hyaluronic acid
Skin Concern: For moisture balance and deep skin hydration
How To Use: Apply a few drops of the serum after cleansing and toning. Tap gently into skin until absorbed.
Pros
Gentle on sensitive skin
Provides deep hydration
Non-greasy
Paraben-free
Fragrance-free
No artificial colors
Cons
Price at the time of publication: $16.5
Pros
Dermatologist-tested
Paraben-free
Sulfate-free
Gluten-free
No artificial color and fragrance
Mineral oil-free
Vegan
Cons
Expensive
May cause initial redness, flaking, or dryness
Price at the time of publication: $58
Pros
Can be used as primer or serum
Matte finish
Blurs the appearance of pores
Non-greasy formula
Paraben-free
Lightweight
Cons
Price at the time of publication: $9.99
Pros
Visibly reduces pores
Paraben-free
No artificial fragrances
No color additives
Cons
May feel greasy
May irritate sensitive skin
Price at the time of publication: $19.2
While all the serums recommended above have specific benefits for oily skin, you must know the right order to apply skin care routine to reap the maximum benefits. Read on for a few helpful tips that will help you gain the most from your serums.
Best Tips For Applying Serum Correctly
Exfoliating before applying a serum is critical. Removing the top layer of debris, dirt, and dead skin cells from your face through exfoliation will help the serum soak into the dermis and deliver all its goodness more effectively. Start with an exfoliating cleanser or face scrub to get rid of any impurities.
Based on the instructions on the specific product you are using, apply the serum on cleansed and toned skin. Some serums can be mixed with others or a moisturizer for better results. You can try these methods to find what works best for you.
Finish off with a moisturizer, and don't forget sunscreen if your serum contains retinol. Certain ingredients require a trial period where your skin will adjust before settling down to the new product. Discontinue use if you have a severe or stubborn reaction.
Why Trust StyleCraze?
Sakshi Bahal, the author of this article, is a skincare enthusiast. Her expertise and knowledge in various products push her to find the right skin care products for her readers. She understands the struggles of having oily skin and has gone through hundreds of reviews on trusted online forums to curate this list of top serums for oily skin. The products included in the list can remove excess sebum and keep your skin hydrated and healthy.
Frequently Asked Questions
Which serum is good for acne-prone, oily skin?
The Ordinary Niacinamide 10% + Zinc 1% is one of the best serums for acne-prone skin. It balances sebum production and effectively reduces acne. Also, the serum actively eliminates blemishes from the skin.
What is the best serum for oily skin in winter?
The Caudalie Vinopure Skin Perfecting Serum is a great product for the winters. It unclogs the pores and moisturizes the skin. This serum also strengthens the natural barrier of the skin which tends to dry out in the cold season.
For oily skin, would a serum or a moisturizer be best?
Serums are made up of small molecules that get deeply absorbed into the skin and provide intense hydration. On the other hand, a moisturizer is usually thicker and takes more time to penetrate. Therefore, hydrating serums are best for oily skin.
Can I use coconut oil as a face serum at night for oily skin?
No. Applying coconut oil as a face serum is not recommended for oily skin. It is highly comedogenic and can clog your pores, leading to acne breakouts. So, skip using coconut oil as an overnight treatment if you have oily skin.
What is a good organic serum for my oily skin to brighten dull skin?
The Sunday Riley Good Genes All-in-One Lactic Acid Treatment is formulated with licorice root extracts and prickly pear that gently exfoliate, purify, and impart radiance to your oily skin.
Recommended Articles: