12 Best Serums For Oily Skin To Look Out For In 2022
Breakouts are a thing of the past with these nourishing serums designed just for you!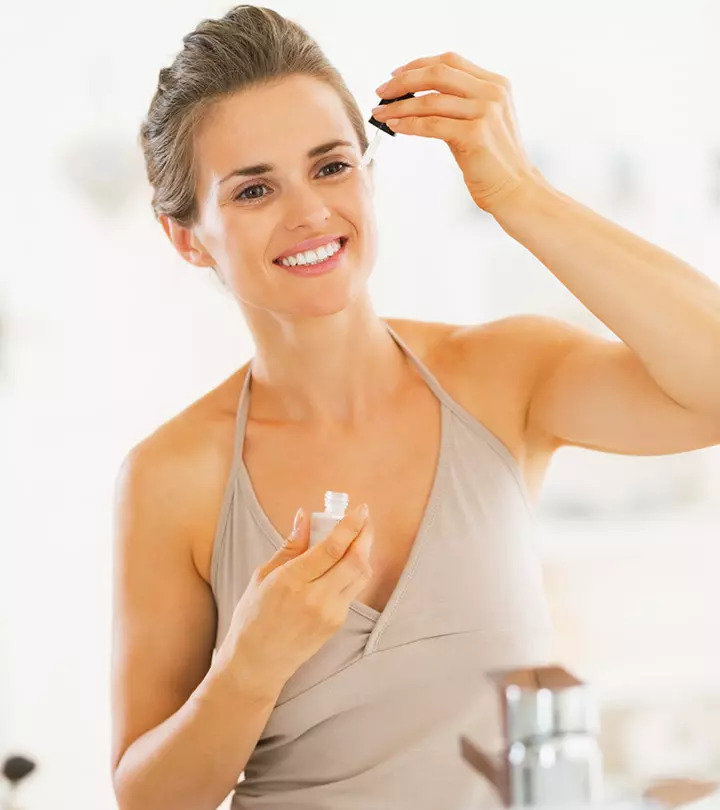 Serums hydrate your skin and keep your skin nourished. Moreover, these lightweight formulas work wonders to treat specific skin conditions. For example, the best serums for oily skin penetrate your skin and balance the excessive sebum keeping your face conditioned. As a result, they transform your dull-looking skin glowing and radiant. And, for oily skin, a light, water-based serum works well. Oily skin needs serums that regulate the production of skin's natural oil, and ingredients like glycerin and hyaluronic acid work well.
You need to pick the right serum for your skin to get the maximum benefits. In this article, we have compiled a list of the ideal serums that work for your oily skin. We have also rounded up a few tips that can help pick the right serum to match your skin essentials. Keep scrolling to check it out!
How To Find The Right Serum For Oily Skin
Sometimes, the right product is all it takes to transform troublesome skin issues. You don't need to keep holding out for a magical potion, especially if your oily skin is triggered by underlying issues in diet, lifestyle, or makeup.
While those problems cannot be tackled overnight, serums with intensive formulas that can reach deep within your skin can go a long way to helping you achieve a clearer complexion. But how do you know which serum will work best for you? Look at the pointers below, which will help you when you go shopping for a new serum.
Active Ingredients: Check the list of active ingredients in the serum. A good serum for oily skin should contain ingredients like vitamin C for skin brightening, hyaluronic acid for moisture retention, salicylic acid to kill acne-causing bacteria, glycerin for added moisture, niacinamide for overall skin health, and lactic acid for mild exfoliation. Also, avoid ingredients like artificial preservatives and fragrances that may cause an allergic reaction.
Skin Concerns: Choose a serum as per the skin concern you are trying to address. If you are looking for a serum for dark spots, hyperpigmentation, or acne spots, go for a vitamin C serum. If you are looking for anti-aging benefits, pick one that contains retinol. If your skin has become dull and rough, choose one that has AHA and BHA.
Features: Ensure that the serum that you are buying has certain tags like hypoallergenic, non-comedogenic, dermatologically approved, or clinically tested. This is particularly important if you have sensitive skin. Additional features like a vegan formula or a cruelty-free product are also important for ethical reasons.
Price: Keep your budget in mind and remember that you can find quality products at any price point. A higher price does not automatically guarantee better quality.
Note: Oily skin and acne cannot be dealt with products alone. Consulting a dermatologist will help you tackle the root cause of the problem. They can identify unique factors that may be contributing to your skin troubles.
Now that you know what to watch out for when shopping for a serum for oily skin, let's get on with the 12 best serums we have rounded up. These are excellent for treating and nourishing oily skin. Check them out below!
Top 12 Serums For Oily Skin
The Sunday Riley Good Genes All-in-One Lactic Acid Treatment is a complete AHA treatment for your skin. It contains lactic acid that helps shrink the size of the pores, improves skin texture, reduces dark spots, clarifies your skin, and makes it smooth. The licorice root extracts and prickly pear help brighten and purify your skin, lemongrass boosts radiance, and aloe soothes the skin. Check out this video review for a detailed understanding of the product.
Active Ingredient: Lactic acid
Skin Concern: For deep exfoliation to uncover instant glow and radiance
How To Use: Apply 1-3 pumps on clean, dry skin, followed by a moisturizer. If you have sensitive skin, use the treatment as a mask and rinse it off after 15 minutes.
Pros
Clinically tested
Sulfate-free
Paraben-free
Phthalate-free
Mineral oil-free
Cruelty-free
100% vegan
Gluten-free
Recyclable packaging
Cons
None
The It's Skin Power 10 VB Effector is a skincare gem from the world of K-beauty. It offers impressive sebum control and pore-tightening benefits. The oil-free formula leaves your skin with a shine-free finish. It contains vitamin B6 that calms and rejuvenates stressed skin. The refreshing after-effects make it a summer essential for oily skin. If you are looking for something to help you tackle large pores and acne, this is the perfect serum for you. To find out more about this product, check out this video.
Active Ingredient: Vitamin B6
Skin Concern: For acne-prone skin and large pores
How To Use: Apply a few drops on cleansed skin before applying moisturizer.
Pros
Helps tighten pores
Controls sebum production
Hydrating formula
No artificial colors
Fragrance-free
Alcohol-free
Cruelty-free
Affordable
Cons
None
Have oily skin that is sensitive to specific ingredients? If yes, the Kypris Clearing Serum is your bae. The formula is a harmonious blend of quinoa that nourishes the skin with amino acids, zinc and lilac leaf stem cells that balance oil production, chaparral that soothes and heals the skin, and essential oils of tea tree and lavender that reduce blemishes. If you are still unsure, check out this honest review.
Active Ingredient: Zinc and Lilac leaf stemcells
Skin Concern: For sensitive, oily skin with blemishes
How To Use: Apply to oily areas on the face as well as on blemishes or ingrowns.
Pros
Lightweight
Gets absorbed quickly
Contains plant extracts
Contains tocopherol
No synthetic fragrances
Vegan formula
Cruelty-free
Cons
The Ordinary Niacinamide 10% + Zinc 1% is no ordinary serum. It is a cult favorite that offers a ton of benefits for oily skin. This serum's more significant results include oil and sebum control, reduced scarring, and pores caused by acne. The formula contains vitamin B3 in the form of niacinamide, which reduces skin congestion and blemishes. The 1% zinc balances sebum production.
Active Ingredient:  Niacinamide and Zinc
Skin Concern: For oily, acne-prone skin with inflammation and scarring
How To Use: Apply a few drops every morning and night before moisturizer.
Pros
Controls oiliness
Reduces large pores
Silicone-free
Alcohol-free
Gluten-free
Oil-free
Cruelty-free
Cons
May cause breakouts while the skin is adjusting to the product.
If you prefer organic formulas, try this deeply nourishing serum. It contains grapeseed oil that regulates sebum production and keeps your skin clear and vitamin E that nourishes and moisturizes your skin. The astringent properties of grapefruit oil refresh and smoothen your skin.This fast-absorbing serum controls excess shine and helps improve the appearance of pimples and clogged pores.
Active Ingredient: Grapeseed oil and Grapefruit oil
Skin Concern: For stubborn acne
How To Use: Apply 2-3 drops every morning and night.
Pros
Fast-absorbing formula
Vegan
Cruelty-free
100% natural
GMO-free
Gluten-free
Dermatologist-tested
Pleasant fragrance
Cons
Not enough quantity for the price
Using vitamin C on oily skin can never go wrong! This light and refreshing serum from The Body Shop is one of the best serums for oily skin. It contains Amazonian CamuCamu berry extracts that protect your skin from the damaging effects of environmental pollution and improve its radiance. This serum evens out your skin tone and keeps it feeling fresh the entire day. However, if you are using it during the day, don't forget to use sunscreen.
Active Ingredient: Vitamin C
Skin Concern: For dull and tired skin
How To Use: Apply once a day after moisturizer, before getting on with your makeup.
Pros
Lightweight formula
Gets absorbed easily
Helps prime the skin before makeup
Evens out the skin tone
Made using fair price ingredients
Vegan
Cruelty-free
Cons
The Caudalie Vinopure Skin Perfecting Serum ranks high on any list of splurge-worthy serums out there. It has a tested and proven formula that includes natural salicylic acid, organic grape water, and a complex of essential oils. The serum works to unclog and tighten pores and moisturize and soothe your skin while helping tone and purify the skin barrier.
Active Ingredient: Salicylic acid
Skin Concern: For eliminating blackheads
How To Use: Apply every morning and night on cleansed skin before moisturizer. You can also use it as an overnight spot treatment.
Pros
Lightweight formula
98% natural
Visibly tightens pores
Reduces blemishes and blackheads
Paraben-free
Sulfate-free
Cruelty-free
Cons
The Inkey List Retinol Face Serum helps you achieve a smooth and radiant complexion with less irritation for your skin. It contains 1% retinol, a derivative of vitamin A that helps revitalize the surface of your skin, and squalene that hydrates and soothes the skin. It leaves you with an even skin tone and visibly reduced fine lines and wrinkles. The formula is water-based and contains glycerin, which helps make your skin even smoother.
Active Ingredient: Retinol
Skin Concern: For even skin tone and reducing signs of aging
How To Use: Apply a pea-sized amount at night, 2-3 times a week. Massage into the face and neck over cleansed skin.Remember to apply a heavy-duty sunscreen as retinol tends to make your skin more sensitive to UV rays.
Pros
Reduces fine lines and wrinkles
No synthetic fragrances
Paraben-free
Water-based formula
Affordable
Cruelty-free
Cons
May cause slight irritation.
The Mizon Original Skin Energy Hyaluronic Acid is a blend of hyaluronic acid and botanical extracts. It has a deeply moisturizing formula and is ideal for oily skin. Hyaluronic acid helps train oily skin to produce the proper amount of oil for hydration. The serum contains peptides and five vitamins that work to improve the skin's elasticity and texture. It provides an oil-free finish and reduces the appearance of your skin pores.
Active Ingredient: Hyaluronic acid
Skin Concern: For moisture balance and deep skin hydration
How To Use: Apply a few drops of the serum after cleansing and toning. Tap gently into skin until absorbed.
Pros
Gentle on sensitive skin
Provides deep hydration
Non-greasy
Paraben-free
Fragrance-free
No artificial colors
Cons
Retinol formulas are good for oily skin. If you are new to retinol, you can start with The First Aid Beauty Skin Lab Retinol Serum that has a relatively low percentage of retinol. It contains vitamin C and other skin-soothing ingredients, such as ceramides, aloe vera, allantoin, and oatmeal extracts, which take care of all your skin concerns.
Active Ingredient: 0.25% Retinol
Skin Concern: Foraging, sensitive skin
How To Use: Start by applying 1-2 pumps at night on cleansed skin up to 3 times a week. Gradually increase usage to every other night, eventually going up to every night if tolerable.
Pros
Dermatologist-tested
Paraben-free
Sulfate-free
Gluten-free
No artificial color and fragrance
Mineral oil-free
Vegan
Cons
Expensive
May cause initial redness, flaking, or dryness
Neutrogena is one of the most reliable skincare brands on the market, and this serum plus primer is just one of their many trusted offerings for oily skin. The Shine Control Matte Booster is enriched with rice protein, which helps absorb excess oil and leaves you with a mattified complexion. It keeps your skin shine-free, blurs pores, and preps the skin for smooth makeup application. This serum also leaves your skin looking and feeling healthier with regular use.
Active Ingredient: Rice protein
Skin Concern: For long-lasting shine control
How To Use: Apply after cleansing and toning, either mixed with moisturizer as a primer or on its own as a serum.
Pros
Can be used as primer or serum
Matte finish
Blurs the appearance of pores
Non-greasy formula
Paraben-free
Lightweight
Cons
The TONYMOLY Vital Vita 12 Poresol Ampoule is yet another K-beauty cult favorite, formulated for oily skin. It helps clear clogged pores and fights excess sebum. The vitamin H in the product nourishes your skin and imparts the glow. The formula contains ingredients like salicylic acid, lactic acid, and tea tree oil, all of which soothe, tone, and balance oily skin. It is naturally colored with vitamins and plant extracts, so you won't have to worry about aggravating sensitive skin.
Active Ingredient: Vitamin H, lactic acid, salicylic acid, and tea tree oil
Skin Concern: To minimize pores and control excess oil
How To Use: Apply a few drops on cleansed and toned skin before moisturizer.
Pros
Visibly reduces pores
Paraben-free
No artificial fragrances
No color additives
Cons
May feel greasy
May irritate sensitive skin
While all the serums recommended above have specific benefits for oily skin, you must know the right order to apply skin care routine to reap the maximum benefits. Read on for a few helpful tips that will help you gain the most from your serums.
Best Tips For Applying Serum Correctly
Exfoliating before applying a serum is critical. Removing the top layer of debris, dirt, and dead skin cells from your face through exfoliation will help the serum soak into the dermis and deliver all its goodness more effectively. Start with an exfoliating cleanser or face scrub to get rid of any impurities.
Based on the instructions on the specific product you are using, apply the serum on cleansed and toned skin. Some serums can be mixed with others or a moisturizer for better results. You can try these methods to find what works best for you.
Finish off with a moisturizer, and don't forget sunscreen if your serum contains retinol. Certain ingredients require a trial period where your skin will adjust before settling down to the new product. Discontinue use if you have a severe or stubborn reaction.
Why Trust StyleCraze?
Sakshi Bahal, the author of this article, is a skincare enthusiast. Her expertise and knowledge in various products push her to find the right skin care products for her readers. She understands the struggles of having oily skin and has gone through hundreds of reviews on trusted online forums to curate this list of top serums for oily skin. The products included in the list can remove excess sebum and keep your skin hydrated and healthy.
Frequently Asked Questions
Which serum is good for acne-prone, oily skin?
The Ordinary Niacinamide 10% + Zinc 1% is one of the best serums for acne-prone skin. It balances sebum production and effectively reduces acne. Also, the serum actively eliminates blemishes from the skin.
What is the best serum for oily skin in winter?
The Caudalie Vinopure Skin Perfecting Serum is a great product for the winters. It unclogs the pores and moisturizes the skin. This serum also strengthens the natural barrier of the skin which tends to dry out in the cold season.
For oily skin, would a serum or a moisturizer be best?
Serums are made up of small molecules that get deeply absorbed into the skin and provide intense hydration. On the other hand, a moisturizer is usually thicker and takes more time to penetrate. Therefore, hydrating serums are best for oily skin.
Can I use coconut oil as a face serum at night for oily skin?
No. Applying coconut oil as a face serum is not recommended for oily skin. It is highly comedogenic and can clog your pores, leading to acne breakouts. So, skip using coconut oil as an overnight treatment if you have oily skin.
What is a good organic serum for my oily skin to brighten dull skin?
The Sunday Riley Good Genes All-in-One Lactic Acid Treatment is formulated with licorice root extracts and prickly pear that gently exfoliate, purify, and impart radiance to your oily skin.
Recommended Articles: