Smokey Eye Makeup Tips For Small And Big Eyes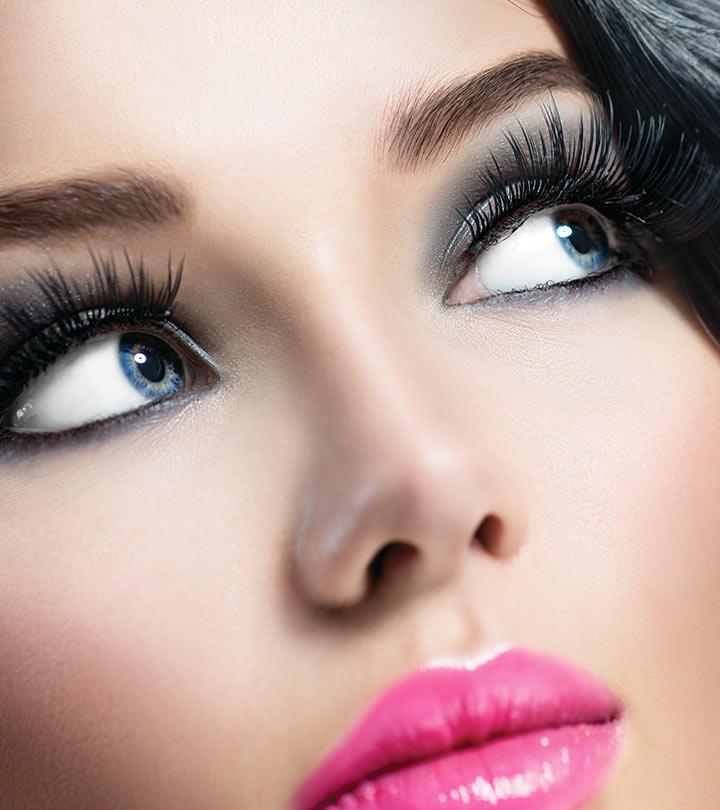 Smokey eyes look gorgeous, but nailing them takes some practice. The right smokey eye makeup tips can prevent your eyes from turning into ghastly raccoon eyes. Unfortunately, we often mess up the eyeshadow shades or the techniques needed to get perfection. Smokey eye is an extremely versatile eye makeup that looks stunning on all eye shapes if done well with the right tips and tricks. Keep reading this article to nail this eye look!
Smokey Eye Makeup Tips
Here are a few tips which can be of good use when choosing smokey makeup effect for different sizes of eyes.
A. Smokey Eye Makeup Tips For Smaller Eyes
Some people have smaller eyes as compared to the overall size of their face. Smokey eyes for small eyes has a whole different approach to it. So if you are one of them then these tips might be helpful:
Prime your eye lid; that's the first step. Then use a concealer on the lids, not necessarily on to creases but a must on the brow bones.
Next, if you want you may apply small little dots of foundation and blend well on the part where you might be having dark circles, it's very important to cover them up.
Do not use the dark color all over your eyelids.
Use a Q-tip or an applicator to use the dark color only from half end of the eyes extending towards the brows but not reaching them in a tail.
Use a lighter color to make eyes pop out on to the frontal lids.
Line your upper lids with a very thin line of liner. Preferably with a shade near to black but not jet black. The more black the more shrunken your eyes will look.
You may line the lower rim too, but for some people it works and makes eyes look popped up and for others it depresses the look. So do a trial and error for lining of lower rim. You can line your lower rim with a milky white liner also.
Now take a shimmer white or silver eye pencil and just put a dot between the nose and the eyes. Also just below the brow cover the area with silver shimmer to high light the brow bone.
If your lashes are small, don't hesitate to use false lashes. Do a double curling before and after mascara application for both the upper and lower lashes.
B. Smokey Eye Makeup Tips For Big and Elongated Eyes
Big eyes are a canvas to play with. Smokey eyes on big eyes are simple and easy to do. You can even play with darkest of shades and also multiple shades at the same time by blending 3-4 colors together.
Prime your eyelids and then use concealer and foundation (if required) like usual.
Sometimes it's like your eyes seem sort of out of proportion and too big than your face's area. In such cases you need to focus on using bold and darker colors.
Next use darker shade like black for bronze or dark purple for mauve and so on to the crease.
 Use a very small amount of shimmer white on to brow bones and that too in a thin line just below the brows.
 Line the under rim line as well, nothing to experiment here since your eyes are big enough. Just make them proportionate by using kohl or kajal or liner whatever you prefer. Use mascara along with false lashes if you want to go for big sexy dark eyes.
 If your lashes are good enough, double curling is not required. It would make the look too made up and artificial. But still if you want to you can do so.
Use mascara on both the upper and lower lashes without any restrictions.
You can use just a small tiny dot of shimmer white pencil (elle 18 eye sparklers is good ) for that start point of eyes near the nose.
Your eye makeup can make or break your look. So, the key to create the perfect smokey vibes to your gorgeous eyes is practicing over and over till you succeed. Smokey eye makeup is versatile and you can experiment with different shades and be creative. Follow the tips and hacks mentioned in the article to start with a simple smokey eye makeup and once you master the art, you can go ahead and experiment with your eye makeup. However, do not forget to apply primer to your eyes before getting started. This will allow the eye makeup to last longer.
The following two tabs change content below.