Smokey Eye Makeup Tips For Small And Big Eyes
Handy tips for nailing the smokey eye look at one go without messing it up.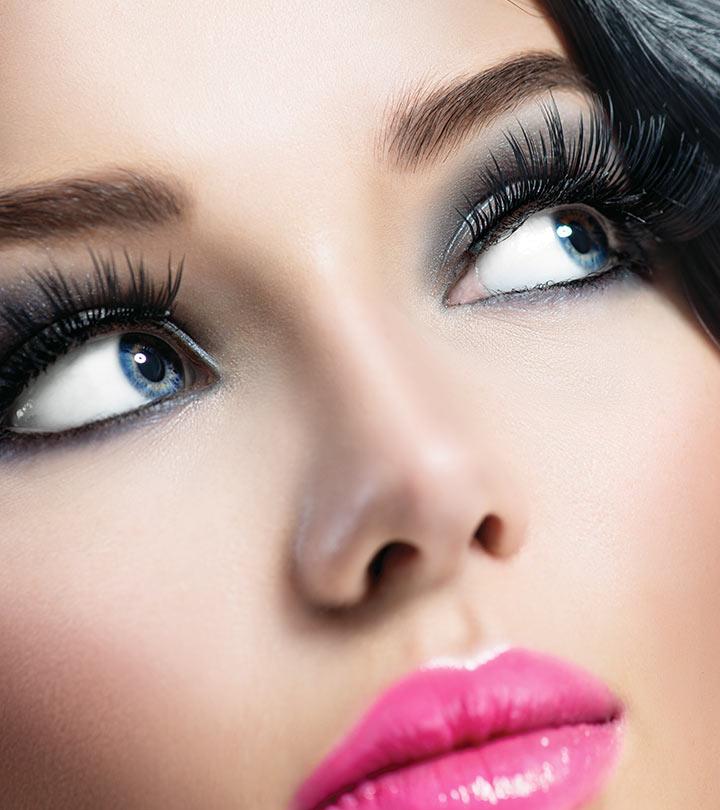 Smokey eyes look gorgeous and dramatic, but nailing them takes some practice. The right smokey eye makeup tips can make your eyes look glamorous and prevent them from turning into ghastly raccoon eyes. Unfortunately, we often mess up the eyeshadow shades or the techniques needed to get perfection. Smokey eye is an extremely versatile evening eye makeup that looks stunning on all eye shapes if done well with the right tips and tricks. Keep reading this article to nail this eye look!


Keep In Mind
Eye Shape: Eye Shape While smokey eye makeup complements all eye shapes, it looks best on almond-shaped eyes.
Skin Tone: Eye Shape Smokey eyes look stunning on all skin tones, but they appear more prominent and captivating on pale skin.
Durability: Eye Shape Since this makeup requires heavy and highly-pigmented eyeshadow, it is more prone to smudging and falling out.
Lipstick: Eye Shape With heavy smokey eyes, it is best to opt for nude or muted pink lipstick and soft makeup look.
Smokey Eye Makeup Tips
Here are a few tips which can be of good use when choosing a smokey makeup effect for different sizes of eyes.
A. Smokey Eye Makeup Tips For Smaller Eyes
Some people have smaller eyes as compared to the overall size of their face. Smokey eyes for small eyes has a whole different approach to it. So if you are one of them then these tips might be helpful: Prime your eyelid; that's the first step. Then use a concealer as a primer on the lids, under the brow, and to conceal the darkness under the eyes.
Next, if you want you may apply small little dots of foundation and blend well on the part where you might be having dark circles, it's very important to cover them up. You can apply 3-4 thin layers of concealer instead of one thick layer. Avoid powder as it just shows creases and lines. 
Make sure that you use not too dark, brown or black or bronze or purple for smokey eyes when your eyes are small. Depending on your skin tone, select an eyeliner that is not too intense and will not overpower your eyes.
Do not use dark color cosmetics all over your eyelids.
Use a Q-tip or an applicator to use the dark color only from half the end of the eyes extending towards the brows but not reaching them in a tail.
Use a lighter color to make eyes pop out onto the frontal lids.
Line your upper lids with a very thin line of liner. You can add a slight winged touch at the ends, near the outer ends of your eyes. Preferably with a shade near to black but not jet black. The more black the more shrunken your eyes will look.
Now take a shimmer white or silver eye pencil and just put a dot between the nose and the eyes. Also just below the brow cover the area with silver shimmer to high light the brow bone.
If your lashes are small, don't hesitate to use false lashes. Do a double curling before and after mascara application for both the upper and lower lashes. You may also use individual lashes instead of strip lashes.

Did You Know?
The Silent Movie era popularized the application of smokey eye when Hollywood stars acted as flappers or vamps with smudged out kohl liners for popping their eyes.
B. Smokey Eye Makeup Tips For Big and Elongated Eyes
Big eyes are a canvas to play with. Smokey eyes on big eyes are simple and easy to do. You can even play with the darkest of shades and also multiple shades at the same time by blending 3-4 colors together. You can use either or a combination of matte, metallic, glossy, and glitter eyeshadows.
Prime your eyelids and then use concealer and foundation (if required) like usual for a natural and nude canvas.
Sometimes it's like your eyes seem sort of out of proportion and too big than your face's area. In such cases you need to focus on using bold and darker colors. When you want your eyes to appear smaller, dark colors are the key!

Use a bronze or dark mauve shade (a shade lighter than dark purple) and so on for any color like blue or green and do your eyelids frontals. Plum is the perfect color to make those green eyes look even greener.
Use a very small amount of shimmer white on brow bones and that too in a thin line just below the brows. Keep the center of the eyelids light, with a shimmer of white shadow under the brows.

Use a liner in a darker shade, preferably jet black and line in a thick fashion.
Line the under rim line as well, nothing to experiment here since your eyes are big enough. Just make them proportionate by using kohl or kajal or liner whatever you prefer. Use a shadow on top of the liner, it will soften the look and give longevity to your makeup.
Use mascara along with false lashes if you don't have lash extensions but want to go for big sexy dark eyes. You may curl the lashes before applying the mascara.
Use mascara on both the upper and lower lashes without any restrictions. Take the mascara out to the corners and make sure that it is extra heavy on the outer lashes.
You can use just a small tiny dot of shimmering white pencil (elle 18 eye sparklers is good ) for that start point of eyes near the nose.

Quick Tip
If you have round eyes, it is recommended to apply mascara only to the top eyelashes for an effective cat-eye smokey look.
Your eye makeup can make or break your look. So, the key to create the perfect sultry, smoky vibes to your gorgeous eyes is practicing over and over till you succeed. Smokey eye makeup is versatile, seductive, and always in trend. You can experiment with different shades and be creative. Follow the tips and hacks mentioned in the article to start with a simple yet mysterious smokey eye makeup and once you master the art, you can go ahead and experiment with your eye makeup. However, do not forget to apply primer to your alluring eyes before getting started. This will allow the eye makeup to last longer.
Frequently Asked Questions
Are smokey eyes out of style?
No. Smokey eye makeup is one of those timeless beauty trends that never go out of style.
How many types of smokey eyes are there?
There are various types of smokey eye makeup to choose from, and different styles suit different people. The most popular smokey eye looks are:
• Classic black
• Gold
• Silver
• Black and gold
• Deep blue
How do you do smokey eyes on dark skin?
Smokey eyes look stunning on dark skin tones when done correctly. To achieve this look on dark skin, prep the eyelids with an eyeshadow primer, then apply a neutral or light-colored eyeshadow, followed by a darker shade like black, dark brown or dark grey to the outer corner of the eyes, blending it inwards towards the center of the eyelid for a seamless and smudged effect. Highlight the inner corner with a shimmery or metallic eyeshadow and line the eyes with black or dark brown eyeliner, smudge it out slightly for a more natural look. Curl your lashes and apply mascara to finish off the look. Experimenting with different shades and intensities of eyeshadow would help one find the perfect smokey eye look that works for them.
How do I make my smokey eye makeup last all day?
To make the smokey eye makeup last all day, use an eyeshadow primer to prep the eyelids, choose waterproof or long-lasting eyeliners and mascaras to prevent smudging and fading, layer the eyeshadows by starting with a light base color and building up the intensity with darker shades gradually, use a setting spray, avoid touching the eyes as much as possible and carry touch-up products like a small eyeshadow brush and a compact mirror to quickly touch up the makeup whenever needed and look fresh and flawless throughout the day.
How do I prevent fallout when applying dark eyeshadows for a smokey eye makeup?
Applying an eyeshadow primer, using a sticky base like glitter glue or concealer and taping off excess eyeshadow from the brush before applying the eyeshadow can help the eyeshadow adhere better and reduce the risk of fallout. One may also apply eyeshadow before applying foundation to easily wipe away any fallout without ruining the foundation. When applying dark eyeshadows, one must always use a light hand and build up the intensity slowly and use a makeup shield or a tissue under the eyes to catch any fallout while applying eyeshadow.
Key Takeaways
A primer is applied before the smokey eye makeup to keep the eyeshadow in place and prevent creasing.
The right eyeshadow color for you depends on your eye color and size.
Lighter shades can make smaller eyes appear prominent.
Dark shades and multiple shades of 3-4 colors can be used for contouring and highlighting big and wider eyes.
Few things are more sensuous than smokey eyes. Learn how to create a soft, rosy, smokey eye look with the following easy-to-follow makeup tutorial!
The following two tabs change content below.