Sorghum: Benefits, Recipes, Health Risks, And More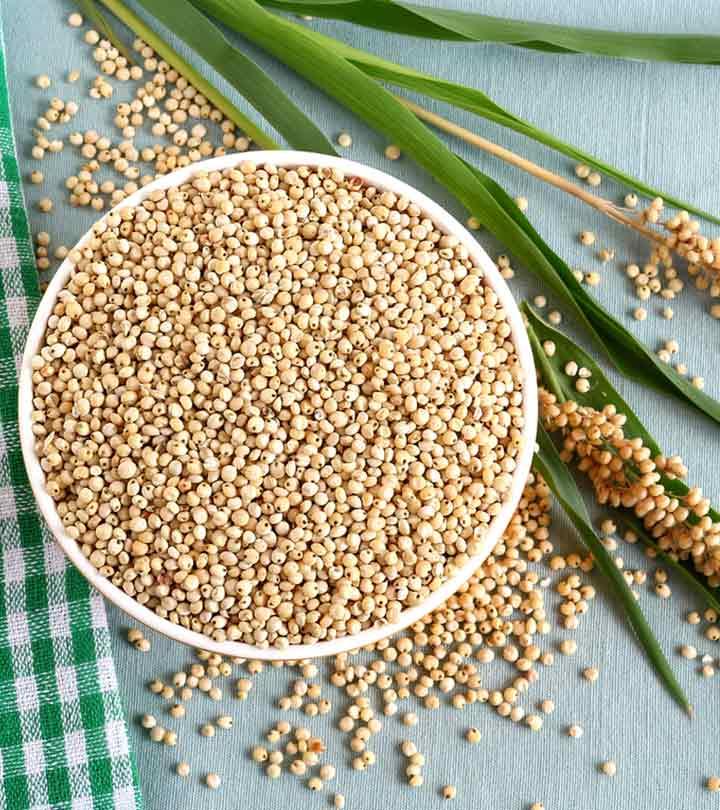 Sorghum is a great choice for those looking for gluten-free grains. The health benefits of sorghum can be attributed to its bioactive antioxidants. It is a tropical crop becoming popular across the world. It is also useful as a dietary alternative for individuals with celiac disease or gluten sensitivity. In this article, we elaborate on the potential health benefits of sorghum, any possible side effects, and a few easy recipes to try.
What Is Sorghum?
Sorghum (Sorghum bicolor) is popular in tropical countries, where it is harvested, but underrated globally. Sorghum is a genus of about 25 species of flowering plants in the grass family (Poaceae). It was native to Africa but is now cultivated in the tropics and subtropics. It is also an important source of alcoholic beverages and sorghum molasses.
Keep reading to find out more about the health benefits of sorghum.
Potential Health Benefits Of Sorghum
1. May Improve Digestive Health
Sorghum is a great source of dietary fiber. Fiber is good for the digestive system as it can help in bowel movement and which prevents constipation, gas, and other gastrointestinal issues. Fiber also works as a prebiotic fodder for gut bacteria which helps in maintaining a healthy digestive tract (1).
Fiber has also been linked to lower cholesterol levels and protecting the body from heart disease and atherosclerosis (2). Animal studies have reported that sorghum extract has cholesterol-lowering effects in hamsters (3).
2. May Help In Managing Diabetes
Sorghum is rich in phytochemicals that have been reported to have glucose-lowering or hypoglycemic properties (4). Animal studies have reported that feeding diabetic mice sorghum extract has an anti-diabetic effect (5), (6).
A Korean study found that sorghum extract exerts an anti-diabetic effect by improving insulin sensitivity in mice fed a high-fat diet (7). A preliminary study on six non-insulin-dependent diabetic patients showed that selected sorghum recipes exhibit a hypoglycemic effect (8).
Sorghum has a low glycemic index. A study published in the Journal Of The Science Of Food And Agriculture reported that consumption of low-GI and low-GL sorghum-based foods may help in decreasing postprandial blood glucose levels (9).
3. May Reduce The Risk Of Cancer
There are several studies linking the phytochemicals in sorghum to cancer-inhibiting properties. A study published in the Journal Of Oxidative Medicine and Cellular Longevity reports the anticancer activity of sorghum bran in human colon cancer cells (10).
Another study suggests the role of high-polyphenol sorghum bran extract inhibits cancer cell growth through ROS induction, cell cycle arrest, and apoptosis (11). The current results look promising but require further research to understand underlying mechanisms of action and scope in therapeutic application.
4. May Improve Bone Health
Research shows that Wistar rats fed a sorghum diet consumed less food and gained less weight compared to those fed with the control diet. However, the efficiency of all diets was similar.
Calcium intake was lower in animals fed a sorghum diet, and it was related to the lower total intake of these animals. The research on whether sorghum can improve bone health is inconclusive yet promising enough to include it in your diet occasionally (12).
5. May Have Cardioprotective Properties
Studies have shown that sorghum phenolic compounds have potent antioxidant activity in vitro, and consumption of sorghum whole grain may reduce the risks of chronic diseases. The unique phenolic profile confers sorghum with a number of human health benefits, such as reducing oxidative stress. Sorghum lipids of phytosterols and polycosanols have also been shown to promote cardiovascular health by regulating the absorption, excretion, and synthesis of cholesterol (13).
For example, the incorporation of sorghum lipids into the diet of hamsters increased the excretion of cholesterol and its metabolites, thus reducing the plasma and liver cholesterol levels in them (14).
6. May Lower Cholesterol Levels
Sorghum contains phytosterols and polycosanols that are involved in the regulation of cholesterol metabolism and absorption (13).
Animal studies have reported that grain sorghum lipid extract reduces cholesterol absorption and plasma non-HDL cholesterol concentration in hamsters. This study concludes that sorghum can be used as a food ingredient or dietary supplement to manage cholesterol levels in humans (14).
7. May Help In Weight Management
Sorghum whole grain is an excellent food for people with obesity. The whole grain helps keep you full and also has a low glycemic index (13).
A randomized, cross-over trial with 40 healthy subjects showed that using whole grain sorghum flaked biscuits offered higher satiety as compared to the wheat control (15). But, further studies are needed to validate this claim
8. Gluten-Free Grain Option
Celiac disease is a condition in which genetically predisposed people have an autoimmune reaction to the gluten proteins found in all types of wheat and closely related cereals such as barley and rye (16). Sorghum is gluten-free and a safe alternative for people with celiac disease (13). In fact, people with celiac disease showed no gastrointestinal distress after consuming sorghum-based foods (16).
Sorghum is nutritious as it is loaded with fiber, protein, minerals, and vitamins that boost energy. Keep reading to find out more about its nutritional value.
Sorghum Nutrition Facts
100 g of sorghum contain the following (17):
Calories: 329
Protein: 10.6 grams
Fat:3.46 grams
Carbohydrates: 72.1 grams
Fiber: 6.7 grams
Sorghum grain is rich in resistant starch, cellulosic, and non-cellulosic polysaccharides (18).
The phenolic compounds in sorghum are mainly composed of phenolic acids, anthocyanidins, and tannins (13).
It contains all the micronutrients, such as potassium, niacin, thiamine, vitamin B6, phosphorus, manganese, and magnesium (17)
Learn how you can add sorghum to your daily diet in the next section.
How Can You Make Sorghum (Jowar) A Part Of Your Daily Diet?
Sorghum is a super versatile grain.
It is usually prepared like rice, and it is a good idea to soak it overnight. Slow-cook it until it is soft.
You can use sorghum flour to make flatbreads, biscuits, and other baked goods.
It is popularly used to make beer (gluten-free) and molasses.
Scroll down for our favorite recipes.
Sorghum Recipes
1. Chickpea Sorghum Salad
Want to amp up the fiber and nutrients in your usual salads? Add sorghum! It is filling and tasty.
You Will Need
1 cup sorghum
5 cups water (You can use a little stock here too.)
400 g chickpeas
2 red capsicums
1 large bunch of parsley
1 large bunch of mint
1 red onion, finely sliced
1/2 cup pomegranate arils
A small handful of pistachios
A small handful of green olives
1 teaspoon za'atar spice blend (dried thyme, marjoram, oregano, sumac, sea salt, toasted sesame seeds)
1/2 teaspoon cumin powder
1/4 teaspoon paprika powder
A drizzle of olive oil
For The Dressing:
3 tablespoons olive oil
2 tablespoons lemon juice
2 cloves garlic, minced
1 teaspoon za'atar spice blend
1 teaspoon pomegranate molasses
A couple of pinches of coarse sea salt
What To Do
Soak the sorghum grains overnight. Add a splash of lemon juice or apple cider vinegar to them.
Drain them in the morning and rinse well.
Add water or stock and boil for 45 minutes until the sorghum is soft and squishy.
Boil the chickpeas and saute them with spices and vegetables until slightly crispy.
Toss the sorghum and chickpeas with parsley and mint, red onion, capsicum, chickpeas, pomegranate, pistachios, and olives.
Mix all the ingredients for your dressing.
Add the dressing according to your preference.
2. Gluten-Free Sorghum (Jowar) Pulao
This is a great alternative to the usual pulao or fried rice. It is healthy and tasty to swap whole grains in your diet.
You Will Need
1/2 cup jowar
2 cups water
1/4 cup carrots, chopped
1/4 cup beans, chopped
1 medium tomato
1 small onion, chopped
2 cloves of garlic, chopped/grated
1/4" of ginger, chopped/grated
1 green chili, chopped
1/4 cup coriander, chopped
Salt (to taste)
1/4 teaspoon asafoetida
1/4 teaspoon cumin seeds
1/4 teaspoon mustard seeds
7-8 curry leaves
1 tablespoon oil
What To Do
Wash and soak the sorghum overnight or for a minimum of 8-10 hours.
Once soaked, pressure-cook it for 15-20 minutes.
In a wok, add the oil and saute the asafoetida, cumin seeds, mustard seeds, curry leaves, onion, garlic, and ginger. Let it cook for 5 minutes on medium heat until the onion turns translucent.
Add the rest of the vegetables and salt and cook for 5 minutes.
Now, add the sorghum and water. Cook for 10-12 minutes until the sorghum is soft.
Garnish with coriander.
What is the difference between sorghum and wheat? Find out in the next section.
Sorghum (Jowar) Vs. Wheat
A study published in the Journal Of Food Chemistry leaned in favor of sorghum (compared to wheat) as a breakfast cereal due to its many health benefits. Sorghum has more antioxidants, 3-DXAs, and phenolic compounds as compared to wheat. The study also reported that whole-grain wheat breakfast cereal had higher vitamin E content than sorghum. So, it is a good idea to switch to sorghum or include it in your diet as it has a nutrient profile similar to wheat but without the gluten (19).
Are there any adverse effects of consuming sorghum? Find out below.
Potential Health Risks Of Sorghum
There have been no side effects linked to consuming sorghum. However, in rare cases, certain people can be allergic to sorghum. Consult a doctor immediately if you observe any of the following symptoms after ingesting sorghum:
Tingling or itching in the mouth
Swelling in and around the mouth
Abdominal pain
Nausea
Vomiting
Fainting
Warning: A severe allergic reaction or anaphylaxis can be a result of any food allergy and can be life-threatening.
Sorghum's benefits are numerous. These benefits can be attributed to the rich nutrients in it. If included as a part of your diet, sorghum can improve digestive health, help in managing diabetes, reduce the risk of cancer, improve bone health, and offer cardioprotective benefits. It also lowers cholesterol levels, helps manage weight, and is a gluten-free grain. You can use sorghum like rice or use its flour for various purposes. Unless you are allergic to sorghum, there are no potential negative effects associated with its consumption. Try including sorghum in your diet with the recipes mentioned above.
Frequently Asked Questions
What does sorghum taste like?
Sorghum has a mild earthy flavor. Its texture and flavor pair well with most foods.
Is sorghum a carbohydrate or a protein?
Sorghum is a whole grain that contains carbohydrates and protein.
Which is better – millet or sorghum?
Both millet and sorghum have their own health benefits. It is a good idea to include both in your diet.
Key Takeaways
Sorghum is a gluten-free grain with important bioactive antioxidants.
Incorporating it into your diet may help manage diabetes and promote cardiovascular health, among other benefits.
It is also useful as a dietary alternative for individuals with celiac disease or gluten sensitivity.
Sorghum has an earthy flavor and can be consumed as rice or flour for flatbreads.
Sources
Articles on StyleCraze are backed by verified information from peer-reviewed and academic research papers, reputed organizations, research institutions, and medical associations to ensure accuracy and relevance. Read our editorial policy to learn more.
The following two tabs change content below.