Sour Cream: Nutritional Value, Benefits, And Tasty Recipes
You will surely be impressed with its complex taste, texture, and nutritional goodness.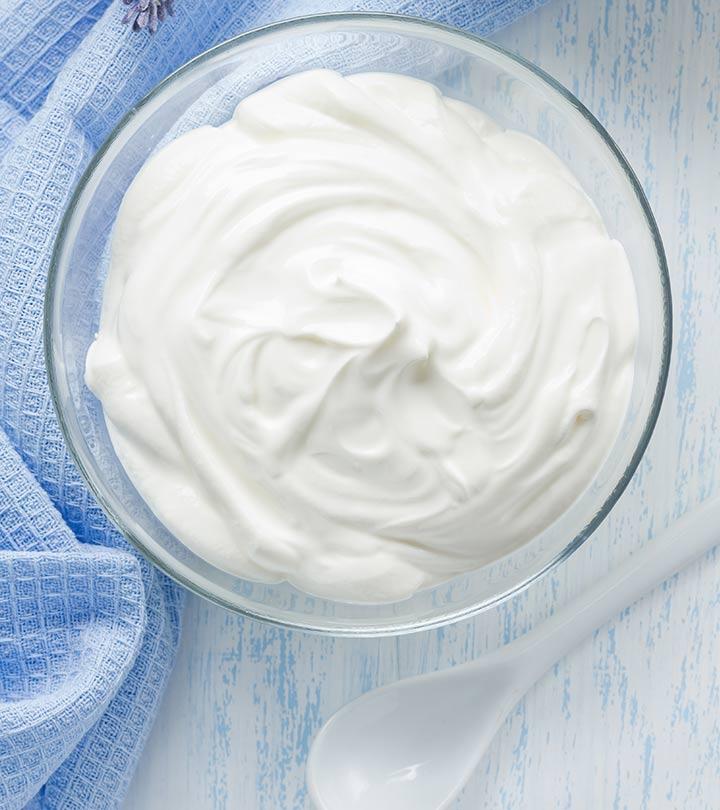 Who doesn't love a plate of loaded nachos with a dollop of sour cream on top? Sour cream is a fermented dairy product with a creamy texture perfect for making dips. Commercially available sour cream is made from pasteurized cream with at least 18% milkfat. This high-fat content makes it perfect for adding a robust texture and taste to dishes. In addition, it is a rich source of calcium and riboflavin, among other nutrients. In this article, we will look at the nutrition profile of sour cream, how you can make it at home, and certain recipes that you can make tasty by adding sour cream. But is sour cream healthy? Continue reading to know more.

Know Your Ingredient: Sour Cream
What Is It?
A dairy product obtained when regular cream is fermented with particular lactic acid bacteria.
What Are Its Benefits?
Reduces bad cholesterol levels, increases bone strength, improves skin and heart health, and aids weight loss in postmenopausal women,
Who Can Use It?
Those who are not lactose intolerant, allergic to cow's milk, or follow a vegan diet.
How Often?
1 tablespoon of sour cream as a topping or occasional garnish.
Caution
If you take any antibiotics, consult a doctor before consuming sour cream as it might interact with the drug.
What Is Sour Cream?
Sour cream is a dairy product. It is made by fermenting regular cream with lactic acid bacteria.
Sour cream is the perfect addition to dishes where creaminess is key. It can also be used in baking dishes that need a fluffy and spongy texture.
Brian Nagele, the CEO of Restaurant Clicks, says, "Sour cream adds a rich, slightly tart flavor while also acting as a thickening agent for sauces or batter. Because of this, a little goes a long way, and you can include it in your otherwise healthy meals to spruce things up a bit."
You may be wondering what makes sour cream a good addition to your diet. Well, it is its nutritional profile. Learn more about it in the next section.
Nutritional Profile Of Sour Cream
Two tablespoons (about 30 g) of sour cream contain the following nutrients (1).
| Nutrient | Amount |
| --- | --- |
| Carbohydrates | 2 g |
| Total fat | 5 g |
| Sugars | 2 g |
| Calcium | 39.9 mg |
| Sodium | 15 mg |
| Vitamin A | 200 IU |
| Cholesterol | 20.1 mg |
Want to know how these nutrients benefit your health? Learn all about the health benefits of sour cream in the next section.
Health Benefits Of Sour Cream
As with a lot of ingredients, sour cream, too, has many positives and negatives. Low-fat sour cream will make a healthier addition to your diet than regular sour cream. But, it is important to note that most purported health benefits of sour cream are based on research that was conducted on general dairy intake. It can be beneficial in the following ways.
1. May Help Build Bone Strength
The calcium content of sour cream is good for the health of bones. The amount of calcium and other minerals present in any given section of a bone is called bone density. There is a risk of reducing bone density with increasing age. In addition, oxidative stress makes your bones brittle and increases the risk of osteoporosisi  XA bone disease that leads to weak and brittle bones. It can lead to bone fractures, back or neck pain, and a stooped posture. . Calcium and vitamin D are essential in ensuring that the bone density stays optimal (2).
2. May Improve Cardiovascular Health
The saturated fatty acids found in sour cream help reduce the body's bad cholesterol (LDLs). LDLs are directly linked to cardiovascular diseasei  XA general term for diseases that affect the heart and blood vessels, such as heart attack, stroke, valve disease, etc. development and the risk of stroke. In addition, they can cause the constriction of blood vessels, putting strain on the heart (3).
Dietary calcium – which is found in sour cream – is also good for the proper functioning of the heart (4).
3. May Help In Weight Loss In Postmenopausal Women
When added to a well-rounded diet, low-fat sour cream can help maintain your weight. In combination with calcium found in this dairy product, low-carb and low fat sour cream has been found to aid weight loss in postmenopausal women (5).
Low-fat sour cream does not contribute to weight gain. The energy restriction associated with sour cream consumption – which has a low glycemic indexi  XFoods with a low glycemic index (GI) cause a slow and gradual rise in blood sugar levels. Such foods can aid weight loss. – promotes a feeling of fullness after eating. This way, the craving for more food is reduced for a good amount of time (6).
4. May Improve Skin Health
Sour cream contains lactic acid. Topical application of lactic acid may help boost the skin's firmness, thickness, and smoothness. It works from the top-down, starting from repairing the topmost layer of the skin (7). However, there is no research supporting the use of sour cream in this regard.
Sweet Angel, a beauty vlogger, shared her experience of using a sour cream facial mask for her dry skin. She said, "It feels so soft, so hydrated. It feels really really good (i)."

Did You Know?
Sour cream promotes the absorption of fat-soluble vitamins like A, D, E, and K when eaten with a source of fat.
Why buy sour cream from the store when you can make it at home? Check out the next section to learn how to make sour cream in the comfort of your home.
How To Make Sour Cream At Home
Homemade sour cream is a healthier option than store-bought sour cream. Although its consistency may be thinner, homemade sour cream goes perfectly well with all kinds of dishes.
Making homemade low-fat sour cream (for 300 g) is very simple.
You Will Need
1¼ cups (approx. 300 g) of low-fat cottage cheese
1 tablespoon lemon juice
2 tablespoons skim milk/coconut milk
Process
Add all the ingredients to a high-speed blender and blend until it turns creamy and smooth.
Serve as a dip or store in the fridge in an air-tight container for up to 2 weeks.
Now that you have made sour cream, let's check out how you can use it to prepare delicious dishes.
Popular Recipes Using Sour Cream
You can use sour cream in both sweet and savory recipes. Try these easy recipes that use sour cream so well!
1. Sour Cream Mac And Cheese
Serves: 5
You Will Need
2 cups (approx. 500 g) uncooked elbow macaroni pasta shells
½ cup (120 g) butter, cubed
2 tablespoons all-purpose flour
1½ to 2 cups of skim milk
1 cup (approx. 250 g) sour cream
¼ cup grated parmesan cheese
Salt to taste
½ tablespoon ground mustard
½ tablespoon pepper powder
1 cup shredded mozzarella and cheddar cheese.
Method
Cook the macaroni according to the directions on the package. Preheat the oven to 350° F.
In a saucepan, melt the butter and add in the all-purpose flour. Stir until there are no lumps.
Next, add in the milk slowly, stir, and let it thicken for about 2 minutes.
Finally, add the salt, sour cream, and cheeses (except for the cheddar cheese).
Drain the macaroni, add in the cheddar cheese, and toss it up.
Grease a baking tray with butter. Pour in the macaroni-cheddar mix and the cheese mixture on top (hold some of it back). Mix it up a little.
Add in the rest of the sauce as a top layer.
Add a layer of shredded mozzarella or cheddar cheese for extra cheesiness.
Bake for 35-40 minutes until the cheese on top browns.
Serve hot and enjoy.
2. Sour Cream And Spinach Mini Pastries
Makes for 24 pastries.
You Will Need
1 cup (approx. 250 g) cream cheese, chopped, softened at room temperature
½ cup (approx.150 g) fresh spinach, washed and chopped
1 cup cottage cheese, shredded
1 garlic clove, crushed
1/4 cup (20 g) shredded parmesan, plus extra to garnish
1/4 cup (65 g) sour cream
2 sheets of frozen puff pastry, thawed
Salt and other seasonings to taste
Method
Preheat the oven to 350°F. Combine the spinach, cream cheese, sour cream, and other ingredients in a bowl. Add seasonings to taste.
Grease a 24 hole muffin tin with butter. Cut up each sheet of puff pastry into 12 squares.
Place one square in each hole and press them into shape.
Add one tablespoon of the filling to each square and sprinkle melted butter and grated parmesan cheese on top.
Bake for about 10-15 minutes or until the pastry turns golden brown. Serve hot!
3. Sour Cream Burrito Recipe
You Will Need
250 grams ground beef
2 teaspoons taco seasoning
4 large flour tortillas
1 cup cooked rice
1 cup refried beans
1 cup shredded cheddar cheese
1 cup sour cream
1 cup salsa
1/2 cup diced tomatoes
1/2 cup diced onions
1/2 cup sliced black olives
1/2 cup shredded lettuce
1/4 cup chopped fresh cilantro
3 teaspoons cooking oil
1 cup water
Method
In a skillet, add cooking oil and saute ground beef until brown. Drain any excess fat. Add taco seasoning and water and simmer until it thickens. Set aside.
Heat flour tortillas in a pan. Set aside.
Take a tortilla at a time and layer rice, refried beans, taco-seasoned beef, cheddar cheese, sour cream, salsa, tomatoes, onions, olives, lettuce, and cilantro at the center.
Fold the tortilla into a roll and tuck it in at the bottom to form a burrito.
When cooking with sour cream, keep in mind to make the dish well-rounded and balanced with as many nutrients as you can pack. A good substitute for sour cream would be Greek yogurt, as they have a similar taste profile.


Trivia
Sour cream was traditionally added to soups and stews in central and eastern Europe.
What Are The Possible Side Effects Of Sour Cream?
People with lactose intolerance must consult a doctor before adding sour cream to their diet. If you notice symptoms like itching, rashes, difficulty breathing, nausea, or loss of consciousness after consuming sour cream, seek medical help immediately.
Dairy may also interact with some antibiotics, so it is better to consult a doctor in this case too (8).
The Final Takeaway
Sour cream is one of the easiest foods that you can consume. It can be a great addition to your diet as it has calcium, protein, and good carbohydrates. It could be good for your heart and bones, though more scientific research is required to prove the same. In addition, it can be used to make a lot of dishes. So, go make some at home right away!
Frequently Asked Questions
Is sour cream healthier than cheese?
Both sour cream and cheese are nutritious. Sour cream has fewer calories and low content of cholesterol than cheddar and parmesan cheese (1), (9) (10).
Is sour cream a probiotic food?
Yes, sour cream is made by fermenting cream with lactic acid bacteria, one of the most common probiotics used in food production.
Which is healthier: sour cream or mayonnaise?
Mayonnaise has more calories and cholesterol than sour cream, making sour cream a better option for healthy eating (1), (11).
Does sour cream raise blood sugar?
There is currently no research that indicates that sour cream raises blood sugar. Although, consult your doctor before incorporating sour cream into your diet if you're suffering from diabetes.
Key Takeaways
Sour cream may help improve bone strength, reduce bad cholesterol levels, maintain your weight, and improve skin health.
You can store homemade low-fat sour cream in a fridge for up to 2 weeks.
If you have lactose intolerance, it is best to consult your doctor before you add sour cream to your diet.
Delicious and creamy sour cream adds a unique flavor to any dish. Check out these 13 recipes with sour cream for a tasty meal. Watch the video here!
Personal Experience: Source
i. Sour Cream Facial Mask for Dry Skin
https://www.youtube.com/watch?v=8CgA2o088jE
Sources
Articles on StyleCraze are backed by verified information from peer-reviewed and academic research papers, reputed organizations, research institutions, and medical associations to ensure accuracy and relevance. Read our editorial policy to learn more.
The following two tabs change content below.