10 Great South Indian Rangoli Designs To Try Out This New Year 2022
Usher prosperity into your home with these unique and creative rangoli designs from South India.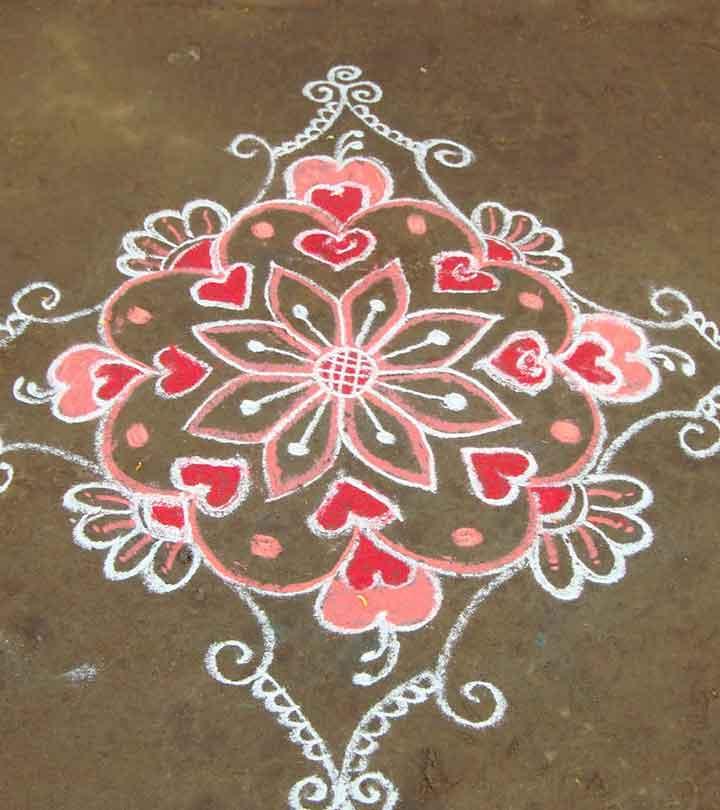 Rangolis are a typical sight in any Indian household and are created to welcome the Gods. This much-loved Indian art can be made with a wide variety of materials, like salt, rice, flour, rangoli colors, flowers, and salt. To this end, we will show you some of the most beautiful South Indian rangoli designs that are worth trying.
They are popularly called Kolam in South India and are either colorful or just white in color. The designs are very attractive and delicate and catch everyone's eyes instantly. So, if you want to try your hand at this Indian art, scroll down and check out our list of some of the most aesthetic options. Keep reading!
1. Flower Rangoli:
Floral designs are different and at times, a little complex. Yet, they are very interesting. You can use many colors and even different flower petals to make it more artistic. You can get creative with the designs as you do not have to follow a fixed pattern. These designs are quite floral but also very romantic. It is a perfect blend of art and tradition.
2. Mandapam Kolam:
Mandapan Kolam is a wedding specialty. It may look quite complex, but when broken down, the design is very simple and easy. You can find these designs during the wedding season, and the tradition still continues.
3. Picture Rangoli:
South Indians are very artistic and the designs in this category just prove the statement. They create pictures which are very similar to graffiti, but they use rock powder instead of paint sprays. The design or the art denotes a picture or gives a message to the viewer. These designs are thus, message-oriented.
4. Karthigai Kolam:
Karthigai is a very important festival of lamps in South India, popularly known as Karthigai Deepam. This design is usually made on the occasion of this festival. It is decorated with lighted lamps and diyas. It is very simple to make. This design is made using white chalk and white Rangoli color. However, you can add your favorite color to it if you wish.
[Read:Rangoli Designs And Patterns ]
5. Dot Rangoli:
This one of the manu South Indian rangoli designs with dots can be seen outside many homes. It is made using white rock powder and soil. This design may look very complicated; however, when you look closely, you would find that the design pattern in the center of this Rangoli has been repeated on its 4 corners. These designs are easy as they have numbered dots and lines. Therefore, you cannot go wrong with such designs. If you are a beginner, these are the best to start with. They come in various sizes and patterns. You can take your pick!
6. Butterfly Kolam:
This Rangoli design is also made by combining dots. What I like the most about this design are the green butterflies on the borders with blue flowers and an abstract star in the center. It looks lovely and the bright colors only add to its beauty.
7. Basic Rangoli:
This Rangoli is one of the most basic designs. It is a very simple yet elegant design that is usually seen in pooja rooms. Usually South Indian Rangoli designs are made by connecting dots, but this is a freehand drawing which requires next to no effort.
8. Kalasha Rangoli:
These designs are used for a particular festival and are considered auspicious. They denote joy and happiness which the festival symbolizes. You should be very careful when you go ahead with these designs as they hold an important place when it comes to culture and tradition.
[Read:Colourful Rangoli Designs]
9. Birds and Flowers:
Both birds and flowers symbolize beauty and joy. This Rangoli design is joyful, lively and gives you a positive vibe the moment you look at it. This whole Rangoli is made using dry colors. Isn't it beautiful?
10. Big Single Flower Rangoli:
The last on my top 10 South Indian Rangoli designs list is this big flower design which uses flower petals only. Even South Indians love fusion designs. This design is quite similar to North Indian floral Rangoli designs. What make this design different are the corners and curves. It really looks elegant and beautiful.
Rangoli is a traditional Indian artwork made for every occasion and event. Women create Kolam or Rangoli in the home, and these designs represent beauty and create a friendly environment. Rangolis made of wheat flour is commonly found in South India. They use it to make various abstract designs. South Indians are extremely artistic, and if you are charmed by the South Indian rangoli designs, you can pick any design from our list. It might be full of brilliant colors or plain white, but it always looks lovely, no matter the design. These are the various designs for different occasions. Choose from any of the designs mentioned above to learn how to master this lovely art.
Frequently Asked Questions
What is Kerala rangoli called?
Festive rangoli in Kerala is mostly done with flowers and is known as "Pookkalam".
What is the difference between alpana and rangoli?
While rangoli refers to colorful art forms all over the various states and cultures in india, alpana refers to the rangoli made of white rice and flour in the state of West Bengal.
The following two tabs change content below.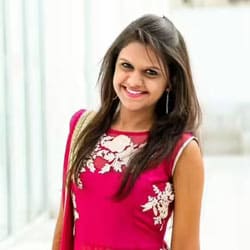 Nisha is a contributor to StyleCraze. She is a makeup aficionado and combines her love for makeup and writing to...
more