5 Steps Tutorial To Get Glowing Skin Makeup
Trust us! Nailing flawless and radiant makeup looks cannot get easier than this!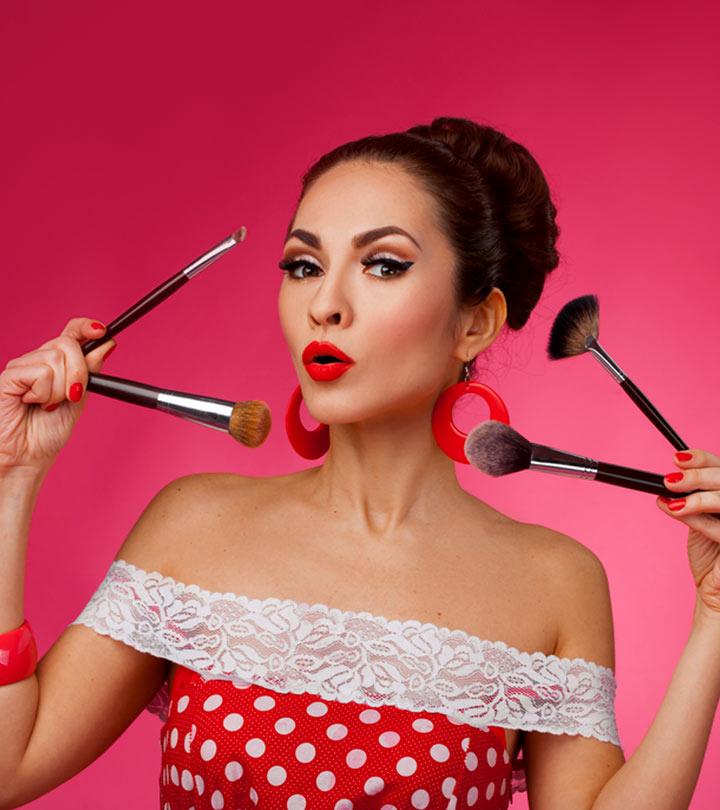 Every girl dreams of radiant and flawless skin. The good news is you can achieve it effortlessly with some easy steps to get glowing skin makeup. However, the internet is flooded with beauty hacks and makeup and skincare tips regarding the same, and you might wonder if these tips are worth trying. Unfortunately, some are absolute myths, while others don't work for all of us. However, this step-by-step tutorial will help you instantly to get a visible glow in a matter of minutes. Swipe up for more.


Keep In Mind
Cleanse Your Face: Cleanse Your Face Before applying moisturizing, wash your face with a cleanser to get rid of extra oil and grime that could otherwise make your skin appear dull and oily. Use a fresh towel to pat your face dry.
Choose The Right Shade Of Foundation: Cleanse Your Face Choose the right shade that matches your skin tone. To find your perfect shade, test the foundation on your jawline, and check it in natural light to ensure a perfect match.
Hairstyle: Cleanse Your Face Glowing makeup usually goes well with simple, low-maintenance hairstyles. Try a messy bun, sleek ponytail, or natural waves.
Attire: Cleanse Your Face Glowing makeup looks well with simpler, more subtle clothing. A flowing summer dress of a bright or pastel color or a white tee, jeans, and sneakers are all great options.
5 Easy Steps To Get Glowing Skin Makeup
Here are the products and the makeup tutorial explained in a stepwise manner for quick understanding.
Required Products
Face mist – a primer spray or a finishing mist
Face primer
Concealer
Foundation
Highlighter or Illuminator
Blush
Bronzer
Face makeup brushes for application of foundation, concealer and blush.


Quick Tip
Instead of using beauty blenders, use a stippling brush (to dab the foundation) and an oval blending brush (for blending) to ensure precise application.
Tutorial
Let's begin our tutorial on how to get glowing skin with makeup.
Step 1: Prep Your Face With A Primer
Apply a good moisturizer according to your skin type. Even if your skin is too oily, it is best to apply a moisturizer as it will help in blending and application of the base makeup products. According to Alyssia Chang, Professional Makeup Artist, "After applying the moisturizer, wait for a good 5 to 7 minutes. During this wait time, feel free to use an under eye mask, especially if you're going out. It is the perfect way to make sure that the undereye area is glowy, hydrated, and depuffed for makeup." Now, apply a face primer. Take a small amount of this cosmetic product and apply it from the center of your face towards the outer areas. Let the primer sit on your face for a good 2 to 3 minutes before starting with the makeup. A good primer will help in locking the moisturizer and will act as a barrier between your skin and makeup. It prevents creasing of the makeup. So, your makeup will last all day!
Step 2: Hydrate Your Skin With A Finishing Spray
Now, spray a face mist all over your face. Hold the bottle at least 10 cm away from your face and gently spray 2 to 3 times. This will hydrate your skin and give it a healthy look. You can use a makeup setting spray or a finishing mist for this step. Here, I have used the Colorbar Finishing Spray.
Step 3: Foundation And Highlighter To Add Glow
Mix both the products using a flat foundation brush and apply it all over your face just like you apply a foundation. Then, blend it out into a seamless finish. If you wish to have only a light subtle glow to your skin then you can finish the makeup here. For a fuller makeup look with glowing skin, you should follow the beauty tips.
Mix both the products using a flat foundation brush and apply it all over your face just like you apply a foundation. Then, blend it out into a seamless finish. If you wish for only a light, subtle glow on your skin, then you can finish the makeup here. For a heavy makeup look with glowing skin, you should follow these further steps.


Quick Tip
Using a damp brush for highlighting enhances the shimmer effect and makes the glowy makeup look dramatic.
Step 4: Dab On Concealer
Apply a light concealer to the under eye area to provide a strong highlighted look to your face. Apply the concealer in a triangular form and softly blend it out with your fingers or with a flat foundation brush. Here, I have used the Kryolan Derma Camouflage Concealer.
Step 5: Highlight Again To Set Your Glow
Finally take the highlighter again and apply it over the highest points of the cheeks to create a stronger impact of glowing skin. Here, I have again used the Kryolan Supra Interferenz Cream Multipurpose Highlighter. Follow it up with a natural pink or brown blush on your cheeks and complete the makeup look.
Infographic: Simplified Steps To Get Glowing Skin
Following a makeup tutorial may be confusing for some people. The overload of information may sometimes make the process look cumbersome. However, here is a simplified version of the beauty secret discussed above. Check out the infographic below and follow the process to keep your skin glowing.

Dear makeup enthusiasts, it is imperative to have clear ideas when it comes to buying and applying makeup products. Blindly following everything you hear can lead you to disappointment when you realize that you are failing to achieve the desired results even after going by the makeup facts. Instead, understand the ingredients that go into the products, know your skin's color, shade, tone, texture, and type. Only then could you be able to pick the right makeup products for yourself, and we bet they will give you the looks that you always wanted to create.
Frequently Asked Questions
What are some techniques for layering and blending makeup products to create a seamless and glowing skin look?
To achieve the most seamless look, blend your makeup using soft dabbing motions and upward strokes that follow the contours of your face.
Are there any specific types of brushes or tools that are best for creating a glowing skin makeup look?
Use a wide, ultra-soft highlighter brush to blend and build up your aluminizing and highlighting products on your face, cheekbones, and nose.
What are some makeup products that can help add hydration and moisture to the skin for a dewy, glowing complexion?
The best makeup products for a dewy appearance are lightweight moisturizers, hydrating primers, and lightweight foundations.
Can you achieve a glowing skin makeup look with just a few key products, or is it necessary to use a full face of makeup?
Pick a hydrating moisturizer, a primer, and a bb cream to give yourself a dewy appearance. For a natural full-face pack-up, tint your lips and cheeks with a lip nude shade. In place of eyeshadow, you can also apply the tint to your eyelids.
What are some mistakes to avoid when trying to achieve a glowing skin makeup look?
Avoid using the wrong foundation, and always remember to moisturize.
How can you maintain and prolong the radiant and glowing skin look throughout the day, even in hot and humid weather?
Use a setting spray to set your make-up and prolong the radian and glowing skin look.
Key Takeaways
Follow the CTM routine: Cleanse, tone, and moisturize before applying makeup.
Apply a primer to create a smooth base.
Use a foundation that matches your skin tone and type.
Apply concealer in a triangular form under the eye area.
Highlight and contour your face to enhance your features.

Learn how to get glowing, dewy skin without using a highlighter! Follow this easy 3-step tutorial to get a natural, radiant look. Check out the video!

The following two tabs change content below.