5 Steps Tutorial To Get Glowing Skin Makeup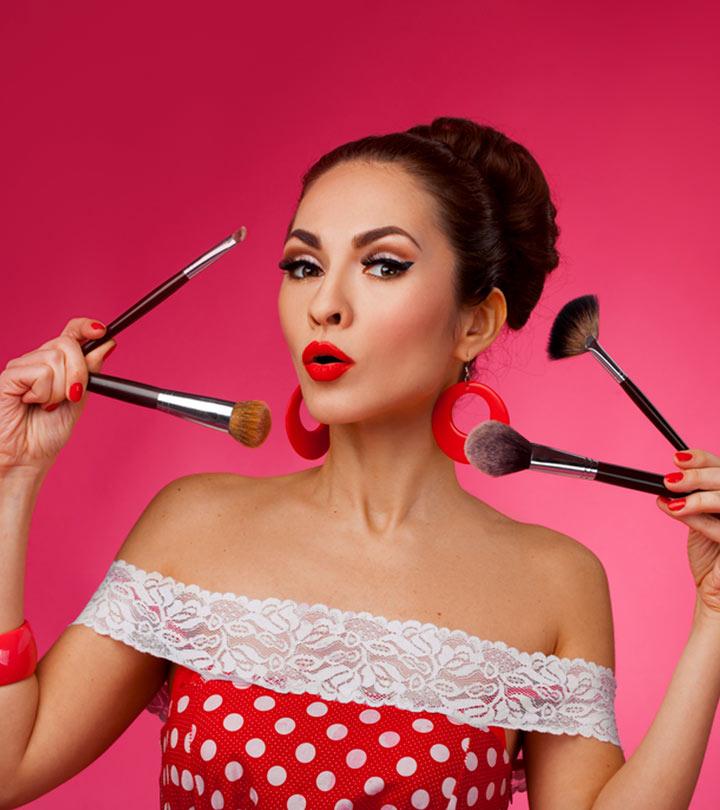 Every girl dreams of radiant and flawless skin. The good news is you can achieve it effortlessly with some easy steps to get glowing skin makeup. However, the internet is flooded with makeup and skin care tips regarding the same, and you might wonder if these tips are worth trying. Unfortunately, some are absolute myths, while others don't work for all of us. However, this step-by-step tutorial will help you instantly to get a visible glow in a matter of minutes. Swipe up for more.
5 Easy Steps To Get Glowing Skin Makeup:
Here are the products and the makeup tutorial explained in a step wise manner for quick understanding.
Required Products:
Face mist – a primer spray or a finishing mist
Face primer
Concealer
Foundation
Highlighter or Illuminator
Blush
Bronzer
Face makeup brushes for application of foundation, concealer and blush.
Tutorial:
Let's begin our tutorial on how to get glowing skin with makeup.
Step 1: Prep Your Face With A Primer
Apply a good moisturizer according to your skin type. Even if your skin is too oily, it is best to apply a moisturizer as it will help in blending and application of the base makeup products. After application of the moisturizer, wait for good 5 to 7 minutes, and then apply face primer. Take a small amount of the product and apply it from the center of your face towards the outer areas. Let the primer sit on your face for good 2 to 3 minutes before starting with the makeup. A good primer will help in locking the moisturizer and will act as a barrier between your skin and makeup. It prevents creasing and budging of the makeup. So, your makeup will last all day!
Step 2: Hydrate Your Skin With A Finishing Spray
Now spray a face mist to all over your face. Hold the bottle at least 10 cms away from your face and gently spray 2 to 3 times. This will hydrate your skin and gives it a healthy look. You can use a makeup setting spray or a finishing mist for this step. Here, I have used the Colorbar Finishing Spray.
Step 3: Foundation And Highlighter To Add Glow
Pump out a good coverage liquid foundation into your palm. Here, I have used the Mac Studio Fix Fluid Foundation. Then, take equal or one third amount of face highlighter. A highlighter has to be liquid or creamy for achieving a beautiful and glowing skin. So, it is best to avoid powder highlighters for a dewy skin makeup look. Here, I have used the Kryolan Supra Interferenz Cream Multipurpose Highlighter.
Mix both the products using a flat foundation brush and apply it all over your face just like you apply a foundation. Then, blend it out into a seamless finish. If you wish to have only a light subtle glow to your skin then you can finish the makeup here. For a heavy makeup look with a glowing skin, you should follow the further steps.
[Read: Emo Makeup Tutorial And Tips]
Step 4: Dab On Concealer
Apply a light concealer to the under eye area to provide a strong highlighted look to your face. Apply the concealer in a triangular form and softly blend it out with your fingers or with a flat foundation brush. Here, I have used the Kryolan Derma Camouflage Concealer.
Step 5: Highlight Again To Set Your Glow
Finally take the highlighter again and apply it over the highest points of the cheeks to create a stronger impact of glowing skin. Here, I have again used the Kryolan Supra Interferenz Cream Multipurpose Highlighter. Follow it up with a natural pink or brown blush on your cheeks and complete the makeup look.
Dear makeup enthusiasts, it is imperative to have clear ideas when it comes to buying and applying makeup products. Blindly following everything you hear can lead you to disappoint when you realize that you are failing to achieve the desired results even after going by the makeup facts. Instead, understand the ingredients that go into the products, know your skin's color, shade, tone, texture, and type. Only then could you be able to pick the right makeup products for yourself, and we bet they will give you the looks that you always wanted to create.
The following two tabs change content below.