40 Best Stocking Stuffer Gifts For Your Friends And Family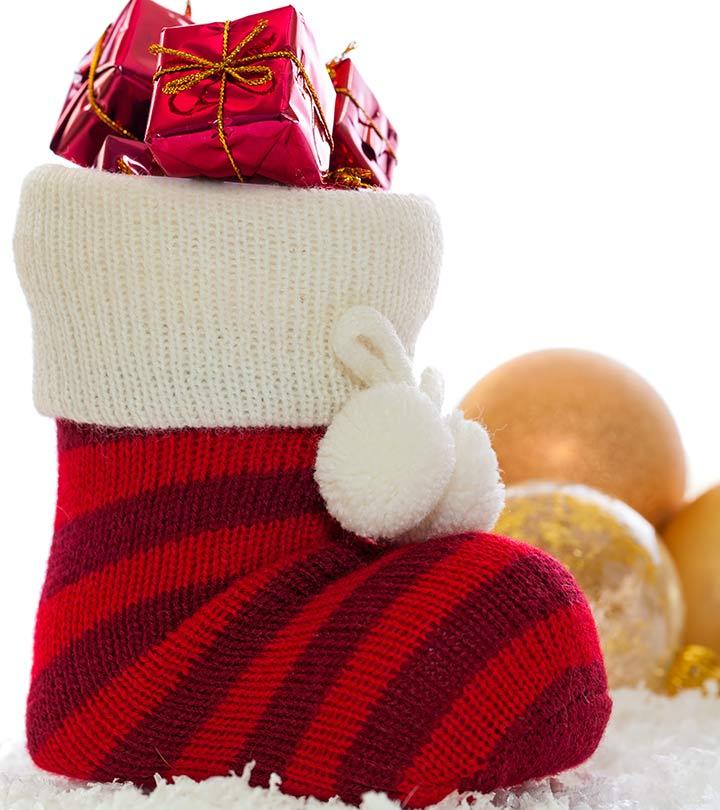 The holiday season is just around the corner, and so is the difficult task of shopping for stocking stuffers. The options are endless, ranging from gadgets to accessories and other essentials. Depending on the person you are shopping for, you can buy funny and thoughtful or cost-effective and useful gifts.
Shortlisting what to put in your friends and family's stockings is a crucial task. To help you out, we have prepared a list of stocking stuffer ideas containing all types of products. Check it out!
A sticky notes booklet is the best stocking stuffer for your workaholic or organized friends. With hundreds of page markers and sticky notes, this sticky notes booklet will it easier for them to keep track of important events and appointments.
This booklet comes in a pocket-friendly size of 3.2 x 0.6 x 4.2 inches and is easy to slip into your bag, pocket, or wallet for home and office use.
If you want to gift something unique, useful, and eco-friendly, a reusable drinking straw is a right choice. This stainless steel foldable straw comes with an aluminum case and brush. Just fold it, put it in your pocket, and carry it anywhere.
This straw is made from premium-quality 304 stainless steel material for eco-friendly use.
Tealight candles can be used for almost every occasion, whether it is a birthday party or a small dinner gathering. These cactus-shaped and vivid-colored tealights add an extra charm to your room.
This set contains six paraffin candles. The candle-light setting created by them can be enjoyed for at least 4-5 hours.
Money Soap is a perfect combination of fun and usefulness. This soap bar is shaped like a dollar bill and can be used for washing your hands or bathing. It also has a Burberry fragrance.
This soap bar measures 3" x 1" x 5", making it the right size to stuff into a stocking.
If you have a friend who loves Apple products, this is the best stocking stuffer for them. This silicone case protects Apple AirPods from dents, bumps, and unexpected falls.
It is available in various colors and comes with a warranty of one year and a cash-back guarantee.
Anyone who owns a car needs a car charger. This car charger is equipped with multiple charging options on a 12-24 V outlet. The exterior of this charger is rubberized for hassle-free use.
It has 5 charging ports with a 5 feet cable that charges devices on a 2.4 amps output.
Didn't you just think of your friend who likes taking selfies? This collapsible grip offers an easy grip when holding your phone or clicking selfies. It also allows hands-free use.
You can stick it directly on the glass back of a smartphone. It is available in various colors.
If you want to buy something environment-friendly, this reusable bag is the optimum choice. It is not only perfect for shopping but also for storage. It is comfortable and made from long-lasting material. It measures 4.8" x 4.3" x 0.7" and has a weight capacity of 30 lbs.
This hook-and-loop wristband comes with a 100% money-back guarantee.
A portable and reusable cup? What else can one ask for! It is suitable for both hot and cold drinks. Since it is collapsible, you can slip it into a stocking easily. It is made from silicone, which is safe for microwave and dishwasher. It also BPA-free.
This wine lip scrub has antioxidant properties and contains grape skin extracts, coconut oil, and seed powder.
Rubber ties can be used for a lot of things. Whether you want to tie your phone charger for convenience or seal a pack of chips, reusable ties can be used for locking or holding anything in place. The pack of four contains 3-inch ties in different colors.
Pull out a card, read out the line, and allow everyone to complete it with a phrase. The insanity party game is suitable for children above the age of 14.
Now, this is a unique stocking stuffer. This lamp is handcrafted from a Himalayan salt crystal. These lamps absorb negative and toxic air and radiate a soothing light.
This lamp comes with a rotatable and adjustable nob and two bulbs. It is suitable for air purifying and decorative purposes.
In winters, there is nothing better than this mousepad. It saves you from frostbite and cold temperature. Just plug it in the charger, place your mouse inside the pad, set the temperature, and work comfortably.
The pad cable is about 47 inches long, and the temperature can be set to 113°F.
If you have a friend who waits for Mondays to solve the crossword puzzle, this is the perfect stocking stuffer for them. This booklet contains 75 crossword puzzles from the Times's Monday collection and comes in portable paperback binding.
This is a 100% silk mask, and it is available in several colors. It is naturally hypoallergenic and safe for use.
This stocking stuffer is personalized, so you can gift it to your dad. This small foldable knife is extremely useful. It also has a comfortable grip to prevent slipping. It is 4.5 inches long and made with 440 stainless steel.
With this gift, your loved one can get rid of the hassle of ice cubes. Just pour your liquor, add whiskey stones, and enjoy cold liquor. It is easy to wash and air dry. After this, simply place the cubes in the freezer for at least four hours. Use only three of these cubes to cool your drinks.
When thinking of stocker stuffers, what could be perfect than a snowball maker? The time is perfect, and, above all, snowball fights are super fun!
This snowball maker measures 15" x 4" x 3". It can make more than 30 snowballs in as less as one minute.
It measures 4.9" x 3.2" x 1.7", and its easy-grip handle helps in making tea and coffee without any mess or hassle.
This is the best stocking stuffer for anyone who has just started working. It is a cute little pink pinboard that they can place on their office desk, next to their soft board. The colorful pins look like sprinkles on the donut.
This desk donut is made with PVC-free non-toxic material and comes with 50 colorful pins.
You can purchase these plantable coloring pencils for your artistic niece, nephew, or friend. After using up the pencils, they can plant them and watch the saplings grow.
These pencils are made following the EN-71 safety standards and eco-friendly material.
This is a card pocket tool that you can use to open cans, cut things, or take measurements easily. It even comes with a storage box to make carrying the tool easier.
This card pocket tool is comprised of 10 tools: screwdriver, knife, can opener, ruler, bottle opener, saw blade, wrench, two position-wrenches, and a direction ancillary.
This hand-processed natural tea is made of various herbs and fruits and has a fresh aroma. It is a premium Southern blend with the delicious taste of lemongrass and dried strawberries. It is FDA-approved for safe consumption, and it comes in a muslin bag if you order a large quantity.
Your friend or family member who is a traveler will love this unique stocking stuffer. It is a travel-sized kit that contains all the things you need to make your favorite cocktail on the go and enjoy it with fellow travelers.
It contains a recipe card, muddler, jigger, linen coaster, and ginger syrup.
This is a set of assorted coffee samplers with an aromatic, fresh taste. They have a naturally delicious flavor, which is enhanced by the freshly roasted coffee beans. This pack of four coffee samplers comes with brewing tips. You can also add a customized note to your gift box.
This stocking stuffer is a hands-free hair towel that can dry hair naturally without heat. Its Aquitex microfiber fabric helps in drying hair faster in a harmless manner. It also reduces the time spent on drying hair and prevents frizz. It is the best stocking stuffers for wife.
You can place this magnetic key holder in your kitchen or by the door. Just hold your key or other items near the holder, and it will stick to the bottom with ease. It comes with an adhesive mounting that eliminates the need to drill holes in the walls. It is compact and versatile. It is the most cheap stocking stuffers.
Wouldn't it be fun to have a speaker in the bathroom? All the shower singing time would be even more fun if you could actually sing along to songs.
This Bluetooth shower speaker is water-resistant. It can play music for up to six hours without charging. The charger is attached to a suction hook, which can be used for mounting it on the bathroom wall.
This unique stocking stuffer is a little round tool with sharp blades on top. Just glide it over your lemon or citrus fruits to zest them. The citrus zester is made with BPA-free plastic. It also has a comfortable grip to avoid discomfort zesting fruits.
This big fish and little fish nail clipper set are perfect for traveling. Just keep it in your bag, and you are good to go. Its design is also gift-worthy and cute. It is an ideal stocking stuffer for women
These nail clippers are copper in color. The little one is 1.5 inches long, and the big one is 2.5 inches long.
Winter scarfs never go out of style. This winter scarf goes with various outfits, whether it is a casual, formal, or party look. This scarf measures 59" x 59". It is made with an acrylic cashmere-type soft and warm fabric. It is the best stocking stuffer ideas for her.
This stocking stuffer is great for foodies. The gift box contains three bottles of real maple syrup of three varieties – Bourbon Barrel-Aged, Cinnamon-Vanilla, and Sugarmaker's Cut. Each bottle is 250 ml in volume and is packaged in a chic and classy black box. This is the best stocking stuffer gift for coworkers.
No products found.
If any of your friends or family members is a writer, don't think before putting this in their stocking. The writer's block journal is bound in a wood-like hardcover with quality paper inside. It contains 300 blank pages.
This sticky note roll comes in handy when you need to organize things quickly. Just write a small note on it and put it in the stocking.
The roll is 2 inches wide and contains self-sticking paper.
This mug has a sea creature placed at the bottom of its cavity. While sipping your drink, the creature slowly reveals itself. This cup has a capacity of 11 oz. You can wash it in the dishwasher and heat your drink in the microwave.
When you are buying stocking stuffers, remember to choose quirky, useful, and funny gifts. All of the above options are useful yet unique. Just go through the price range and buy the type of gift you want to put in the stockings. Are there any things that you put in as stocking stuffers for your family and friends every year? Comment below to let us know!
Recommended Articles