9 Stunning Blouse Designs With Stonework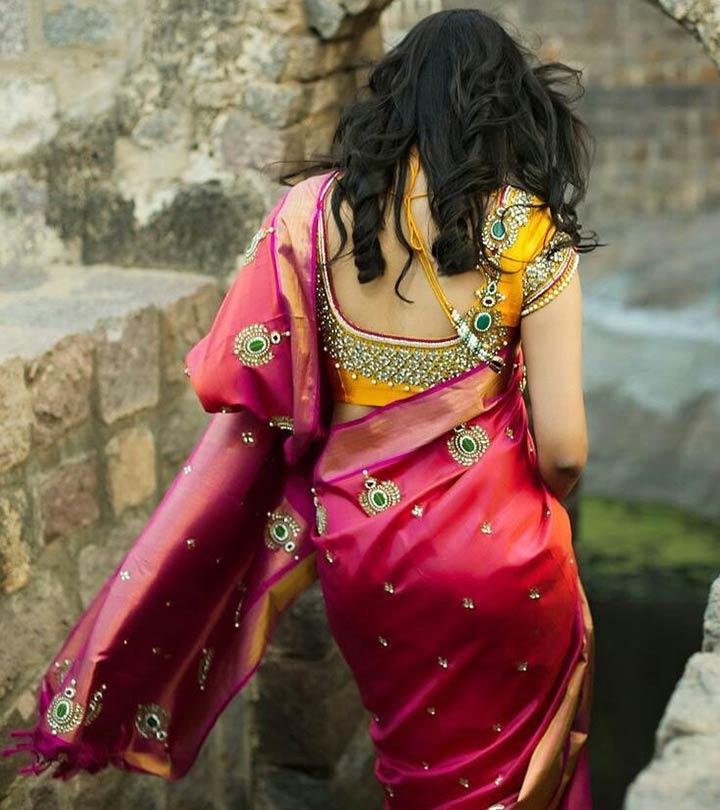 Weddings, whether yours or of someone you know, call for shopping, designing your blouses, choosing sarees, planning events, and having a lot of fun. It is our chance to show off the traditional streak in us, but by keeping the oomph factor intact. The idea of traditional wear has had a total overhaul over the last few years and is changing one saree and blouse at a time. And that's why you can never really have too many blouses or sarees. But, if you do the blouse right, it can be used for more than one saree and will go a long way. In today's age, we don't repeat our outfits because it's on social media, but there's a smart way to go about this. Wear a blouse that's stunning and stumps people. Then, it won't matter even if you repeat it. While at it, let's look at some stonework blouse designs that will blow your mind and everyone else. Let's dive right in.
9 Simple Stonework Blouse Designs
1. Blue Floral Stonework Pattu Blouse
Stones, flowers, and everything festive is embedded into this gorgeous blouse. Whether you are the bride, the maid of honor, or the bridesmaid, you need a blouse that is heavily embroidered, and there's no point in showing your modesty here. Go for a deep pot neck at the back, and at least half sleeves (if not 3/4th), so that the design shows. You can pair this with a plain silk saree or a pattu, depending on your preference.
2. Red Pot Neck Pattu Blouse With Diamond Stone Work
Chilli red or kumkum red are staple wedding colors. The best part about this color is that you do not have to worry about wearing the same color as the bride or someone else. It's versatile and celebratory, plus you can spin it according to your taste. But if you are a bride looking for contemporary designs, go with this beautiful diamond stone work blouse. The deep pot neck balances take care of the X-factor, and the diamond stone work brings out the best of the blouse. You can easily match this with yellow, green or gold sarees, but have one of these – it comes a long way.
3. Pink Pattu Blouse With Peacock Stone Work
Peacock and stone work is blending best of both the worlds when it comes to a pattu blouse. Peacock design is the most sort after and can be played around with in so many ways that you will never feel that it's being repeated. This blouse is proof of just that – while the stone embellishments all over are sprinkling all the sparkle a wedding blouse needs, it's the peacock and geometrical embroidery that's working it's magic here. It can be matched with a blue saree, and it will look as good.
4. Green Stone And Maggam Work Blouse
How beautiful is this blouse? You know how we just spoke about peacock motif being extremely versatile and how you can never get bored of it. Here's another example right here. Go with dull or rustic gold finish for the stonework if your accessories and jewelry are in that tone; plus, green and rustic gold go perfectly together. The studded stone rim along the corner of the blouse is the icing on this gorgeous cake.
5. Gold Bridal Blouse With Heavy Stone Work
Bridal blouse means grandeur, and so keeping it low key should be the last thing on your list. There's nothing quite like a heavily ornate stonework blouse in gold, and along with the peacock, of course. You could replace the peacock motifs with anything else, but it is the deep blue, blue streak that sort of electrifies the look, and that's the power of intricate detailing. The advantage with blouses like this is that it can be either gold or just about color.
6. Stone And Maggam Work Blouse
If it's the bride that's wearing the blouse, the design better match her standard. Even though nothing comes to the natural glow and beauty of a bride, we just cannot settle – if you know what I mean. The pink floral stone work all over is screaming bridal. You can go with a simple 3/4th sleeves and round for the front and back neck; or spin it around with a deep pot neck or a square but broad neck at the back. Again, all of this is to enhance the already beautiful bride.
7. Gold Bridal Blouse With White Stonework
White stone work over a gold blouse – can it get any more bridal than this (read it in Chandler Bing's voice)? Do you hate the idea of long sleeves or stick with the mega sleeves style? Picking a geometric motif of your choice and following the silhouette for the sleeves works perfectly, doesn't it? Again, the saree can be red, green, violet or just about anything. You could also use this after the wedding, and pair it with lesser heavy silk sarees. Let the blouse do the talking.
8. Violet Full Stonework Blouse With Vanki Motifs
Go all out, or don't do it all – this should be your mantra when it comes to saree blouses and you should probably know it if you are even remotely considering stonework. Let the blouse be all about stone embellishments, and go with motifs that stand out – in this case; it's the vanki that is adding old world charm to the blouse.
9. Gold Sheer Blouse With Stone Work
A blouse that became an instant hit from the very start, but I get it – such is the case with everything sheer. It makes for a beautiful canvas and makes anything sparkle. Considering that this blouse is sheer, it looks even better. Let everything else be mellow, and let the stones spruce it up as you turn around. This is elegant, contemporary and traditional; all at the same time.
It's not just you – there's no way anyone can choose the best from these, which was why it was twice as hard for me to even make a list. But I guess we either go with the best or nothing at all, and hence the list.
Are you a sucker for traditional wear? Are you always on the lookout for new designs and love experimenting? What is your favorite from this catalog of stonework blouse designs? Let us know by dropping in a text in the comment section below.
Recommended Articles:
The following two tabs change content below.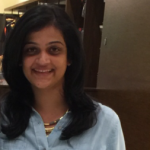 After working in Marketing and Business Development for a few years, Pratima Ati jumped ship to pursue two things she loved – fashion and writing. She's now a full-time Fashion & Lifestyle writer and has never looked back ever since. She sleeps early, reads often, and when she can't, she finally gives a closure to all the characters living in her drafts. Sometimes, they pass off as poetry too! That, and her training in Indian classical music and playing (learning) the veena keep her sane, civil, and bearable.