Is Milk Good For Hair? Benefits And How To Apply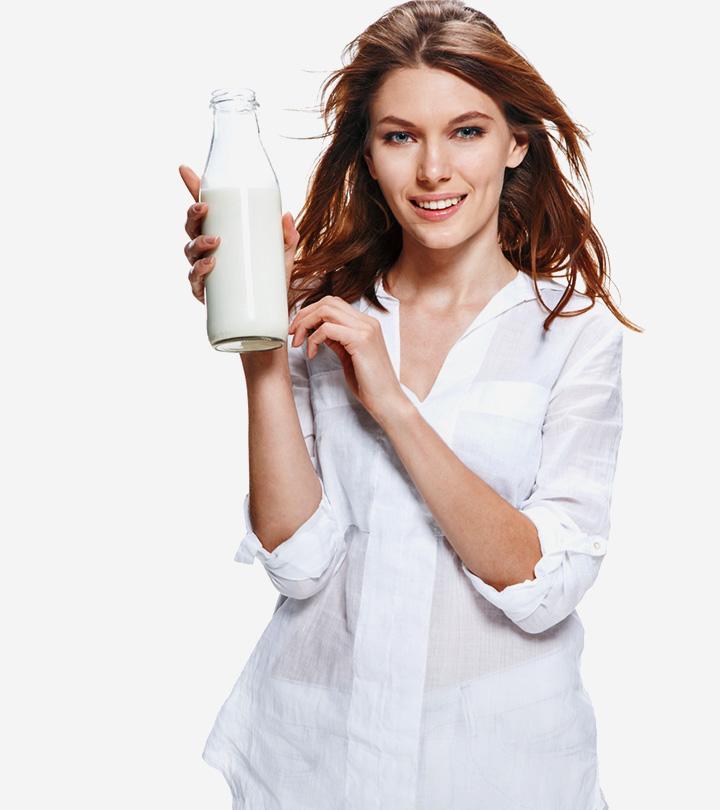 Milk is a popular traditional hair care remedy used to soften and condition hair. But the benefits of milk for hair don't end there. It is also said to reduce split ends and manage dryness. Milk may also curb frizz, smoothen hair, and improve hair texture. It can also be paired with other ingredients like eggs and fruits to make hair masks and packs. Using these masks replenishes hair and offers visible transformation in your hair condition. Keep reading to explore the benefits of using milk on your hair and understand how to use it effectively.
Benefits Of Applying Milk On The Hair
Milk is rich in proteins, vitamins, and antioxidants and is beneficial for health (1). It is often used in traditional recipes to keep the hair soft and smooth. While there is no scientific evidence to prove the efficacy of topical application of milk for the hair, anecdotal evidence claims that it conditions the hair and restores its natural shine. Let's check out the other benefits of washing your hair with milk.
1. Reduces Split Ends
Excessive exposure to UV rays can damage your hair, affect the hair color and shaft's integrity, and cause protein loss (2) This may make your hair brittle and cause split ends. Applying milk and milk cream can moisturize the hair and minimize split ends.
2. Conditions The Hair
If you have dry and frizzy hair, you can wash your hair with milk. The cream in milk smoothens the hair cuticles, moisturizes the strands, and works as a deep conditioner to keep your hair manageable, soft, and smooth.
3. May Help Control Hair Loss
If you want to try applying milk to your hair and see if it works for your hair type, you can follow the methods discussed below.
How To Apply Milk On Hair
Note: Use full cream milk or coconut milk for maximum hair benefits (if you are allergic to milk)
1. Milk As Hair Wash
You Will Need
Method
Detangle your clean and dry hair with a wide-toothed comb.
Wash your hair with milk.
Leave it on for 30 minutes.
Wash off with a mild cleanser.
Let it air dry.
2. Milk As Spray
You Will Need
200-300 ml of raw milk
A spray bottle
Method
Pour the milk into the spray bottle. Adjust the quantity as per your hair length.
Detangle your hair with a wide-toothed comb and section it.
Spray the milk covering your hair from root to tip.
Repeat with all the strands.
Leave it on for 10-15 minutes and rinse thoroughly with water.
You may use a mild shampoo to wash your hair.
The topical application of milk or its cream is believed to moisturize and condition the hair, thus eliminating the risk of split ends and dryness. Traditionally, it has been a common ingredient in hair masks and packs and used along with other ingredients like egg, fruits, and coconut milk to improve hair texture and shine. Therefore, use this natural and cost-effective remedy to give your hair the right nourishment and pampering. However, if you are allergic to milk, do not use it or go for alternatives like coconut milk.
Frequently Asked Questions
Is honey and milk good for the hair?
Yes. Honey and milk are excellent conditioners for the hair. You can mix them or use them in DIY masks to keep your hair healthy and shiny. Honey has antimicrobial, anti-inflammatory, and wound-healing properties and can help moisturize your scalp and keep it healthy (3), (4).
How long should I leave milk in my hair?
You can leave it on for 30 minutes and wash it off.
Can milk straighten hair?
There is no scientific proof for it. Moreover, the hair pattern depends on the shape of the follicles and the disulfide bonds
Key Takeaways
Nourishing properties of milk may help improve hair texture and manage frizz.
It may also control hair loss, minimize split ends, and deeply condition your tresses.
You can use milk as a hair wash or use it as a spray.
You can also add it to hair masks to enhance their benefits.
References:
Articles on StyleCraze are backed by verified information from peer-reviewed and academic research papers, reputed organizations, research institutions, and medical associations to ensure accuracy and relevance. Check out our editorial policy for further details.
The following two tabs change content below.