Strobing Makeup Tutorial – 5 Easy Steps With Pictures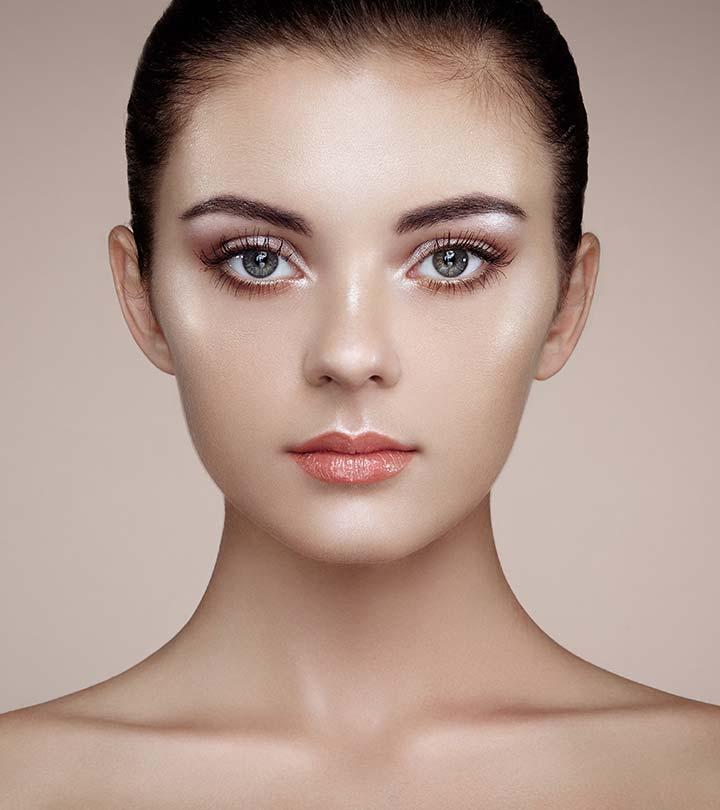 If you fancy a soft and dewy complexion, strobing is one makeup technique you absolutely need to try out. But first, let's get down to the basics and understand what this trend is all about. Strobing is a highlighting technique that is used to create an illuminated complexion. There's no contouring or bronzing involved, and it's all about that glow! It focuses on creating healthy-looking skin rather than the sculpted look that contouring gives you. If you think strobing is your jam, read on because we've put together a simple tutorial along with everything you need to know about the strobe effect.
Strobing Makeup Tutorial
Generally, you 'strobe' your face using liquid or cream highlighters. You simply accentuate the areas of your face that bounce off light, such as your brow bones, the top of your cheekbones, and your cupid's bow.
Just a heads-up – strobing is not suitable for oily skin. However, if you still want to give it a shot, make sure you apply a mattifying primer before doing your base makeup.
[ Read: 10 Best Primers For Oily Skin ]
What You Need For Your Strobe Kit
Hydrating moisturizer
Primer
BB cream or foundation
Setting powder
Liquid illuminating highlighter
Powder highlighter
Makeup brushes
Step By Step Tutorial With Pictures
Step 1: Prep Your Skin
The first thing you want to do is cleanse and moisturize your face thoroughly. Apply a pea-sized amount of primer to even out your skin tone and eradicate any redness.
Step 2: Do Your Base
Apply a lightweight, dewy finish foundation or a BB cream using a rounded foundation brush. The trick here is to give your skin a light wash of color, rather than a full coverage finish. You can also add some concealer if you want to cover any under eye circles and blemishes. Set your foundation with a little bit of powder, so your base does not move through the day.
Tip: You can apply your best strobe cream instead of a BB cream or foundation, or you can mix it with either of the products for added glow.
Step 3: Strobe Away!
This is where the real strobing happens. Use a liquid illuminator, like the All Over Glow Luminizer Gel from Jelly Pong Pong, and apply it on the top of your cheekbones, down the bridge, and at the tip of your nose. Blend it out with a makeup sponge.
Tip: You can also dab some illuminator on areas like your forehead and chin for an even glow.
Step 4: Add Some Powder Highlight
Use a tapered highlighter brush to go over the areas you applied the liquid illuminator on. Add some to your cupid's bow, above your eyebrows, your chin, and down the bridge of your nose. Finally, layer on the final highlighter – M.A.C Soft & Gentle Highlighter is a great choice – with a fan brush. Make sure you add some to the inner corners of your eyes.
Step 5: Do Your Lips
Apply a creme-sheen lipstick and top it up with a bit of lip gloss.
Here's the final look!
If you're trying the strobing technique for the first time, remember – practice makes perfect. You might not get it right the first time, but you actually get better with time. We've listed out a bunch of easy tips that will come in handy for all you strobing enthusiasts.
Tips: The Strobing Makeup Tips You Need To Know
Find The Right Shade For You
Strobing is basically highlighting, so choose a color that is paler than your skin.
For light to medium skin, a pale pearl would work best. For dark skin, use a golden, rose gold, or bronze hue.
Choose An Appropriate Finish
Choose your finish wisely, keeping in mind the time of the day. Use soft shimmers and mattes during the day and go crazy with glitter in the evenings.
Follow A Face Map When Strobing
You only want to strobe the high points of your face. These include your cheekbones, brow bones, above the arches of your brows, your cupid's bow, chin, and the bridge of your nose.
Follow The Three Golden Steps
Moisturize your skin, apply a clean foundation base, and brighten up your features using a liquid illuminator or a highlighting stick. That's basically all you need to do!
Since the glazed donut look is trending worldwide, strobing should be your go-to makeup technique. This look is something to die for as it is dewy and glowy like a dream. And all the ladies with oily skin, do not be disheartened that strobing is not suitable for your skin type. Remember, a mattifying primer is always here for your rescue. So, do not hold yourself back from creating a naturally glowing look with the help of strobing. Now, go on and prepare yourself to shine like never before!
The following two tabs change content below.