35 Beautiful Braided Updos For Black Women
Add that extra oomph to your natural hair look with edgy yet flattering braided updos.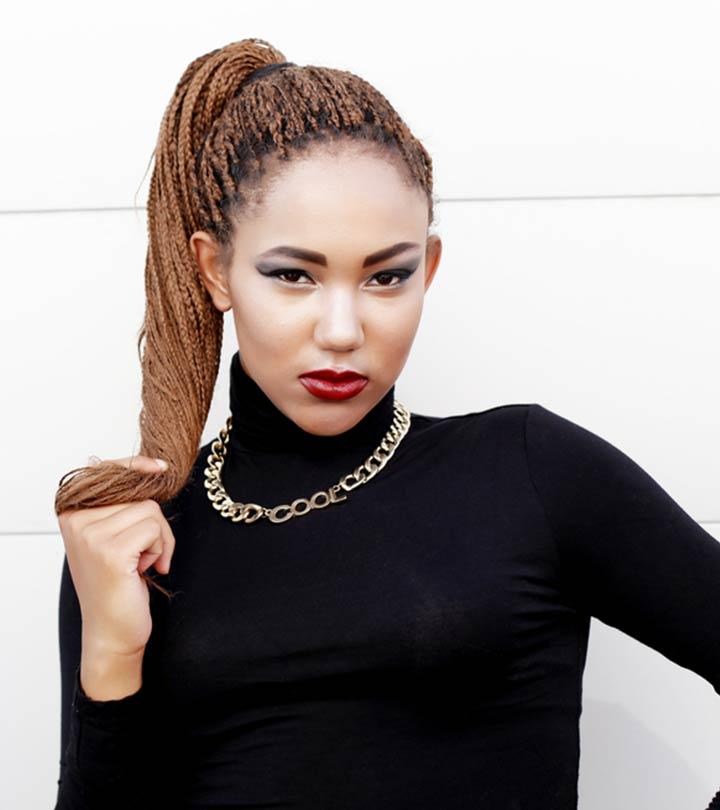 Naturally textured hair is stunning! But a sure way to turn up the heat is by styling them in a braided updo. Here are some mesmerizing braided hairstyles for black women, styled with cornrows, feed-ins, and twists.
African hairstyles like braided updos are just for the grand events! Suppose it is a hot day, but you do not want to wrap your hair in a bun. Instead, style it in a braided updo, and watch as the compliments pour in. So, scroll down and check out the trendiest braided updos for your naturally coiled hair!

Before You Get Started
Both braids, as well as updos lean towards tight styles. Try keeping your updos loose to avoid straining your scalp.
Do not go to bed with your updo intact. Untie the updo and wrap your braids in a silk scarf before you sleep.
Incorporate oil massages for your scalp if you tie your braids up often.
Use metallic beads and threads to jazz up your updo for party looks.
35 Best Braided Updos For Black Women
1. Rope Braid Ponytail
This simple rope braid pony is unlike the traditional twist outs and will elevate your look. Unleash your foxy side with this sexy hairstyle and pair it with your black spaghetti dress. All you need to do is tie a ponytail and split your ponytail into two parts. Then, twist out the two parts to the right side and cross them over the left section to form this hairstyle. What are you waiting for? Flaunt this style with sass and confidence.
2. Braided Side Bun
If you are looking for something simple yet chic, we have got you! This super cute hairstyle can elevate your casual outfits to the next level. Just make a side bun with those beautiful braids of yours and be ready to turn heads wherever you go!
3. Bandana Braided Bun
Beat the Monday blues with this beautiful bandana hairstyle and oomph up your Bohemian look. Recreate this simple look by braiding those luscious locks and make a bun on top of your head. Now add a bandana to complete the look! Keep the locks outside the bandana for a dapper impression.
4. Messy Big Bandana Bun
Another statement bandana look that will simply elevate your blue jeans and black top look to the next level. Recreate the look by curling the braids into a big bun and tying the bandana. The best part? It also protects your hair from pollution while keeping your style intact!
5. Box Braids In Four Buns
These half-up half-down braided Bantu knots are not only fun but also foxy. Pair this hairstyle with your favorite dress and add beads to create a vibrant look for your date night.
6. Braided Beehive
An intricate hairstyle fit for all the amazing queens out there! It looks complex at first glance; however, the hairstyling techniques followed to achieve the look are simple. Section your hair into two parts— front and back. Start braiding the back section horizontally across the hairline. Continue doing this till you reach the end of the section. Section the front section further into a new section and continue braiding all around the head to complete the look.
7. Red Halo Braid
With a little bit of practice and patience, you can master this edgy hairstyle in no time! Create a middle partition and start braiding from the right side of the partition. Continue doing this till you reach the back of the neck. Do the same thing with your left side. Secure the braids with a hair tie to complete the halo braid. Now to finish the look, simply set it up with spray.
8. Braided Bun With Embellished Headband
Headbands are the simplest yet stylish accessory that can elevate any hairstyle quickly. Recreate this beautiful hairstyle on your wedding day and turn heads as you walk down the aisle!
9. Cornrow Bun With Flowers
Here is yet another beautiful cornrow hairstyle for the gorgeous brides out there. Style with fresh daisies for a stylish and elegant look!
10. Braided Updo With Shaved Sides
This fiercely chic hairstyle will give your personality a certain edge. To recreate this hairstyle, divide your hair into three sections and then make three different braids with two strands of kanekalon in each of them. Leave three strands and make three sleek braids. Twist the sleek braids over the middle braid and finally make a low bun to finish the look.
11. Big Braided Side Bun
Certain hairstyles will never be boring. You can spice up your daily look with this simple side bun. Weave braids with all your hair. Then, make a big side bun just above your temples and flaunt it with sass!
12. Zig Zag Braid Bun
This beautiful yet intricate hairstyle will elevate your look and make you red-carpet-ready in just a few minutes! Make zig-zag braids with a section of your hair. With the remaining hair, make a top bun. Slay your date night with confidence!
13. Casual Low Braided Bun
This casual low-braided bun is perfect for brunch with your girlfriend or a night with your family. All you need to do is braid your hair. Take all the braids and make a low bun at your nape to complete this casual-chic look.
14. Top Bun With Box Braids
This is one of the most common and popular hairstyles today. The simplicity of this hairstyle has only made this hairstyle more popular. Twist your hair into box braids and then create a top knot. Finish your look with a hair spray. You can also accessorize with embellished pins to look glamorous.
15. Braided Classic Bun
Classic buns are for all occasions but if you are bored of the same classic bun then just braid it! Braid all your hair and make a classic donut bun in the back. This chic hairstyle can be worn with formals.
16. Front Mohawk
This hairstyle is brilliant. Braid your hair from one side to the other from midway to the nape of your neck. Let your hair fall in front like a mohawk.
According to Tuera A. Jacobs, a licenced cosmetologist, "This look may be achieved with a flat, two strand twist whenever less tension is beneficial or whenever you want to create another fabulous look."
17. The Braided Mohawk
This hairstyle is super cool, isn't it? Although you will need a professional's help to get it done, it'll totally be worth it!
18. Cascade Braids
This gorgeous cascade braid sure is stunning! Braid your hair from one end to the other continuously while switching the middle section with some loose hair. When you reach the other side of your head and have run out of hair, just tie a loose knot to make it look like a flower.
Tuera A. Jacobs, who has her own image consulting firm, suggests, "This look is also amazing when the natural tresses are left in its curly or naturally wavy state."


Quick Tip
Alternatively, you can add fresh, colorful, or white flowers in between the knots to enhance the cascade braid look.
19. A Half Top Knot With Braids
Don't undermine the power of a top knot. You can play around with the parting to add your own touch to this hairstyle. Instead of using a clip or an elastic band to hold the top knot in place, you can use your own hair to tie it and add an edgy feel to your look.
20. The Butterfly Braid Updo
Butterfly braids are one of the easiest braids to do compared to the rest of the African braids. And this particular updo is completely mesmerizing. Butterfly braid your hair on one side and then twirl it into a side bun. You can accessorize the braids with threads or beads to add your own touch.
21. Twirled Half-Up Bun
Whoever said braids are tedious did not see this hairstyle! Take the front part of your hair and just give it a twirl. You can hold it in place with some hair pins.
22. The Braided Halo
This hairstyle is truly angelic. Don't look at the big braids and wonder how you are ever going to make your hair look that full. This hairstyle is a blend of your natural hair with extensions. However, if you have long thick hair, you might not need the hair extensions.
23. Two Low Side Buns
Simple and chic. Sport this hairdo for any event – work-related or a party – and you are sure to dazzle.
24. Criss-Cross Braids
This hairstyle is beautifully intricate. If you have a round face, this hairstyle will add height and make it look elongated.
25. The Low Halo
Divide your hair into two halves with a curved parting. Braid one side of your hair, beginning from the hairline and extending it all the way down to your neck. While braiding, keep adding more and more hair to it with each subsequent stitch. Repeat the same on the other side. Twirl the lower half of the braids into a low side bun to finish the look.
26. The Braided Bun
Not only is this hairstyle graceful, but it is also oh-so-simple to do. Style it with colored extensions and beaded hair accessories to add even more vibrancy to it.
27. The Double Dutch Braided Bun
Double braid your hair on each side using the Dutch braid technique to create a luxurious look. Then, wrap the lower half of your hair into a beautiful bun to achieve this iconic look.
28. Tri-Braided Bun
If you have a round or heart-shaped face, you need to try out this hair look. It is even great if bangs frame your face as it will make your face look slim since the bun adds height and makes it look longer.
29. High Ponytail
Here's a wonderfully playful hair look for you! This hairdo is a quirky blend of cornrows and twists woven together in a super-high ponytail.
30. The Side Braids
Ladies, get ready to be fierce! Show off your inner warrior! Braid one side of your hair in thin cornrows or micro braids, leaving the rest curly and free.
31. Criss-Crossed Long Mohawk
Apart from being incredible, this hairdo will make your face look longer due to the added height at the top.
32. The Classic Mohawk
This hairstyle is the very definition of the word 'fiery'. Braid both sides of your hair in cornrows, leaving the center and top sections free. Brush the center hair upwards to make it a mohawk.
33. Twisted Braided Mohawk
This hairstyle is a beautiful mess. You're sure to turn heads with this sophisticated hairdo.
34. The Wreath Updo
All women love wreaths. Take some hair from one side of your head and braid it around to reach the other side – imitating a wreath. Tuck the excess hair within the braid and pin it up.
35. Double-Decker Top Knot
Hairstyle, thou name art elegance! Braid your hair upwards and then bun it up neatly to get this amazing double-decker top knot.


Did You Know?
Keke Palmer, a famous American actress, is known to be a hair chameleon. She pulls off unique and bold braided hairstyles with her signature red hair.
These are our top picks for the best braided updo hairstyles for black women. There are various braid styles for black women that can range with updos. Don't be afraid to experiment and play around with your hair to get a hairstyle that suits you. If you have cornrows, twists, or tree braids, follow a good hair care and hair maintenance routine to make them last for a reasonable amount of time.
And accessorize! Accessories can take your hairstyle level up a notch. Delve into the world of hair pins, head scarves, headbands, shells, beads, and many more accessories to revamp your braided updos. If you like edgy looks, try shaving patterns on your head. They look tremendously cool.
There you have it, women! Try out these gorgeous hairstyles and let us know which one you loved the best. Go flaunt those fantastic braids with these updos!
Infographic: Top 5 Creative Braided Updos For Black Women
Braided updos are a very popular style right now, especially if you have coily hair. They add oomph and enhance your hairstyle completely. While there are innumerable beautiful braided updos to level up the ordinary braiding style, we'd like to throw the spotlight on our personal favorites. Get inspired with the infographic below and express your creativity with these 5 braided updos perfect for black women!



There are numerous braided updos for black women that help get a perfect look and are suitable for different face shapes. Front mohawk, the braided mohawk, cascade braids, a half top knot with braids, the butterfly hair updo, twirled half-up bun, the braided halo, two low side buns, crisscross twists, the low halo, the braided bun, the double dutch braided bun, and crisscrossed long mohawk are a few braided updos that can give you a perfect look. Taking care of the hair and maintaining it helps retain these hairdos for a longer time.
Frequently Asked Questions
How long does a braided updo last?
Your braided updo will last the entire day if you secure it well in place. Your braids themselves may last anywhere between 6-8 weeks, depending on the type of braiding and skill of the stylist. Ghana braids and cornrows can last for as long as 12 weeks when maintained properly.
Do you wash your hair before getting an updo?
Yes. You need to wash it the day before. Your hair must not be dirty, but at the same time, it needs to have a light coating of natural oils for a better styling grip.
Should you wash braiding hair before braiding?
Yes. Wash your braiding hair and extensions before installation to get rid of any tangles or shed hair and to check for any kind of damage. Experts recommend not skipping this step as these extensions will be braided into your hair for a few weeks. It is best to ensure your hair is not harmed by them.
What are the 6 types of braiding techniques?
There can be many different types of braiding techniques depending on your creativity. However, broadly they can be categorized into classic 3-strand braid, multiple-strand braid, French braid, Dutch braid, rope or twisted braid, and fishtail braid.
Does hair grow faster in braids?
No. Braiding does not affect your hair growth. However, it is one of the protective styles that prevent hair breakage and damage, thereby encouraging healthy hair growth.
What is the difference between braiding and plaiting?
Braiding and plaiting are the same. 'Braiding' is used more commonly in American English, while 'plaiting' is the British equivalent of the word.

Learn how to create a beautiful braided updo from this easy-to-follow video tutorial! Perfect for special occasions or everyday wear. Check it out!

The following two tabs change content below.