50 Best Feathered Hairstyles For Short, Medium, And Long Hair
Trendy and cute face-framing styles for every hair length and face shape. The first thing that pops into your mind when you hear Farrah Fawcett is feathered hairstyles, isn't it? She was the classic poster child for the feathered haircut. But even after all these years, the hairstyle has stood the test of time to remain a favorite among many. The feather cut comprises layers cut thinner at the ends to make the hair look fluffier at the top and sparser at the bottom, creating an inverted triangular hairstyle.
The feather cut suits all face shapes and hair types! That's why it is so popular. Keep reading to check out some of the best feather cuts to grace your hair.

Before You Get Started
Although feathered hairstyles are low maintenance, the hair ends require deep conditioning to maintain the look.
Feathered hairstyles are perfect for oval face shapes as they soften a sharp jawline.
Feathered hairstyles give the illusion of volume to your mane. Therefore, people with thin or fine hair can benefit from them the most.
Feathered hairstyles are excellent for curly, wavy, and straight hair.
Feathered hairstyles are ideal for those with triangular hair (narrow at the crown, wider at the bottom). It adds shape to your tresses.
50 Chic Feathered Hairstyles For Short, Medium, and Long Hair!
Feather Haircut For Long Hair
1. Messy Light Feathers
Michelle Pfeiffer looks surreal in this blonde haircut. Her layers have been feathered and subtly highlighted to accentuate her skin tone, makeup, and facial features. The light blonde face-framing highlights bring out her eye color. The messy layers add texture to her hair and make it look voluminous.
2. Waterfall Feathers
When it comes to wavy layered hair, no one does it better than Carrie Bradshaw herself, Ms. Sarah Jessica Parker. Her thick hair is cut in feathered layers for shape. These layers also accentuate her nose and jawline. And the blonde highlights pop her eye color and skin tone beautifully. The waves make her hair look bouncy.
3. V Long Feathers
Let's be honest, the second you read feathered hairstyles you probably thought of Lucy Liu. As always, she floors with this feathered cut. Notice her layers are cut in V-shaped sections. This volumizes her silky straight tresses. The feathered ends are added to the front of her hair to enhance her jawline, neck, and décolleté.
4. Partially Highlighted Layers
Layers with lighter highlights help frame your face and add more dimension to it. The light colors make your face look slimmer. Moreover, the layers from the feather cut on long hair make your hair look voluminous and thick.


Quick Tip
Partially highlighted hair must be retouched every two to four months to keep the color vibrant
5. Champagne Layers
Layers with curls at the end can soften your facial outline. If you have a square- or diamond-shaped face, consider getting this layered hairstyle. The curls also make your hair look full, which, in turn, makes your face look more slender.
6. Wavy Layers
These standard layers help add volume and texture to your hair. If you have straight hair but your cheeks are the fullest part of your face, style your hair in light waves. This will make your hair look fuller.
7. Long Multi-Layers
Long hair with multiple layers feathered out adds dimension to your hair texture, making it look bouncier and thicker than it is. Some coffee brown highlights can add tons of movement to this long hairstyle.
8. Sun-Touched Layers
Wavy hair with layers on the sides is an excellent way to add texture to your hair. You can see just how lush this layered hairstyle looks. The highlights and lightly feathered ends add a sunkissed look to this gorgeous hairstyle.
9. Volume "V" Layers
The V- layered cut is one of the most sought-after hairstyles all over the globe. The best thing about this hairstyle is that it is voluminous and feathered below the face, which makes your face appear smaller than it is while also accentuating your facial features.
10. Wavy Golden Layers
Wavy blonde layers look incredibly stunning. The dark layers at the top will make your face appear elongated. The feathered layers will chisel the lower half of your face and make it look sharper.
11. Natural Layers
When it comes to hairstyles, Shakira can do no wrong. She has taken a curlier approach to the feathered look. The subtle layers in her curly hair add tons of dimension and movement. They also work to add volume and shine to her hair.
12. The Layered Mane
Feathered layers are an incredible way not to overdo it with layers. They also make your hair look super soft and flowy. Jennifer Love Hewitt elevated this look by getting subtle golden highlights in her mahogany brown hair.
13. Coffee Layers
Big waves with very subtly feathered ends make your hair look ready for the beach! Add layers to your beachy hair, and you have got yourself a red carpet-worthy look. These lightly highlighted layers work well with all skin tones.
14. Soft Layers
If you have full cheeks, consider getting layers that begin below the chin. The layers will accentuate your jawline while the hair near your face will cover the width of your cheeks. Follow Olivia Wilde's lead and mix in some big curls with the feathered ends.
15. Soft Wavy Layers
Soft layers with feathered ends look out of this world. Kat Dennings has played it smart by not coloring her hair. Her chestnut brown hair looks more luscious cut in this simple feathered style.
16. Boho Blonde Layers
This haircut is perfect for those boho hairstyles. Using big hair rollers to create these voluptuous boho waves with feathered ends in the lower half of your hair. This step softens the jawline, making it ideal for diamond and square faces shapes.
17. Textured Layers
The layers in Beth Behrs' hair look so natural. The slight waves add texture to her hair. She has offset the movement of the feathered ends beautifully by straightening her blunt, wispy bangs. This creates a dynamic contrast in her look.
18. The Deep V
This feathered layer hairstyle looks incredible, especially on thick, straight hair. It shows off the straight hair texture well by making it look lush. Follow in Olivia Munn's footsteps and part this hair slightly off-center. It will add a subtle lift at the top.
19. Front and Side Layers
If you want style without chopping away too much of your hair, this is the perfect hairstyle for you. It is a super stylish way to frame your face. Heidi Klum has kept things simple with this look by straightening the top half of her hair and only subtly feathering out the ends with a blowdryer.
Feather Haircut For Medium Hair
20. Pastel Pink Feathered Lob
'Game Of Thrones' star Maisie Williams flaunts her playful side with this jaw-dropping pink lob. The lob is cut in layers from near her jawline to her hair ends. The layers are then feathered to make her jawline look more prominent. If you have very thick hair that tends to triangulate as it grows, this cut adds style and shape to your locks.
21. Poker Straight Feathered Cut
Sophia Bush stole our hearts as Brooke Davis in 'One Tree Hill'. Not only was the character she played iconic and trendy, but turns out Sophia herself is very fashionable. Take a gander at her stunning poker straight hair styled ombrèd subtle feathered layers.
22. Heavy Messy Feathers
Another 'One Tree Hill' alumni inspiring us with her sharp feathered layers. Bethany Joy Lenz shows us what messy layers from a feather cut on medium hair can do for a chiseled jawline – make it more prominent. The light makeup makes her blonde hair stand out perfectly. And the blonde color,makes her brown eyes pop.
23. Extremely Feathered Layers
Now this is what you call a classic feather cut. Gabrielle Union is channeling some major early-2000s vibe with this extremely feathered hair look. The drastically flicked-out ends add some major bounce to her hair.
24. Freely Feathered Layers
Felicity Huffman looks like a total goddess with this intensely feathered cut. The blended brown and blonde color palette adds to the movement and dimension of this glamorous hair look.
25. Long Feathered Layers
Long layers with lightly feathered ends are fantastic if you have wide cheeks or a broad forehead. They accentuate your overall facial structure while drawing attention away from your forehead and cheeks.
Sheetal, a hairstyle blogger, shows how she cuts her hair in a feathered style at home. She loves the feathered haircut as it is easy to style by just air drying it to give a carefree cascading look. She suggests using a comb with compacted teeth like a rat tail comb for styling. She adds, "I create a diagonal cut. First, I am gonna cut it in a like a blunt cut, straight up, and then I point cut inwards to blend the ends and avoid the choppy look (i)."
26. Colored Tips
Rose Byrne has added a unique twist to her look by getting her hair cut in very shallow layers. The ends of the layers have been softly feathered outward while the top half of her hair is straight. The golden brown highlights at the very tips of her hair add a youthful vibe to her look.
27. Full-Bodied Feathered Ends
Courtney Cox's jet black hair is iconic. She usually gets it cut in medium-length layers and feathers out the ends with a round brush and a blowdryer. This adds a full-bodied lushness to her look.
28. Cheerleader Layers
Colors always spice up your hair. The dark roots at the top help in making your face appear longer. The light shade near the cheeks softens your facial outline. The very subtly feathered ends are perfect for creating this voluminous hair look.
29. Deep U Layers
We've established that layers are a great way to frame the face, but layers paired with a rich blonde shade accentuate your facial features. The feathered layers on the side help even out and balance your face shape. Julia Roberts is the biggest fan of this look as she sported it for a very long time.
30. Curled-Out Feathered Layers
This layered cut is perfect for women with fine hair. When curled, the feathered layers make your hair look thicker. It also adds a glossy look to your hair. The contrast of straight hair at the top with the curly feathered ends is absolutely gorgeous.
31. Softly Feathered-Out Layers
The outwardly feathered ends help highlight Deepika Padukone's cheekbones here. The subtle touch of a light shade on the lower half of her hair adds some dimension to this look.
32. Voluminous Feathered Layers
Heavy layers look great on thick hair as they flaunt your natural hair volume. Aishwarya Rai does it best by parting her hair slightly off-center and feathering out the layers in big, voluminous curls.
33. Curly Layers
Elizabeth Hurley is the queen of feathered haircuts. She loves styling her medium-length hair in dramatically feathered layers. She adds tons of movement and dimension to this look by getting subtle blonde highlights in her dark brown hair.
Feather Haircut For Short Hair
34. Feathered Messy Pixie
Kaley Cuoco absolutely rocks the badass girl-next-door look with this messy pixie cut. Her hair is cut in sharp feathered layers, heavy on one side, beginning at the crown. This gives her round face some more height to balance out her look.
35. Feathered Sidecut
Tilda Swinton often sports impressive shortcuts that she alone seems to be able to pull off. She stuns in a top heavy feathered bob with sidecuts. The hair at the top has been left long and cut in feathered layers, while the hair on the sides has been cut very short. This contrast in lengths makes for an edgy hairdo.
36. Retro Feathered Curls
Tilda Swinton often sports impressive shortcuts that she alone seems to be able to pull off. She stuns in a top heavy feathered bob with sidecuts. The hair at the top has been left long and cut in feathered layers, while the hair on the sides has been cut very short. This feather cut on short hair makes for an edgy hairdo.
37. Asymmetric Feathered Layers
Cate Blanchett can do no wrong! From her roles to her hair, she always look ethereal. She flaunted a chic asymmetrical bob with feathered layers at the 2018 AFI Lifetime Achievement Awards. The inward feathered layers accentuate her jawline and neck beautifully.
38. Feathered Lob
If you had a bob and it's now growing out, consider growing it into a lob. Then, add in feathered layers to soften the look. The feathered ends also make the rest of your look hair fuller.
39. Feathered Pixie Cut
Halle Berry always looks stunning in short hairstyles, but this feather-ended pixie cut takes the cake. The layers are cut soft to flaunt the lower half of her face, especially her jawline. They are feathered in sections to make her hair look thicker.


Quick Tip
It is recommended to trim your short feathered pixie cut once every four to six weeks to retain its feathery touch.
40. Feathered Shag Cut
Jane Fonda usually goes for a shag cut with well-defined and sharp layers. But, here she has gone for a shag cut with feathered ends. These play well with her defined cheekbones. The dark roots also give her face an elongated look.
41. Long Bob With Bangs
Taylor Swift looks striking with a wavy feathered bob that follows the contours of her jawline. With uneven lengths, the medium-length 70s tousled locks and soft fringe hairstyle is dynamic and modern, resulting in an ultra-chic factor – that means you can wear the perfect hairstyle just about anywhere!
42. Side-Swept Feathered Bob
Scandal Actress Kerry Washington looks gorgeous with her big, curly side-swept feathered bob. Her glossy locks have been styled with a mass of bouncy curls at the bottom of her hair, giving her hairstyle a playful and romantic look. To get perfect undone curls like Kerry's, use volumizing hair mousse, a roller, or a thick curling wand to create voluminous, glamorous curls. Set your curls with some hairspray to tame any pesky flyaways.
43. Curly Feathered Bob
Singer Anna Nalick looks effortlessly sexy with her curly feathered bob and dramatic dark eye makeup. The auburn locks look amazing with structured curls at the bottom of the hair, and a side-swept bang that accentuates her facial features well. To get Anna's playful tight curls, wrap small sections of hair around a curling tong and hold them in place until they are set. Spritz a good amount of hairspray to keep your curls in place.
44. Sleek Feathered Bob
Singer Ashlee Simpson's launch party side-swept sleek feathered bob is all kinds of wonderful. A chic hairstyle for fine hair, the blunt cut at the bottom adds a bit of volume to thin locks. Get your hairdresser to keep your bob super-glossy and longer than chin length for a fresh look. For a final touch, pair your new hairdo with a flush of color on cheeks, sultry eyes, and glossy lips for the maximum sex appeal.
45. Choppy Bob
Actress Dianna Agron can do no wrong, and her choppy hair is a testament to that. Fun, romantic, and elegant, this choppy bob hairdo has lots of personality. To achieve this perfectly structured messy, piece-y feathered bob haircut, ask your stylist to start with texturizing your hair, followed by feathering the ends of your locks for shaggy hair. Next, let your hair air dry naturally, and work some volumizing mousse with your fingertips for a sexy, final look.
46. Feather Trim
The Notebook actress, Rachel McAdams, is an ideal example of why every girl should opt for a short, feather trim look. Fun and flirty, the mussed up hairdo with a side-parted fringe is the perfect length for square face shape, as it helps elongate your face. So, what are you waiting for? Take this picture to your hairdresser, ASAP! Licensed cosmetologist Tuera A. Jacobs offers some advice saying, "Take some pink clip-ins also, in the event you are only feeling flirty for a special occasion!"
47. Two-Toned Short Bob
Actress Chelsea Kane looks uber-cool and casual with her two-toned short bob. The flirty hairdo has the best of both worlds – long and short – which gets even better at the back of her head with the cute, feathered shape trim. A hairstyle for the brave-hearted, Chelsea pulls the edgy style off with great confidence.
48. Russet Auburn Bob
Stepping out on the 2012 BET Awards red carpet with a gorgeous 'do, was singer Yolanda Adams. This russet auburn is bold and sexy, and we love how it draws attention to Yolanda's high cheekbones. After your color treatment, ask your hairdresser for a glossing wash – this will add a romantic touch and long lasting shine to your hair.
49. Feathered Side-Swept Bangs
For the Jingle Bell Ball, Frankie Sandford of The Saturdays rocked an ultra flattering feathered bob with side-swept bangs. The singer teamed her looking-good-from-all-angles hairstyle with a white ensemble and dewy makeup. Lovely!
50. Long Feathered Bob
Toya Carter looks absolutely stunning with her chic, long feathered bob. This below-your-chin-but-above-your-collarbones bob hairstyle is very flattering for her face, as it skims her cheekbone and draws attention away from her chin. Curl the feathered cut at the bottom of your hair and add a sweeping side fringe for an extra impact. Tuera A. Jacobs, an expert cosmetologist, suggests, "This look is easily maintained with a perfectly imperfect pin curl… easy to sleep in and easy to retain."
If you have been wondering what the difference between a feather cut and a layer cut is, and where the shag cut fits in between, check out the next section!
What Is The Difference Between A Layer Cut And A Feather Cut?
The feather cut is, in fact, a layered cut. Layered haircuts have layers either at the sides or the back. In the case of a shag cut, layers are cut all around the head. The feather cut has heavy layers at the front and the sides. Feathering is a technique used to thin out layers at the ends to make them look softer or sharper.
Infographic: Reasons To Get A Feathered Hairstyle
A feathered cut is not only versatile, but it is also one of the safest hairstyles ever. If you are not sure what kind of hairstyle to get next, get the feathers! You can not go wrong with them. If you are still not convinced, check out the infographic below.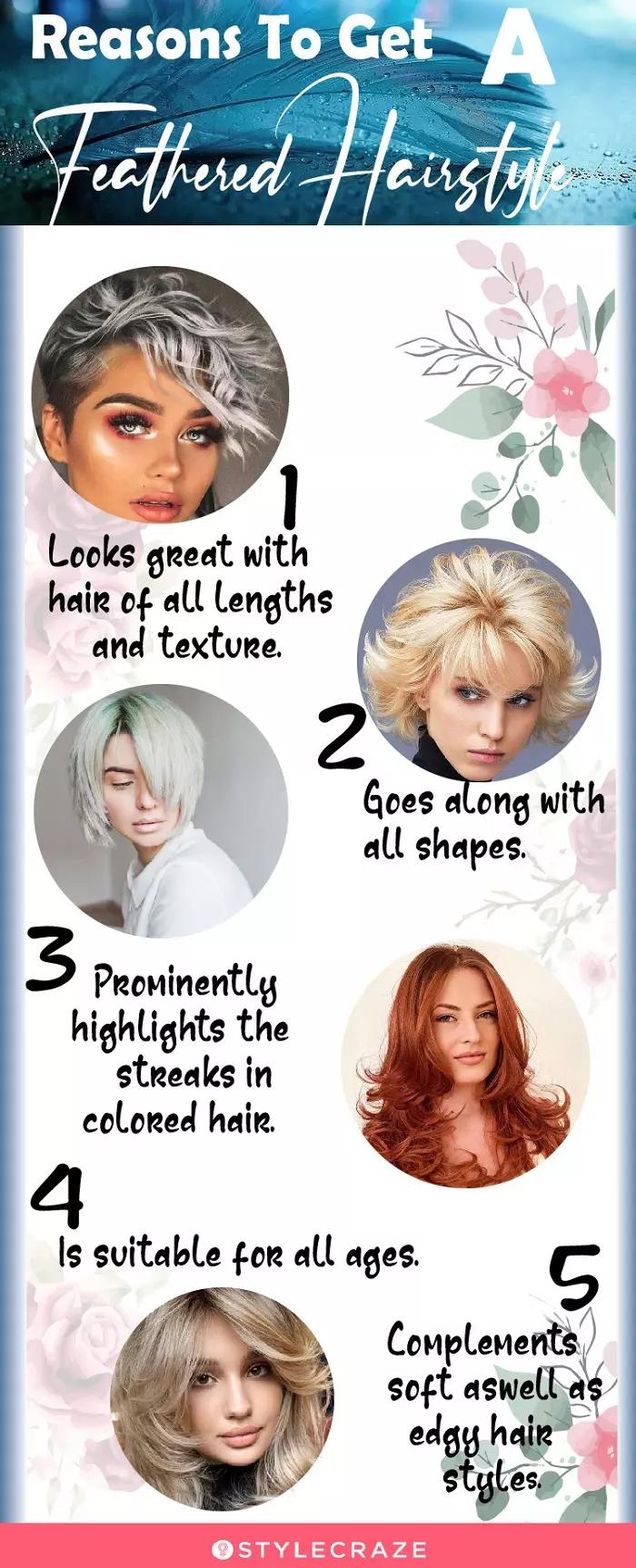 Women with feathered hairstyles believe that the only way to style their hair is to blow dry it or wear it with side-swept bangs. However, feather-cut hair looks sophisticated and super feminine whether you have short, medium, or long hair, and there are various appealing ways to style your layers. Although the feather cut has been around for a long time, it is still in vogue. We hope our list of the 40 finest feather-cut hairstyles for women will help you get some ideas. Take some tips from our selection and join in on the latest craze.
Frequently Asked Questions
Are feather layers in hair still popular?
Yes, they are! Textured hairstyles like feathered layers are face-framing, volumizing, and versatile haircuts that suit every face shape. They make any simple hairstyles like a ponytail look chic, adding to their popularity.
What is the difference between layering and feathering hair?
Layers are of different types and make your hair look thicker, frame your frame, or just add some style to your regular cut. Feathering is a type of layered cut that reduces weight or thickness near the ends of your strands. They are minimal layers focused on adding volume at the crown.
Is feathered hair high maintenance?
No. Feathered hair needs very little maintenance and is easy to style. It even grows out gracefully. Besides regular trims and a hair care routine, this haircut is comparatively hassle-free. From leaving them open to styling them in messy buns, braided hairstyles, and updos, you can do anything with them.
Does feather cut damage hair?
No. The cut itself is not damaging to the hair. On the contrary, feathering makes it easier to trim split-ends.
Channel your inner hairstylist and achieve a feathered haircut with layers at home. Watch this informative tutorial video that will guide you through the step-by-step process of cutting your hair flawlessly.
Personal Experience: Source
i. HOW TO CUT YOUR HAIR AT HOME IN FEATHERED LAYERS
https://www.youtube.com/watch?v=BQmhjjGM_Vk
The following two tabs change content below.