15 Super Cool Short Korean Hairstyles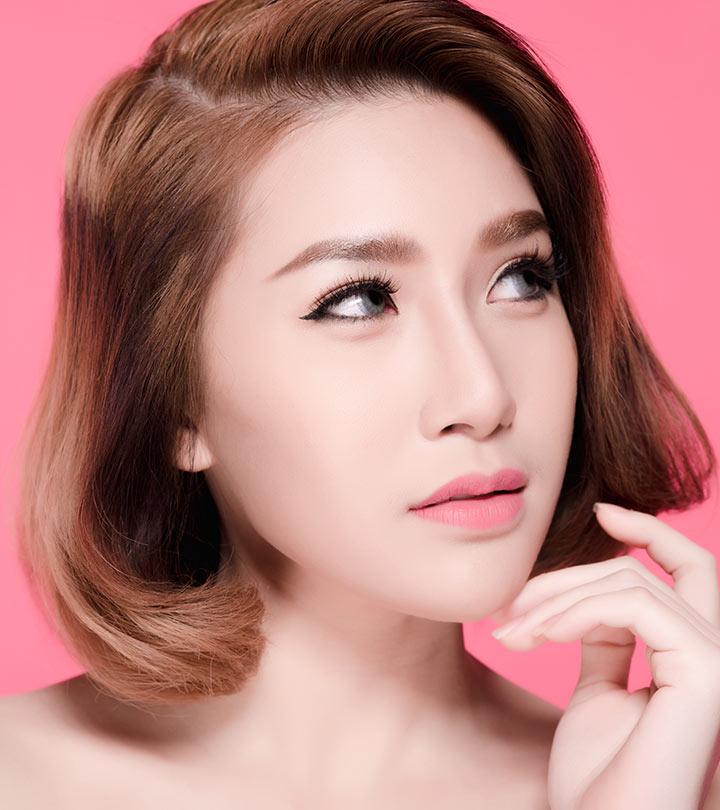 Korean pop music, Korean dramas, and Korean skin care routines have caught all of our attention. But, what's better is their hair!
Korean women are known for their long, shiny hair. But, many of them have been embracing short hair these days. And it looks stunning! It reduces the maintenance time and everyday hair issues like scalp sweat and environmental damage. It is also super easy to style. Check out these stunning Korean short hairstyles that will make you want to cut your hair short in a heartbeat.
15 Super Cool Short Korean Hairstyles
1. Jaw-Length Bob
Wearing your hair exactly till your jawline is a bit tricky. If you have a diamond-shaped face, your jawline can look even more pointed. But if you have a round face, your cheeks may look more protruded. If you have an angular jawline with high cheekbones, you can pull off this style well.
2. Wavy Shoulder-Length Bob
Having fine hair can make your hair appear thin. If you want your hair to look more voluminous, style it in some waves. This will make your hair appear relaxed and more natural.
3. Slick Bob
This is the hairstyle that is most common among working East Asian women. You don't need to spend a lot of time on your hair. Just comb it down and part it on one side. You can use some lightweight mousse to keep it looking fresh.
4. Curly-Ended Bob
Most Korean women have a well-defined jawline. That is why they can pull off hair lengths that end above their jawline, paired with a middle parting, without needing bangs. Stunning!
5. Wispy Bangs
Wispy bangs are one of the best bang styles to sport. They suit almost all hairstyles and soften your face shape. The best thing about wispy bangs is that you can flaunt them as full center bangs, part them as side bangs, or style them as deep side-swept bangs.
6. Wavy Bob With Outward Ends
A nice way to style wavy hair is with the outward ends. They make your hair follow your face shape and enhance it. The outward ends also make your hair appear thicker.
7. Middle Parting With A Tuck
If you look closely, you will notice that this middle parting is slightly off-center. Slight partings are used to bring symmetry to a face shape or to enhance certain facial features, like the cheekbones.
8. Reddish Brown Lob
Korean women are known to have dark hair. One way to freshen up your regular short haircut is to add in some highlights. You can go for a full contrast or opt for subtle red highlights.
9. Heavily Wavy Lob
Most Korean women have straight hair. Style your tresses in some heavy waves to change your look. Keep the roots straight for about two inches and do up the rest of your hair in waves. This will make the waves flow more naturally.
10. Zig-Zag Parting
The zig- zag parting is a small but very effective way of adding oodles of style to your regular hairstyle. Whether you have long or short hair, trying a ponytail or an updo, the zig-zag parting will accentuate it brilliantly.
11. Layered Bob
Add some layers to your overgrown bob to freshen up your haircut and make it look stylish. Start the layers from your cheeks down. Opt for more than three layers. This will accentuate your jawline and cheekbones.
12. Sparse Bangs
If you have thick hair, go for some light bangs to create a stylish contrast. The light bangs will draw attention to your face shape and features, flaunting them beautifully. They will also make your hair look thicker and more textured.
13. Top Knot
If you have short hair, the top knot is an easy go-to hairstyle. You might need to use pins to keep all your hair up if you want a neat updo. Otherwise, allow your hair to fall freely to create a messy top knot.
14. Accent Braid
An accent braid is one of the easiest ways to add a feminine touch to any hairstyle. It looks stunning and is super easy to achieve. The best part is that it works for all hair types: straight, wavy, or curly!
15. Neat Pixie Cut
A neat pixie cut is perfect for school, college, or work. It barely requires any maintenance and is extremely easy to style. You can leave it messy or apply some mousse and comb it down to neaten it.
Korean hairstyles are fast becoming a rage all over the world. Which of these Korean hairstyles did you like best? Also, which K-pop star and K-drama are your favorites? Let me know all that and more in the comments section below!
Recommended Articles
The following two tabs change content below.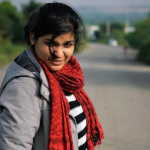 Anjali Sayee is a writer and an introvert. From studying Aeronautical Engineering and wanting to design her own airplane to writing articles on hairstyles, she has been on quite a journey. She believes that hair is one of the key factors that define a woman's personality. To quote her, "What's the first thing they do in the movies to show a personality change? Change the hair – because it has a life of its own." She's here to help you find the hairstyle you need. This bookworm is a self-professed Wholocker, a talented drummer, and an amateur photographer.