30 Super Cool Short Korean Hairstyles
Take a cue from Korean celebrities to flaunt your short hair with confidence!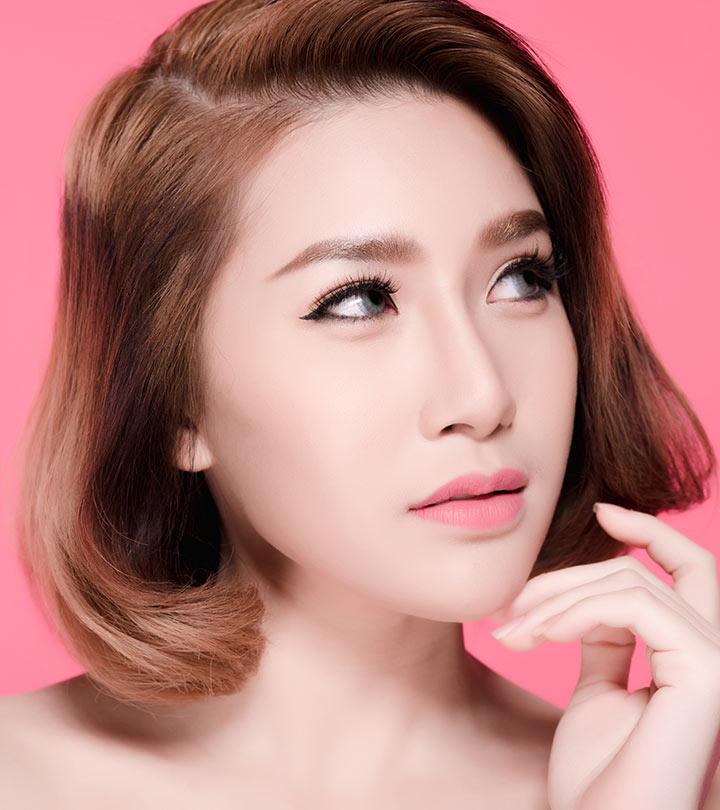 The world is completely taken by all things Korean – K-Pop, dramas, skin care, and now hair joins the list! Although Korean women have unmatched silky smooth tresses, it comes as wonder why they keep it short. So, we decided to take a closer look at Korean short hair on women and why it is the preferred look!
Apart from looking chic and stylish, short hair requires less upkeep and styling effort. It also cuts down simple hair problems like excessive scalp sweating, too much hair damage, and split ends.
Jessica Noonan, a hair stylist, adds, "Short hair looks great on women for a variety of reasons. Firstly, it can highlight facial features and bone structures that might be hidden by longer hair. Additionally, short hair can be low-maintenance and easy to style, making it a practical choice for busy women. It can also be a fashionable and bold statement, showcasing confidence and individuality. Ultimately, whether for practicality or style, short hair can be a flattering and empowering choice for women of all ages and backgrounds."
Short Korean hairstyles are always edgy and modern, so you are never tired of keeping your hair short. Don't believe us? Just scroll down and check out these amazing short hairstyles sported by Korean women.

Before You Get Started
A big part of Korean hair trends are their bangs. Keep your face shape in mind when deciding on bangs for your Korean hairdo. Here are a few tips:
Round Face: Side-swept or curtain bangs. Avoid heavy blunt bangs.
Square Face: Side-swept, curtain, or wispy bangs with a tousled look.
Oval Face: All bangs work for this shape. Avoid a middle-part.
Heart-Shaped Face: Straight-across, wispy bangs with long layers on the sides.
Oblong Face: Blunt bangs, tapered wispy fringes. Avoid curtain and baby bangs.
Another key point of Korean hairstyles are their accessories. From large clips in cute shapes, to fluffy, satin bows, Koreans are big on them.
The polished look that Korean hairstyles have is largely achieved by a consistent and thorough hair care routine.
30 Super Cool Short Korean Hairstyles
1. '90s Classic Bob
This classic Korean bob hairstyle is simple and elegant. The front layers frame your face to accentuate the features. The choppy and razored ends add texture to this sleek, straight bob, so it doesn't appear flat.  This Korean bob haircut works beautifully for short to medium-length hair.
2. Asymmetrical Bob
This bob is a slightly spicy variation of the traditional bob. One side of the hair is more angled and slightly longer than the other. It creates a tilted-angled look and defines the jawline.
3. Shag
This bright orange shag has many short and long layers from the crown to the nape, adding texture to the hair. The front bangs and the side layers frame the face. This hairstyle is perfect for people with oblong faces.
4. Layered Bob
This layered bob is a low-maintenance hairstyle that adds more volume and texture than a blunt haircut. A layered bob looks best on oval and oblong face shapes because the soft layers complement their features.
5. Bob With Blunt Bangs
This classic bob looks chic and simple. You can jazz up the look by coloring the hair pink and adding blunt bangs. However, avoid blunt bangs if you have a round face shape. 
6. Half Updo
Half updos are great options for people with mid-length hair. You only need a clip, a rubber band, or a cute ribbon to tie up half of your hair at the back and let the front bangs fall on both sides.
7. Caramel Highlights On A LayeredLob
Show off your layers with caramel highlights and add that subtle hint of warmth to your hair. Caramel highlighting looks excellent on dark brown and black hair and instantly brightens the face.
8. Bowl Cut
Are you looking for a simple, easy-to-maintain hairstyle? Get a bowl cut. A simple wash and blow dry will do the job. You can style it from the back to the front so that it falls on your forehead. Tease the back hair a bit for volume.
9. Low Ponytail With Side Swept Bangs
This hairstyle is perfect for a casual day out. All you need to do is tie your hair in a low ponytail, either with an elastic band or a scrunchy. Comb your side bangs and let them frame your face. You can also wear a headband or a bandana to enhance the look.
9. Layered Pixie Cut
Layered pixie cuts could be your trendy go-to option to keep your hair short and textured. This low-maintenance hairstyle is great for busy schedules, but remember that it requires frequent trimming every 1-2 months.
11. Messy Top Knot With Wispy Bangs
Tie up your hair in a top knot and get wispy bangs for a youthful look. This hairstyle suits oval and round face shapes. It highlights the cheekbones, while the eye-grazing front layers frame your face and add a little softness to your style.
12. Waif Haircut
If you have thick and coarse hair, you can easily pull off this minimalist waif haircut. The shorter and choppy sides look edgy, and the volume is concentrated at the top of the head. You can style it in messy curls or just straighten the hair for an edgy look.
13. Front Bangs With Pigtails
If you like to tie up your hair and don't like it loose all the time, try tying it up in pigtails. You can get front bangs to create a better look. It could be blunt, wispy, or side-swept. This hairdo is perfect for casual days out, like picnics or any fun activities.
14. Short Ponytail
If you have neck-length hair and don't always like to let your hair loose. Try parting your hair from the middle or side, and make a ponytail. This sleek hairdo is perfect for busy casual days when you don't have time.
15. Super Short Bob
This helmet bob is one of the oldest bob hairstyles. The heavy front bangs cover the entire forehead, and the hair length is equal around the head. You can keep it till the chin or the neck, depending on your preference.
16. Jaw-Length Bob
Wearing your hair exactly till your jawline is a bit tricky. If you have a diamond-shaped face, your jawline can look even more pointed. But if you have a round face, your cheeks may look more protruded. If you have an angular jawline with high cheekbones, you can pull off this style well.
17. Wavy Shoulder-Length Bob
Having fine hair can make your hair appear thin. If you want your hair to look more voluminous, style it in some waves. This will make your hair appear relaxed and more natural.
18. Slick Bob
This is the hairstyle that is most common among working East Asian women. You don't need to spend a lot of time on your hair. Just comb it down and part it on one side. You can use some lightweight mousse to keep it looking fresh.
19. Curly-Ended Bob
Most Korean women have a well-defined jawline. That is why they can pull off hair lengths that end above their jawline, paired with a middle parting, without needing bangs. Stunning!
20. Wispy Bangs
Wispy bangs are one of the best bang styles to sport. They suit almost all hairstyles and soften your face shape. The best thing about wispy bangs is that you can flaunt them as full center bangs, part them as side bangs, or style them as deep side-swept bangs.
21. Wavy Bob With Outward Ends
A nice way to style wavy hair is with the outward ends. They make your hair follow your face shape and enhance it. The outward ends also make your hair appear thicker.
22. Middle Parting With A Tuck
If you look closely, you will notice that this middle parting is slightly off-center. Slight partings are used to bring symmetry to a face shape or to enhance certain facial features, like the cheekbones.
23. Reddish Brown Lob
Korean women are known to have dark hair. One way to freshen up your regular short haircut is to add in some highlights. You can go for a full contrast or opt for subtle red highlights.


Quick Tip
South Koreans are open at experimenting with new hair colors and trends so using burgundy, auburn, hot hues which are shades of the fall adds pop against yellow undertones which gives a vibrant look.
24. Heavily Wavy Lob
Most Korean women have straight hair. Style your tresses in some heavy waves to change your look. Keep the roots straight for about two inches and do up the rest of your hair in waves. This will make the waves flow more naturally.
25. Zig-Zag Parting
The zig- zag parting is a small but very effective way of adding oodles of style to your regular hairstyle. Whether you have long or short hair, trying a ponytail or an updo, the zig-zag parting will accentuate it brilliantly.
26. Layered Bob
Add some layers to your overgrown bob to freshen up your haircut and make it look stylish. Start the layers from your cheeks down. Opt for more than three layers. This will accentuate your jawline and cheekbones.
27. Sparse Bangs
If you have thick hair, go for some light bangs to create a stylish contrast. The light bangs will draw attention to your face shape and features, flaunting them beautifully. They will also make your hair look thicker and more textured.


Quick Tip
The wispy, see-through, sparse bangs with short hair is one of the super fashionable look that has taken over the world.
28. Top Knot
If you have short hair, the top knot is an easy go-to hairstyle. You might need to use pins to keep all your hair up if you want a neat updo. Otherwise, allow your hair to fall freely to create a messy top knot.
29. Accent Braid
An accent braid is one of the easiest ways to add a feminine touch to any hairstyle. It looks stunning and is super easy to achieve. The best part is that it works for all hair types: straight, wavy, or curly!
30. Neat Pixie Cut
A neat pixie cut is perfect for school, college, or work. It barely requires any maintenance and is extremely easy to style. You can leave it messy or apply some mousse and comb it down to neaten it.
Infographic: Popular Short Korean Hairstyles
Many Korean hairstyles are commonly sported by celebrities. The reasons are obvious – they are timeless and easy to create. If you want to copy your favorite K-pop star, check out the infographic below to know the best styles to try!



Globally, Korean hairstyles are currently the hottest trend. They are renowned for their stylish yet manageable nature. Korean short hairstyles are great to break away from the monotony of having bangs and layers. They are simple and elegant, perfect for those who are constantly on the go and do not have time to maintain long hair properly. A great choice for professionals because of their easy, neat styles. These looks will inspire you to create the next hairdo you desire. You may also personalize them by adding your own touch to them.
Frequently Asked Questions
How do Koreans tie their short hair?
Koreans generally wear their short hair open, but when they want to tie it up, they make half ponytails by gathering some of their hair and clamping it with a hairclip. Alternatively, they opt for a small updo by gathering some of their hair and tying it up as a bun on top of their head.
How can I make my hair naturally Korean?
You can follow a Korean haircare routine and get your favorite Korean hairstyle to make your hair look naturally Korean. Scalp cleansing and hair masks are a big part of the Korean haircare routine. In addition, follow a nutrient-rich diet to improve your hair health.
What are some tips for styling and maintaining a Korean short haircut?
Koreans follow an extensive hair care routine and book weekly salon appointments to maintain their neat tresses. However, there are a few easy tips you can keep in mind as well, like avoid using styling appliances as they may promote frizziness, get a trim every 4 weeks, and avoid constant brushing.
What are some popular hair colors and highlights for Korean short hair?
Dark brown, tea brown, strawberry brown, caramel highlights, pastel colors, and baby highlights are some popular hair colors and highlights for Korean short hair.

Get to know all about the Korean bob hairstyle and its different kinds by their name. Click on the video to figure out the exact look you want.

The following two tabs change content below.