Top 15 Stunning Lip Makeup Ideas That You Should Try Out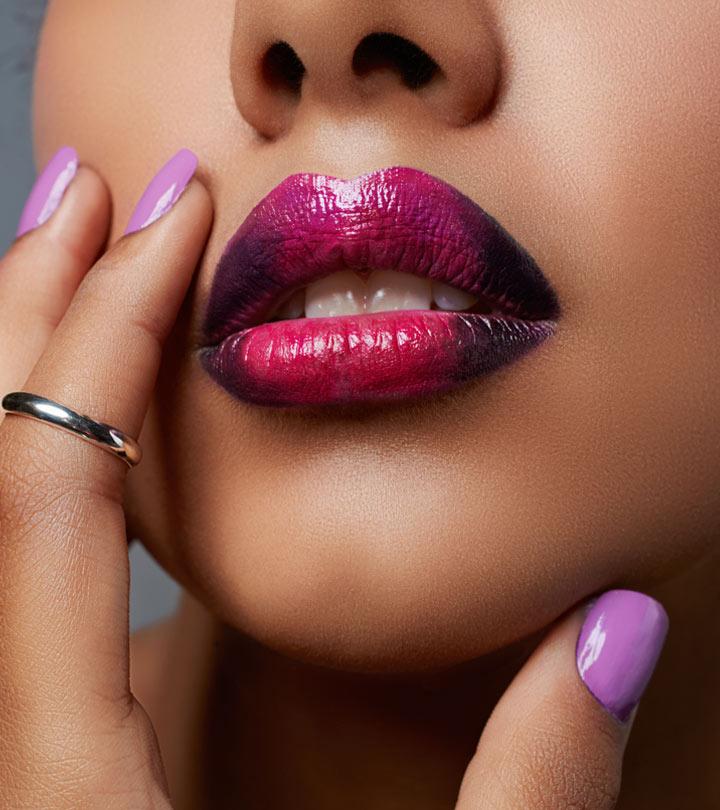 Lips are the one feature on our face that can make us look luscious and sexy. A beautiful sexy pout is enough to make a strong statement. For ages, women have been really fascinated about coloring their lips. Today, painting the lips has become an art! Yes, it is no less than painting on a canvas.
Top 15 Creative Lip Arts:
Today, I have compiled 15 creative lip arts, which I hope will encourage you to try something different!
1. Animal Print Lip Art:
Animal prints are classic, when it comes to fashion. Be it on a dress, accessories or nail art, animal print is loved by all fashion lovers. The inspiration behind this animal print lip art is the majestic cheetah. The use of pink and black combination is giving this design an amazing effect.
2. Pop Art Inspired Lip Art:
Inspired by the comic books and pop art, this lip art offers a strong definition to the lips with a darker outline, which creates a unique anime-like lip effect. The black details at the center of the lips add stunning dimension and depth to the lip makeup.
3. Textured Lip Art:
Look at this lip art, it is truly inspiring! The rich dark black color with the small studs on the lips creates an amazing texture.
4. Glossy Watermelon Inspired Lip Art:
Inspired by watermelon, this lip art is spectacularly done with a high glossy finish. It has a light green tone at the outer corners of the lips with the center filled with a lighter pink color. The seed patterns drawn at the center of the lips clearly show where the inspiration for this design comes from!
5. Ombre Lips Art:
This lip art is currently the hottest trend among runway models and actors. The impact of ombre can be done with subtle to stronger variations. This lip art uses a gorgeous color combination of purple and pink.
6. Micro Granules Lip Art:
This lip art is super gorgeous! The micro granules, used in nail art, are used in a spectacular way for the lips here. The rich purple gives an edgy and intense look to the lip art. It definitely requires power and determination to sport it!
7. Color Mélange Lip Art:
This lip art looks no less than a painting. The only difference is that the canvas here are your lips! The vibrant colors thrown and blended into a mesmerizing look. The colors bleed outside at one corner of the lips to give a true impact of the bright colors.
8. Glittery Lip Art:
All of us love glitter! It adds a dash of glamor to one's makeup. Here, it has been used for the lips. The classic red and gold combination looks pretty and bold.
9. Panda Lip Art:
This is cute, isn't it? In fact, I think this lip art is amazing! You can easily create this by applying a white base all over your lips and finish it with 4 black circles for eyes and ears. It is really simple, but yet can turn anyone into a party animal!
10. Sparkly Textured Lip Art:
The high iridescent blue and turquoise micro sequins are used for creating this lip art. The color looks pretty and vibrant.
11. Colorful Granules Lip Art:
The texture created in this lip art is stunning. The colorful combination lifts the lip makeup to a high level of creativity.
12. Rhinestone Lip Art:
This lip art looks creative. It is designed with rhinestones of different sizes to create a sparkly and luminous effect.
13. Starry Night Lips:
Bring your favorite paintings to life! All you art enthusiasts would love this version of Van Gough's Starry Night.
14. Crackled Turquoise:
This beautiful lip art creates a perfect cracked stone look in turquoise. Try to pair that up with turquoise nails as well!
Top 15 Stunning Lip Makeup Tutorials:
Read on to know about the amazing lip makeup tutorials:
1. Long Lasting Lips:
It is irritating for the lipstick to smear and fade away before an important event or occasion starts! I have faced this problem several times and I am sure you have too! But with this lip makeup trick tutorial you will be able to make lipstick last longer.
2. Ombre Lips:
Check out this lip makeup look! It looks stunning and gorgeous, doesn't it? Ombre lips are the hottest lip makeup trend, seen on the runways today. It looks pretty and can have variations to suit your taste. You can create a bold look or a more subtle look by choosing lighter colors, such as pink to deeper purples! The technique is simple – start by lining your lips with a darker lip color and fill the center of the lips with a lighter color. Then, blend it seamlessly for a gorgeous pout.
3. 3D lips:
We all love to sport sexy, luscious and glamorous lip makeup to counter this shortcoming. But we often fail to achieve it because of our flat, thin and uneven lips. But, this lip makeup tutorial explains how to create that gorgeous 3D lips to fake plumper and fuller lips! The shimmer applied at the center of the lips creates a beautiful illusion of bigger lips.
4. Perfect Red Lips:
The color red on the lips can make anyone go weak at her knees. But, let me tell you, getting the perfect red lipstick look is far from easy! But there is a trick which can help you get the desired look! This lip tutorial clearly defines the lip shape to accentuate red lips beautifully.
5. Fuller Lips:
Do you have thin and flat lips? Light, bright or bold lip colors just don't work with thin lips. This will help in popping out your lips without any need of Botox surgery!
6. Two Toned Lips:
Wearing the same lip color every day can be boring and monotonous. A lip makeup trick like two-toned lips can bring life and sexiness to your lips. Apply a nude or pinkish lip color all over your lips and fill only the center of the lip area with a brighter color. An amazing twist to the boring lip color!
7. Natural Lips:
Is it really possible to wear bright, bold and deeper lip colors for every occasion? No, definitely not! That's why I love sharing this natural lip tutorial. It is perfect for college, office or for any other day when you just want to take a break from bright and bold lip colors.
8. Gradient Lips:
Gradient and ombre lips are almost similar in technique. Gradient lips are subtler and softer in finish. Try this gradient lip makeup to look naturally pretty, soft and feminine! After all, don't we all love to sport sweet and doll-like lips?
9. Matte Lips:
Wish to wear something soft, yet bright? Then, this makeup trick will be perfect for you! You can turn any glossy, frosty or semi creamy lipstick into a nice matte formula by simply layering a matching powder blush over your lipstick. You will have perfectly natural looking matte lips!
10. Vampy Lips:
Wish to transform yourself into a wild party animal? Then, this vampy dark lip tutorial will be perfect. The technique to achieve this look is simple- just create a stronger ombre effect with 3 different bold lip colors.
11. Nude Lips:
Are you a fan of Kim Kardashian? Then you will absolutely love this nude lip makeup tutorial. Most Indian girls have pigmented and uneven lips. The simple technique of layering concealer all over your lips prior to application of lipstick evens out your lips and gives a sexy natural look!
12. Perfect Cupid Bow Lips:
You will love this makeup tutorial if you have uneven and flat lips. Start by marking an X pattern with a lip liner at the highest point of your lips. Then create a perfect cupid bow shape and fill your lips with lipstick.
13. Cartoon Lips:
Is a fantasy or Halloween party coming up? Confused with makeup ideas? Then, try this simple cartoon lip makeup to transform instantly into an anime creature!
14. Glitter Lips
A touch of shimmer adds a lot of spice and sexiness to our makeup, doesn't it? This tutorial looks absolutely stunning and prefect for parties. Layer a transparent lip gloss all over your lips and then apply glitter to create perfect party lips instantly!
15. Glossy Lips:
Nothing can beat up sexiness for your lips like a dose of lip gloss. Apply two coats of shimmery or highly glossy lip gloss formula over your normal lipstick for instantly luscious lips.
That was quite a journey, wasn't it? For the uninitiated, these lip art designs may seem over the top, but they give the wearer a certain character! Try one and you'll surely be the center of attention at the next party you attend!
Did you find these lip art designs interesting? Will you try one? Which is your favorite? Share your views with us in the comments section below.
Recommended Articles:
The following two tabs change content below.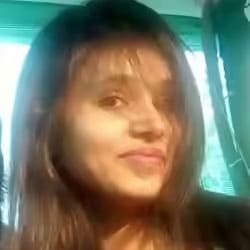 Jyotsana Rao is an engineering graduate from NIT, Nagpur, who discovered her love for writing during her undergraduate days. She is passionate about writing about everything related to beauty - makeup, fashion, hairstyles, skin care, or hair care. When this social media junkie isn't stalking the world of fashion and glamour, she loves spending her time traveling.