10 Stunning Rockabilly Hairstyles For Short Hair
The entire world seems to be roaring, '40s-style! From pompadour, pin up hairdos and side rolls, we've listed ten rockabilly hairdos for short hair that are really putting a modern twist on retro styles. So, if you want to break out of the everyday hairstyle mould, look no further than these A-listers for inspiration!
Read on to find out more about rockabilly hairstyles for short hair!
1. Pompadour:
Adding edginess to her red carpet look, actress Jenny McCarthy opts for a glam pompadour. To recreate this look, divide your hair into two sections and apply a volumizing mousse to instantly add volume. Now backcomb the top section of your hair and secure it with a pin. Pull the rest of your hair back and mist with hairspray to hold the style all night. The flamboyant updo was well-balanced with flawless makeup, smokey eyes, visible cheek colour and glossy lips.
2. Quiff:
Christina Aguilera goes back to the authentic rockabilly age with her fierce, sky-high quiff. The talented singer, a retro queen in herself, balances the quirky look out with show-stealing shimmery eyes, rosy cheeks and red lipstick. Just remember: with the help of a hairspray and curling wand, add a retro sass by flipping your hair inside.
[ Read: Tips To Do Rockabilly Makeup ]
3. Rockabilly Bandana:
If you're looking for something that's effortlessly chic and laid-back at the same time, opt for Rosie the Riveter's hairdo, like the model at the Dirty Boogie Rockabilly Festival in Hong Kong. To achieve this look, mist with a strong-hold hairspray, tie a thin scarf around your updo and voilà. It's glamorous!
4. Side Roll:
This is possibly our favourite look on American singer Mary J. Blige. The short locks perfectly rolled at the side, the subtle smokey eyes and the glossy lip – all marks for an impeccable look that won't fail to get you noticed. We love it!
5. Retro Updo:
We love a classic Blade Runner-esque up'do. Really, who doesn't? For the premiere of We Bought a Zoo, actress Scarlett Johansson did a rewind to the old school in the form of an interesting, twisted up'do, with peachy lipstick and black Dolce & Gabbana dress. Structured, texturized and quirky – this classic retro updo with a modern touch is perfect for the party season.
6. Pin Up Hair:
Dita Von Teese undoubtedly is the Queen of Burlesque, and now, of the vintage style. From her pin up hair with a barrette, to her dress and her pale skin makeup, the talented dancer sure knows how to remind us of the rockabilly era. To recreate this retro hairstyle, curl your short hair with the help of a paddle brush and curling tong. Once done, mist with a strong hairspray and finish off the look with a sequined barrette.
[ Read: Short Hairstyles From The 60's ]
7. Punk Rockabilly:
After rocking the pompadour, Mohawk, and quiff, hair chameleon Rihanna wears her half-shaved hairstyle with so much punk that it suits her alternative and edgy look. Not your everyday hairstyle, this hardcore Mohawk takes a lot of styling, but with bronze make-up and red lips, the quirky hairstyle is totally worth it.
8. Pink Pompadour:
Pink isn't usually our first choice of hair colour when pairing it with an edgy hairstyle, but rockstar Pink stunned us with this cool pompadour. This is one of the most stylish short rockabilly hairstyles that is easy to create, pink demonstrates how there are rooms to glam up a classy pompadour.
9. Edged Out:
Kelly Osbourne's lilac edgy Mohawk at the Alice + Olivia store opening was a daring look, but she pulled it off effortlessly. The highlight of the hairstyle was quirky, rolled Mohawk and a single strand of hair coming out of it.
[ Read: Rockabilly Hairstyles For Long Hair ]
10. Back Roll:
Attention all you fashion lovers, take inspo from singer Gwen Stefani if you are looking to channelize your 50s hairstyle with a modern twist. To recreate the look, begin by teasing your blonde locks up. Next, take a curling wand and back roll your hair for that edgy look. Once done, spritz a good amount of hairspray. Stunning!
So there you have it – ten easy rockabilly hairstyles for short hair! Whether you wear your hair in a back roll or pompadour, we're sure that you will look fabulous with your new 'do. Let us know how you liked this post! Comment in the box below!
Recommended Articles:

The following two tabs change content below.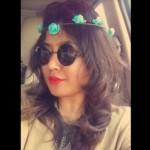 Latest posts by Anisha Pradhan (see all)