50 Stunning Twist Hairstyles For Short Hair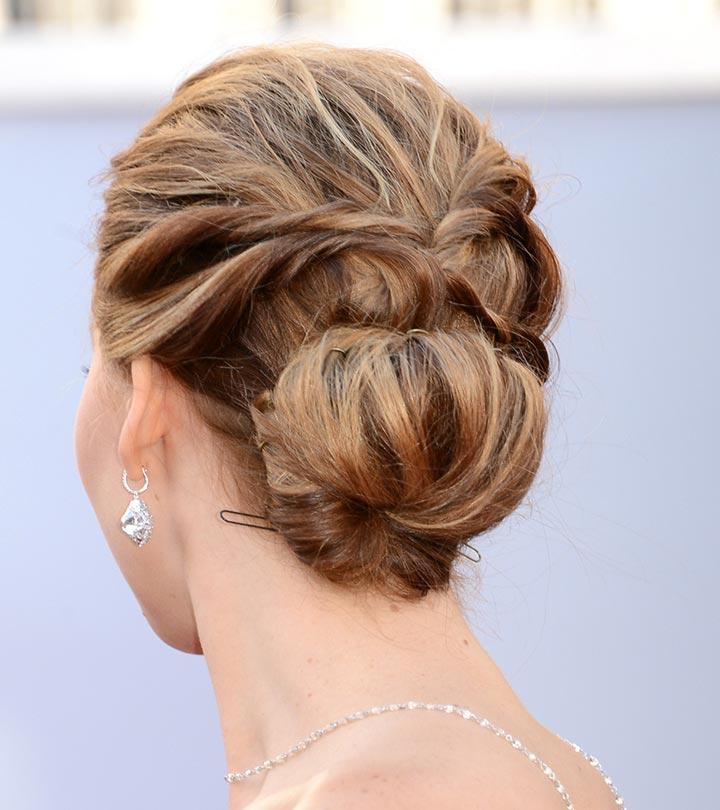 So you think that short hair is absolutely useless for twisting. Come on! Most of the chic and comfy twist hairstyles are known to be suitable for brief hair. Well, don't believe us.
Rather, check out the following 50 stunning twist hairstyles for short hair that we have sorted out for girls like you:
1. Small and Neat Twisted Low Bun:
Gather all your hair at the nape of your neck and twist it to turn into a small low bun. Make it neat and tidy by preventing flyways with the help of a good serum or mousse.
2. Messy Twisted Low Bun with Bang:
Short hair is ideal for flaunting bangs. But do not leave rest of your hair loose. Rather, make a small low bun with it and give it a little messy finish.
3. Relaxed Twisted Bun:
If you have short hair, this simple twisted bun will look amazing at the middle of the back of your head. Also, tease your crown beforehand and let the end of the bun remain free to some extent.
4. Sleek High Twisted Braid:
Who says that braid do not suit short hair? Check out this sleek braided twist for short hair with two bows at two points. Make sure that you position it right at your crown.
5. Stylish Twisted High Bun:
A high bun can look highly graceful on short hair. Pull all your hair up at your crown and twist it up. Then, create a bun with it and bedeck with beautiful accessories.
6. Twisted Topknot with Headband:
Have you ever tried a twisted topknot on your brief hair? If not, then it is time to give it a try. In order to jazz up the entire look, make use of an eye-catching headband.
7. Low Twisted Loop Hair:
This is a fun style to give your short hair a unique look. Twist your hair at the nape of your neck in such a manner that it creates a loop-like structure. Secure the end with bobby pins and you are done!
8. Turned and Twisted Hair:
Play with your hair by adopting this cute twist out on short hair. Twist the hair of the lower section of your head up and secure with bobby pins. Take small sections of hair from the upper head, fold them slightly and then use bobby pins to keep them in place. It's super easy.
9. Twisted Spiral Bun:
Wondering how to twist short hair in a simple way? Then a spiral bun can be a great choice. All you need to do is twist your hair altogether and give it a spiral shape by wrapping one layer around another carefully.
10. Small Bun with Twisted Hair Wrap:
This is quite like a regular bun that we make at the middle of our head. But the specialty of this style lies in the twisted section of hair that is wrapped around the bun. Use a funky hair pin or brooch if you wish.
11. Topknot with Twisted Braid:
Loved that simple topknot with headband we mentioned earlier? You'll definitely love this braided one too. Just create a perfect topknot and wrap it beautifully with a twisted braid. Looking elegant, no?
[ Read: Hair Buns For Short Hair ]
12. Twisted Headband with Bouffant and Bangs:
A subtle bouffant can give your short hair a lot of volume. You can make the style even more appealing by adding a twisted headband and long side-swept bangs to it.
13. Messy Twisted Updo:
If you have very short hair, you may find it difficult to make a bun with it. Don't worry. Just tease the hair at the top of your head and twist rest of the hair to form a nice shape at the back of your head.
14. Low Twisted Donut Bun:
Twists can give your donut bun an edgy appearance. You may try it on your short hair by twisting it up and folding it in the shape of a donut bun near your neck. Simple yet sophisticated. Isn't it?
15. Twisted Pigtail Braided Loop:
Pigtails are always enjoyable to create as well as wear. In this picture, pigtail braids are created by twisting the hair tightly. You'll certainly look younger in this hairdo.
16. Chic High Loop with Twisted Hair Wrap:
How about trying something totally different on your hair? Yes, we are talking about loop hairstyle. The twisted hair surrounding the base of the high loop has given it a new dimension.
17. Low Messy Bun with Twisted Strands:
We have already given you quite a few low bun ideas for your short locks. Here is another one with messy texture and four twisted sections of hair secured into it. Perfect for an elegant look!
18. Low Twisted Bun with Puffy Crown:
It is a textured low bun that goes well with all sorts of outfits. Start with teasing your crown and then, twist as well as fold your hair to create a beautiful bun. Use hairspray generously to avoid flyways.
19. Simple and Elegant French Twist:
Be it sporting an urbane hairstyle or showing off your sexy back, the French twist can serve each and every purpose perfectly. Moreover, it looks the best on short and straight hair.
20. Gorgeous Bouffant with French Twist:
Want to add a zing to your stylish French twist? Just create a bouffant at your crown and you will like look the ultimate fashionista from all aspects.
21. Casual and Easy Twisted Updo:
This is an extremely easy twisted updo that can be created in minutes. Gather all your hair at the nape of your neck and twist it up to the center of the head. Secure it with bobby pins. Pull your bangs to that point and secure them too. It should look like a modified version of the French twist.
22. Twisted Bun with Nice Hair Pins:
Create a regular bun with the twisted hair taken from the lower portion of your head. Twist the hair from two sides separately and secure them into the bun. Decorate with nice hair pins.
23. Messy Textured Twisted Bun:
This is a simple twisted bun that looks amazingly gorgeous! You just need to twist your hair loosely by taking it in small sections and secure them near the neck with the help of bobby pins. Don't miss hairspray to give it that messy yet textured feel.
24. High Bun with Fringes and Twisted Headband:
If you love to experiment with your hair, this chic hairstyle will definitely match your taste. Start with making a high bun and finish by decorating it with a delicately twisted headband. The frontal fringes and a fresh flower will complete your look flawlessly.
25. Messy Angular Twisted Bun:
Let's alter the round shape of a regular bun by choosing this messy angular hairstyle. You will need to apply lots of hairspray to give your hair the right amount of hold and achieve that perfect angular shape.
26. Twisted Side Hairdo with Flowers:
There is no specific rule for creating this ultra-feminine side hairdo. You can simply divide your hair into multiple sections, twist them one by one and secure them at one side of your head with bobby pins. Glam-up with bright yellow roses!
27. Loose Straight Hair with Twisted Updo:
Let your straight, smooth hair rest on your back. Divide the frontal hair into four sections and twist them separately by keeping two on either side. Pull them behind your head and create the shape of a flower. It suits both short as well as medium hair.
28. Low Ponytail with Twisted Sides and Hair Wrap:
'Twists' can also add a twist to your regular ponytail. Twirl the hair from both sides of your head and attach them with the help of an elastic band at the nape of your neck. Now, wrap a thin section of hair around the band. Easy and convenient!
29. Huge Bun with Twisted Braid:
Now this is what we call a truly stunning hairstyle. This huge bun is actually created by twisting two strands of hair just like a braid and folding them together at the crown. Do you really have short hair?
30. Twisted Updo with Puffy Crown:
Divide your hair into two sections i.e. upper and lower section. Twist them up separately and attach to one another by using bobby pins. Oh, did we mention that you need to puff up your crown too?
31. Graceful Twisted Curls:
So you have naturally curly hair with a shoulder-length bob cut? Take your hair in small sections from the front and top portions of your head and twist them up to the crown. Use small hair pins to adorn the twists. Cute, isn't it?
32. Twisted and Textured Curls:
These twisted and textured curls look the best on short, super straight hair. Create a center part and twist the end of your hair intensely. Apply plenty of hairspray to offer great hold.
[ Read: Braided Twister Hairstyle ]
33. Voluminous Twisted Braid with Braided Wrap:
Make a high ponytail and turn it into a loose two-strand braid by twisting two sections of hair together. Wrap its base with a thin braid and tease the pony a bit in order to add that required volume. The result is awesome!
34. French Twist with Puff and Free Twisted End:
This hairstyle is a perfect combination of a puffed crown and a sexy French twist. But wait! There is even more for you. How is that free slightly twisted end lying on the shoulder?
35. Small and Severe Twists with Straight Fringes:
Do I need to tell anything about those small intense coils? Take some time out of your busy schedule and try your hand at this. You will be highly appreciated for your effort. The smooth fringes and the hair brooch can enhance your beauty to a great extent.
36. High Ponytail with Twisted Hair Wrap:
Here is a spicy look that comprises a thick high ponytail and a twisted section of hair wrapped around its base. What else can make you look more glamorous than this one?
37. Vintage Twisted Updo:
Say 'yes' to this retro look this season and look considerably different. Divide your hair into three sections i.e. one upper and two sides. Now, take the hair from any one side and twist it over another. The end should be secured at the middle of the head with bobby pins.
38. Low Twisted Ponytail with Side Bang:
Want to recreate this Jennifer Lopez-look? Make a low ponytail and twist the loose hair as much as you can. The hair at the top of your head must be loose and the side-swept bang should be curled up sufficiently.
39. Side Twists with Loose Hair Streaks and Headband:
If your hair is very much short, consider this funky look for a trial. Take hair from the sides of your head and come up with tiny twists. Well, do not forget that headband and those loose hair streaks. Your hairstyle will be complemented by these.
40. Low and Twisted Side Bun:
This side bun is quite simple to wear. Just gather all your hair on your neck at one side of your head and twist it into a bun. Quite a sober look for short hair.
41. Amazing Messy Updo with Twisted Strands:
In this striking short hair twist out, you have to twist your hair moderately by starting from the nape of your neck up to your crown. Then, twist thin sections of hair from two sides and secure them into that updo after intense twisting.
42. Twisted and Folded Hairdo:
Start with twisting the end of your hair along with its two sides. Now, fold the end a little bit up and secure with bobby pins. The sides should also be secured in the same manner. You are ready with an eye-catching hairstyle.
43. Messy Side French Twist:
As the name suggests, this is a French twist with a side position and a messy finish. You just need to start twisting your hair from the middle of the back of any of your ears and go across the head up.
44. Low and Twisted Flower Bun:
Flower updos are extremely popular around the world and this one is sure to win your heart easily. It needs you to twist your hair and coil it in the form of a flower at the base of your neck. Use bobby pins to keep any loose strands in place.
45. Upside Down Half Braid with Twisted Bun:
Create an upside down braid first. But as you reach the halfway, switch to twisting from braiding and turn the hair into a high twisted bun. The look is quite classy and edgy at the same time.
46. Small Low Bun with Highly Twisted Hair Wraps:
If time doesn't matter for you, then this is one of the best twist hairstyles for short hair to go with. Make a very small bun at the base of your neck and wrap it with highly coiled sections of hair. There may be 2 to 3 wraps depending upon the length of your hair.
[ Read: French Twist in Easy Steps ]
47. Cute Twisted Hairstyle:
Short bob cut hair is ideal for sporting this style. Make small coils all over your head by twisting the hair at several points. Secure each of them with bobby pins and decorate with attractive hair accessories.
48. Twisted Low Bun with Braided Wrap:
It is a simple twisted bun surrounded by thin side braids. This is most suitable for short and medium hair and can be chosen for all sorts of events.
49. Classy Twisted Hair:
In order to achieve this classy look, you have to texturize your hair first. Then, start twisting your hair inward right from its end and go upto the base of the neck. Secure the twist with bobby pins.
50. Unique Twisted Side Hairdo:
This is a time-consuming side hairdo that needs to be created by twisting the hair taken from both sides in small sections. But once you achieve the look, it is going to be worth the effort.
Which of these exclusive hairstyles do you want to try on your short hair? Do you know any other short twist hairstyles? Let us know by leaving a comment below.
Video On How To Do Twist Hairstyles
Recommended Articles:
The following two tabs change content below.

Latest posts by Deepika Goenka (see all)