52 Amazing And Easy Hairstyles For Frizzy Hair
Just because you have frizzy locks does not mean you can't look chic and stylish.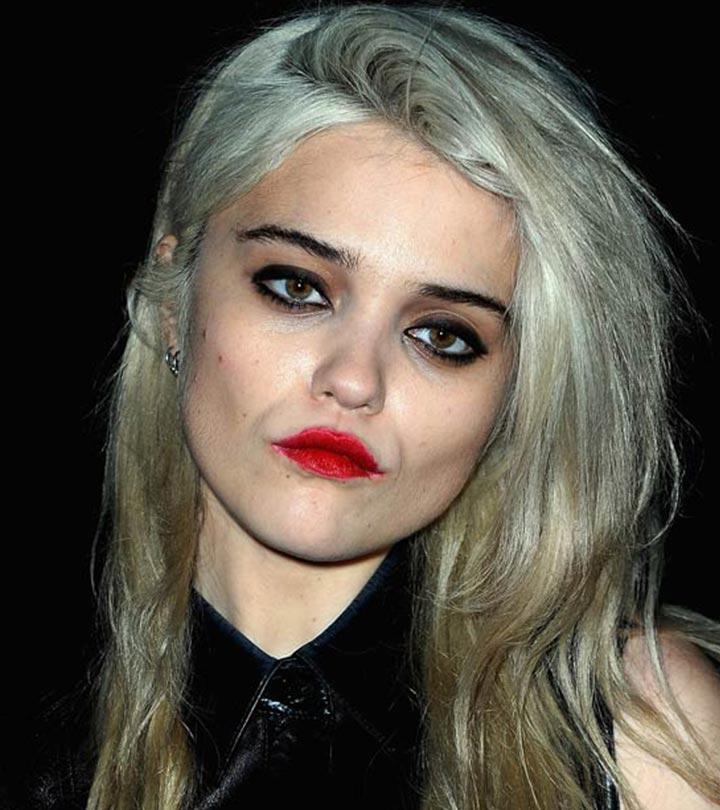 When your hair has a natural frizz, it is always hard to tame it neatly. So, it helps to experiment with hairstyles for frizzy hair to glamorize your locks. But, it does not have to be troublesome all the time as the right hair care products and styling tools can easily work their magic.
Jessica Shults, a licensed hair stylist, says, "One of my frizz secrets is that we either touch our hair too much, or not enough. If you have naturally curly hair, the best thing to do is let it air dry completely before touching those curls. If you are trying to smooth out the curls, you have to dry it completely. If it's not bone dry, that frizz will surely take over! If you are in a time crunch and frizz won the battle that day, just spritz it with a shine spray, and style your curls with an iron or crimper and rock it!"
So, scroll down to choose one from this ultimate list of trendy hairstyles.

Before You Get Started
Use shampoos with moisturizing ingredients like glycerin, which is an excellent humectant, to lessen frizz.
Apply a deep conditioning mask at least once a week to help hydrate your hair and shield your locks from split ends and heat damage, the two main contributors of hair frizz.
Make sure to use a diffuser when blow-drying your hair to spread the heat evenly on your scalp and reduce the amount of direct heat and forceful air that hits your strands.
Avoid using hairspray as even the lightweight ones generally contain drying alcohols that build up and cause damage to the hair cuticle. Those with curly and coily hair can opt for protective hairstyles like bantu knots or braids.
You can also lessen friction by using a silk pillowcase instead of a cotton pillowcase, as hair cuticles can move freely on the silk pillowcase without generating too much friction.
52 Best Ideas To Style Frizzy Hair
Frizzy hair requires a lot of maintenance and care. Overstyling your tresses with heating tools, too much or too less humidity, coloring treatments, and chemical processes like perms can lead to frizz. Just go through this article and you will get some of the most excellent hairstyles for frizzy hair. Check them out:
1. Combed-Out Frizz:
Nobody can carry off frizzy hair better than our own Carrie Bradshaw! Both on-screen and off-screen, Sarah Jessica Parker never fails to embrace her naturally frizzy hair.
2. Messy Bed Head Frizz:
This simple hairstyle showcases how divine frizzy hair can look when styled right. Some hair serum or a moose that adds shine and gloss can give you the most amazing "just-woke-up" look.
3. Layered Blonde Waves with Dark Roots:
Get your shoulder-length golden blonde bob shaggy and layered. Part it in the middle to expose the dark roots and create rippling waves all over it. Your frizzy hair is looking superb now!
4. Short Voluminous Hair Stacked at Side:
Create volume on your short frizzy hair, part it to one side and stack it to the other side. It should give your locks a considerable height. Now, put on a nice feathery headband to keep the stack at its place.


Quick Tip
Gather your hair into a high ponytail and secure it with a scrunchie. Cover those curls with a silk scarf or sleeping cap to prevent frizz.
5. Very Short Highlighted Curls with Side Part:
Manage your very short, cheek-length frizzy curls with this easy to wear as well as effortless to maintain style. Just part your dark brown hair to one side and add light brown strips to it.
6. Middle-Parted Straight Layers with Wispy Ends:
No matter whether your straight hair is manageable or not, you can always get it layered and let it flow down your shoulders after parting it in the middle. Keep the layers wispy to create an illusion of having smooth locks.
7. Funky Layered Copper Bob with Tight Curls:
Here's how to style frizzy curly hair. If you have tight curly hair, frizzes will certainly be your worst enemy. But with this bright copper-red bob with super tight and frequently layered curls, you will totally fall in love with them.
8. Long Middle-Parted Hair with Intense Volume:
If your long brown hair remains frizzy all the time, this may turn out to be the most gorgeous style for you. Part it in the centre, create rippling waves and add intense volume. That is all you need to do.
9. Random Choppy Bob with Waves and Fringes:
Here is a true punk look to bring out the rockstar in you. The choppy bob with random layers, the subtle peach shade with light pink highlights, the messy wavy locks and the uneven front fringes are the biggest features of the style.
10. High Stacked Asymmetric Curls with Shaved Side:
Give your tight kinky frizzy coils an ultra-modern touch by adding volume to them and stacking them as high as possible. If you never mind going bold, get one side of your head shaved neatly or at least partially.
11. High Layered Curly Ponytail with Accessory:
Your curly layered hair can be styled up in a voluptuous ponytail. Pull the frizzy coily locks back at the crown and place the pony at the top. A nice band will make it look quite edgy.
12. Frizzy Double Pony with Hairline Braids:
Wondering how to nail this super cool look? Part your frizzy blonde locks in the middle, make two messy high ponytails at both sides of your crown, make two thin braids along your hairline and finally, secure them into the ponytails.
13. Huge Layered Bob with Tight Fine Curls:
A shoulder-length bob can be a great choice for women with curly as well as frizzy hair. Give it a beautiful round shape with intense bushy effect.
14. Loose Wavy Blonde Layers with Side Part:
Keep your blonde beachy locks loose even when they are damn frizzy. Create an off-center part and let the layered hair with ash brown highlights swing over both of your shoulders freely.
15. Bushy Short Bob with Bandana:
Here is another cool example of styling frizzy hair in which the Afro-textured short bob is volumized for a true unkempt look. Wear a monochromatic bandana to add to the amazing style.
16. Asymmetric Curls with Deep Blue Highlights:
This bohemian Afro-textured curly bob can help you look awesome without ditching your frizzes. An asymmetric shape, a deep side part and dramatic blue highlights will jazz up the style.
17. Rolled Back Light Auburn Wavy Layers:
Your medium-length layered bob with light auburn waves can give you a ravishing look irrespective of its frizzy texture. Just roll it back and add volume to it to create a fluffy, airy style.
18. Super High Curly Beehive with Bandana:
You might have seen polished beehive buns of many types, but this exclusive 'frizzy' one will leave you totally spellbound. Create extensive volume on the curls and add a bandana to it in such a manner that a certain section of the hair falls over the forehead.
19. Very Short Hair with Messy Frizzy Curls:
This is a very short bob, which features almost shaved sides with comparatively longer top and front hair with dark brown spiral curls. Keep those frizzes intact in order to give the style a nice messy flair.
20. Messy Asymmetric Wavy Hair with Highlights:
Asymmetry is the latest trend and your medium-length frizzy hair can also be styled in this way. Part the soft black waves with light brown highlights to one side and allow them to flow down your shoulders.
21. Neat Ballet Bun on Light Brown Frizzy Hair:
Say 'goodbye' to that frizzy untidy look by choosing this simple and smart hairstyle. Smoothen up your light brown Afro locks, pull it back tightly to the crown for an updo and make a beautiful ballet bun.
22. Highly Voluminous Copper Bob with Flat Top:
How about sporting this mysterious hairstyle on the next Halloween? All you need to do is part your shoulder-length copper bob in the middle, blowout the frizzy hair upwards from the bottom and cover the top section of the head to get a flat look.
23. Messy Asymmetric Bob with Dramatic Waves:
Here is another asymmetric bob featuring dark brown wavy hair. Skip the part and spritz the hairspray to keep the frizzy waves as they are. You will definitely look cute and adorable.


Quick Tip
Before styling your frizzy hair, apply a heat protectant that helps protect your hair from heat damage.
24. Huge Coily Bob with Thick Braided Headband:
Create small tight ringlets on your jet black bob by using a small barrel curling iron and keep the frizzes intact to give it a gigantic effect. Now, bring the braided hair along the hairline and secure it as a headband.
25. Short Blonde Bob with Fine Frizzy Curls:
This jaw-length bob hairstyle can make you look like a doll. Try to comb your fine frizzy curls by parting to one side and set the hair with hairspray. There should not be a perfect part and a couple of coils must fall over your forehead.
26. Layered Wavy Bob with Flower Headband:
Here is a frizzy hairstyle that you can flaunt even on your prom night party. Side-part your light brown layered bob with random waves, add light texture to the front layered sweeps and adorn it with a pretty flower headband.
27. Messy Casual Topknot with Headband:
No time to detangle your frizzy locks? You don't even need too. Pull them all together at the top and turn into a casual topknot. Wear a simple headband and leave some hair strands loose around your face. You are ready to go.
28. Side Tousled Braid with Highlighted Waves:
If you have dark brown wavy hair with light brown highlights and you often find it tough to get rid of its frizzes, this is the perfect solution for you. Just gather the waves on one of your shoulders and make a tousled braid of it.
29. Sexy Loose Waves with Fresh Flower:
Look as fresh as dew despite of the frizzy texture of your wavy brown locks. Just keep the layers open and let them cascade your shoulders. A fresh flower and the messy finish will give you the desired perfection.
30. Long Straight Layers with True Red Strips:
This is apparently a sleek and straight layered hairstyle with fiery red strips. But have a close look at it and you will find how the frizzy texture of the straightened hair is put out of sight with mild curls. Absolutely edgy!
31. Dark-Rooted Blonde Waves Rolled to One Side:
It is one of the most stylish hairdos for frizzy blonde layered hair with dark roots. Roll the top hair to one side instead of making it smoother and make a low ponytail with rest of the locks. The messy waves swinging over the forehead will give your style a new dimension.
32. Messy Braided Rose Bun with Small Pouf:
Create a small pouf at the front and turn rest of the waves into a thin tight braid by keeping the entire head frizzy and messy. Now, fold the braid in a spiral shape and secure it with bobby pins in order to make a perfect rose bun.
33. Messy and Relaxed Low Bun with Extra Volume:
Frizzy wavy locks can yield wonderful fluffy buns. Here, the unmanageable wavy tresses are rolled up at the front and turned into a low bun at the nape o the neck for a simple, classy hairdo.
34. Side-Parted Cobalt Blue Bob with Frizzes:
A cobalt blue bob can give you an eye-catching look, no matter whether your hair is silky smooth or utmost frizzy. Just part it to one side and lock the style by spritzing enough hairspray.
35. Fluffy Angular Frizzy Bob with Twisted Front:
Give your shoulder-length bob with super-frizzy hair a massive fluffy structure and an angular shape just by blowing it upwards starting from the bottom.Then, take a thick section of hair from the front, twist out and secure it at the side.
36. Flowy Wavy Hair with Side Part and Highlights:
Add volume to the roots of your frizzy wavy locks by applying mousse generously. Now, make an off-centre part and let the waves flow down your back. Apply hairspray to keep the style organized.
37. Fluffy Layered Bob with Small Spiral Curls:
Create intense spiral curls on your ash brown layered bob with golden blonde highlights. Don't try to get rid of your frizzes as they will give your hair a fluffy, voluptuous effect.
38. Half-n-Half Blonde Hair with Light Copper Tint:
Those who keep experimenting with their hairstyles would love to give this half-n-half 'do a shot. Add texture to the golden blonde wavy top, secure it at both sides and give extra volume to the lower section by blowing the copper tinted frizzy hair intensely.
39. Messy Wavy Bob with Random Fringes:
A soft black frizzy bob with light auburn blonde highlights can make you look chic and trendy. Adding random wavy front fringes to it will frame your face even more nicely.
40. Middle-Parted Ringlets with Layers and Frizzes:
Create soft tight ringlets on your medium-length layered locks and part it in the middle. The frizzes will help you get a nice volume and give your style a whole new definition.
41. Uneven Bob with Frizzy Bottom and Swept Waves:
This is an uneven choppy bob on golden blonde hair. Part it to one side and give the top section a smooth textured wavy finish, while the lower half should be blown up and made frizzy.
42. Long Wavy Ombre Locks with Messy Finish:
How to style long frizzy hair that often turns unmanageable? Give it an ombre effect, part it untidily in the middle and let the layers move freely. Here is the super stylish you!
43. Layered Waves with Puffy Crown and Side Sweep:
Tease up your crown as well as the back hair to give it a frizzy volumized effect. The layers in the upper half should be combed casually. The front waves should be swept to one side and secured at the side partially.
44. Large Frizzy Curly Bob with Fine Fringes:
Turn your frizzy unruly hair into a pretty bob by creating soft large curls on it and making it smooth with serum. Fine rounded front fringes will help you hide your wide forehead and give you an adorable look.
45. Gigantic Mohawk on Frizzy Blonde Hair:
Opt for this gigantic Mohawk and enjoy how people love your new funky hairstyle. Tease up your platinum blonde frizzy hair extensively and create an excellent feathery effect.
46. Wavy Silver Bob with Fringes and High Volume:
This jaw-length silver bob includes a slight off-centre part, messy wavy locks and thick wavy front fringes. The frizzes will give the hairstyle a true punk flair.
47. Frizzy Coily Ombre Waves Rolled to One Side:
Create a deep side part and roll your coily ombre wavy lob to one side. Make sure that your hair is frizzy enough in order to give it a voluptuous finish and rocking look.
48. Long Frizzy Dramatic Waves with Short Fringes:
Add extensive volume to your long wavy hair and gather it to one side for an awesome look. Adding short front fringes to it will balance off the style properly.
49. Spiky Volumized Hair with Dense Layers:
Your layered frizzy hair can be teased up and made spiky for an exclusive rockstar look. Apart from the remarkable volume, you can also add beautiful shine to your jet black tresses by applying wax.
50. Layered Hair with Frizzy Ends Rolled To One Side:
In this hairstyle, the wavy layered locks are given a reverse ombre effect and rolled back to one side after creating a slant side part. The frizzy ends have made the hairstyle look quite trendy.
51. Rolled Up Copper-Red Waves with Extra Volume:
Add extra volume to your bright copper-red waves and roll them up to create a distinct hairstyle. The frizzier your hair is, the better your look will be. That easy!
52. Highlighted Blonde Waves Rolled Back to One Side:
Tease all your platinum blonde waves intensely to create considerable volume and a frizzy look. Now, roll them to one side and let them rest on your shoulder. Deep and cobalt blue highlights, smooth even fringes and long side bangs will make this half-up half-down hairstyle more attention-grabbing.
Infographic: 7 Trendy Hairstyles For Frizzy Hair
Natural frizz is not so easy to tame. It needs a lot of maintenance and care to look polished and smooth. But it's time to embrace your frizzy hair and create a masterpiece out of it. Check out the infographic below for some chic hairstyles you can sport on frizzy hair.


Frizz can be tough to tame at times. And using heating tools to smoothen out your frizzy hair means more damage and frizz in the long run. Instead, try out the hairstyles for frizzy hair mentioned above to add more style and definition to your tresses. Curling your hair, adding wispy ends, and keeping your hair short are just a few simple tips to using frizz to your advantage. Parting your hair a certain way and picking the right hairstyle are other ways to keep your frizzy locks looking beautiful and voluminous.
Frequently Asked Questions
Do layers make hair frizzy?
No. Frizziness is caused by dry hair that lacks moisture, not by hairstyle. Layers are a good cut to camouflage frizz. A layered hair is trimmed well and does not lay flat uniformly, this minimizes frizz, and any possible frizz does not stand out. Remember not to overdo the layers, though.
How can I make my hair frizz-free and shiny?
Keeping your hair moisturized will ensure your hair is frizz-free and shiny. You can use oils, serums, conditioners, and hair masks to moisturize your hair. However, try only one or two products at a time to avoid weighing down your hair and preventing product buildup.
Will cutting hair reduce frizz?
Yes, cutting or trimming your hair can help reduce frizz.

Learn 5 easy and heatless hairstyles for frizzy curly hair in this video. Get ready to look fabulous with these simple and stylish looks.
The following two tabs change content below.