6 Different Hair Styling Combs For Styling Your Locks
Style your beautiful tresses the way you want and walk with confidence and ease.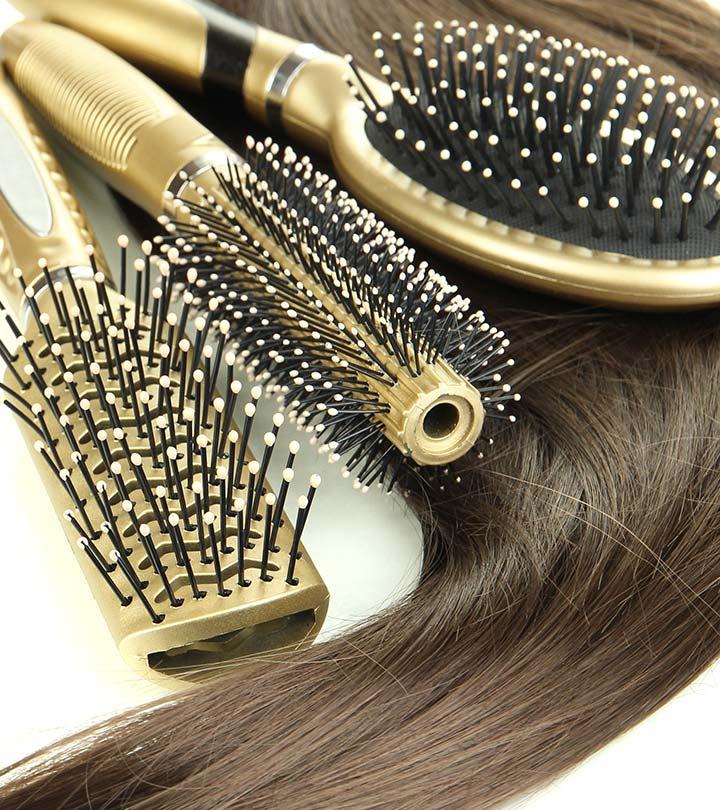 Hairstyling is an art!
We all know how a perfect hairstyle adds so much character to our style. And we often forget it is not just about the hairstyle but also the hairstyling tools. Yes, knowing how to do a trendy hairstyle and having the perfect hair is not enough. You should also have the best tools to get it done.
So, how do you know which comb to choose for that pretty hairdo you want to try? How to buy a good hairstyling comb? Fret not; we have you covered. This article will help you choose the right hair styling combs for your hair. You no longer have to visit hair salons and spend a small fortune on a nice hairdo. So, if you are ready to ace the art of hairstyling, scroll down to know more about it. Keep reading!
Before You Get Started
Do not use your styling combs for detangling. That way, you can avoid extra strain on your hair.
Wide-toothed wooden combs are the best for curly hair. They are sustainable, will eliminate  static, and won't snag the hair.
For extremely coily hair, ditch styling that requires combs. Embrace the wash-and-go style.
6 Different Hair Styling Combs
1. Wide Tooth Combs
I am sure you have one of these. Universally used for removing unwanted tangles from the hair, as well as styling out smooth styles. They can be used on straight, curly or even frizzy hair.
Quick Tip
Since a wide-tooth comb causes lesser friction, it is more gentle on the hair and prevents breakage.
2. Rat Tail Combs
You might have this one too. And if not, you sure must have seen these at your local styling salons. These hair styling combs look like a regular comb. The only difference – the handle is really long and with a pointed end. These are best suited for styling and parting hair. The tail portion is also used for parting when creating soft curls in the front section of your hair.
3. Pick Comb
These combs actually turned into accessories a long time back. The pick comb is used for drawing all the hair towards the center. If you lock your hair with the comb, it makes your hair more bouncy and unique. The comb is pretty small and helps in parting as well.
Quick Tip
This is a great tool for styling and combing type 3 or 4 curls. The longer, wider-set teeth help groom curly, thick, and textured hair.
4. Styling Brushes With Metal Bristles
These styling brushes are pretty useful for creating different hairdos. They help in setting the hair by smoothing and curling. Hairstylists across the world use these combs to style classy and trendy hairstyles.
5. Fine And Wide Tooth Comb (Regular Comb)
This is a two-in-one comb. It is used for braiding and for pony tails. It comes in handy for everyday styling and combing of the hair. Most women generally prefer fine and wide toothed comb because of its versatility.
6. Teasing Combs
If you want to rock a teased hairdo, invest in this one. As the name suggests, teasing comb is used in teasing hair at the root for added volume or up-do hairstyles. This is the best comb for creating volume in hair that becomes flat at the root.
Go grab these combs and start sporting your favorite hairstyle. Your loved ones will only be left asking about how you achieved the sexy look.
Quick tips for using hair styling combs
Once you get these combs:
Learn the technique of using each comb specifically. You can check out the videos and tutorials for styling hair using different combs.
Use the correct comb for the correct style. For example, use French twist combs for creating a twisted style on the back of your head. Side combs for pulling hair away from the face and so on.
Different hair lengths, cuts and textures require different combs. Know what works best for your hair and invest accordingly.
Hair texture plays an important role in helping the comb hold its place properly.Spray your hair with hairspray for added hold. You can also use dry shampoo for the same.
Infographic: All About Different Comb Materials
Just like different comb shapes and designs impact their utility for various hair styles, so does the material used to create a comb. The infographic below discusses five commonly used materials to produce combs and their benefits and shortcomings. Keep scrolling to know more!


You can style your hair effortlessly with the right comb. We understand that with the many types of combs and brushes available, it can be tough to pick the right one. But, now, you know what to look for! Remember, it is not only about picking the right comb but also the technique you use to style your hair. You can't use a round brush the same way you use a wide-toothed comb. Also, keep in mind that different brushes and combs work better with different hair types and textures. A fine-toothed comb might work incredibly on fine hair, but it won't do well with thick, curly hair. So, scroll back up and check which comb is perfect for styling your beautiful locs!
Frequently Asked Questions
Is a wide tooth comb better for your hair?
Yes, a wide tooth comb is better for hair that tangles easily and is prone to breakage.
What is a banana comb?
A banana comb or clip is a hair accessory that is designed to comb up hair together and secure it in a flowy ponytail at the back of the head.
What kind of comb should I use for natural hair?
Wide toothed combs are most appropriate for natural hair as the wide spaces between the teeth allow hair to be combed without breakage.
Which type of comb is best for hair fall?
Bristle brushes made with natural fibers are gentle on the hair and scalp and hence, suitable for thinning hair.