20 Beautiful Styling Ideas For Blue Ombre Hair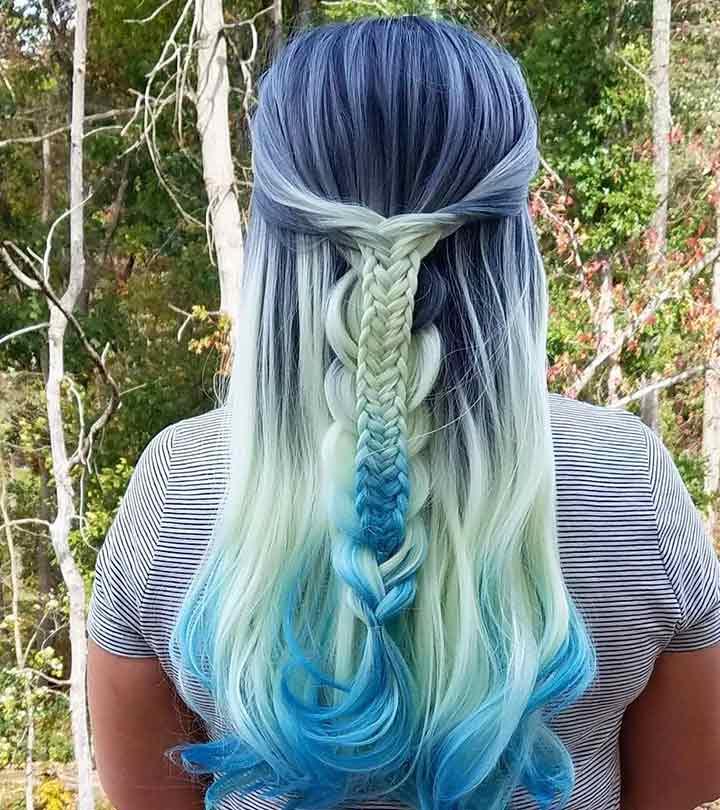 It's the color of the ocean, it's the color of the sky. And now, it can be the color of your hair! Blue is a magical shade that can transform you from an ordinary human being to an extraordinary mythical goddess. Blue ombre hair looks especially stunning and ensures that you become the center of attention in every room you walk into. And with the sudden advent of crazy colored hair all over the world, you don't even need to worry about looking too out of place with your blue ombre hair!
But, before we get into how many awesome ways you can style your blue ombre, let's first look at how you can actually do it yourself. A word of advice here though – we always suggest getting your hair colored by a professional hairdresser as it requires a ton of skill to get it right. 
How To Do Blue Ombre In Your Hair At Home
What You Need
Old towel/t-shirt
Paddle brush
Sectioning clips
Hair bleaching kit
Blue hair color
Bowls
Rubber gloves
Hair coloring brush
What To Do
Wear an old t-shirt or drape an old towel around your shoulders to prevent your clothes from getting stained, and put on your gloves.
Brush out all the knots and tangles from your hair thoroughly.
Mix your bleach in a glass bowl, according to the instructions given on the box.
Leaving out the hair at the nape of your neck, section away all the hair at the top of your head.
Start applying bleach to this loose section from the ends and pulling it up the length of your hair with your fingers. Make sure you put more bleach at the very ends and stop right below your jawline.
Keep taking out more hair from the hair sectioned on top and apply bleach to it in the same manner until you've got it on all of your hair.
Remove bleach from a small section of hair every 15 minutes to check if it has lightened to your desired shade. Don't leave it on for more than 40 minutes. If you have super dark hair, you will have to bleach it once more a week later to lighten it to your desired shade. But, if you decide to use Olaplex or any other bond-building treatment, you can go for a second round of bleaching immediately.
Wash, shampoo and blowdry your hair.
Mix your blue hair color in a bowl following the instructions given on the box.
Section off your hair in any manner you find convenient.
Apply the color on all the bleached sections of your hair and pull it up a little above the fade line created by your bleach. Leave it on for the duration of time indicated on the box.
Wash off the blue hair color till the water runs clear before shampooing and conditioning it with color safe products.
Well, now that you've successfully done a blue on your hair, let's look at the many gorgeous ways that you can customize it!
20 Breathtaking Ways To Style Your Blue Ombre Hair
1. Ice Diva
Now, this is what you call a triple attack (in the best way possible, of course)! Starting off with an electric indigo and fading out into an electric and then an icy blue, this three toned blue ombre is what dreams are made of. Just style it in some beachy waves to truly look like a mermaid.
2. Anime Blue
A great way to showcase your blue ombre in all its glory is by sporting it on a short bob haircut. The periwinkle blue of this ombre style looks understated yet chic and is reminiscent of the gorgeous characters you see in Japanese anime. All it needs are some loose curls to complete its vibe.
3. Denim Blues
The denim hair trend is making some serious waves right now, and it's not hard to see why. From a dark smoky grey at the roots, this denim ombre look transitions into a rich aqua blue hue to create a hair color look that is pure magic. A few loose low curls do the trick when styling this color look.
4. Ink Blue Magic
There's no shade that exudes royalty quite like a luxurious ink blue. This bright blue hue looks breathtaking when done up in an ombre style because of how brightly it stands out against a jet black base. A short bob haircut is all it takes to raise this look to new heights of glory.
5. Aqua Mermaid
Mermaids have long served as the inspiration for a variety of hair color looks. And this blue ombre style proves just why. It makes gorgeous use of the colors of the ocean – electric blue and aqua blue – to create an awe-inspiring hair look. And, obviously, the best way to style this look would be in ~waves~ (get it?).
6. Sand And Sea
The sun, the sand, and the sea are all you need to have the best summer of your life. But, there's one thing that can make it even better – the perfect hair look. With a sandy brown on top and an aquamarine blue at the ends, this beach inspired ombre style is oh-so-gorgeous.
7. Special Snowflake
If a Disney inspired hair look is what you're going for, then a Disney inspired hair look is what you'll get with this Queen Elsa themed ombre style. Not only is this bright icy blue ombre super easy to do on platinum blonde hair, but it also works like a charm in complementing it perfectly.
8. Indigo Charm
A good way to keep things understated and elegant with a blue ombre on your black hair is to go for a shade that does not scream for attention. A deep indigo hue looks brilliant on the bottom half of dark tresses and makes the perfect style statement when styled in low curls.
9. Blue Blooded
Some ombre looks are so perfectly done that they look like they naturally grew out that way. This blue ombre style is one of them. With a deep sky blue on top that gradually fades to a soft turquoise shade, this color job looks like it's straight out of someone's wild imagination.
10. Cinderella's Fantasy
Want to feel like Cinderella after her magical transformation courtesy of her fairy godmother? Then, this bright blue ombre has your name written all over it! The bright aqua and electric blue hues of this ombre come to life on honey blonde tresses and create magic when styled in loose waves.
[ Read: 30 Honey Blonde Hair Color Ideas ]
11. Ultramarine Whirlpool
Now, this is a color look that is a study on how to create a ton of dimension in your hair. This balayage ombre done in navy blue and turquoise shades is enhanced by the subtle auburn tint provided at the roots. Curl your hair up to give it a trippy whirlpool effect.
12. Blue Galaxy
You're living under a rock if you haven't seen dozens of pictures of galaxy hair looks by now. And it looks like it's here to stay! To get on with this hair trend, you can go for a rich ombre in gorgeous midnight blue and deep violet shades. If this color job doesn't make you look like a galaxy princess, I don't know what will.
13. Midnight Slumber
It could be hard to pick out a whacky color job if you work in a super professional environment. So, you can go for dark colors that only look like a slight tint indoors but burst to life when you step out in sunlight. A navy blue ombre will help you achieve just that.
14. Electric Extraterrestrial
Get a dose of Parisian chic charm by pairing your blue ombre color job with some blunt cut bangs. And to add oodles of depth to your hair, ombre it with a popping electric blue shade. What's left? Just straighten out your hair, and you're good to go!
15. Peacock Beauty
If you've seen a peacock dance with all its feathers unfurled, then you know what a unique kind of beauty it is to behold. This blue ombre look draws inspiration from it and makes use of bright electric blue and violet blended together at the bottom half of naturally blonde hair.
16. Punk Rock Princess
The punk rock movement of the early 2000s gave rise to a number of funky hair color looks that look awesome even today. For instance, a vibrant cobalt blue ombre done on a platinum blonde straight cut bob looks badass while still maintaining its feminine vibe.
17. Frosted Skylight
If you live in a place that experiences snowfall, you know the beauty of windows frosted over during winters. This beautiful phenomenon serves as the inspiration for this ombre look done in a marvelous hale blue shade with dramatic gray undertones. The cool toned style has been completed by styling it in edgy waves.
[ Read: 10 Latest Winter Hairstyles That You Can Flaunt ]
18. Twilight Dream
Now, this is a color job that serves as the best example for a simple monotone ombre look. The natural black base of her hair has been given a cool toned gray tint that complements the deep blue it fades into perfectly. Be prepared to look ultra glamorous when you step out with this hair look.
19. Acid Wash Jeans
There's no denying that distressed jeans are all the rage in the world of fashion right now. So it's no surprise that denim hues have made their way into the hair color world as well. This blue ombre look inspired by acid wash jeans makes use of navy blue and sky blue shades, with a bit of grey blended in right at the ends.
[ Read: How To Make Ripped/Distressed Jeans- DIY ]
20. Ocean Nymph
The word 'gorgeous' takes a whole new meaning with this blue ombre look. The bright sky blue at the roots fades off into a minty pastel shade at the ends to create a look that is befitting a dweller of the ocean. The two toned dimension of this style works brilliantly to make your hair look longer.
And, that's all folks! Our rundown of the trendiest ways to style your blue ombre hair! Comment below to let us know which style stole your heart!
Recommended Articles
The following two tabs change content below.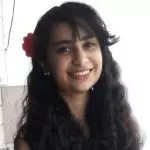 Latest posts by Arshiya Syeda (see all)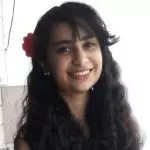 Arshiya Syeda
Arshiya Syeda is an editor and certified counselor. Ever the lover of the written word, she served on the editorial boards of her school and college newsletters. Writing articles on hairstyles, hair care, and nutrition helped her combine her love for reading, writing, and research. As an editor, she helps her team members deliver polished and meticulously researched content. Arshiya is fluent in English, Urdu, and Hindi and aims to become a multilinguist by learning German and teaching herself American Sign Language (ASL).