Top 101 Stylish And Smart Hairstyles You Must Flaunt This Summer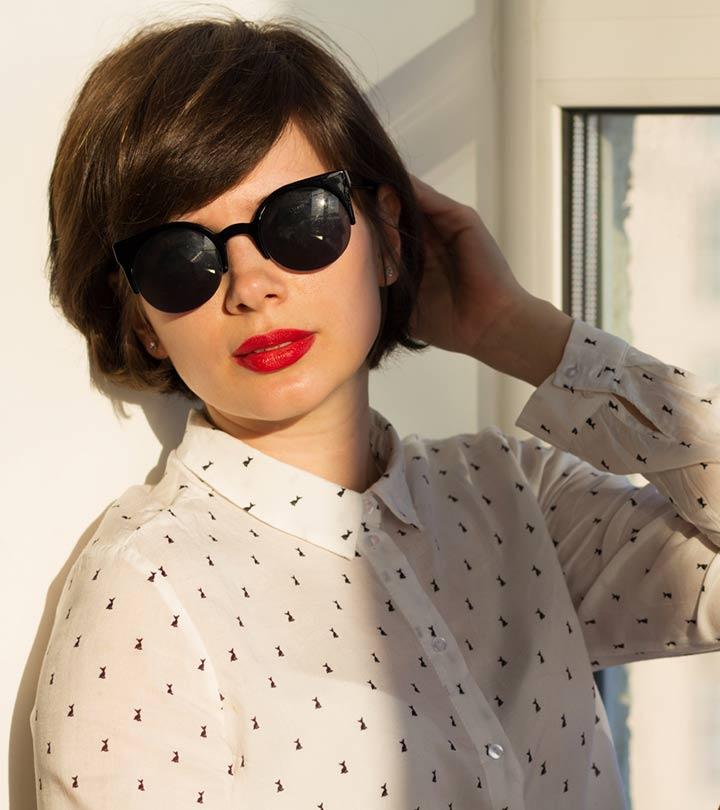 Are you ready to rock your summer fashion with some edgy hairstyles? Want to explore the hottest hair trends of this summer that can make you become the center of attraction at every event? Great!
Let us update you with the most up-to-the-minute summer hair trends and look extremely gorgeous. Read on below for more
1. The Vogue Bob:
Whether you are a blond or a brunette, this vogue look will definitely make you the focal point at any event. The straight fringes and the rounded ends give the chin-length bob a super-stylish finish.
2. Curly Hair Bob:
Love your voluptuous curls but don't know how to wear a chic bob style on it? Get some inspiration here. This curly hair bob is perfect for heart-shaped faces and the sparkling amber shade gives it a whole new dimension.
3. Simple Asymmetric Bob:
Sporting a beautiful hairstyle is not limited to a certain age. Take a look at this trendy asymmetric bob and you will be all impressed. Wear this 'hi-lo' style with confidence and age gracefully.
4. Wavy Hair Bob:
Many women have beautiful wavy tresses. They are often torn between wanting to keep the tresses long and cutting them short for not being manageable. This hairstyle is the best of both worlds. The golden blond and the natural flowy waves will work as a perfect combination for you.
5. Curly Bob With Bang:
Guess what? We have just given the curly hair bob an up-lift. Check out that side-swept, beautifully layered bang embracing the forehead. Isn't it complementing the luscious curls the right way?
6. Slicked-Back Medium Bob:
Be it a formal event or a casual party, a slicked-back bob is the best way to look neatly beautiful as well as ultra-modish. Use lots of hairspray to keep your hair in place. Make sure that your outfit, accessories and makeup are aligned with this look.
7. Textured Inverted Bob:
If you are someone who loves to go trendy, why not opt for this jet black, textured inverted bob? Well, don't forget all the small details, such as straight fringes, razor-sharp ends and of course, those funky red streaks!
8. Amazing Puffy Bob:
Do you have a long, narrow face? Then this is one of the stylish bob hairstyles that you can try. A puffy bob will be the right choice of hairstyle to add zing to your summer fashion. The tresses should be of shoulder length, adding layers to the fringes makes your face look wider.
9. Sleek-n-Straight Bob:
So you have straight, fine tresses and you are simply bored of your layered hairstyle. Well, give your hair a chic makeover with this sleek bob. Simple, cute and fashionable are the specialties of this style. What say?
10. Rounded Bob:
Give your hair a perfect retro look with this short, rounded bob. The bang should fall at the edges of your eyebrows, while the bob should not go past the cheekbones. It suits women with round face and blond hair the best.
11. Dual-Toned Bob:
Describing this unique hairstyle is a task. ? This dual-toned bob is actually trendy and sophisticated at the same time. If you are ready to experiment with your textured bob this summer, play with black and dark beige blond.
12. Messy Bob:
Oh, yes! 'Messy' can also look elegant, if you can carry it with style and confidence. See how American actress Melanie Griffith has sported her messy bob in this image? Isn't she beautiful!
13. Fashionable Bob:
Confidence is the key to wear this fashionable bob perfectly. Be it that slicked-side part or the intense auburn streaks, if you are not satisfied with your own look and style, you will fail to carry it in the proper manner.
14. Short Blunt Bob:
Who says that summer bob haircuts do not look smart? Check out this short bob with blunt fringes and edges and you will realize that you have been wrong all these years. You can even experiment with your hair color, while flaunting this style.
15. Boyish Bob:
Those who are looking for a boyish cut can consider this graceful bob. It is basically a layered hairstyle in which the front sections are rolled up for a textured look and the rest of the hair is maintained up to the nape.
16. Textured Retro Bob:
Get your long-desired retro look with this exclusive stylish bob haircut. The entire hair is turned into a huge textured wave, while the color and shine are adding to its elegance.
17. Gorgeous Blond Bob:
Blond beauties can step into the footsteps of the popular singer Pixie Lott and look utterly gorgeous. The sight of a woman hair that resembles a teased crown, and falls in flowy layers with coffee-brown lowlights! Amazing!
18. Simply Stylish Bob:
You can keep it all simple by choosing this regular bob. But it does not mean that you have to compromise with your style quotient. Simplicity is the biggest feature of this hairstyle and hence, you will look subtly beautiful.
19. Relaxed Bob:
A relaxed bob is an ideal choice for all casual events. It is one of the most recent trends that you should definitely not give a miss. Pair it with any of your favorite casual outfits and you are all set to be the 'show-stopper'.
20. Classic Bob:
Relive the old charm with this classic bob and look like a true diva. If you love to go the retro way, this hairstyle would surely stir you. Add a twist to the stunning black color and small intense curls by picking some traditional hair accessories.
21. Sexy Bob:
A bob not only makes us look chic. It can make us look sexy too. This Ashley Greene picture is enough to prove it! This hairstyle is best suited for girls with heart or oval shaped faces and thick hair. Create those sexy curls and dark golden brown highlights to achieve the look in full.
22. Mushroom Bob:
A mushroom cut is one of the most stylish bob haircuts that always fascinated avid hairstyle lovers. Now, try it on your bob too. The length of the hair should be up to the middle of your ears, while the front section should reach your upper eyelids. Bold lips and this hairstyle go hand in hand.
23. Razor-Sharp Layered Bob:
Here is another cool bob hairstyle that would help you create your own style statement. Get a layered bob cut and make the ends of your hair razor-sharp. You've just discovered a super-stylish you, no!
24. Asymmetric Step Bob:
As said earlier, asymmetric bob is one of the most eye-catching hairstyles that no bob-lover can ignore to try. In this picture, Victoria Beckham has jazzed up the look even more by opting for steps at the back of the head. Are you ready to go?
25. Medium-Length Layered Bob:
While wearing a bob style on a medium-length hair, always go for a layered cut. It will enhance your strong facial features. Also, do not forget to get a nice, sleek bang on your forehead.
26. Segmented Bob:
A segmented bob is basically an enhanced version of the textured bob. You need to 'texturize' your hair in a fashion that it looks precisely segmented. Make sure that the frontal segment rests on the middle of any of your ears to give yourself a feminine look.
27. 'Corporate' Bob:
When it comes to a hairstyle that suits business women well, nothing can be better than this distinct 'corporate' bob. Stick to the jet black shade just like the American actress Lana Parrilla and enjoy all the attention.
28. Side-Parted Straight Bob:
If you have medium-length straight hair, go for a bob cut and wear this side-parted style for a decent look. The end of your hair should rest on your neck and you can curl them up to some extent for added beauty.
29. Center-Parted Bob:
A bob with a center-part can help you appear extremely classy. In case you are a blond with neck-long hair, opt for peach highlights to boost your look. Get inspiration from this picture of the popular musician Laure Shang.
30. Vibrant Orange Bob:
How about wearing a vibrant orange bob hairstyle and that too with some rich chocolate brown lowlights? Do try this for an uber chic look. You will look sexy for sure.
31. Slicked-Back Short Bob:
You've already seen how a slicked-back bob hairstyle can be put on a medium-length hair. Now, here is how to wear the same style for short tresses. Tease the top of your head to get the required volume and use sufficient hairspray.
32. Super Straight Bob With Fringes:
A super straight bob is great for round or oval faces as it can balance the roundness by creating an illusion of longer facial structure. The fringes cover the entire forehead beautifully. Hence, a wide forehead can also be hidden from the view this way.
33. Voluminous Bob:
Now here is a hairstyle that not everyone can pull off. As the name suggests, this style is all about volume and you must have neck-long hair to recreate the look in a perfect manner.
34. Reddish Brown Bob:
Go for this reddish brown bob and amp up your look this summer. It is nothing but a regular bob cut with a rounded fringe at the front. But the stunningly gorgeous shade is certainly going to make you stand apart from others.
35. Asymmetric Curly Bob:
Do you think that curls and asymmetry can never go with hand in hand? Just look at the image and you will know why this is nothing but a mere misconception. So, get ready to style your natural curls with an asymmetric bob this summer.
36. Polished Bob:
Got fine hair? Style it up in a polished bob. Yes, a simple rounded bob hair can turn you into a glamorous diva, if you go sleek and shiny. This is another example of contouring hairstyle that goes very much well with round and oval faces.
37. Half-n-Half Bob:
From blond to brunette, everyone can give this half-n-half bob a try as it offers an ultra-feminine look always. Being a combination of chin-length bob and slicked-back frontal bang, it comes with great versatility and complements the features of long and oval faces flawlessly.
38. Bright Copper Bob:
If you want to go trendy with your bob, choose the brightest shade of copper. Also, carry it off the right way by picking your accessories and outfit carefully. In this picture, the layered bob is looking strikingly beautiful.
39. Bright Blue Bob:
After copper, it is time for some bright blue hue. This is a dazzling shade of blue on a medium-length bob hair sported by the famous singer Katy Perry. Absolutely eye-catching!
40. Wet-n-Wild Bob:
This bob gives the illusion of wet hair as their ends remain messed up in it. For a wild look, try not to switch to any other color from the jet black. Bright eyes and bold lips match this hairstyle very well.
41. Sweet and Short Bob:
If you have a round or heart-shaped face, give this hairstyle a try. It comprises short layers with sharp ends, which embrace the face altogether nicely.
42. Long Stylish Bob:
This long bob is a pretty good option for those scorching summer days. It is a double-layered hairstyle in which the first layer stops at the chin and the second layer goes 2 to 3 inches beyond the neck.
43. Medium-Length Wavy Bob:
You've already seen how waves can create magic for short bob hairstyles. Well, it is true for medium-length hair too. If you have a long or oval face and medium to thick hair texture, you can sport this hairstyle effortlessly.
44. Highlighted Ultra-Short Bob:
This is an ultra-short bob that does not go past the mid-ears. It is a good choice for round as well as oval-faced beauties. The curled up ends and the coffee brown highlights give the bob an edgy finish.
45. Feathered Bob:
Imagine you get a feather-like feel each time you touch your hair. With this exclusive feathered bob, it can actually turn into a reality. It is mostly a choppy bob that comes with great shine and wonderful bounce. Simply wow!
46. Princess Diana Bob:
Who does not know about the charming beauty of Princess Diana? Her beautiful light golden blond hair is still a matter of talk throughout the world. Lots of layers and intense volume were here signature style.
47. Funky Colorful Bob:
Love to play with colors? This multi-hued bob style will suit your taste for sure. Go lively with the rich pink shade and accessorize your hair with some funky hair pieces. It's fun!
48. Top Knot Bun:
A sleek hairstyle which makes you look neat and tidy, topknots are one of our favorite, simple-to-create hairdos.
49. Messy Bun:
If you want to add a little oomph to your boring bun, try adding a little volume and keep it messy. The best part about this casual and sexy hairstyle is that it can be worn anywhere – literally. Be it to parties, girls' night out or even to the gym! This bun needn't be tidy and that's the beauty of the look.
50. Side Bun:
Opt for this fun bun hairstyle that is equally glamorous. Take out some loose strands to get a messier and stylish look. This summer hair bun is perfect for evening parties.
51. Headband Bun:
We can't get enough of this teased up with a headband bun. To duplicate the look big, messy look, begin with teasing your hair until you have a bouffant. Then, brush hair all the way back and gather into a messy bun secure it with bobby pins. Pull strands of hair from the bun for that perfect hairstyle for fancy events. Now adorn a fancy headband for that extra impact and romantic look. Voila! You are done with your hair for the evening.
52. Short, Wavy And Textured Low Ponytail:
A short low ponytail is always a great choice for summer. Deep side-part your hair, add a little volume and texture to the top and make a low ponytail with slightly curved ends right at the nape of the neck.
53. Asymmetric Curly Bob With Clipped Side Sweep:
Look effortlessly trendy during those scorching days of summer with this short asymmetric bob with curly, textured edges. Keep the side sweep away from your face by using a small nice hair clip.
54. Soft Textured Curls With Long Side Bang:
Do not let the heat take a toll on your glam quotient. Turn your long locks into soft lustrous curls with a long side sweep swinging over the cheekbone and apply lots of hairspray to keep them in place.
55. High Twisted Bun With Loose Strands:
A flat twisted bun positioned at the crown not only gives a neat tidy look, but also offers enough comfort. Smoothen the top hair, create the high bun by twisting the hair up and leave a few strands loose to cuddle your face.
56. Long Waves with Twisted Sides:
Create a center part and let your long wavy hair flow down your shoulders in a relaxed manner. Now, twist up the front hair from both sides and secure them together at the back. It is an easy way to prevent hair from falling over your face.
57. Sleek Smooth Layers With Outward Feathers:
Hair feathered in an outward direction is very much beneficial for avoiding sweat and staying fashionably stylish throughout the summer. So, get your long layered hair feathered outward and give it a smooth polished finish.
58. Textured Waves With Purple Highlights:
This is a short retro hairstyle in which the side-parted waves are texturized intensively in order to avoid mess and flyaways. The deep purple highlights have made the jet black locks quite eye-catching.
59. Cinnamon Red Layered Bob With Wispy Points:
If you want to ditch your long hair in summer, go for this short and casual layered bob with wispy points. The gorgeous cinnamon red shade is just perfect for raising the mercury in the simplest way.
60. Loose Messy Waves With Hat:
A hat not only provides sun protection to our hair, but it also plays a key role in styling it up. So, keep your messy waves loose and give your oomph factor a boost by picking a nice hat.
61. Fringed and Layered Bob With Razored Ends:
This medium-length bob with straight front fringes is just great for a smart summer look. The ends of the layers are razored as well as slightly rounded in order to add zing to the hairstyle.
62. Very Short Highlighted Bob with Layered Fringes:
Many women like to keep their locks very short during those hot summer days and this boyish bob can be the ideal style for them. Subtle highlights and layered side–swept bang are two specialties of this hairstyle.
63. Fringed Side Braid With Thick Side Bang And Hat:
This is a unique hairstyle in which the dark reddish brown wavy hair is divided into two segments. One of them is turned into a loose side braid, while the other is curled up intensely to get a thick side bang. Spice up your look with random fringes and a nice hat. This choice can be one of the best summer hair color trends if you want to stand out in a crowd.
64. Volumized Topknot With Head Chain:
Nothing can be better than this neat and precise topknot with slightly volumized back for styling the hair on sweaty summer days. The head chain has served the purpose in quite a fashionable way. Isn't it?
65. Casual High Bun with Short Side Bang:
Here is a casual high bun with a large round shape and a subtle messy finish. It is a very nice choice for a cool summer hair trend and you can add more cuteness to it just by getting short curly bangs over your forehead.
66. Smooth Angular Loop Hairdo With Brooch:
A textured loop can be your savior on those long, sweaty days of summer. Texturize your hair and create an angular loop that sits a little low on your head. A classy hair brooch will make you look even more elegant.
67. Short Curly Ponytail On Layered Hair With Bang:
If you have short layered hair, adopt this hairstyle for this summer without thinking twice. Pull all your hair back together and come up with a semi-high curly ponytail. A sexy side bang embracing your facial structure will enhance your beauty significantly.
68. Soft Airy Waves With Side Sweep:
This soft airy waves of Taylor Swift is enough to turn the scorching summer days into cool and breezy ones. Do not forget to tease up the crown as a little height to it will balance off the look flawlessly.
69. Short Tucked In Bob With Layers:
If you want to avoid sweat, go for this exclusive bob. In this hairstyle, the end of each and every layer is tidily tucked in and textured so that you do not need to worry about removing your hair from your face again and again.
70. Ballet Bun With Pouf And Graduated Fringes:
Just like the topknot, a ballet bun is also considered as a viable option for a cool and casual summer look. However, volumizing the crown before making the bun and adding thick graduated front fringes will add a touch of sweetness to your appearance instantly.
71. Huge Twisted Flowery Updo At The Top:
Summer hairstyle doesn't at all mean compromising with glamor. Achieve this magnificent look by smoothening your hair and twisting it up into a huge flowery updo right at the top of the head. Apply hairspray to keep the style intact throughout the day.
72. Simple Curly Side Hairdo With Puffy Top:
Now, here is an absolutely simple hairdo in which the top hair is brushed back and volumized to create a puff and rest of the hair is gathered over one shoulder for a beautiful romantic look. Well, make sure that you curl up the ends of the locks to some extent.
73. Brushed Back Top With Straight Layered Bottom:
Check out this sophisticated short hairstyle that can easily turn out to be your summer style statement. All you need to do is brush back the top of your layered hair and straighten up the bottom nicely. You are done.
74. Short Side Braided Waves With Wispy Points:
This is a shoulder-length bob with layered waves, which can give you a pretty girl-next-door look. Here, the hairstyle is upgraded with a thick side braid secured at the back of the head and wispy ends of locks.
75. Bright Red Bandana On True Red Wavy Bob:
Bandana has become a rage these days. So why not make it your signature style for those exhausting summer days? Take a look at the red embellished bandana on the true red waves in this picture and get ready to ape the look.
76. Coily And Voluminous Layered Bob:
Gone are the days when a bob hair was considered boring. You can curl up your layered bob very much in order to create soft luscious ringlets and make your hair look considerably voluminous. Perfect for making the hot summer days even hotter!
77. Long Smooth Layered Locks With Fringes:
Keeping long layered hair loose is an ageless fashion and the best thing about it is that you can opt for it almost any time of the year irrespective of the weather. Short front fringes and silky smooth finish can give it an added glam.
78. Beehive Hairdo With Uniform Fringes:
The secret to this 'oh-so-gorgeous' look is a smooth flawless beehive updo. Also, add uniform fringes in order to complement the height at your crown. You are ready with a chic and classy summer party look.
79. Reverse Layered Bob With Side Sweep:
If you have short fine hair, this would be your ideal hairstyle for those scorching summer months. It is basically a shoulder-length bob, which is characterized by reverse layers, side part, wispy points and a long side sweep.
80. Sexy Half Hairdo With Puff And Layered Side Bangs:
Here is an amazing half hairdo for any type of summer events. Add volume to your crown and turn the upper section of hair into a flat bun, while the lower portion should be left loose. A thick layered side bang will give this hairstyle an ultra-feminine touch.
81. Messy Bouffant With Side Sweep And Bow Headband:
No matter whether it is sweaty summer or windy winter, a bouffant can always make you look awesome. Here, it has been given a messy flair for a casual appearance. The side sweep and the pretty bow headband have jazzed up the look significantly.
82. Face-Contouring Bob With Rounded Ends:
A short bob embracing the edges of the face and contouring it perfectly can be a good choice of hair trends for summer. However, make sure that you give it a sleek polished finish by applying lots of serum or mousse.
83. Beautiful Beachy Waves:
When it comes to the hottest hairstyles of summer, we simply can't afford to miss sexy beachy waves. Can we? Create a center part and let your messy and relaxed beachy waves cascade your shoulders gracefully. Here you go!
84. Half-n-Half Fishtail Braided Pony:
As the name suggests, it is a half-n-half hairstyle which combines a fishtail braid with a straight sleek ponytail. The upper portion of the hair is pulled at the back to create a precise fishtail braid up to the nape of the neck, where it has been secured with an elastic band and turned into a low smooth pony.
85. Loose Twisted Side Braid With Side Bang:
Make every single day of this summer highly fashionable just by wearing this simple and easy hairstyle. Gather all your hair at one side of your head and twist it up into a loose side braid. A long messy side bang will enhance the look to a large extent.
86. Amber Red Pinned Hair With Side Sweep:
This amber red shade itself is enough to warm up the messy waves in summer. If you wish to recreate this specific look, simply create a side part, volumize the top a bit and pin a certain section of hair at the back.
87. Upside Down French Braided Hairdo:
This is a modified version of the regular French braid, which is quite chic and classy. Braid up your hair upside down in the French style and hide the ends into the volumized crown by securing tactfully with bobby pins. A perfect summer updo – we must say.
88. Side Braided Semi-High Ponytail With Braided Wrap:
Wear this exclusive hairstyle this summer and look like a true fashionista from every single aspect. Leave the front hair and come up with a semi-high ponytail with rest of them. Now, braid up the front hair diagonally and wrap the base of the ponytail with it.
89. Long High And Smooth Braid With Hair Wrap:
Those who have super long hair can try out this braided hairstyle this summer and get appreciated. Just create a ponytail at your crown and turn it into a regular long braid. Finally, wrap its base with a thin section of hair.
90. Super Long Braided Pigtails With Puff At Top:
Here is another easy and comfy long hairstyle for a sweet and cute summer look. Create a pouf at the top, twist the hair at both sides and at last, braid up the long pigtails with utmost precision. Voila!
91. Sleek High Ponytail With Pouf:
A high ponytail has always been considered as a big hit for a sultry summer hairdo. Here, the sleek long pony is amped up with a moderately volumized top. Quite edgy, no!
92. Simple Half Updo With Twisted And Folded Hair:
This is a simple half updo, which can make your summer fashion spicier easily. Start with brushing as well as leaving the middle section of your straight locks loose. Now, twist up the front sections separately and fold them into a flat flower-like bun at the back.
93. Luscious Layered Curls with Braided Headband:
There is really no need of fussy hairdos or funky hair accessories, when you have such long voluptuous curls. Adorn your hair with a braided headband and look like the perfect summer princess.
94. Pinned Back Hair With Highly Volumized Top:
Adding volume to the top can change your look completely and that is what you need to follow in this hairstyle. Tease your top-front hair a lot in order to give it incredible volume. Then, pin it at the back and let rest of your smooth straight hair relax.
95. Loose Waves With Angular Loop At Top-Front:
Forget fringes, bangs or irritating flyaways. This innovative hairstyle featuring loose flowy waves and textured top-front hair shaped up in an angular loop will let you enjoy the summer without any mess.
96. Puffy Slicked Back Platinum Blond Hair:
Give your long platinum blond hair a new dimension with this excellent summer style. Tease the top section of your head first and then, slick it back properly. Also, do not forget to apply mousse through the length of your hair.
97. Unique Twisted Updo With Polished Finish:
Make your hair look sleek by applying a good serum and twist it up in a number of ways in order to come up with a unique updo right at your crown area. You are all set with your edgy summer look.
98. High Braided Bun With Texture:
Start with adding texture to your hair by applying hairspray generously. Now, create a huge round bun as high as possible and surround its base section with a thin tight braid. We just love this classic hairstyle.
99. Beachy Ombre Waves With Side Braid:
Ombre hair is all in vogue these days. So, go ombre this summer and give yourself a stylish makeover. You can even add a simple side braid to make your beachy ombre waves look spectacular.
100. Low Twisted Side Bun With Side Braid:
If you have short hair, a low side bun can also be a good choice for you for the hot summer days. Create a half wraparound by making a pretty side braid and turn it into a twisted side bun at the nape of your neck.
101. Smart Pixie With Intense Curls And Texture:
Last but not the least; here is a distinctive pixie haircut for you to rock the summer fashion. Curl up the short frequent layers intensely and add texture to them for a smart, cool and casual look.
Which one of these summer hair trends did you like the most? Why do you think that the hairstyle will go well with your personality? Do share your views with us.
Recommended Articles:
The following two tabs change content below.

Latest posts by StyleCraze (see all)