10 Stylish Hair Scarf Hairstyles To Inspire You
On those lazy mornings when our hair is dirty or when we cannot hit the snooze button, and in the meantime we'd take forever to get dressed and go out, scarves are like that magic our locks can ever dream of. Agree? We know you do.
From a simple head wrap look, long straight hair tied with a bandana or a rockabilly hairstyle, we have compiled the list of top ten hair scarf hairstyles that you can absolutely rock everywhere.
All you seekers of hair tips and tricks – read on!
Stylish Hair Scarf Styles
1. Wavy Hair Tied With A Scarf
We love how this model at the C'est Tout / Ce' Nou show elegantly wrapped her scarf. The blonde beauty channeled her glossy, wavy hair with a flawless complexion and orange metallic lips, which basically added a cool-girl vibe to her simple look.
2. Head Wrap Scarf
Fast becoming one of the best dressed in the fashion world, Miroslava Duma is showing no signs of slowing down either with her beauty or hairstyle look. Attending the Stella McCartney Fall/Winter 2013 Ready-to-Wear show in New Paris, the fashion consultant demonstrated how the head wrap scarf could be one of the best ways to show off your gorgeous face.
[ Read: Easy And Quick Banana Clip Hairstyles You Must Try ]
3. Long Straight Hair With A Bandana
Dear Pia Mia Perez, you should leave your long, straight hair loose and tie it with a colorful bandana more often! Rocking the look at the premiere of Summit Entertainment's 'Divergent', the singer opted for the layered straight hair version and looked absolutely stunning.
4. Pigtails Bandana
Singer Gloria Estefan worked a cute hairstyle in the form of this twisted pigtails creation when attending the NBA Finals in Miami. To recreate the look, the singer divided her hair into two sections and kept twisting it till the end of the hair and secured it with a hair tie. Once done, she tied her hair with a bandana. Sporty, fun and simple – what else does a woman want?
[ Read: Interesting Hair Accessories To Try ]
5. Cornrow Braids With A Bandana
The model's cornrow braids hybrid with slick, tight bun is actually an easy-peasy hairstyle to recreate for a high-impact look. Suprised? Well, don't be. Just braid your crown hair and tie the rest of the hair at the back – plain simple! Walking the ramp for Bibhu Mohapatra, the model shows how to pair braided bandana with a fresh, dewy make-up and oxblood lips – divine.
6. High Bun With A Scarf
The key to copying this model's look is by wrapping your hair to a perfect high bun and framing the face with a huge scarf. If you want to make sure this hairdo isn't too loud or harsh, then loosen your bun like this model at the Lena Hoschek show.
7. Curly Hair Tied With A Bandana
Is this the most simple and stunning curly hairstyle of all time? We think so too. The model's curly locks look so gorgeous that you just want to touch it. Add a bandana to it and you get a perfect second-day hairstyle – we are set for the day!
8. Braided Updo With A Bandana
Time to dig out those flat iron, hair ties and hair spray, ladies: because our very own intricate braids are back in vogue. Just add a scarf or a fancy headband to glam up the braids.
[ Read: Cornrow Hairstyles You Can Try Today ]
9. Tie In A Pony
We spotted tightly wrapped ponytail across last season's catwalks, but got inspired by Eva Habermann and her pony tied in a scarf. For this staple look, take one short and pretty ponytail, add one gorgeous scarf (wrap it with the scarf) and you have one simple and seriously striking up-do.
10. Rockabilly Hairstyle
If you're looking for something retro but seriously feminine and laidback at the same time, opt for this rockabilly hairdo. It's a stunning look that is easy-to-create, and at the same time it won't fail to get you noticed in the crowd. To achieve this look, tie a thin scarf around your hair; you can even create an up-do and tie the scarf. Retro but on-trend – yippee!
And there you have it – the creatively amazing and cute hair scarf styles for natural hair! With plenty of looks to choose from, we're sure you've found your inspiration to try out a new scarf hairstyle. If you have any suggestions, feel free to write to us by commenting in the box below.
Recommended Articles

The following two tabs change content below.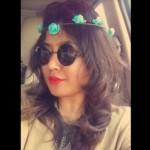 Latest posts by Anisha Pradhan (see all)