30 Beautiful Short Brown Hairstyles
Brunettes have always been associated with long hair.
But, times are changing! Many celebs have been cutting their brown hair short, and I am on board with this trend. Brown is a versatile shade to sport. You can have it light and playful or dark and intense. Check out these stunning short brown hairstyles that will leave you desiring one for yourself.
30 Beautiful Brown Hairstyles
1. Brown Pixie With Blonde Highlights
Edge and style come together to bring you this stunning pixie cut. The layers and bangs are cut pointed to accentuate the face shape. This effect is intensified by pointing the layers outwards. I would suggest this pixie to anyone with wide cheeks or a harsh jawline.
2. Dirty Blonde Highlights With A Deep Brown Bob
Oval faces, while being long and wide, are very symmetrical. This is especially true for women with fine hair. Opt for light blonde highlights at the tips, while keeping your roots dark. This will add depth to your locks.
3. Flicked Out Ends
Flicked out ends can help frame your face and add dimension to your locks. They go especially well with deep brown hair. The flicked out ends will make your face appear longer and slimmer.
4. Red Carpet Bob
If your short hair is growing out, trim it into a slick bob. Then, add some strawberry highlights and let it shine. The best thing about having hair that is growing out is being able to add layers to your cuts. Don't forget to pin up those long side-swept bangs!
5. Modern Bowl Cut
Remember back in the day when everyone would get a cool new haircut at the beginning of the school year, but your mom would cut your hair, and it would look like she put a bowl over your head and cut the excess hair? Well, that look has become cool now, thanks to Ruby Rose!
6. Moussed Hair
Need to jazz up your regular pixie or bob cut? Go the Hollywood way with some mousse. Apply some mousse to your hair and comb it back. The mousse will keep your locks in place for a long time.
7. Braided Blue Highlights
The curly bob is a versatile hairstyle. It looks very cute as well! Instead of opting for the classic curly bob with bangs look, why not try braiding the front? It will add a stylish touch to your look. Pair it with a chic blazer and some red lipstick, and you're good to go!
8. Slick Side Parting
Apply some gel to your hair and part it on one side. This hairstyle will flaunt the thickness of your locks while adding some style to an overgrown pixie. Besides, the "wet" hair look is all the rage right now.
9. Glamorous Mohawk
You know it had to be on this list! The mohawk is one of the best modern punk looks you'll ever find. Use gel or mousse to create the mohawk. If you want a messier look, use your fingers to tousle your locks.
10. Side Lifted Hair
Sometimes, a comb can be a girl's best friend. If your pixie had feathered layers, and it is now growing out, you can lift it to add some style. Spritz on some hairspray all over your locks to keep them in place.
11. Messy Pixie
See how stunning Ruby Rose looks with this cut? Simply allow your pixie to grow out. Then, part it on one side and mess up your hair just a smidge.
12. Faux Side Cut
I love this pixie, sidecut and all. But if you look closely, you can see that Kristen hasn't really shaved off her hair on the sides. It is simply gelled down with a thin comb. You too can mimic this look on your next night out. It will definitely make some heads turn!
13. Pinned Pixie
As much as we say that fashion today is edgier, uber stylish cuts, like the wedge, were around way back in the '20s. Did you know that this bobby-pinned look was fashionable way back then as well?
14. Messy Lob
Messy hair is everything these days. Just play around with your lob to make it look messy and chic. If your bob has grown out, cut it into a choppy lob. Make sure that it has blunt ends as it will help frame your face.
15. Curled Mohawk
Kristen Stewart is the queen of the pixie cut! She knows how to rock a new pixie with style. With a round brush, some mousse, and a blow dryer, curl your mohawk to mimic this flawless look.
16. Long Curly Bangs
If you had bangs with your pixie cut, they've probably grown out faster than the rest of your locks. They also get greasy faster. Try this look to handle greasy bangs instead of shampooing your short brown locks every day.
17. Simple Bob
I'll be honest with you, not all face shapes can rock this bob. If you have a long or thin face, this look is for you. Apply mousse to your hair and comb it back, making sure to add height as you go.
18. Curled Lob
One of the best ways to style an overgrown pixie is to curl it. Curls can frame your face well and add dimension to your hair. Keep your face shape in mind when picking the type of curls. If you have a wide face, opt for bigger curls as they will make your face appear smaller.
19. Dark Roots
If you have fine hair, opt for this stunning pixie. The dark roots make your hair look thicker. The tips are cut thin, which makes the rest of your hair look thicker. It also draws attention to your jawline and cheekbones while also displaying the length of your face.
20. Tousled Curls
When it comes to lobs, go for waves or curls. Copy the wonderful Emma Stone and try some tousled curls. You don't even have to use heat to achieve this look. Dampen your hair, roll it in big curls, and pin it in place overnight. The next day you will have some stunning curls.
21. Reddish Brown Layered Bob
A grown out bob does not look bad, but it can look unkempt and messy. Styling your hair in waves can accentuate the messy look without making it look bad. It will give it a beachy look.
22. Spiky Pixie
Halle Berry never goes wrong with her style. Style your pixie in spikes to draw attention to your facial features. The spikes add a vertical focus, which highlights your nose and jawline.
23. Laid-Down Pixie Cut
The combed hair look is really big these days. But apart from being incredibly stylish, it can make your fine hair look super chic. It is a great way to style your pixie without accentuating the grown out hair.
24. Gelled Back Lob
This hairstyle is very edgy. The best thing about this slicked back look is that it automatically makes your hair look more voluminous because of the faux side undercut effect it creates. It adds texture and depth to your hair without having to try too hard.
25. Gelled Bob
The best way to style your grown out bangs is to flaunt them. Apply some mousse to your hair and comb it down. Make sure to part it on one side, so your bangs look spiffy clean and neat.
26. Slick Lob
Most of the time, the front and top of your hair grow out faster than the rest of it. Brush down the front and top of your hair to make your hair look thicker. The different layers will add a nice tapered look to your bangs. This will look even better when you gel it down as the layers look more defined.
27. Deep Brown Blunt Bob
A deep side parting and blunt ends are all you need to style your fine locks. The '20s were a great time for short hair. They paved the way for incredible hairstyles like this one. This hairstyle also adds a lovely depth to your tresses.
28. Hollywood Curls
Hollywood is all about being glamorous, so let's take a page out of that book. You can create these stunning curls with a round brush, a blow dryer, and some mousse.
29. Classic Modern Lob
Add a twist to the classic lob with some waves and a messy look. Style it in waves with a curling iron or sleep on your braided hair. Tousle the curls with your fingers as much as you'd like it to look messy.
30. Curled Ends
If you have thick hair, you can pull off short hairstyles without worrying about volume. Show off your grown out hair with this stunning pixie. It accentuates your hair's thickness without looking too over the top.
Hope this list has inspired to cut your brown locks short! Which one of these hairstyles do you want to try out? Comment below and let us know!
The following two tabs change content below.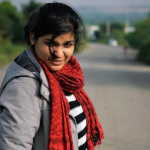 Latest posts by Anjali Sayee (see all)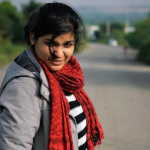 Anjali Sayee
Anjali Sayee is a writer and an introvert. From studying Aeronautical Engineering and wanting to design her own airplane to writing articles on hairstyles, she has been on quite a journey. She believes that hair is one of the key factors that define a woman's personality. To quote her, "What's the first thing they do in the movies to show a personality change? Change the hair – because it has a life of its own." She's here to help you find the hairstyle you need. This bookworm is a self-professed Wholocker, a talented drummer, and an amateur photographer.