10 Stylish Short Pixie Cuts In Trend Now
Who says long-locked girls should have all the fun? Certainly, not us! From actress Keira Knigthley, Jennifer Lawrence to Carey Mulligan and Audrey Tautou, the stars wore their short pixie proudly, while giving us serious hairs-piration.
So, would you like to know what our top ten favourite short pixie cuts are? Read on!
1. Blonde Bombshell:
If anyone can persuade us to try the short pixie crop trend, it's the beautiful, stylish and talented Carey Mulligan. It is a great everyday short hairstyle, one which is easy to create, manage, and one which looks striking even if you have just woken up from bed. Like seriously! That's the great thing about short pixie cuts; they're quick and easy to style, unlike the long tresses which are difficult.
To get Carey Mulligan's tousled look, first apply texture crème to damp hair and then blow dry to create an effortless bend. Simply secure in place by hairspray, which, by the way, is the secret to this look.
2. Pixie Fringe:
Keria Knightley has sported many pixie short hairstyles over the years but none of those suited her better than this pixie haircut. We mean, look at this bombshell. Hair colour, check. Choppy fringe cut, double check. So, yes, a near perfect look for actress Keira Knightley. Her hair is delicate, shaggy, windswept, and utterly fabulous and it doesn't seem to know what direction it's going in but yet it works perfectly fine. Shaggy pixie cuts are perhaps one of the few styles which do wonders on oval-shaped faces and we're pleased Keira is taking advantage of that fact.
[ Read: How To Sport Pixie Hairstyle For Different Face Shapes ]
3. Tousled Wavy Pixie:
French actress and model Audrey Tautou is the epitome of pixie chic. Audrey opted for a tousled wave that works just as well for the night out as it would at brunch.
To duplicate the look, start with blow-drying and brush your hair all forward. Do not make a partition. To get a tousled wavy texture, wind your hair around a curling tong and curl it shabbily, all the way to the ends. After cooling down, finger-comb the curls to lose them up. Next, add a bit of styling mousse to the ends so that you won't get disappointed. Finish the look with a hairspray for that polish and shine. Ta-da, easy and peasy!
4. Reddish-Blonde Pixie:
When actress Michelle Williams chopped her hair to pixie perfection, little did she know her sexy short hairstyle would become an instant hit. This short pixie hairstyle works best on women with thick, wavy hair, and this means it's a more style-able and doable look. That said, this feminine but edgy style really suits Michelle, while proving that a pixie can be just as sophisticated and versatile as long locks.
Not to forget, the bed-head style also suits her heart-shaped face and makes her hair look completely natural. Her perfect reddish-blond hue brings warmth to her face and the shine she's given makes it look even better – we love it.
5. Messy, Wavy Pixie:
Short, messy and seriously ombre, Cat Woman Halle Berry showed off this difficult, fabulous waved updo – and we can't take our eyes off it.
To recreate this look, tease hair into various waves and flips, literally bring your look to life and add a dime of texture and volume to your style. This hairstyle is probably not something you could wear around your workplace, but there's no denying the fact that it's ideal for hitting the town with your girls. See, we told you Halle had made this waved up pixie her own, didn't we?
6. Sweeping Bangs:
If you want to soften your pixie with short sides and a longer sweeping mount of hair atop the head, make like the muse of the look, actress Anne Hathaway. DIY by gently spritzing your stands with a relaxer, a heat protector spray, then for some texture, use the blowdryer. Now, apply a mousse to the ends of your hair for that extra shine.
Technically, we don't think many women can pull this style off but Anne certainly can. The modern sleek hairstyle has had a big effect on her style, thanks to the on-point platinum blonde colour, which really changes her look. In addition, Anne's pixie cut helps highlight all her best features – another reason for you to opt for this hairstyle.
7. Sleek, Combed:
For a sure pixie hair hit, make like Harry Potter actress Emma Watson. Her style is so simple yet so modern, and it completely works. At least for us! For the most part, she pulls this look so well because of her natural highlights and delicate features. And for the other part, pull your slick combed hair to the sides – a little bolder for short pixie haircuts if we may say. She's further paired this look with flawless makeup which makes her look sophisticated, elegant, and chic.
[ Read: Classy Sleek Hairstyles ]
8. Pretty In Black:
Here's one gorgeous actress sporting a style that perfectly matches her name! Pixie Geldof looks absolutely stunning with a choppy pixie crop. Her piece-y bangs look great whether you're heading for a brunch with your girl gang, grocery shopping, at office or going for a night out like Pixie here. For that added volume, shine and texture to the otherwise slick style, do follow the actresses lead and opt for a simple pink dress for a preppy, modern look.
9. Wet Hair Pixie:
Wondering how to let your perfectly-imperfect short hair grow out gracefully? Take some tips from one of our favourites, actress Zhang Ziyi, who is gradually growing her choppy cut grow out, working a wet and edgy side-swept style. Pulling off a style this strong is a question of confidence, but having a fab bod sure helps.
10. Au Naturale:
Actress Jennifer Lawrence always looks stunning. Fact. Even with her pixie haircut, Jennifer is no exception to this hairstyle. With the help of volume and texture, here she's gone for an edgy, spiky look. Add to that, her simple side swept style curves her bangs gently around her face, framing it perfectly.
To get this look, you can simply brush the hair strands on top of her head forward, straight them with a hair straightener, and twist some hairspray into the strands. Which makes us ponder, is there anything this style goddess can't pull off? Maybe not!
So here we are – our top ten short pixie hairstyles. And if you're thinking of getting the pixie done, then we'd love to hear how you found the courage to do so. Comment in the box below!
Recommended Articles:

The following two tabs change content below.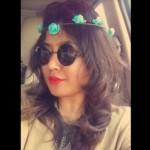 Latest posts by Anisha Pradhan (see all)