10 Stylish Symmetric Hairstyles To Inspire You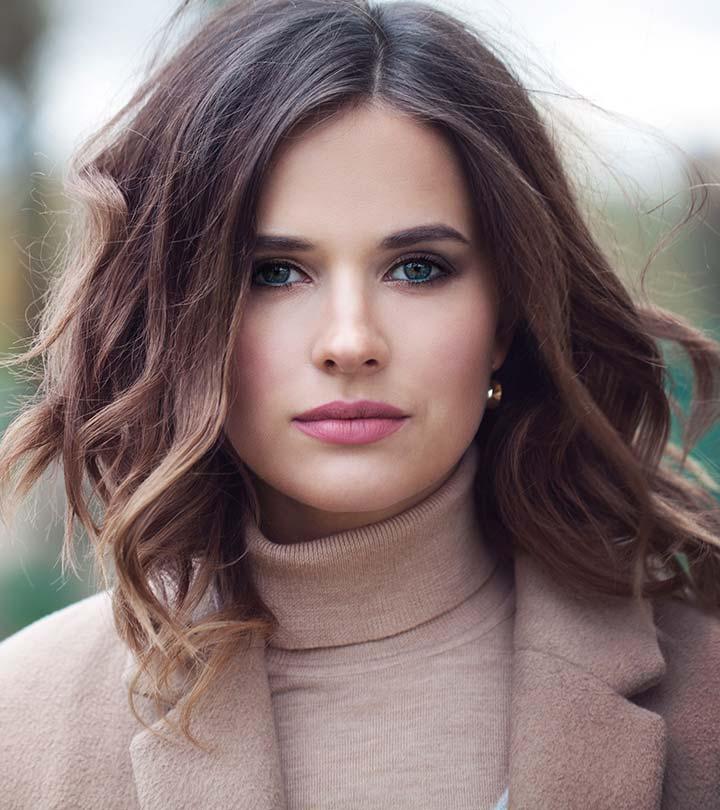 With so much spotlight shed on asymmetrical hairstyles, it begs the question – are there symmetrical hairstyles? The answer is a resounding yes! In this article, we have listed symmetric hairstyles images from celebs like Nina Dobrev, Rita Ora, Ashley Greene, and the queen herself, Beyonce.
Keep reading to know what these symmetric hairstyles are or what they can do for your facial features and face shape.
Read ahead to know more about Symmetric hairstyles:
1. Long, Side Parted Hair:
When it comes to long, straight hair, no one does it better than Machiko Ono. Her side parted hair gives the look an easy, effortless appeal and the texture adds a nice dimension to it. To emulate Machiko Ono's 66th Annual Cannes Film Festival style, begin drying your hair naturally or blow dry with a brush. Once done, straighten your hair with a flat iron and follow it by misting a texturizing spray.
2. Long Bob With Blunt Bangs:
Cool? Yes. Chic? Certainly. Hot without trying? That too. Supermodel Tyra Banks' long bob with bangs is pretty much a perfect hairstyle—for anyone, at any age. Blunt and sleek with no layers, the super-easy hairstyle elongates your face and makes you look more striking.
3. Bob With Side-Swept Bangs:
The model's bob with side-swept bangs is universally flattering to any face shape. The insanely straight and glossy hairstyle is perfect for a night-out, black-tie event or date night. Just achieve the look with a hair straightener and a shine serum like John Frieda Frizz-Ease 100% Shine Glossing Mist.
4. Wavy Bob:
What's cool about Jessica Szohr's hairstyle is its natural texture, a bit dishevelled bob and those subtle layers – which, by the way, make it an effortless look. Take inspiration from Jess and keep the look well-textured with regular trims, an anti-frizz serum and volumizing mousse.
5. Pulled Back Hairdo:
Actress Rita Ora looks edgy and trendy with her white blonde hair pulled back into a symmetric bob. The textured hairdo allows you to clearly see her hair color and that gorgeous facial feature. So good you just want to recreate it ASAP.
6. Sleek Ponytail:
While attending the Elton John AIDS Foundation Academy Awards, Nina Dobrev made sure her sleek ponytail reached new heights. Just take a look at the actress and her leather wrapped around her hair, plus the elegant hairstyle that she has paired with her cutout dress – we love it. The actress' tight ponytail frames her round face while the backcombed hair at the crown gives her a fresh and elegant feel.
7. Wavy Bob With Side-Swept Bangs:
Selena Gomez's wavy bob with side-swept bangs is both timeless and chic. We love the subtle curls at the bottom of her hair, as well as the glossy texture. To recreate this easy to execute hairstyle, make use of volumizing mousse, curling tong and shine serum.
8. Side Parted Long Bob:
Ashley Greene's short lock is perfect for a stunning side parted lob. We love the two-toned hair colour, and her slick, side-swept hair allows her to elongate her face brilliantly. Just apply a straightening gel on wet hair and blow-dry with a round paddle brush. Finish by flat ironing your hair and set it with shine serum.
9. Half Updo:
For the California premiere of Monster House, Spencer Locke opted for a casual half up-do. Perfect for your date night, to create this flirty hairdo use hair spray and a blow-dryer to straighten your hair. Once done, tease your hair at the crown and mist it with a lightweight hair spray. Finish the look by securing with a neutral-colored pin.
10. Long, Poker Straight Hair:
At the 64th Annual Golden Globe Awards, Beyonce looked divine with her long, poker straight hair. To duplicate the look, section your hair in the middle and blow-dry your hair straight. Next, apply a styling lotion to smooth your hair out. Once done, spritz a shine spray to your hair and straighten it with a flat iron.
Asymmetrical hairstyles may be gaining popularity, but symmetric hairstyles have a charm of their own. They are timeless, elegant, and perfect for people of all ages. Hairstyles like side-swept bangs and long bob with bangs are suitable for any face type. Other hairstyles such as a sleek ponytail or long straight hair are versatile and go with every occasion. In the end, use a shine serum or volumizing mousse to finish your look. So, get busy recreating your favorite symmetric hairstyle for a fresh and radiant look.
The following two tabs change content below.