5 Summer Face Packs For Combination Skin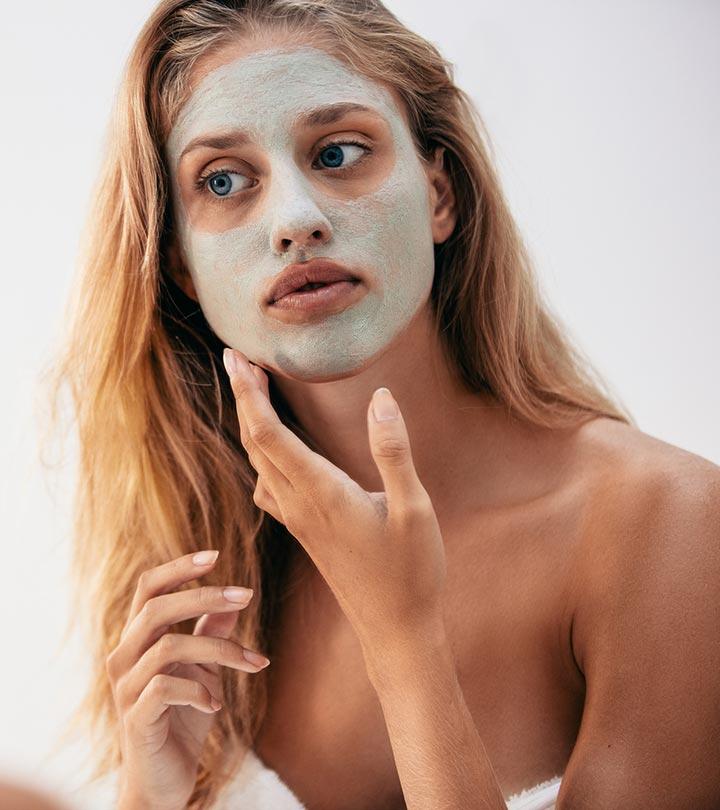 Combination skin can be a little tricky to work with. A mix of oily and dry skin, you need special products and special care to ensure your skin is well nourished and taken care of.
Combination skin is the type of skin in which some parts of your skin are dry while others are oily. Most people who have combination skin will have an oily T zone (forehead, nose and chin) while the areas around the mouth and cheeks will be dry.
Summers are difficult for those with oily skin, as on the one hand you want to reduce the sweat and oiliness, but also want to take care of the dryness.
It may be a little difficult to find products that are specifically created for combination skin. These are few and limited, and sometimes, may not even work well on everyone. A good way to work with your skin is to try and use some homemade mixes that will soothe the skin while taking care of the problem areas.
Summer Face Packs For Combination Skin:
Following 5 are the best DIY summer face packs that you should try if you have combination skin.
1. Honey, Yogurt and Rose Water Face Pack
Mix together honey, yogurt and rose water in equal quantities (about 1 tbsp each)
Apply on the face evenly
Keep it on for 15 to 20 minutes.
Wash off with regular water
How This Will Help?
Honey and yogurt are known for their cooling effect on skin. They will help combat dryness and provide moisture to your skin. Rose water will control the oiliness while giving your skin an added freshness, especially during the summers. It also acts as a good sun protector.
[ Read: Top 5 DIY Summer Face Packs For Oily Skin ]
2. Oats and Almonds Face Pack
Oats come to the rescue for combination skin too.
Soak 10 almonds in water and let them stay soaked overnight
Next morning, grind these into a paste.
Add 1 tbsp of oats, 1 tsp of honey and yogurt as required
Mix will to get a smooth paste.
Apply this on the face and keep it on for about 15 to 20 minutes
Wash off with regular water
How This Will Help?
Oats will help scrub off the excess oil from the skin, while almonds will add nourishment back to dry skin.
3. Papaya and Banana Face Pack
Papaya and banana are great foods when it comes to taking care of your skin.
Mash some papaya and banana and mix together
Now add in some honey to the above ingredients
Mix everything well to get a smooth paste
Apply to your face and leave on till it dries
Wash off with regular water
Watch your skin glow after some time. The shine and extra oil will be in control while the dry patches will be considerably softer.
4. MultaniMitti (Also Known As Fuller's Earth) Face Pack
Multanimitti is a major ingredient in almost all face packs that are made in Indian homes and even in those that are available in the market. Multanimitti alone has a tendency to aggravate dry skin conditions. It is best to always add rose water to the same to make sure your skin gets the required moisture too.
Mix multanimitti and rose water.
Apply to your face till it dries and then wash off with regular water.
How This Will Help?
This helps to soothe and refresh the skin.
5. Cucumber Face Pack
Grate half a cucumber and add 1 tsp of honey and half a tsp of milk cream to it.
Apply this to your face.
Place 2 cucumber slices on your eyes.
Wash off when dry or after 15 to 20 minutes.
Some Facts About Natural Ingredients Used In The Above Face Packs:
Honey and bananas are excellent natural moisturizers.
Yogurt softens and hydrates skin.
Oats and papaya exfoliate and remove dead skin cells.
Vitamin E oils in almonds nourish the skin.
Rose water helps to balance out the dry and oily skin areas.
Multanimitti and cucumbers are cool and refreshing.
There is a wealth of benefits present in these packs. Try out the one best suited to your skin. With all this artillery in your kitty, you are beautifully ready to face the summers.
Recommended Articles:
The following two tabs change content below.