6 Summer Face Packs For Combination Skin
Combat combination skin issues with face packs made with rejuvenating ingredients.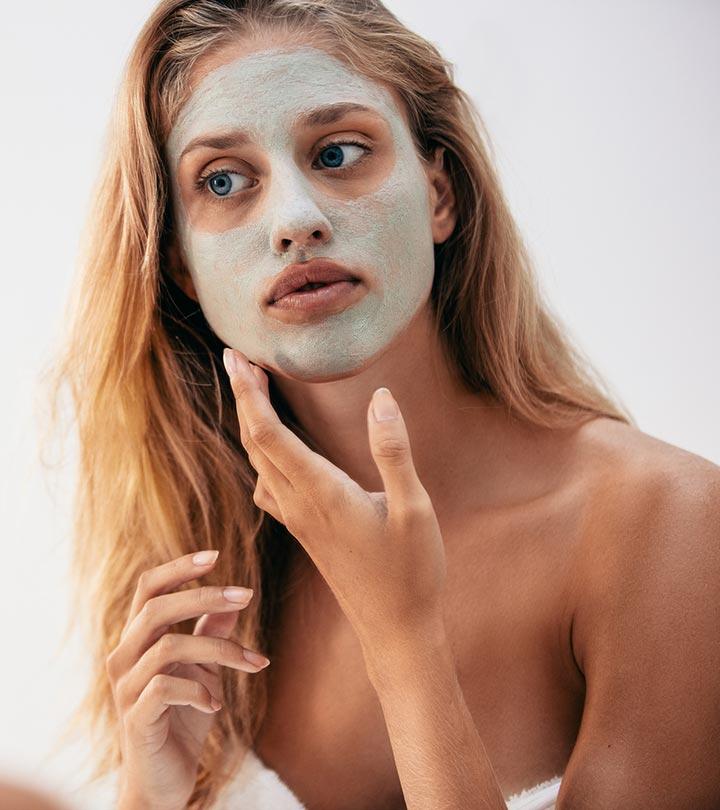 You will find too many oily and dry skin products on the market, but only a few for combination skin. But do you need a special one for this category? Yes, and you can prepare your own summer face packs for combination skin as the needs are different.
Combination skin has both oily and dry areas. If you have combination skin, your forehead, chin, and nose (T zone) will be oily, while the skin around your cheeks and mouth will dry (1).
Do you see why we say it needs extra care? Because you should take care of both oily and dry skin region needs. Especially during summers when you have to reduce oiliness and grease, you also need to care for your dry skin.
So, it is not easy to take care of it unless you have the best solution. The products you find on the market are only a few, and not everything works well on everyone. So, we suggest you try some home remedies to fulfill your combination skin needs. Keep reading to find out more!
Summer Face Packs For Combination Skin
The following six are the best DIY summer face packs that you should try if you have combination skin.
1. Honey, Yogurt, And Rose Water Face Pack
Mix together honey, yogurt, and rose water in equal quantities (about 1 tbsp each)
Apply on the face evenly
Keep it on for 15 to 20 minutes.
Wash off with regular water
How Does This Help?
Honey and yogurt are known for their cooling effect on the skin. They will help combat dryness and provide moisture to your skin (2), (3). Honey is also anti-inflammatory, which is an added benefit for combination skin (2).
A survey conducted on 487 participants, with 57% women and 43% men, revealed that most people use honey for cooking, as less than 1% of respondents do not use honey for this purpose. Additionally, 42.9% of respondents use honey for cosmetic reasons and 79% use it for medicinal purposes. The survey also found that the majority of respondents fell in the 18-30 age group.
The oil balancing properties of rosewater will control excess sebum while giving your skin an added freshness, especially during the summers. It is also rich in antioxidants and provides good UV protection (4).


Quick Tip
Avoid using ingredients with excessive fragrance or products with alcohol as they may irritate your skin and lead to breakouts.
2. Oats And Almonds Face Pack
Oats come to the rescue for combination skin too.
Soak 10 almonds in water and let them stay soaked overnight
The next morning, grind these into a paste.
Add 1 tbsp of oats, 1 tsp of honey, and yogurt as required
Mix well to get a smooth paste.
Apply this on the face and keep it on for about 15 to 20 minutes
Wash off with regular water
How Does This Help?
Oats have astringent properties that help scrub off excess oil and display a pore minimizing effect on the skin, while almonds will add nourishment back to dry skin (5).
3. Papaya and Banana Face Pack
Papaya and banana are great foods when it comes to taking care of your skin (6), (7).
Mash some papaya and banana and mix together
Now add in some honey to the above ingredients
Mix everything well to get a smooth paste
Apply to your face and leave on till it dries
Wash off with regular water
Watch as the pack improves skin hydration and makes your skin glow after some time. The shine and extra oil will be in control while the dry patches will be considerably softer.
4. Multani Mitti (Fuller's Earth) Face Pack
Multani mitti is a major ingredient in almost all face packs that are made in Indian homes and even in those that are available in the market. Multanimitti alone has a tendency to aggravate dry skin conditions. It is best to always add rose water to the same to make sure your skin gets the required moisture too.
Mix multanimitti and rose water.
Apply to your face till it dries and then wash off with regular water.
How Does This Help?
This face pack helps soothe and refresh the skin.


Quick Tip
Drink plenty of water daily to avoid dehydration. Staying hydrated also helps prevent dry skin and even keeps the skin from producing excess sebum.
5. Cucumber Face Pack
Grate half a cucumber and add 1 tsp of honey and half a tsp of milk cream to it.
Apply this to your face.
Place 2 cucumber slices on your eyes.
Wash off when dry or after 15 to 20 minutes.
Ana, a vlogger, shared her experience of using a homemade cucumber and yogurt face mask and was amazed with the results. She said, "My skin is kinda glowy already (i)."
6. Sandalwood Powder And Milk Face Pack
Mix 1 tablespoon of sandalwood powder with 2-3 tablespoons of raw milk to form a smooth and consistent paste.
Apply this mixture to the face and neck evenly, avoiding the eye area.
Leave it on for about 15 to 20 minutes.
Moisten the face with regular water once the face pack is partially dry.
Gently massage your face in a circular motion with your fingertips and rinse it off.
How Does This Help?
While sandalwood is known for its soothing and anti-inflammatory properties, milk contains lactic acid, which gently exfoliates and moisturizes the skin (3), (8). This face pack may help improve skin texture and provide a natural glow to the skin.
Some Facts About Natural Ingredients Used In The Above Face Packs
Honey and bananas are excellent natural moisturizers that aid skin nourishment.
Yogurt softens and hydrates skin.
Oats and papaya exfoliate and remove dead skin cells.
Vitamin E oils in almonds nourish the skin.
Rose water helps to balance out the dry and oily skin areas.
Multanimitti and cucumbers are cool and refreshing.
Infographic: Best Summer Face Packs For Combination Skin
We agree that caring for combination skin is complicated and tough, especially during summer. You need to be aware of the two skin types and how to care for them. However, we have simplified the face masks you can use to rejuvenate the skin. Look at the information below and find out.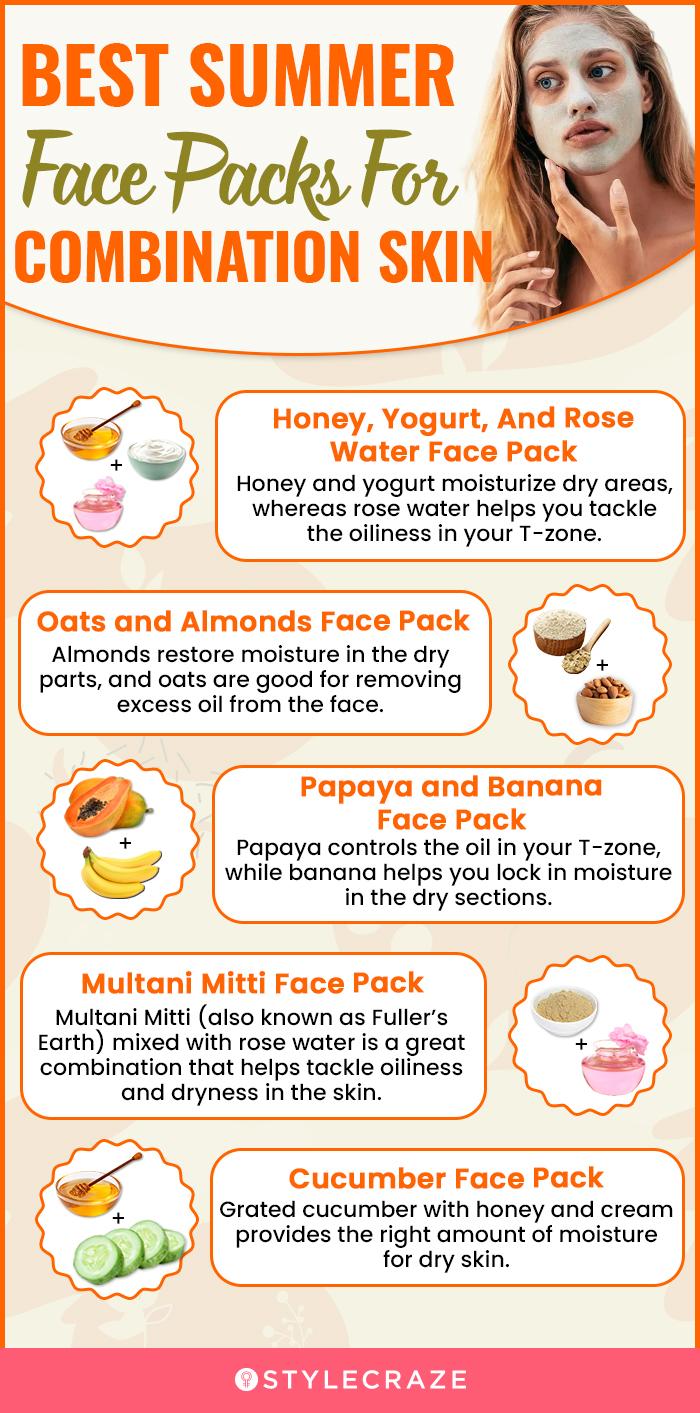 Summer face packs for combination skin provide all the extra care this skin type needs. These face packs are skin soothing and aid in dead skin removal, acne control, and skin healing. For optimum skin rejuvenation, you can prepare face packs for this skin type with rosewater, honey, yogurt, oats, almonds, banana, papaya, Fuller's earth, and cucumber. All these ingredients have unique properties, and when combined, they cater to the needs of combination skin. However, doing a patch test before trying any face pack is recommended as some of these ingredients may cause an adverse reaction. Try including these face packs in your skin care regimen once or twice a week to reap their benefits!
Frequently Asked Questions
Is it OK to apply Multani mitti every day?
No. Excessive use of Multani mitti may lead to over-exfoliation, damage the skin barrier, and cause irritation and redness. Limit it to once or twice a week for effective skin toning.
Which time of the day is best for using a face pack?
If you use an exfoliating and clay face mask, it's better to use it at night. It will clarify the skin, decongest the pores and promote better absorption of skin products, which may help your skin recover better.
Is aloe vera good for combination skin?
All skin types, including combination skin, can use aloe vera gel for skin brightening and to maintain healthy, hydrated skin.
Key Takeaways
Summers aggravate skin dryness hence your skin requires extra care and hydration during this period.
Face packs for combination skin require a healthy balance of oil-controlling ingredients and moisturizing ones.
Natural ingredients like honey, rose water, and cucumber are some excellent ingredients that may help soothe combination skin.
However, we recommend a patch test before trying any face pack.
Embark on a journey of self-care with the top 2-ingredient face masks for clear, glowing skin. Learn to create affordable DIY masks using simple kitchen ingredients from the video below.
Personal Opinion: Source
i. EASY HOMEMADE Cucumber Face Mask using 2 ingredients ONLY!!!!!
https://www.youtube.com/watch?v=UJnrO9TNBPw
Sources
Articles on StyleCraze are backed by verified information from peer-reviewed and academic research papers, reputed organizations, research institutions, and medical associations to ensure accuracy and relevance. Read our editorial policy to learn more.
The following two tabs change content below.