Sunflower Oil For Hair – How To Use It And Side Effects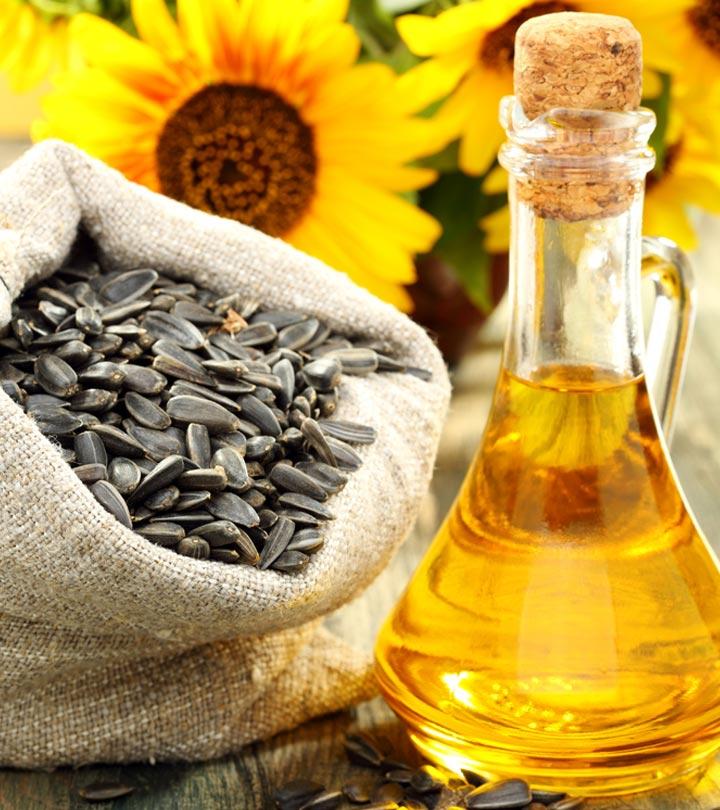 Sunflower oil is among the most popular vegetable oils, but did you know that it helps improve hair as well? This oil is extracted from sunflower seeds and contains vitamins and minerals that can benefit hair. In this article, we delve into the benefits of sunflower oil for hair. Keep reading!
Is Sunflower Oil Good For Hair?
There is much anecdotal evidence boasting about the umpteen benefits of sunflower oil. The oil is said to treat dandruff, boost hair growth, prevent hair loss, improve hair and scalp cleanliness, and increase hair smoothness. It also could have humectant properties and moisturizes the hair and scalp.
But do these claims have any scientific backing? Read on to know.
Benefits Of Sunflower Oil For Hair
These are the ways sunflower oil could benefit your hair. The following section lists a few methods of using the oil to derive the maximum benefit.
How To Use Sunflower Oil For Hair
Deep conditioning treatment: Sunflower oil can be massaged onto the scalp to moisturize the hair and scalp. Warm two to three tablespoons of sunflower oil and apply thoroughly to the scalp and hair. Place a shower cap over the hair and leave it on for 45 minutes to an hour. You can also use a warm towel to wrap your hair. Wash as usual.
Anti-Frizz Drops: Sunflower can help moisturize hair and prevent frizz. Add a drop or two of sunflower oil onto your palm. Rub your palms together to spread the oil and gently rub your palms over your hair. This adds a light shine to your hair and also prevents frizz.
Hair Masks: Sunflower oil can be added to homemade DIY masks to improve hair texture and quality. You can pair sunflower oil with honey, coconut oil, essential oils, and eggs.
Conditioner And Shampoo: Research shows that adding sunflower oil to your shampoo or conditioner can help moisturize hair while cleansing it too (4).
But before you grab a fresh pack of sunflower oil, here is what you must know – the oil may cause certain adverse reactions too.
Side Effects Of Sunflower Oil For Hair
Topical sunflower oil is generally safe. But it may lead to serious allergic reactions in some individuals. These reactions are caused by particular pollen (9). Hence, it is advised to perform a patch test on the elbow or the back of the neck to check for any adverse effects. If you experience any redness, inflammation, rashes, bumps, etc., consult a doctor.
You may continue to use sunflower oil should you experience no allergies. That brings us to a popular question – how is this oil different from coconut oil? Which of the two is better?
Sunflower Oil Vs. Coconut Oil For Hair
Coconut and sunflower oils are both beneficial for hair. However, coconut oil prevents protein loss from hair, while sunflower oil does not (10). While both oils can penetrate the hair fibers, sunflower oil cannot penetrate the cortex. Coconut oil, however, can penetrate the cortex due to lauric acid (8), (10).
Conclusion
More concrete research on the hair benefits of sunflower oil is warranted. While you can use it regularly for some of its advantages, ensure you do a patch test prior. Consult your doctor if you experience any allergy symptoms. But otherwise, adding this oil to your regular hair care routine can possibly help improve your hair shine, decrease frizz, and promote overall hair health.
Frequently Asked Questions
Does sunflower oil lighten hair?
Sunflower oil is commonly used in many hair lightening masks. However, there is no scientific evidence to support its hair lightening properties. The oil is prone to oxidation because of its high unsaturated fatty acid content (11). While some believe this may lighten the hair, more research is warranted.
How long can I leave sunflower oil in my hair?
Sunflower oil can be left in your hair for a few hours or even overnight. But ensure you do a patch test prior.
Sources
Articles on StyleCraze are backed by verified information from peer-reviewed and academic research papers, reputed organizations, research institutions, and medical associations to ensure accuracy and relevance. Check out our
editorial policy
for further details.
Recommended Articles
The following two tabs change content below.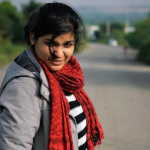 Anjali Sayee is a writer and an introvert. From studying Aeronautical Engineering and wanting to design her own airplane to writing articles on hairstyles, she has been on quite a journey. She believes that hair is one of the key factors that define a woman's personality. To quote her, "What's the first thing they do in the movies to show a personality change? Change the hair – because it has a life of its own." She's here to help you find the hairstyle you need. This bookworm is a self-professed Wholocker, a talented drummer, and an amateur photographer.