A Useful Guide To Picking Sunglasses For Your Face Shape
Measure your face and determine its shape to pick the most suitable sunglasses for you.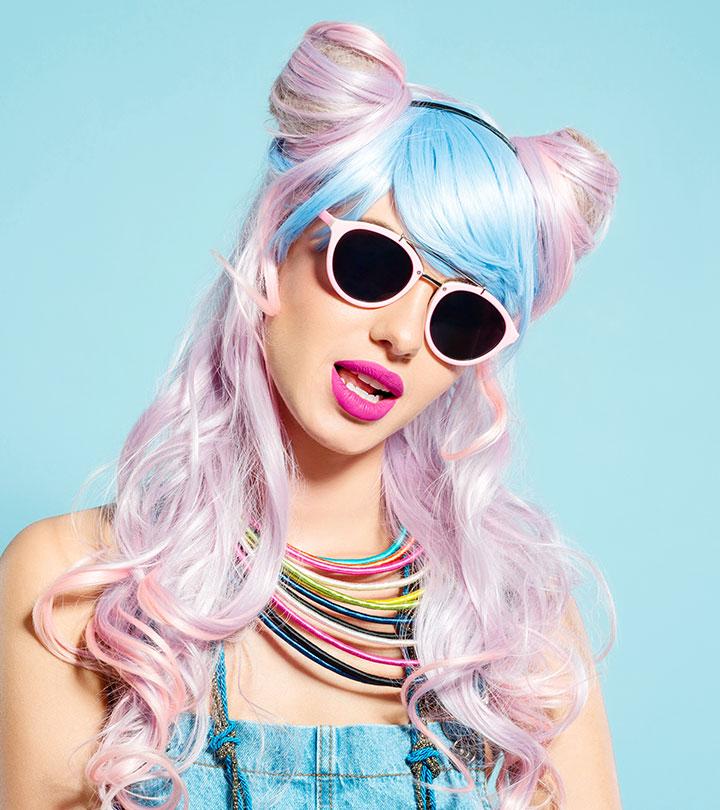 No matter what the weather, you always need a pair of sunglasses! But finding sunglasses for your face shape can be a hassle. You want them to compliment your cheekbones, brow shape, and the width of your face and make you look fashionable and slick. After all, wearing a pair of good sunglasses adds to your style statement and boosts your confidence. And there are many options – from designer cat-eye ones to oversized sunglasses. From supporting your overall look to providing protection from harsh UV rays, sunglasses are a must-have eyewear product.
But with so many options to choose from, it is easy to go wrong with picking a pair of sunglasses for your face shape. Read on to learn about the various types of sunglasses for different face shapes and which ones you should go for.

Ace The Look
Occasion: Aviators are perfect for parties and complement casual clothing. Round glasses are best for formal occasions. Cat-eye, butterfly, and teardrop sunglasses are best for fancy gatherings.
Lenses: Opt for polarized, photochromatic, or interchangeable lenses that protect your eyes.
Material: Choose between glass, polyurethane, polycarbonate, and acrylic based on weight, clarity, flexibility, scratch, and impact resistance.
Lens Tints: Opt for browns, grays, or greens for moderate to bright conditions to reduce eye strain. Opt for lighter colors like yellow, rose, amber for moderate to low light conditions.
How To Measure Your Face
I. With A Measuring Tape
Measure your face from one end of your cheekbone to the other.
Take a close look at your jawline and figure out if it is sharp or rounded.
Measure the length of your face from your forehead to chin.
Measure the width of your forehead. This greatly determines what kind of sunglasses look good for your face shape.
If you don't want to go to the trouble of measuring your face with a measuring tape, here is a quick and easy way to measure your face with a credit card.

Did You Know?
Sunglasses were also called sun cheaters during the early 20th century and the popularity of sunglasses on the beach dates back to the 1930s.
II. With A Credit Card
Take a debit/credit card and stand in front of a mirror.
Holding the card vertically, place one tip of the card aligned with the center of your nose and place the other tip towards the edge of your eye.
If the card goes beyond the corner of your eye, you have a small face shape.
If the card roughly touches the corner of your eye, it suggests you have a medium face shape.
If it doesn't reach the corner of the eye, it means you have a large face shape.
Lens Width And Frame Sizes
| | | |
| --- | --- | --- |
|   | Eyeglasses | Sunglasses |
| Small Frame Size | 48 mm | 55 mm |
| Medium Frame Size | 48-55 mm | 56-64 mm |
| Large Frame Size | Above 55 mm | Above 64 mm |

Trivia
In the 12th century, the Chinese invented one of the first sunglasses called 'Ai Tai (dark clouds)' made from smoky quartz. Judges wore them to hide their expressions during trials.
How To Determine Your Face Shape And Pick Suitable Sunglasses
1. Oval Face Shape
If your chin is rounded and your cheekbones cover the majority of your face, you have an oval face. The length of your face is greater than the width, thus leaving you with a broad forehead and a narrow jaw.
Sunglasses For Oval Faces
Aviators, cat-eyed frames, and butterfly sunglasses look great on oval faces. They define the structure of your face without disrupting it. Sunglasses with smooth-lined frames will also look stunning. Avoid wearing oversized glasses as they will hide your eyebrows.
2. Heart Face Shape
The shape of your face kind of resembles an inverted triangle. Your chin is the narrowest part of your face, and your forehead is wide. The width of your face is greater than the length. You also have high cheekbones.
Sunglasses For Heart-Shaped Faces
Since you have a wide forehead, don't wear sunglasses that can exaggerate it. Teardrop sunglasses work well with this face shape. However, oversized frames are a big no-no. You can also opt for small frames with a narrow bridge. Round glasses and aviators are your best bet.

3. Round Face Shape
The length and width of your face are almost the same. You have a small, rounded chin with sharp angles. Your hairline is smooth and even.
Sunglasses For Round Faces
Since the shape of your face is round, we suggest you wear something that increases its length. Oversized sunglasses are a great fit. Opt for oversized pairs in darker colors as they look super stunning. Some other great options for you are cat-eyed sunglasses and aviators. They can enhance your face shape and give it character.

4. Square Face Shape
If you have a square-shaped face, the length and width of your face are very similar. You have sharp, angular edges. Your hairline is smooth but very straight.
Sunglasses For Square Faces
You need to get your hands on a pair of oversized sunglasses. Since your features are sharp and well-defined, oversized sunglasses will look gorgeous on them. You can also opt for round or oval frames in bold colors. They will make your cheekbones pop and define your brows.
5. Triangular Face Shape
You have narrow cheekbones and forehead. Your face narrows toward your temples. However, your chin is square and wide.
Sunglasses For Triangular Faces
Pick up sunglasses with a broad upper half and a large frame. Cat-eyed glasses are good for your face shape. If you want to opt for a less playful look, go for a frameless pair.
Sunglasses are a completely badass accessory. You can go for edgy aviators, bold oversized frames, or sassy cat-eyed sunglasses. They never fail to make a statement. So, let's take a look at the many kinds of sunglasses out there to help you find your style!

Find Your Sunglass Style
1. Oversized Aviator Sunglasses
They are, hands down, the most attractive style of sunglasses. Aviators go well with all sorts of outfits and face shapes. They look smart, sassy, and very chic. If you have an oval face, round face, or a triangular face, aviators are the ones for you.
2. Cat-Eyed Sunglasses
Cat-eyed sunglasses definitely add a twist to your sunnies. They look fun, quirky, and very stylish. They reflect your sassy and happy personality. They are also suitable for most face shapes. If you have a triangular or round face, cat-sunglasses are your go-to.
3. Round Frame Sunglasses
Round frame sunglasses, just like classic aviators, are very effortless to carry off. It is impossible to go wrong with them. They give out a very casual vibe, and you can use them daily. Round frame sunglasses are suitable for all face shapes.
4. Basic Black Sunglasses
Basic black sunglasses are a must-have accessory. They look smart and stunning yet very casual. They speak volumes of your sense of style. They work effortlessly on all face shapes, but especially well on oval and square face shapes.
Infographic: Find The Perfect Pair Of Sunglasses For Your Face Shape
Choosing the right sunglasses can be overwhelming with so many shapes and styles available. However, selecting a pair that suits your face shape can greatly impact how it looks on you and makes you feel confident. To help you out, we have compiled a comprehensive guide that will help you identify the perfect pair of sunglasses to complement your face shape. Check out the infographic below to know more!


Sunglasses are not only cool to wear, but they also help protect our eyes from pollution and the sun's harmful rays. But wearing an ill-fitted pair of sunglasses will not serve the purpose. So, it is important to know how to measure your face and pick the best sunglasses for your face shape. For example, while cat-eye sunglasses flatter oval faces, oversized shades look great on round ones. So, whether you have a heart-shaped face or any other shape, know that there is a pair of these glasses exclusively for you.
Frequently Asked Questions
What are the latest fashion trends in sunglasses, and which ones are suitable for different face shapes?
Oversized frames and tinted glasses are making a wave in the fashion world. These versatile and chic sunglasses suit almost all face shapes and types.
Can sunglasses be customized to fit my specific face shape and preferences?
Yes, sunglass customization is possible to fit your face shape and preferences. From the frame shape to its color and the glasses, you can get everything personalized to fit your style.
What are some common mistakes or misconceptions when choosing sunglasses based on face shape, and how can one avoid these mistakes?
Common mistakes that people make while choosing sunglasses include choosing budgeted options and going for style over the right fit. These can be avoided by looking out for ophthalmologist-recommended prescription sunglasses with the ability to protect your eyes from harsh UV rays and the perfect frame-to-form proportion. These sunglasses may be expensive but are best for complete eye protection and comfort.
Are there any other factors to consider when choosing sunglasses besides face shape, such as UV protection or lens material?
Lens color is an oft-neglected factor that can enhance the clarity of your vision as well as sun protection. Gray and green lenses are good for all purposes, while brown lenses help improve contrast, making them ideal for driving and riding purposes. Polarized lenses are best for snow or water sports.
How can one properly care for and maintain their sunglasses to ensure they last as long as possible and continue to look and feel good on the face?
Always adjust your glasses by gently holding the rim and not by pushing the nose bridge. Remember to never wipe dry and spray some lens-cleaning liquid and wipe with a soft, microfiber cloth or use lens-cleaning wipes. Store it in the sunglass box to prevent dust accumulation.
Key Takeaways
You should wear sunglasses that compliment your cheekbones, brow shape, and the width of your face for a fashionable and slick look.
Ensure the sunglasses are good on the comfort quotient as well and the frame fits effortlessly.
Measuring the face to know its size and shape are key to finding the most suitable type of sunglasses.
Depending on whether your face is an oval, a heart shape, round, square or triangle, you need to pick the right shape and size of sunglasses to look your best.
Check out this video for the best glasses for your face and makeup tips to make them look even better. Learn how to choose the perfect frames and apply makeup to enhance your look!
The following two tabs change content below.