10 Best Sunscreens For Dry Skin Available In India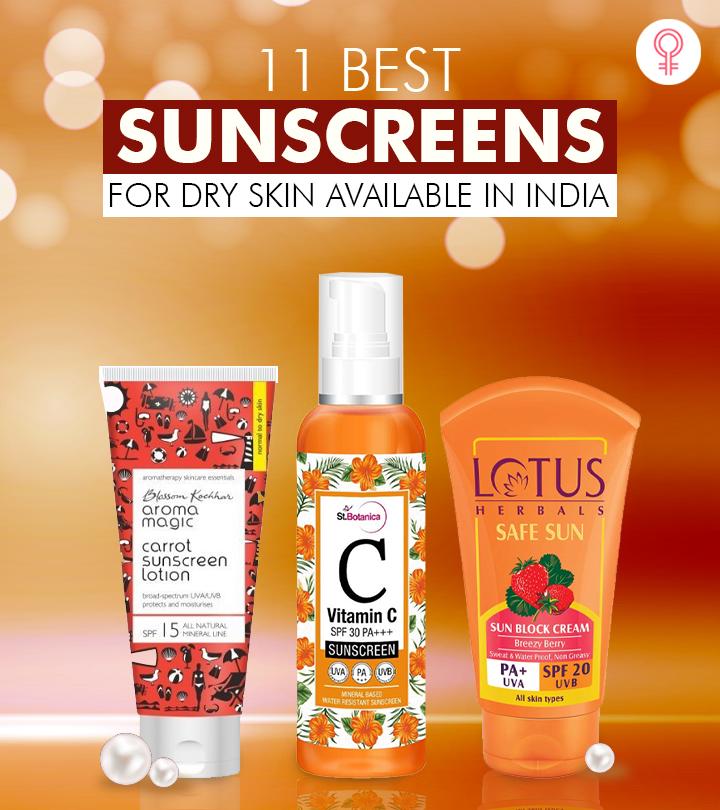 While sunscreens are easily available, there are specific ones to buy according to your skin type, especially if you have dry skin. The sun's powerful rays can cause damaging effects to your skin. Hence, making sunscreen a part of your daily routine is a must. For dry skin, one must opt for moisturizing sunscreens that play a dual role of hydration and protection. Listed below are 10 best sunscreens for dry skin available in India. Scroll down and check them out!
10 Best Sunscreens For Dry Skin Available In India
The Biotique Bio Morning Nectar is an SPF 30+ UVA/UVB sunscreen that not only protects the skin from harmful rays of the sun but also improves the skin tone. It is completely Ayurvedic and enriched with wheatgerm and seaweed that replenish moisture and keep the skin firm.
The nectar or honey is a good source of antioxidants that help in rejuvenating the skin. It also has antibacterial properties that prevent skin infections and soothe irritation. Aloe vera has excellent moisturizing properties that hydrate the skin, and methi seeds nourish and brighten the skin.
Key Ingredients: Wheatgerm, Seaweed, Nectar, Aloe Vera, and Methi seeds
Pros
Mild fragrance
Non-greasy
Blends easily
Paraben-free
Cons
Price at the time of publication: ₹159
The LAKMÉ Sun Expert Ultra Matte Lotion is a light sunscreen lotion with SPF 30 that protects the skin from sunburns and blocks up to 97% of UVB rays. The PA+++ blocks UVA rays, protecting the skin from becoming dark, aged, and dull.
This sunscreen for dry skin contains cucumber that has anti-inflammatory properties and soothes skin rashes or sunburns. Lemongrass helps soothe irritated skin and detoxifies it by cleaning the pores. Vitamin B3 retains skin moisture and has anti-aging properties that make the skin look smooth, hydrated, and young.
Key Ingredients: Cucumber, Lemongrass, and Vitamin B3
Pros
No white cast
Safe for daily use
Non-sticky
12-hour protection
Hypoallergenic
Dermatologist-tested
Cons
Price at the time of publication: ₹438
The St.Botanica Vitamin C Sunscreen comes with SPF 30 and PA+++ that help in shielding the skin from the harshest UVA and UVB rays. It contains natural antioxidants that rejuvenate the skin and reverse damage.
Vitamin C lightens and firms the skin, vitamin E is an excellent moisturizer, and borage cold-pressed oil revitalizes the skin cells and treats extreme dryness. The lemon peel essential oil and licorice extracts lighten dark spots, while saffron and sandalwood extracts cool and soothe irritated skin. This sunscreen for the face is sweat- and water-resistant and free of harmful chemicals.
Key Ingredients: Vitamin C, Vitamin E, Borage cold pressed oil, Lemon peel essential oil, Licorice extract, and Saffron extract
Pros
Paraben-free
Phthalate-free
Silicone-free
Sulfate-free
Cruelty-free
Lightweight
Water-resistant
Non-greasy
Pleasant fragrance
Absorbed easily
Cons
Clogs pores
Pills up on the face.
Price at the time of publication: ₹400
VLCC's Water Resistant Sunscreen Gel Creme has SPF 60 that shields the skin and prevents it from aging soon. It is formulated with Ceramide III, which protects the skin and restores its natural lipid barrier, retaining moisture and making it soft.
Niacinamide helps rebuild skin cells and treats acne. Olive oil is an excellent source of antioxidants that reduce inflammation and fight the signs of aging by restoring the skin's natural glow. Carrot extract is rich in vitamin A and is responsible for new cell regeneration and lightening the complexion. This sunscreen for dry skin can be used for longer sun-exposure periods.
Key Ingredients: Ceramide III, Niacinamide, Olive oil, and Carrot extract
Pros
Effective for long hours
Good for water-based activities
Good fragrance
No white residue
Non-sticky
Absorbed quickly
Cons
May feel heavy on the skin.
Price at the time of publication: ₹402
The aroma magic Carrot Sunscreen Lotion with SPF 15 is all-natural and enriched with rice bran, carrot seed, and sea buckthorn. It contains a mix of Vitamins B5, C, and E and  is formulated with essential oils of lavender, chamomile, and myrhh that moisturize, soothe, and protect the skin and reduce wrinkles.
The non-nano zinc oxide in this sunscreen is a natural mineral reflector that scatters the harmful rays. The carrot extracts are full of vitamins and antioxidants that aid cell regeneration and impart a healthy glow to the skin. This sunscreen for dry skin also has aloe vera extracts that improve skin hydration.
Key Ingredients: Essential oils of lavender, Chamomile, and Myrhh, Non-nano zinc oxide, Carrot extracts, and Aloe vera extracts
Pros
Oxybenzone-free
Paraben-free
Alcohol-free
No artificial fragrance
Non-greasy
Easily absorbed
No white residue
Cons
Price at the time of publication: ₹175
The mamaearth HydraGel Indian Sunscreen is a light, non-greasy, gel-based sunscreen with no chemicals. It contains aloe vera that has hydrating and anti-inflammatory properties to heal and soothe dry areas. Raspberry seed oil is rich in vitamin C and antioxidants that help protect the skin against inflammation and sun damage. They also rejuvenate the skin and reverse signs of aging. Glycerin is a humectant that draws water from the outer layer of the skin to the deeper layers, keeping dryness at bay. This SPF 50 sunscreen for dry skin is safe to use daily.
Key Ingredients: Aloe vera, Raspberry seed oil, and Glycerin
Pros
Paraben-free
Mineral oil-free
Non-sticky
Lightweight
Spreads easily
Mild fragrance
Gentle
Cons
Less quantity for the price.
Price at the time of publication: ₹338
The Organic Harvest Sunscreen with SPF 60 is made of certified organic ingredients that enhance skin health and protect it from the harmful effects of UV radiation. It is formulated with the goodness of olive oil, which is a powerhouse of vitamins and a natural moisturizer that helps nourish and refresh the skin and protect it from sun damage. It also has antioxidants that prevent premature aging.
The tamarind seed extract is great for improving the skin texture, elasticity, and the moisture retention ability. It also acts as an exfoliator to keep the skin blemish-free. Clay minerals make the skin smooth and glowing. This cream-based sunscreen for dry skin can be used by both men and women.
Key Ingredients: Olive oil, Tamarind seed extract, and Clay minerals
Pros
Paraben-free
Mineral oil-free
No animal ingredients
Non-greasy
Lightweight
Absorbed easily
Sweat-proof
Cons
Unpleasant fragrance
May cause breakouts.
Price at the time of publication: ₹240.81
Kaya Clinic's Sun Defense is a daily moisturizing sunscreen with SPF 30. The broad-spectrum protection shields the skin from harmful UV rays. The 5-star Boots rating makes it one of the best sunscreens for dry skin in India. This sunscreen helps the skin stay moisturized all day long. It contains hydroxyethyl urea, which is a humectant that maintains and replenishes the skin's moisture content. Its strong hydrating property keeps skin moisturized for a long time.
Key Ingredients: Hydroxyethyl urea
Pros
Excellent for daily use
No white residue
Non-sticky
Suitable for sensitive skin
Value for money
Cons
Price at the time of publication: ₹445
The GARNIER SKIN NATURALS Sun Control Daily Moisturiser with SPF 15 doubles up as a sunscreen and a moisturizer. It contains Mexoryl SX, which protects the skin from UV rays. The vitamin E protects the skin from free radical damage and delays the signs of aging. The sunscreen also contains coriander extracts and glycerol that nourish the skin and help it retain moisture.
Key Ingredients: Mexoryl SX, Vitamin E, and Coriander extracts
Pros
Absorbed quickly
Good fragrance
Gentle
Not patchy
Cons
The Ayur Sunscreen Lotion with SPF 30 is full of natural ingredients that offer protection from the harmful effects of ultraviolet rays. It is enriched with vitamin E that repairs skin damage caused by free radicals. It also contains wheatgerm oil that is easily absorbed into the skin and treats dryness. It has antioxidants and vitamins A, B, D, and E. The multifunctional formula lightens your skin while protecting it from the sun.
Key Ingredients: Vitamin E and Wheatgerm oil
Pros
Easy to apply
Affordable
Good fragrance
Herbal extracts
Cons
Price at the time of publication: ₹130
Now that you know which sunscreens are best for dry skin, it's time to dig deeper into the facts to figure out the most suitable product for you. The guide below will help you.
Things To Consider When Buying Sunscreen For Dry Skin
Broad spectrum sunscreens are recommended for optimum sun protection as they offer protection from both UVA and UVB rays. You may also go for a sunscreen with SPF 30 or higher as they provide more than 97% protection from the harmful sun rays.
Choosing a sunscreen that offers more than just sun protection is good. Look for a sunscreen containing plant oils, natural emollients, and fruit butters to moisturize and restore the skin's texture. Additionally, ingredients like peptides and ceramides can be helpful as they reverse the signs of aging – like fine lines, wrinkles, and blemishes – caused by oxidative damage.
Pick a sunscreen that is gentle on your skin. Sunscreens that are free of fragrances, alcohol, citrus extracts, and other irritating ingredients are gentle on the skin. On the other hand, those that contain these ingredients can cause skin sensitivity by making dry skin drier. 
Sunscreen comes in the form of gels, sprays, and creams. Choose the one that suits the texture of your skin. For dry skin, a cream-based sunscreen is recommended as it offers moisturizing effects.
 Protecting your skin from the harmful rays of the sun is important. A good sunscreen will protect it from both UVA and UVB. The higher the SPF, the better. Keep in mind the above-mentioned details and choose a sunscreen that best suits your dry skin.
Frequently Asked Questions
Are there any specific ingredients in sunscreens that are beneficial for dry skin?
Yes. Look for sunscreens with hydrating ingredients like glycerin, hyaluronic acid, aloe vera, or ceramides that can benefit dry skin.
How often should I apply sunscreen on dry skin?
Reapply sunscreen every 2 hours, especially if you are sweating profusely due to intense chores or during swimming outdoors. This is specially important if you have dry skin, to maintain skin moisturization and keep your skin away from sun damage at all times.
Can sunscreens alone moisturize dry skin?
While some sunscreens have moisturizing properties, they may not be sufficient to fully moisturize dry skin. It is best to use a separate moisturizer before applying sunscreen.
Are there any precautions or warnings to consider before using sunscreens for dry skin?
Patch test new sunscreens for any adverse reactions and ensure they provide broad-spectrum protection against UVA and UVB rays.
Recommended Articles