9 Health Benefits Of Swiss Chard, Nutrition Facts, & Recipes
From improving bone health to digestion, this green veggie is filled with goodness.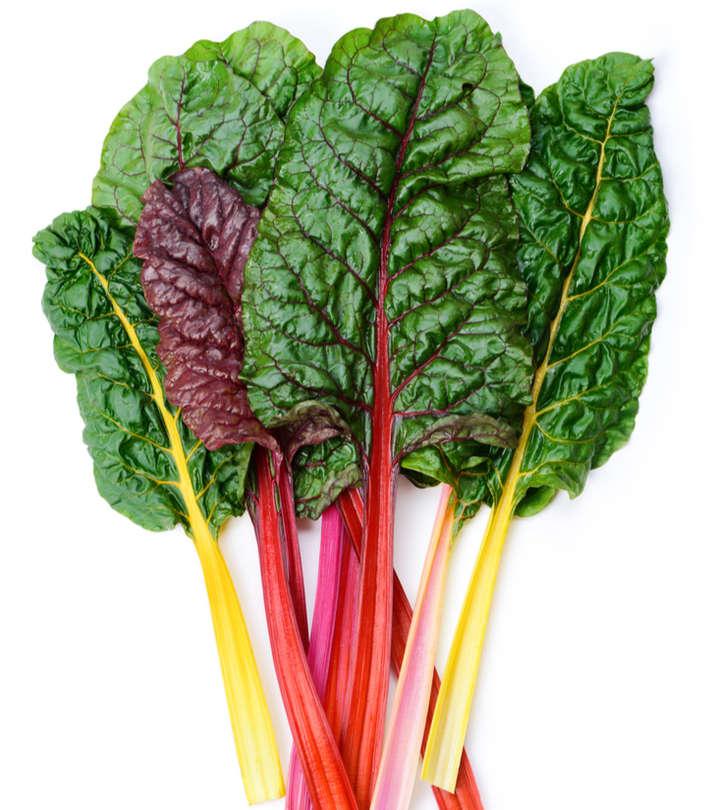 The benefits of Swiss chard are gaining the attention of many health enthusiasts. This dark green veggie is nutrient-dense and is a rich source of antioxidants. Its unique-colored veins and stalks can offer an array of health benefits if consumed regularly. The veggie can cut down the risk of cancer, promote bone health, aid in cardiovascular health, and help manage blood pressure. Continue reading to learn about the many health benefits of Swiss chard, the nutrition facts, ways to include it in your meal, and any side effects associated with its overconsumption.

Know Your Ingredient: Swiss Chard
What Is It?
A green leafy vegetable that belongs to the same species as beetroot.
What Are Its Benefits?
May improve bone density, aid diabetes management, and decrease the risk of cardiovascular diseases, cognitive decline, and oxidative stress disorders.
Who Can Use It?
People with existing kidney problems should avoid it.
How Often?
In moderation, as part of a daily diet.
Caution
Its high oxalic acid content can cause abdominal pain, vomiting, low blood pressure, and increase of kidney stones in some individuals.
What Is Swiss Chard?
Swiss chard is scientifically classified as Beta vulgaris subsp. Cicla and is native to the Mediterranean. It belongs to the Chenopodiaceae family and is also commonly known as silverbeet, perpetual spinach, beet spinach, seakale beet, leaf beet, or crab beet. Swiss chard can be eaten raw in salads or cooked. It is also available as bright yellow, rhubarb red, ford hook giant, red chard, and ruby.


Did You Know?
Swiss chard originated in Sicily, Italy, not Switzerland. So why is it named that? It is said that a Swiss botanist came up with the scientific name for this leafy green, so they called it Swiss chard after him.
This graph shows different treatments of Swiss chard's water extracts' free radical scavenging activity. The DPPH test is a commonly used technique for determining antioxidant activity. The IC50 value is defined as the concentration of a sample required to scavenge 50% of the DPPH in the test solution. The IC50 values of the tested samples were between 2.93 and 4.44 mg/mL. The maximum activity was discovered for a methanol extract of Swiss chard.
Antioxidant Activity Of Swiss Chard Water Extract
Source: Nutritional and phytochemical content of Swiss chard from Montenegro, under different fertilization and irrigation treatments
Its rich nutrient profile and its high antioxidant and anti-inflammatory properties help treat many health ailments. Keep reading to know the health benefits of Swiss chard.
9 Health Benefits Of Swiss Chard
1. May Improve Bone Health
Swiss chard is rich in vitamin K and calcium, which are essential for maintaining bone health (1). As per one study, nearly 99% of the body's calcium is found in bones (2). Regular calcium intake is needed for bone development. Vitamin K improves bone mineral density and reduces fracture rates (3). According to studies, an increased intake of vitamin K, up to 90 micrograms per day for females and 120 micrograms per day for males, can increase bone health by 50% (3). K vitamins (vitamin K1 and K2) play a key role in proper bone function (4). Also, a low intake of vitamin K is linked with an increased risk of osteoporosis (5).
2. May Help Manage Diabetes
Swiss chard has been used as a folk remedy for lowering blood glucose levels (6). A study conducted by Istanbul University on diabetic rats found that the extract of chard has a protective effect on the liver (7). Swiss chard contains an antioxidant known as alpha-lipoic acid that lowers glucose levels, increases insulin sensitivity, and helps reduce oxidative damage. The high fiber content of Swiss chard is also responsible for lowering blood sugar levels (8), (9). A high intake of green leafy vegetables can also reduce the risk of diabetes (10).
3. May Reduce Blood Pressure
Swiss chard is said to possess anti-hypertensive properties and may help reduce blood pressure (11). In general, green leafy vegetables are high in dietary nitrates and may have vascular effects (lowering blood pressure and inhibiting blood clot formation) (12). As per one study conducted by the University of Urbino Carlo Bo, Italy, Swiss chard extract has antioxidants and flavonoids that help prevent hypertension (13). However, more studies are warranted to further understand this benefit of Swiss chard.
4. May Help Reduce Cancer Risk
The extracts of Swiss chard have antioxidant and anti-proliferative properties that act against colon cancer (14). As per one study, Swiss chard extracts contain apigenin flavonoids, such as vitexin, that show an anti-proliferative effect on cancer cells (15). Intake of foods rich in vitamins A, E, and C, and minerals like zinc, calcium, and selenium may help reduce cancer risk (16). Swiss chard also contains compounds that promote anti-mitotic activity (preventing cell division) on breast cancer cells (17).
5. May Support Heart Health
As per one rat study, Swiss chard leaves contain flavonoids and exhibit hypo-lipidemici  X It refers to the property of a substance to reduce lipid levels and lipoproteins like cholesterol in the blood. activity to regulate cholesterol levels (18). Consumption of green leafy vegetables is also known to reduce the incidence of cardiovascular disease (19). Leafy greens are also rich in potassium. Reduced potassium intake is linked to heart failure and ischemic heart diseasei  XAlso known as coronary heart disease, this condition is caused due to damage in the major blood vessels of the heart. (20). However, more research studies are warranted to understand the cardio-protective effects of Swiss chard in humans.
6. May Help Prevent Cognitive Decline
Swiss chard contains betalains, a class of antioxidants known to protect against certain oxidative stress-related disorders (21). Oxidative stress is known to affect cognitive health (22). As per one study, folate, nitrite, and alpha-tocopherol in leafy greens can slow down cognitive decline (23).
7. May Promote Vision Health
Swiss chard is rich in carotenoids that help reduce the risk of eye disease (24). In general, leafy vegetables contain vitamins A, C, and beta-carotene, which play a key role in the prevention of several eye problems. The lutein and zeaxanthini  XA naturally occurring color pigment that gives the orange and yellow color to several plants and microbes. in leafy greens help reduce the risk of advanced age-related macular degeneration (AMD), cataracts, and glaucomai  XA group of eye diseases that results in optic nerve damage and loss of vision due to high or even normal eye pressure. (25). A study conducted by McMaster University, Hamilton, found that consumption of antioxidant-rich fruits and vegetables offers protection against glaucoma (26). Intake of antioxidant supplements and lutein can retard AMD.
8. May Improve Digestion
Did you know that foods high in dietary fiber promote bowel movements? Studies also suggest that fiber may help lower body weight (27). The anti-inflammatory properties of Swiss chard may help reduce inflammation in the digestive tract and regulate bowel movements (28). However, more studies are needed to further understand this benefit of Swiss chard in humans.
9. May Promote Hair Health
Swiss chard contains biotin, which is directly linked to hair health (29). Biotin stimulates hair follicles and helps in hair growth (30). It also may improve hair texture and boost luster. However, more research is warranted in this regard.
These are the impressive health benefits of Swiss chard. Check out its nutritional information below.
Swiss Chard Nutrition Facts
According to the U.S. Department Of Agriculture, one cup (175 g) of cooked Swiss chard contains (31):
 Energy: 35 kcal
 Protein: 3.29 g
 Fat: 0.14 g
 Carbohydrate: 7.23 g
 Fiber: 3.68 g
 Calcium: 102 mg
 Iron: 3.96 mg
 Magnesium: 150 mg
 Potassium: 961 mg
 Sodium: 313 mg
 Vitamin C: 31.5 mg
 Vitamin A: 536 mcg
 Vitamin E: 3.31 mg
Swiss chard also contains beta-carotene, lutein, zeaxanthin, alpha-lipoic acid, polyphenolsi  XA family of naturally occurring micronutrients with antioxidant properties commonly found in fruits, teas, spices, and vegetables. , and choline.
Swiss chard is often confused with red chard. Are the two same? Let us find out below.


Fun Fact
Swiss chard was brought into America by European colonists who thought it was a green beet!
Swiss Chard Vs. Red Chard
Red chard is a new variety of chard that is less bitter than Swiss chard. However, both variants have a similar nutritional profile.
What is the difference between Swiss chard and collard greens? Scroll down to know.
Swiss Chard Vs. Collard Greens
Collard greens are slightly richer in protein and carbohydrates than Swiss chard. Also, Swiss chard is low in calories and can cook more quickly than collard greens. The stalks of collard greens, unlike that of Swiss chard, are thick and not commonly consumed.
Swiss chard is a low-calorie leafy vegetable that is a good addition to your diet. But how do you add it to your diet?
How To Add Swiss Chard To Your Diet?
Here are some tips to incorporate more Swiss chard (leaves and stems) into your daily diet:
 Add chopped fresh Swiss chard to salads, soups, wraps, stews, and sandwiches.
 Throw a handful of Swiss chard leaves and stems into fresh juice or smoothie before you blend.
 Toss a few leaves of Swiss chard into your stir fry.
 Sauté Swiss chard leaves in extra-virgin olive oil and top with toasted sesame seeds.
 Add a handful of fresh Swiss chard leaves to an omelet or scrambled eggs.
 Toss wilted Swiss chard into pasta dishes.
 Use it in hearty soups and stews.
 Pickle the stems for a crunchy snack.
You can also prepare some easy recipes with Swiss chard. Check them out in the following section.
Healthy Swiss Chard Recipes To Try
1. Swiss Chard And Navy Bean Soup
What Do You Need
 Chopped Swiss chard – 3 cups
 Water – 2 cups
 Garlic – 1 head
 Diced onion, celery, and carrot – 1 cup each
 Black pepper – 1 teaspoon
 Canned navy beans – 2 cups
 Sodium-reduced chicken stock – 2 cups
 Freshly grated parmesan cheese – 2 tablespoons
Process
 Preheat the oven to 425 degrees F.
 Cut the top of the garlic head and bake it for 40 minutes in the oven.
 Heat oil over medium heat in a large pot, and cook the celery, carrots, and onion for about 10 minutes.
 Add the beans, remaining stock, and water.
 Let it cook for 10 minutes.
 Squeeze the garlic pulp into the soup and add the Swiss chard, black pepper, and parmesan cheese.
Puree with an immersion blender or in small batches with a blender and serve.
2. Swiss Chard Tahini Dip
What Do You Need
 Swiss chard – 2 bunches
 Tahini – ½ cup
 Extra-virgin olive oil – 2/3 cup
 Fresh lemon juice – 1/3 cup
 Garlic cloves – 5
 Kosher salt – as needed
Process
 Remove the ribs and stems from Swiss chard leaves and finely chop them.
 Tear leaves into small pieces. Set both aside separately.
 Heat 1/3 cup oil in a large pot over medium-low flame.
 Cook reserved ribs and stems, stirring often and adding a splash of water if they start to brown, until tender, for about 5–7 minutes.
 Add garlic and cook for about a minute.
 Add reserved chard leaves, letting them wilt before adding more, and cook for about 10–12 minutes.
 Let it cool and squeeze excess liquid from the mixture into a measuring glass.
 To the Swiss chard mixture, add tahini, lemon juice, and 1/3 cup of oil.
 Season with salt and process, adding more cooking liquid if needed until the dip is creamy and only speckles of chard remain.
 Transfer the dip to a serving bowl and drizzle with more oil.
3. Sausage, Green, And Beans Pasta
What Do You Need
 Swiss chard leaves – 8 cups
 Olive oil – 1/3 cup
 Spicy Italian sausage – 8 ounces
 Pasta – 12 ounces
 Finely grated parmesan – ¾ cup
 Unsalted butter – 2 tablespoons
 Dry white wine – ¼ cup
 Freshly grounded black pepper – as needed
Chickpeas – 15.5 ounces
Process
 Heat oil in a heavy pot over medium-high heat.
 Fry rosemary, turning, until crisp, for about 2 minutes. Transfer to paper towels to drain.
 Add sausage to the same pot and cook, breaking up with a wooden spoon and stirring occasionally, until browned and cooked through for about 8–10 minutes. Transfer this mixture to a plate.
 Add chickpeas to the pot and cook, tossing occasionally and mashing some chickpeas with a spoon, until browned in spots, for about 5 minutes.
 Transfer about half of the chickpeas to a plate with sausage. Add wine to pot, bring to a boil, and cook until liquid has almost completely evaporated, for about 2 minutes.
 Meanwhile, cook pasta in a large pot of boiling salted water, stirring occasionally for about 3 minutes.
 Transfer the pasta to the pot with chickpeas and add escarole and 1 cup of pasta cooking liquid.
 Cook, tossing often until the escarole is wilted and the sauce is thickened, for about 4 minutes.
 Add another 1/4 cup pasta cooking liquid, then gradually add 1/2 cup cheese, tossing until melted.
 Season with pepper and more salt if needed. Add butter and toss to combine, then mix in the reserved sausage and chickpeas.
You should remember some important points before buying and storing Swiss chard. We have discussed them below.
How To Select And Store Swiss Chard?
Always select Swiss chard whose leaves are firm and green with sturdy stalks. Avoid buying Swiss chard with yellow leaves or with holes or lumpy stalks. Storing Swiss chard is easy. Remove the bottom of the stalks and keep them in a refrigerator. They will look fresh for up to five days. You can also freeze Swiss chard for up to six months.
Swiss chard is safe to consume. But does it cause any side effects?
Possible Health Risks Of Swiss Chard
Swiss chard is generally considered safe for many people. However, if eaten in excess, it can cause kidney stones, abdominal pain, low blood pressure, and vomiting – as it is high in oxalic acid. Individuals who are at a high risk of developing kidney stones should check with their doctor or dietitian before consuming Swiss chard. Also, individuals using blood thinning medications should talk with their doctor before consuming Swiss chard. The leafy veggie contains vitamin K, which plays a key role in blood clotting and can interfere with blood-thinning medications (32).
Infographic: Facts About Swiss Chard
Swiss chard has a rich nutrient profile that offers many health benefits. This leafy green has colored stems and fan-like leaves and can be eaten raw or cooked. Click on the infographic below to learn more about Swiss chard's origin, appearance, taste, and nutrition information.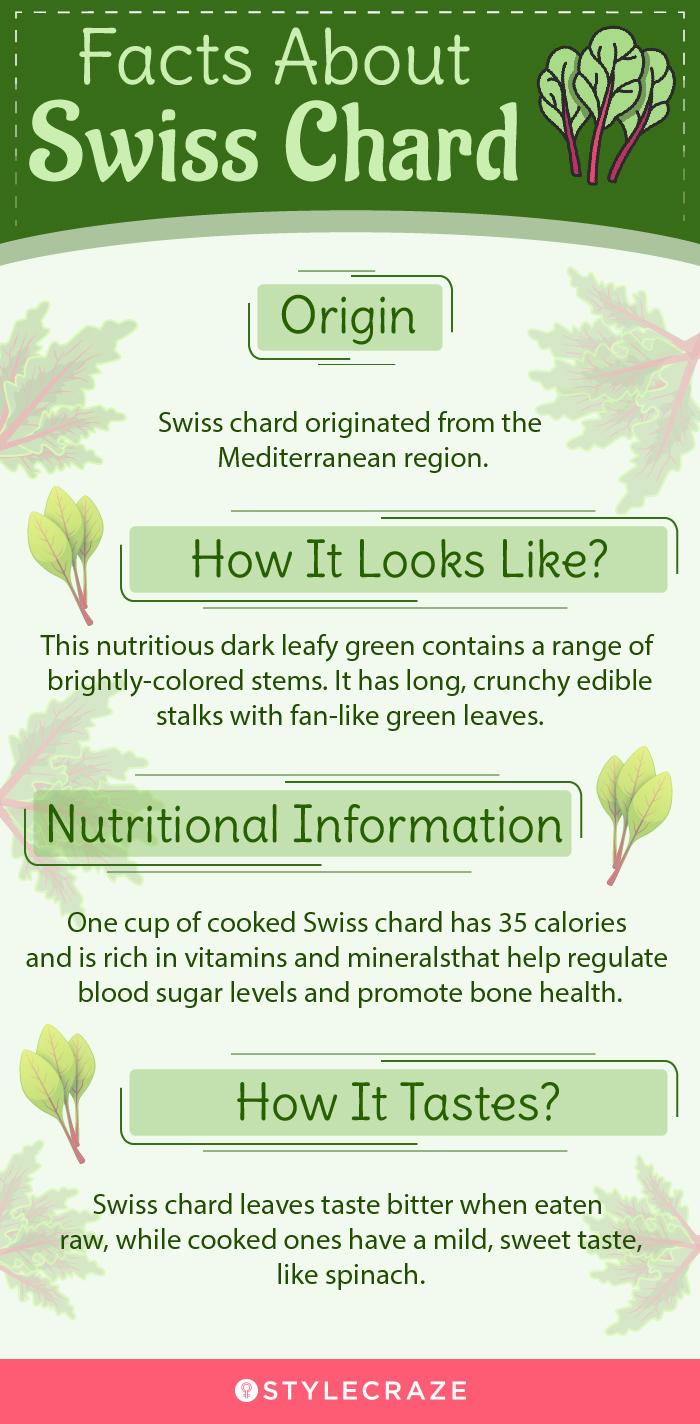 Swiss chard is a nutritious vegetable native to the Mediterranean region. It is packed with beneficial antioxidants, dietary fiber, vitamins, and minerals. Swiss chard's benefits range from promoting bone health to lowering blood cholesterol levels. It may help promote heart, bone, brain, and eye health as well. Swiss chard is loaded with dietary fiber that helps promote bowel movement. However, its excessive consumption can lead to a few side effects. There is a possibility that it may interact with blood-thinning medications. So, limit its use and seek medical advice if you experience any adverse effects.
Frequently Asked Questions
Can you eat Swiss chard every day?
Swiss chard is rich in several essential vitamins and minerals and can be eaten every day.
Is Swiss chard as healthy as spinach?
Spinach is a more nutritious and healthier option than Swiss chard.
Which is healthier – Swiss chard or kale?
Swiss chard is healthier than kale. Swiss chard contains more vitamin A, riboflavin, and pantothenic acid and less saturated fats.
Is Swiss chard a superfood?
Swiss chard is a nutritional powerhouse. It contains a wide variety of vitamins, minerals, and dietary fiber and is considered a superfood.
Key Takeaways
Swiss chard is a nutrient and antioxidant-rich dark green veggie. It can be eaten both raw and cooked.
Swiss chard has a high vitamin K and calcium content that improves bone health.
This veggie also helps manage diabetes, reduces the risk of cancer, and improves digestion.
Sources
Articles on StyleCraze are backed by verified information from peer-reviewed and academic research papers, reputed organizations, research institutions, and medical associations to ensure accuracy and relevance. Read our editorial policy to learn more.