10 Simple Tips To Take Off Holi Colours Safely
These simple tips will help you remove those pesky Holi colors from your skin effectively.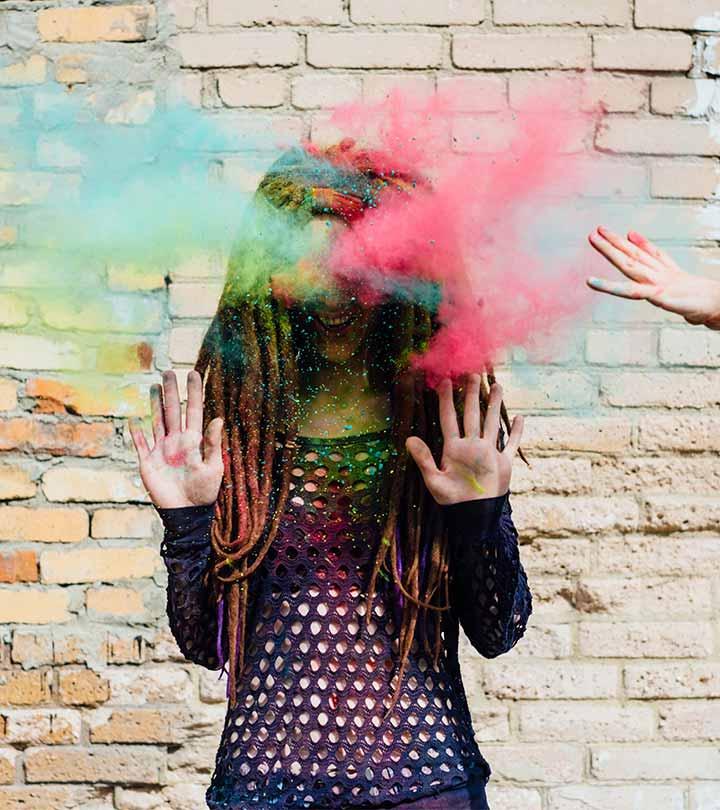 Holi is all fun, good food, and games! However, there is one thing everyone dreads. Every year just before Holi, you read up on several tips to take off Holi colors safely.
There is a lot of color splashing, water balloon pelting, and water unloading on each other. Well, it is all fun and games till you have to get rid of the colors from your skin, nails, and hair. That battle in the shower is a long one!
While there are now herbal and organic colors for sensitive skin types, they still do a lot of damage to our skin. The process of repeatedly washing with soaps and scrubbing the skin aggravates a lot of skin damage, too. Check out some tried and tested methods to take off Holi colors safely without harming your skin and hair. Read on.
Simple steps to take holi colours off safely:
Removing colour from hair:
1. Castor or Olive oil:
Apply either castor oil or olive oil to the hair before you go out to play with the colours.
The oil will form a protective layer over the hair. This will make the colors come off easily when you wash your hair. In case you don't have easy access to olive oil or castor oil, you can also use coconut oil or almond oil as an alternative. It is best if you massage the oil the previous night as it will also help protect your scalp.
2. Egg yolk or curd:
Avoid immediately shampooing your hair after playing Holi.
Apply egg yolk or curd on your hair at least 45 minutes before shampoo. This will help remove the colours and reduce the extent of damage.
3. Mustard oil:
Thoroughly massage your hair with mustard oil before using colours. After playing Holi, once you have shampooed your hair, apply mustard oil on your hair and leave it in for an hour. This will help remove the remaining colour and prevent damage.
4. Coconut milk:
Applying coconut milk on the hair is another great way to ensure less damaged. It also helps remove colours easily. Apply coconut milk on your hair before you play. Also, apply it before shampoo and leave on for an hour. Clean off with a shampoo.
Removing colour from skin:
5. Moisturizer:
Apply a generous amount of moisturizer on your hands, face and all exposed body parts before going out to play.
6. Dark nail paint:
Paint your nails with a dark nail colour. This will prevent your nails from getting stained. You can remove the nail paint after you are finished playing with colours.
Quick Tip
If you are not wearing nail paint, you may soak your fingers in fresh lemon juice for ten minutes to remove the color stains.
7. Apply foundation:
Apply foundation just before playing Holi. This will protect your skin from dry colours.
8. Apply Vaseline:
Apply Vaseline to your lips before you head out to play. This will add the required moisture and care to your lips. It will also prevent colours from settling in the cracks of your lips.
9. Apply sunscreen:
Wear sunscreen at least 30 to 45 minutes before you head out to play with colours.
10. Wheat flour:
Take some wheat flour and add a bit of oil or lemon. Make a paste and apply this all over your skin, scrubbing off the colours. Do this just before you shower.

Quick Tip
Alternatively, you can apply Multani mitti on your face to exfoliate the color stains. Rinse it off with cold water and mild face wash.
Tips to remember:
Use cold water to remove the colors. Hot water will make it difficult to remove the colours.
Do not wash your face again and again as this will make it dry.
Soak cotton in coconut oil and use it to wipe off the colours from your face.
Applying soaked amchur powder also helps get rid of color.
Avoid going for skin or hair treatments like facial, bleach, hair colour and the like just after holi. Wait for at least a week or two before you use chemicals or products on your skin and hair.
Make a paste using curd and methi seeds powder. Apply this on your hair as a post holi hair mask. This will prevent hair damage and keep your hair nourished.
Now that you know all the different ways to take off Holi colors safely, you can let go of all the worries and celebrate this festival with immense joy. Always remember, fun is all good, but safety is essential too. So let this festival of colors fill your life hues without any worries. Remember that aftercare is crucial to maintaining skin health in the long run. Treat your skin with the utmost care, especially after covering it with cheerful Holi colors.
Frequently Asked Questions
Can lemon remove holi colors?
Yes. Lemon has acidic properties that can get rid of Holi color stains from the skin. Mix lemon juice with honey and apply it to remove color stains from the skin. To remove holi color stains from clothes, soak the cloth in lemon juice for 20 minutes and wash.
What to do if the holi colors go into my eyes?
Stay calm and do not rub your eyes. Gently wash your eyes with room-temperature water until the color washes away. If irritation persists, seek medical help immediately.
How do I get rid of the allergy caused by holi colors?
Wash your face with a mild hydrating face wash. Avoid scrubbing and apply ice to soothe the affected areas. If the allergy is severe, consult a dermatologist and avoid using makeup, waxing, shaving, or facials for at least a week.
Do holi colors damage hair?
Yes. Synthetic Holi colors contain harmful chemicals that can damage your hair and irritate the skin and eyes. Instead, use organic colors as they are biodegradable and safe as long as you are not allergic to the ingredients.
What are holi colors made of?
Synthetic Holi colors have a cornstarch base, chemical food, drug, and cosmetic dyes. It may also contain harmful substances like glass powder, copper sulfate, acids, mica etc. Organic holi colors are made of natural ingredients like herbs, plants, and flower extracts.
Key Takeaways
Using coconut or olive oil on your hair and scalp before playing Holi can add a protective layer from the colors.
A generous amount of moisturizer on all exposed body parts before going out to play Holi can help remove the stains more effectively afterwards.
A ten-minute soak in fresh lemon juice works wonders for removing stains from your nails.
A cold water shower aids stain removal.
While ingredients like wheat flour and Multani mitti can help rinse the colors off your skin, curd, coconut milk and methi seeds powder can make a great post-Holi hair mask to restore its nourishment.
The following two tabs change content below.